How To Start A Children's Clothing Business
•
Updated: June 7th, 2021
Thank you Klaviyo for sponsoring Starter Story ❤️
Want to grow your business? Join the 50,000 businesses using
If you ask any entrepreneur, starting a business comes with its fair share of challenges.
Starting a children's clothing business requires a great deal of effort, dedication and most importantly passion.
If you're willing to put in the effort to build your own business, you're going to want to follow the critical steps to creating a successful brand.
We've created a guide that covers each step of the process - from making key financial decisions, to launching and marketing your business the right way, and tips/strategies on how to grow your business effectively.
💡 Introduction To Starting A Children's Clothing Business
Is The Children's Clothing Business For You?
Let's look at the pros and cons of starting your own children's clothing business
Pros:
Flexibility: One of the biggest advantages of starting a children's clothing business is that you can put as much time into the business as you'd like. If you like the work and have some initial experience, you can start small and manage all aspects of the business on your own.
Ability to start your business from home: It's not necessary to have a physical storefront or office space to get your business started. You can do everything from the comfort of your own home, at least in the beginning!
Little startup costs required: The cost to start a children's clothing business costs significantly less money than most businesses, ranging anywhere from 1,057 to 27,919.
Rewarding work: Starting a children's clothing business can be really rewarding and fun work. After all, you're bringing joy and excitement into peoples lives.
Cons:
Crowded space: Competition is high when it comes to your children's clothing business, so it's important that you spend a good amount of time analyzing the market and understanding where the demand lies.
Finding the right supplier: Most businesses in this space go the supplier/manufacturer route, which isn't a bad thing! However, finding the right supplier can take a lot of time, energy and trial/error. If done properly, this process can save you months (if not years) of time and energy. More on this below in the "finding a supplier" section.
Creating a successful children's clothing business means that you will have the ability to sell, provide stellar customer service, communicate with vendors and motivate your team (even if it's down the road)!
Brick & Mortar vs eCommerce Business Model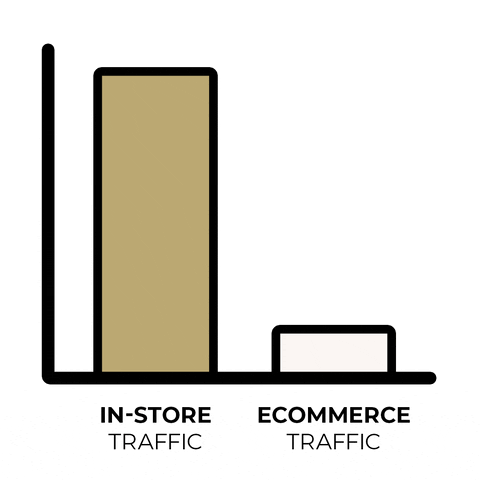 When deciding whether or not to start a children's clothing business, it's important to first decide what type of business model you want (brick and mortar, eCommerce, or both)!
Here are a few things to keep in mind when considering a Brick & Mortar store:
Brick & Mortar Model
If you do plan to open a physical store, it's important that you find a spot in a high-traffic area. This is a great way to gain exposure for your business and also get new customers.
It's also important to consider the higher costs associated with operating a physical store (ie - employees, rent, utilities, etc) and the long days/hours associated with running a store.
The main benefit, however, is that customers love being able to see products in person. It's important to recognize that although some people enjoy shopping online, there will always be the shopper persona that likes to touch, feel, and see the product they're buying.
eCommerce Business
One of the main benefits of operating online is that you are exposed to the entire world, versus just one local area. Rather than depending on foot traffic, you have all the tools at your disposal to create exposure for your store online.
Additionally, there are much lower costs to operate an online store - fewer employees, you can operate from your home, and you get to create your own schedules (yes, holidays included!)
Although you are operating online and have the ability to connect with people all over the world, it's important to consider that you will need to invest marketing money upfront in order to promote your store to the right audience.
So, which business model should you go with?
Each model has their benefits, however, the consumer trends for children's clothing business are shifting towards e-commerce businesses.
Players
Big Players
Small Players
How To Name Your Children's Clothing Business
It's important to find a catchy name for your children's clothing business so that you can stand out in your space.
Here are some general tips to consider when naming your children's clothing business
Avoid hard to spell names: you want something easy to remember and easy to spell for your customers
Conduct a search to see if others in the space have the same name
Try not to pick a name that limits growth opportunities for your business (ie. if you decide to expand into other product lines)
As soon as you have an idea (or ideas) of a few names that you love, register the domain name(s) as soon as possible!
Why is naming your children's clothing business so important?
The name of your business will forever play a role in:
Your customers first impression
Your businesses identity
The power behind the type of customer your brand attracts
If you're memorable or not
It's important to verify that the domain name is available for your children's clothing business.
You can search domain availability here:
Although .com names are the most common and easiest to remember, there are other options if your .com domain name is not available. Depending on your audience, it may not matter as much as you think.
It's also important to thoroughly check if social media handles are available.
As soon as you resonate with a name (or names), secure the domain and SM handles as soon as possible to ensure they don't get taken.
Here's some inspiration for naming your children's clothing business:
Tiny Town

check availability

Lovey Dovey

check availability

BabyPlace

check availability

Tiny Treasures

check availability

Teddy Bear Products

check availability

Kiddle Place

check availability

BearyBaby

check availability

BabyLove

check availability

Tiny Crews

check availability

Toys And Tots

check availability

Baby Paradise

check availability

Giggles spot

check availability

Cottage County

check availability

Perfect Playtime

check availability

KidSwing

check availability

Baby Boutique

check availability

Baby Mall

check availability

Cuddles n' Chuckles

check availability

Baby Couture

check availability

Mommy & Baby

check availability

Childsplay

check availability

FunWood

check availability

Brand New Baby

check availability

Itty Bitty Baby

check availability

Bratatatmania.

check availability

Little Adventurers

check availability

Small Town Baby

check availability

Euro Ess Childrens Clothing

check availability

Nex Babies

check availability

Little Misses

check availability

Happy littles clothing outlet

check availability

Adorned

check availability

Little People

check availability

Baby Born

check availability

Silly Baby

check availability

Bebe's Palace

check availability
Read our full guide on naming your children's clothing business ➜
Search Interest
Let's take a look at the search trends for childrens clothing over the last year:
🎬 How To Start A Children's Clothing Business
Identify Target Customer
A very critical piece in building children's clothing business is to identify your ideal target customer.
Develop a niche and create a consistent brand that reflects your target customer.
The colors, logo, content, and overall website should resonate with your target customer and should draw them in by helping them solve their specific "need".
Write a Business Plan
Writing a business plan from the start is critical for the success of your children's clothing business.
Why?
Because this allows you to roadmap exactly what you do, what your overall structure will look like, and where you want to be in the future.
For many entrepreneurs, writing out the business plan helps validate their idea and decide whether or not they should move forward with starting the business.
You may want to consider expanding upon these sections in your business plan:
Executive Summary: Brief outline of your product, the market, and growth opportunities
Overviews and Objectives: Overview of your business, target customers, and what you need to run your business
Products and Services: Specifics on the products and services your business will provide
Market Opportunities: Analysis of customer demographics, buyer habits and if your product is in demand
Marketing: Outline of your marketing plan and how you plan to differentiate yourself from other customers
Competitive analysis: Analysis of your competition and the strengths and weaknesses therein
Operations: Hierarchal structure of the company and what it will take to run the business on the day-to-day
Leadership Team: Detailing roles and responsibilities of each manager based on their specific skill-set
Financial Analysis Understanding of all expenses, operating budgets, and projections for the future.
Learn more about how to write a business plan here
Setting Up Your Children's Clothing Business (Formation and Legal)
When it comes to setting up your business, you may find yourself in a place where you have to make some financial and legal decisions.
The first thing you'll want to decide on is whether you want to be an LLC, S-Corp, or C-Corp.
These three options are found to be the most common when starting a small business, and all serve to protect your personal assets and also provide you with certain tax benefits.
LLC: All income and expenses from the business are reported on the LLC personal income tax return.
S corp: Owners pay themselves salaries + receive dividends from profits.
C Corp: C Corps are separately taxable entities that file a corporate tax return (Form 1120). No income tax is paid at the corporate level and any tax due is paid at the owners individual expense.
Depending on where you're conducting business, you'll also want to consider securing the proper permits, licenses and liability insurance.
Learn more about securing the right permits and licenses ➜
Need to start an LLC? Create an LLC in minutes with ZenBusiness.
Purchasing Inventory For Your Children's Clothing Business
When first starting out, it's important to start small with your overhead to get a gauge for what people want.
Just remember - if you order a line of items that don't sell, it's nearly impossible to recoup the money lost.
Buying the right inventory takes research and planning in order to get it right.
Identify your target audience: Identify the age, gender, annual income that you will be selling to. This is a defining factor in ordering the right inventory that will sell.
Research your competition: Conduct market research and identify the different types of styles, price points, and materials being used. This will help you see what's trending and ways that you can improve/stay ahead of the competition.
Create an inventory wishlist: Identify what you need for the launch of your business and create a budget that you will stay within. Remember, it's okay to start small.
Find a supplier Make sure to first compare prices and analyze different options.
Delivery timing: Schedule the inventory delivery to match with seasonality and trending buying seasons
Pro-tip: It's easy to become biased based on your own fashion preferences on what types of shoes/apparel to purchase. This is where a lot of fashion businesses go wrong. It's important to base purchase decisions on current buyer behavior, trends in the market, and specific to your niche.
How Much Does It Cost To Start A Children's Clothing Business
If you are planning to start a children's clothing business, the costs are relatively low. This, of course, depends on if you decide to start the business with lean expenses or bringing in a large team and spending more money.
We've outlined two common scenarios for "pre-opening" costs of starting a children's clothing business and outline the costs you should expect for each:
The estimated minimum starting cost = $1,057
The estimated maximum starting cost = $27,919
| Startup Expenses: Average expenses incurred when starting a children's clothing business. | Min Startup Costs: You plan to execute on your own. You're able to work from home with minimal costs. | Max Startup Costs: You have started with 1+ other team members. |
| --- | --- | --- |
| Office Space Expenses | | |
| Rent: This refers to the office space you rent out for your business. To minimize costs, you may want to consider starting your business from home or renting an office in a coworking space. | $0 | $2,000 |
| Utility Costs (office space): This refers to the first month's utility bill for your office space. If you are not responsible for this bill, this would not apply to starting your children's clothing business. | $0 | $150 |
| Office Supplies: Although these may seem like minor costs, things like your desks, chairs, pens, paper, filing cabinets do add up. In general, all the necessary things that you can use in the office regularly are included as Office Supplies. However, to avoid these adding up too much, try to be as lean as possible and go paperless! | $30 | $100 |
| WiFi: Whether you work from home or in an office space, WiFi is an expense that's tough to avoid. Although the cost is minimal in most cases, it should be appropriately budgeted for each month! | $10 | $100 |
| Total Office Space Expenses | $40 (min) | $2,350 (max) |
| Equipment & Supply Expenses | | |
| Technology Office Equipment: This includes (but is not limited to) physical items such as: laptops, cameras, monitors, microphones, speakers, headsets. Technology needs grow as your company evolves, so to minimize costs, try and only purchase what is needed for you to run your business at the time. | $500 | $5,000 |
| Total Equipment & Supply Expenses | $500 (min) | $5,000 (max) |
| Inventory Expenses | | |
| Upfront Costs For Inventory: This includes all upfront inventory you will need in order to launch. Be sure to compare prices of wholesalers to ensure you're getting the best deal and margins remain high. | $300 | $5,000 |
| Inventory Storage: If you decide to have a physical space for your children's clothing business, whether it be used for inventory or as a showroom, you may have monthly rent payment or a large down payment associated with renting/buying the space. | $0 | $5,000 |
| Package Design: Packaging refers to wrapping and protecting products during distribution, shipping, and sales.Your package design is your customer's first impression of your brand, so it's important you spend some time and energy to get this right from the start.Many businesses design their own packages using design software and tools. There is always the option to outsource this to a design expert, but that route tends to be much more expensive. | $50 | $3,000 |
| Shrinkage: Shrinkage refers to the loss of inventory at any point between the purchase from your supplier and the purchase by your customer. Although you will try to avoid this at all costs, this does happen sometimes (especially in the learning stages of your business), and it's important to plan ahead financially in case this happens. Fortune states that retail shrinkage costs U.S. retailers approximately 1.4 percent of their total sales. | $0 | $1,000 |
| Distribution costs: Depending on what distribution plan you choose, expenses such as renting vans, hiring delivery drivers and gas costs can add up. If you are looking to save money upfront, you may want to consider conducting distribution on your own. | $0 | $750 |
| Total Inventory Expenses | $350 (min) | $14,750 (max) |
| Software Expenses | | |
| Design Programs & Software: These programs might include the Adobe family of design tools: Photoshop, Illustrator, InDesign and others. This is typically a monthly subscription ranging from $10-$50/mo. | $0 | $50 |
| Email marketing tool: If you plan to grow your email list and email marketing efforts, you may want to consider investing in an email marketing platform (ie. Klaviyo, MailChimp). We put together a detailed guide on all of the email marketing tools out there + the pricing models for each one here | $0 | $100 |
| IT Support: IT support installs and configures hardware and software and solves any technical issues that may arise.IT support can be used internally or for your customers experiencing issues with your product/service.There are a variety of tools and software you can use to help with any technical issues you or your customers are experiencing. This is a great option for businesses that do not have the means to hire a team of professionals. | $150 | $2,000 |
| Accounting & Invoicing Software: It's important to have an accounting system and process in place to manage financials, reporting, planning and tax preparation. Here are the 30 best accounting tools for small businesses. | $0 | $50 |
| Project Management Software: You may want to consider using a project management and collaboration tool to organize your day-to-day. This can also be very beneficial if you have a larger team and want to keep track of everyones tasks and productivity. For a full list of project management tools, check out this full list here. | $0 | $25 |
| Internal Communication Tool: If you plan to have multiple members on your team, you may want to consider an instant message tool such as Slack or Telegram. The cost is usually billed per month (approx $5/user/month) or there are freemium versions available on many platforms. | $0 | $20 |
| Social Media Management Tools: If you plan to do social media marketing for your children's clothing business, you should consider investing in a social media automation or publishing tool. This will save you time and allow you to track performance and engagement for your posts. Here is a list of 28 best social media tools for your small business. | $0 | $50 |
| Payroll Software: The main purpose of payroll software is to help you pay your team and track each of those payments (so that you don't have to do it manually). If you do not have any employees or have a very small team, payroll software may not be necessary at this stage. Here are the 11 best payroll tools for small businesses! | $0 | $200 |
| Online data storage: It's important to make sure the information for your children's clothing business is stored and protected should something happen to your computer or hard drive. The cost for this is affordable and depends on how much data you need to store. To learn more about the different options and pricing on the market, check out this article. | $0 | $299 |
| Total Software Expenses | $150 (min) | $2,794 (max) |
| Website Costs | | |
| A Domain Name: Your domain name is the URL and name of your website - this is how internet users find you and your website.Domain names are extremely important and should match your company name and brand. This makes it easier for customers to remember you and return to your website. | $12 | $200 |
| Email hosting: Email is a critical piece for running your business. Once you have your domain name, you will want to set up email accounts for each user on your team. The most common email hosts are GSuite (typically starting at $6+ per user, per month) or Microsoft Office (typically starting at $5+ per user, per month). The number of email accounts you set up will determine the monthly cost breakdown. | $5 | $75 |
| Total Website Costs | $17 (min) | $275 (max) |
| Advertising & Marketing Costs | | |
| Customer Research & Surveys: Many children's clothing business's conduct industry and consumer research prior to starting their business. Often times, you need to pay for this data or hire a market research firm to help you in this process. | $0 | $300 |
| Affiliate Marketing Commission & Fees: If you want to increase revenue for your children's clothing business, affiliate marketing is a great way to promote your product to a new audience. When determining affiliate commission rates you will offer, you will want to take into account the price and margin for your product to ensure affiliate marketing is worth it for your business. According to Monitor Backlinks, the average affiliate commission rate should be somewhere between 5% to 30%. To learn more about how to set commission rates, check out this article.. | $0 | $250 |
| Influencer Marketing: Partnering with like-minded influencers is one of the most effective ways to grow your social media presence. Many small businesses simply gift a free item in exchange for an influencer post, or pay the influencer directly. | $0 | $750 |
| Press: If your business and story is unique enough, press and media attention may come to you, but odds are, you may need to do your own outreach and budget for this. We put together a guide here that discusses different press opportunities (both free and paid). | $0 | $500 |
| Google Ads: With Google Ads you have the ability to control how much you spend by simply setting a monthly budget cap. Additionally, with these ads you only pay for results, such as clicks to your website or phone calls! It's okay to start with a small budget at first and make changes accordingly if you see valuable returns. | $0 | $300 |
| Facebook & Instagram Ads: With Facebook and Instagram ads, you set your budget and pay for the actions you want (whether that be impressions, conversions, etc).You can learn more about pricing based on your impressions here. | $0 | $350 |
| Total Advertising & Marketing Costs | $0 (min) | $2,450 (max) |
| Other Expenses | | |
| Credit Card Processing Fees: If you process credit cards then you will need to deal with interchange fees - which is usually around 3% of total charges. These fees are often forgotten about and can hurt cash flow if not taken into account. | $0 | $300 |
| Total Other Expenses | $0 (min) | $300 (max) |
| Total Starting Costs | $1,057 (min) | $27,919 (max) |
Raising Money
Since the startup costs to start children's clothing business range between $1,057 - $27,919, there are ways you can raise money to cover these costs.
Here are a few ways you can secure additional funding:
Design A Prototype
Turning your idea into a reality can feel like a daunting task - but it's critical that you have an idea of what your product will look like (even if it's just a sketch) prior to finding a manufacturer.
Here are some common ways you can design your prototype:
Draw Your Initial Design on Paper
Form pieces of fabric together
Consider Taking A Generic Product And Putting Your Own Brand On It
Try Making the Product Yourself
Consider Building A Prototype With A 3D Printer
To learn more about how to design and prototype a product, check out our latest guide here.
Revenue Expectations
We've interviewed several different founders in the children's clothing business and asked them how much $ they're making today.
$6K/year in revenue
Sells yogi children's clothing
Solo founder
0 employees
$468K/year in revenue
Sells premium children's clothing
2 founders
7 employees
$600K/year in revenue
Sells car seat friendly coats
Solo founder
1 employee
$12K/year in revenue
Sells matching mom & baby clothing
Solo founder
0 employees
$0/year in revenue
Sells infant and toddler clothing
Solo founder
35 employees
$0/year in revenue
Sells kids clothing.
2 founders
3 employees
How To Price Your Childrens Clothing
One of the most challenging aspects to starting a children's clothing business is determining how much to charge for your childrens clothing.
When businesses under-price their product, this can be extremely detrimental to their bottom line and reputation.
Often times, businesses under-price their products to drive demand and volume, but that last thing you want is for customers to view your product/service as "cheap." Additionally, this can have a big impact on the type of customer you attract, which can be difficult to recover from.
On the other hand, when businesses over-price, this tends to be just as damaging to the business.
When customers buy, it's likely that they will explore the internet and look at other competitors to ensure they're getting the best value + deal. This is why it's so important that you research your competition and understand where you land in the marketplace.
Here are some factors to consider when pricing your product:
Understand your customer
It's important that out of the gates, you identify the type of customer you want to attract and how much they're willing to pay for your service. One great way to do this is by surveying your customers. Here are some important items you'll want to takeaway:
Customer demographic: Age, gender, location, etc.
Buying habits of your customer: What they buy + when they buy
Level of price sensitivity with your customer
All of these segments will help you identify the type of customer you're attracting and how to price your product accordingly.
Understand your costs
When pricing your childrens clothing, it's critical that you first identify all of your costs and consequently mark up your childrens clothing so you can factor in a profit.
The actual cost of your childrens clothing may include things like:
The actual cost to make the product (ie. raw materials, supplies, manufacturer).
Shipping + overhead fees
Rent
Operating costs to run your business
You may want to consider creating a spreadsheet with every single expense involved in operating/owning your business. This will give you an idea as to what you need to generate in order to at the very least, break-even and will help you price your products to factor in a profit.
Create revenue goals
When determining the price of your childrens clothing, you'll want to create goals for revenue + how much profit you want your children's clothing business to make.
This process is simpler than you may think:
Think about your breakeven cost (by completing the above step).
Create a revenue goal based on your break-even cost
Evaluate the # of items you plan to sell in a given period (make sure this is a realistic number)
Divide your revenue goal by the number of items you plan to sell
This figure will help determine your estimated price per product in order to meet your revenue goals.
Evaluate your competition
The last piece in determining how to price your childrens clothing is by simply looking at your competition.
The best way to do this is by finding like-minded businesses that offer product(s) with similar perceived value. Then, you can compare prices of the different businesses and determine where your childrens clothing fits best in the marketplace.
All of these factors play an equal part in pricing your childrens clothing, so it's important you evaluate each one individually to come up with an accurate price that will help optimize your business from the start.
How To Find A Supplier For Your Children's Clothing Business
Here are the steps to consider when finding a supplier/manufacturer:
Know your design
One very critical step to finding the right supplier is having an initial idea of what your design/product will look like.
Sketching is one of the most simple ways to get started in the design phase.
What's great about sketching is that you can practically do this anytime, anywhere - even on the back of a napkin.
To get started, all you need to do is pick up a pen and paper and start drawing - or if you are working on a virtual/software product this can be a diagram that outlines the user interface or experience.
Decide your supplier type
You'll want to identify the type of supplier you are looking for.
Here are some questions you may want to ask yourself prior to searching for a supplier
Are you looking for a manufacturer to produce your product idea?
Do you want to find a supplier that can simply purchase existing products for you?
Do you want a drop-shipper to supply and fulfill orders?
Do you want a domestic supplier or an overseas supplier? Read more about the pros and cons of each here
Where to start your search
Once you have an understanding of what type of manufacturer/supplier will be best to bring your idea to life, there are several areas you can start your search:
Domestic Suppliers
Overseas Suppliers
🚀 How To Launch Your Children's Clothing Business
Build A Website
Building a website is imperative when launching your business, and with the right tools in place, this can be a simple task to check off the list (without having to hire someone).
Pick a domain name that's easy to remember and easy to type
Choose a Web Hosting Plan (ie. Shopify, Squarespace)
Make sure you choose the right theme and design
Implement the proper page structure (ie. about page, contact page, pricing etc)
To learn more about how to build a stellar website with little stress, we give you all the details on this step-by-step guide.
Web Design
Once you have chosen the domain, web hosting, and platform, it's time to get started with the design phase.
Themes are a great way to produce the fundamental style and identity of your website - this includes everything from your font design to your blog post styles.
One of the best ways to get started is to simply explore the various themes (free or paid depending on what you're looking for) and test them on your site.
If web-design really isn't in the cards for you, you may want to consider outsourcing a web designer to help bring your vision and brand to life.
Traditional Launch Strategies For Your Children's Clothing Business:
There are various different ways you can launch your children's clothing business successfully.
Here are a few different strategies to get customers excited about your children's clothing business:
Set up a Facebook page for your business. This is a great way to establish an online presence
Host an event in a fun location with drinks & food. This is a great way to get exposure in the local community.
Get Press! Pitch your story to the media and you may just land in an amazing publication
Live sales to get customers excited
Send a hand-written letter in the mail with a discount on your services to the local community/neighborhoods.
Marketplaces
There are various different marketplaces that you can effectively sell and promote your children's clothing business, whether that's local or online!
Here are some of the most common ones:
Your own website! Shopify is known to be the best for e-commerce stores
Local places! Gift shops, farmers markets, festivals, grocery stores etc
Etsy - E-commerce website for craft supplies
Craft is Art Marketplace to buy and sell handmade crafts & fine art
Aftcra Online marketplace where you can buy and sell handmade products
Storenvy Marketplace for authentic brands
Etsy Tips From Founders
Etsy is one of the most common marketplaces for this business type, however, there are some tips and tricks from other founders you'll want to consider prior to listing:
Consider Selling On Amazon
In addition to selling your products directly on your site, you may want to consider selling on Amazon to reach a wider audience and attract new customers.
Here are some pros and cons of selling on amazon:
Pros
Easy and seamless process to get your product listed on Amazon
There are roughly 100 million thoroughly committed prime customers, so you're bound to tap into new business
Can help grow your business exponentially and reach new audiences
Cons
You may encounter some "copycats" and counterfeit products
Amazon owns the relationship with the customer (you lose control over product reviews + customer service)
If you already have a low-markup, amazon may not wrth your while and you could end up losing money
Commissions and listing fees are high - it's easy to lose control of your offering
Follow these instructions to get your product listed on Amazon or check out the video below on how to get started:
🌱 How To Grow Your Children's Clothing Business
Build A Blog
One of the most effective ways to build brand awareness and grow your business is through consistently blogging.
We've outlined some useful tips for you to consider when creating content:
Consistency and Quantity
Quality is important, but it should be the standard for any content you publish.
What's more important is consistency and quantity.
Consistency is as simple as committing to publishing and sharing a certain number of posts per week. For me, that's three per week right now.
This kind of commitment is key, because one day, a random post will blow up, and you will have never expected it.
Oversaturation
The easiest mind trap is to think "I'm posting too much", and "I need to give my readers/audience/this platform a break".
This is nonsense.
There is no such thing as oversaturation. Well, there is, but it is just someone else's opinion.
For every person that tells you you are posting too much, there is another person that wants even more of your content.
You should ignore people's opinions on how much you post.
Patience & Persistence
Keep posting, keep trying, and keep putting out good content on the regular. Your time will come, and when it does, it will change everything.
The only thing you have control over is your content.
You can't control how people will react to it. You can't control pageviews, likes, or shares.
So the only metric you should focus on is how much content you can put out in a week, month, etc.
Where to share your blog content
Mailing List
I know it sounds obvious, but the best places to share your content is on your mailing list. It is guaranteed traffic and it is a great way to get rapid feedback from your most loyal readers.
Send newsletters often. I have done once a week since starting, and I'm moving to twice a week soon.
Work on increasing your mailing list as well. Look into ways to increase your conversion rate to your mailing list. I added a flyout popup thing to my site and now I'm collecting ~30 emails per day.
An email newsletter is one of the most powerful assets you can have and it is worth its weight in gold.
Reddit
Reddit is one of my favorite places to promote content.
It is a very scary place because you will often get banned or heckled, but it can really pay off.
Create social media accounts for your blog, the main ones I use:
Twitter Facebook Instagram LinkedIn
Set up Buffer and share all of your blog posts to all of your accounts. All of these little shares really do add up.
Automate this as much as possible. I automated all of my social media for Starter Story.
Facebook Groups
When I started out, I put together a spreadsheet of relevant Facebook groups for my niche, and I would post to these groups whenever I had a big story I wanted to share.
Improve your SEO
SEO is not just about driving traffic to your site, it's about driving the RIGHT traffic to your site, and ultimately, converting leads into customers.
One of the most important aspects of SEO is understanding what your customers are searching for, otherwise known as "keyword research."
Here are some tools that can help you choose the right keywords for your children's clothing business.
Publish Great Content
Finding keywords is an important piece of the puzzle, but Google also ranks your site based on the actual content you produce, as this is what your customers are reading and engaging with.
There are various different "forms" of content that you may want to consider diversifying on your sites, such as blog posts, articles, studies, and videos.
So let's discuss what google considers "good content:"
Length - This will vary depending on the page, however, generally having a sufficient amount of content helps search engines recognize that your site is a good source for a specific topic
Engagement - The longer people stay on your website to read your content, the higher Google will rank your website. It's important to have informative and "thick" content that keeps people reading
Avoid Duplicating Content - Google will recognize this and may consider your content to have low value
Ensure pages load quickly - This will also help with engagement and time spent on your website
Shareability - Create content that people want to share, and is easy for them to share, especially to their social media accounts (ie. "click to tweet" is a great example of this).
Another element of creating good content is creating consistent content.
If (and hopefully you are) publishing content frequently, it's important to stick to a schedule - this helps build brand trust and easy user experience with your customers.
Planning out your content with a content calendar is key to staying consistent.
Here are a few great content calendar tools that can help you:
Backlinks
Backlinks are an important piece to SEO, as they allow for other websites to link to your content.
Search engines recognize that other sites are essentially "verifying" your content and essentially rank you higher because of this.
Of course, some links are more valuable than others and can affect your site in different ways.
For example, if a highly valuable and credible site like the New York Times links to a page on your website, this could be remarkable from an SEO perspective.
Aside from organically getting mentioned from other sites, there are other ways that you can increase and earn backlinks:
Create infographics with relevant data that people want to share
Promote your content on different sites/look into "guest blogging"
Contact influencers/journalists/bloggers and ask them to mention you!
Write testimonials for other sites in exchange for a backlink
Leverage existing business relationships
Learn more about the fundamentals of SEO ➜ here and check out Neil Patel's 3 Powerful SEO Tips below
Grow Your Email List
The more engaged list of emails, the more engaged customers, which ultimately leads to more sales.
One of the best ways to start growing your list is by providing your customer with something free (or discounted) in return.
This could also be anything from:
Ebook
Fascinating case study
Video series
Free week of the product
Discount on the product
Learn more about how to grow your email list and improve email marketing ➜ here.
Improve Your Email Marketing
Different types of emails
Here are the most common types of email campaigns you can send to your customers and their benefits:
Welcome emails - the perfect way to provide information from the start with a clear CTA. Make sure to tell your customer everything they need to know about your product or service.
Newsletters - a great way to give customers updates or send out your latest content
Product launch emails - the quickest (and easiest) way to increase sales is by selling to current customers. Make sure they're the first on the list to know about your new product
Promotional emails - promote discounts, deals coupons etc. Try and make this feel exclusive and for a limited time only
Abandoned cart emails - give your customers a reason to complete their purchase!
Here's a great resource for finding curated email designs, for all types of email campaigns!
Social Media Advertising
Social Media Advertising is one of the leading ways to get the word out when it comes to children's clothing business.
There are various different Social Media platforms available to you. Some may be more critical for your marketing efforts than others, however, it's important to have an understanding of what's out there and available to you.
Let's talk about a few of the main platforms and what makes them unique:
Facebook Advertising - more than 2 billion monthly users. Facebook is the best for lead generation + capturing email addresses for e-commerce businesses.
Instagram Advertising - approximately 500 million monthly users and has a higher audience engagement rate than any other platform. Instagram ads are best for linking to a product page or landing page and reaches the 18-29 age group most effectively.
Twitter Advertising- Small businesses typically use twitter ads to drive brand awareness, but the platform is meant more for organic engagement (and is not as heavily used for paid advertising)
Pinterest Advertising - 175 million monthly users and most effectively reaches the female audience. Pinterest is great for promoting products without "promoted". The promoted pins have a way of blending right in.
LinkedIn Advertising - 227 million monthly users and is geared towards the B2B market and generates the highest quality leads. Great platform for recruiters, high-end products and services that will help businesses
It's important to first define your goal/objective so that you don't waste time and money into the wrong platform:
Here are some different questions to ask yourself as it relates to your goals:
Do I want to simply drive brand awareness?
Do I want to drive users to my website to gather information?
Do I want to increase sales and get my customer to take action?
From there, choose the platform that targets your audience best and start experimenting!
Learn more about social media advertising ➜ here.
Host A Social Media Giveaway
People love free stuff and love competition. Giveaways and contests are a great way to create awareness for your brand, grow your email list, and eventually convert leads into customers.
If your goal is to gather email addresses, make sure the entry criteria is to "enter your email." You can do this by leading customers to your landing page where they can then enter their email to be in the giveaway.
One of the most important aspects of promoting a successful giveaway is having an amazing prize. The better the prize, the more engagement you'll get.
This doesn't necessarily mean choosing an iPad or an expensive/trendy watch, but instead a prize that is actually relevant to your brand/target audience.
🏃🏼‍♀️ How To Run Your Children's Clothing Business
How To Retain Customers For Your Children's Clothing Business
Retaining customers is one of the most effective ways to grow your children's clothing business.
Oftentimes, it's easy to find yourself focusing on generating new customers, vs retaining your current ones.
Look at it this way - you are 60-70% more likely to sell a new product to an existing customer than you are a new customer.
That's not to say that finding new customers and revenue streams is not important, however, the easiest (and most inexpensive) source of new revenue is right there in front of you.
Here are some ways you can retain customers for your children's clothing business:
Responding to comments on social media
Send discounts (or freebies) to loyal customers
Provide valuable content, for free
Write a hand written thank you note
Provide awesome customer service and build relationships with customers
To find out more tips and tricks on retaining customers, check out this article ➜ here
Erin Hooley, founder of Bailey's Blossoms discusses the key to retaining customers:
Diversify Your Product Line
Adding new products to your business is a great way to expand into new markets and grow your business.
It's important to note that adding new products and diversifying may not be in the cards for you right this moment, and that's okay. You can always consider it down the road.
Here are some reasons you may want to considering adding/diversifying your product
Meeting the needs of your customers
Establish yourself as a top provider in your industry and stay ahead of the game with competition
Resistance to downturns/trends fading
Create new revenue streams
Resources
We put together the best resources on the internet to help you start your children's clothing business.
Tools
Books
Web Resources
Videos
Case Studies
Are you ready to boost your revenue?