If you ask any entrepreneur, starting a business comes with its fair share of challenges.
Starting your own swimwear line requires a great deal of effort, dedication and most importantly passion.
If you're willing to put in the effort to build your own swimwear line, you're going to want to follow the critical steps to creating a successful brand.
We've created a guide that covers each step of the process - from making key financial decisions, to launching and marketing your business the right way, and tips/strategies on how to grow your swimwear line effectively.
💡 Introduction To Starting A Swimwear Line
How To Name Your Swimwear Line
It's important to find a catchy name for your swimwear line so that you can stand out in your space.
Here are some general tips to consider when naming your swimwear line
Avoid hard to spell names: you want something easy to remember and easy to spell for your customers
Conduct a search to see if others in the space have the same name
Try not to pick a name that limits growth opportunities for your business (ie. if you decide to expand into other product lines)
As soon as you have an idea (or ideas) of a few names that you love, register the domain name(s) as soon as possible!
Why is naming your swimwear line so important?
The name of your business will forever play a role in:
Your customers first impression
Your businesses identity
The power behind the type of customer your brand attracts
If you're memorable or not
It's important to verify that the domain name is available for your swimwear line.
You can search domain availability here:
Although .com names are the most common and easiest to remember, there are other options if your .com domain name is not available. Depending on your audience, it may not matter as much as you think.
It's also important to thoroughly check if social media handles are available.
As soon as you resonate with a name (or names), secure the domain and SM handles as soon as possible to ensure they don't get taken.
Here's some inspiration for naming your swimwear line:
Mermaid Racer

check availability

Swimwear Supreme

check availability

A Shore Thing

check availability

Swimwear Ready

check availability

Focus

check availability

Performa Swimwear

check availability

Find yourway

check availability

The Smiley Apparel

check availability

Ress

check availability

WavyDay

check availability

BlueWonder

check availability

Aquaspeed

check availability

Curves+ Beauty Line

check availability

Osea

check availability

Swimsport

check availability

Lege

check availability

Favell

check availability

ZooZuu

check availability

Itisme Sun Wear

check availability

The Fine Waters Apparel

check availability

Swimming Kingdom

check availability

Kickin' Swimwear

check availability

Swimming Ride

check availability

Waterrags

check availability

Float

check availability

Sunpeace Apparel

check availability

Golden Goddess Swimming

check availability

Beachy Apparel

check availability

Dwers

check availability

Freestyle Suits

check availability

Beach Fashionista

check availability

Darwin

check availability

Body Beauty

check availability

Aquaboy

check availability

The Sea Swimmers

check availability

Swimcool Apparel

check availability

Aquafit

check availability

The Fun Sea

check availability

Simply Swimwear

check availability

Dive Into Swim

check availability

Sea Kingdom

check availability

WheelDive

check availability

Green Mermaid Kingdom

check availability

Waterlove

check availability

Coloreffects Apparel

check availability

Great East

check availability

Watersign Apparel

check availability

Dive In!

check availability

The Sea Palace

check availability

Sweet n Sexy

check availability

SunPattern

check availability

Water Kingdom Class

check availability

Swimwear Supplier

check availability

A Shore Thing

check availability

AquaFusion Instructor

check availability

Water Magic

check availability

Dancing Wave

check availability

International Swimming Institution

check availability

Water Wardrobes

check availability

Laps To Waves

check availability

Water Army

check availability

Girlswim

check availability

Swim Coverings

check availability

Sandsea forever

check availability

Commando

check availability

Bubble Wear

check availability

SunSymfony

check availability

Water Centre

check availability

New England

check availability

The Perfect Hourglass Swimsuits

check availability

FreckleFrock

check availability

Klorin8

check availability

Swimming Institute for Women

check availability
Players
Big Players
Small Players
Brick & Mortar vs eCommerce Business Model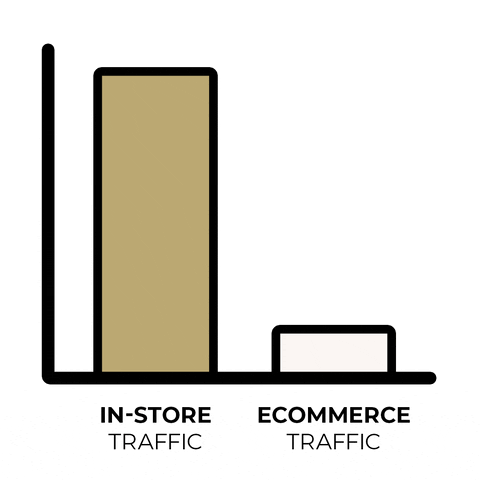 When deciding whether or not to start a swimwear line, it's important to first decide what type of business model you want (brick and mortar, eCommerce, or both)!
Here are a few things to keep in mind when considering a Brick & Mortar store:
Brick & Mortar Model
If you do plan to open a physical store, it's important that you find a spot in a high-traffic area. This is a great way to gain exposure for your business and also get new customers.
It's also important to consider the higher costs associated with operating a physical store (ie - employees, rent, utilities, etc) and the long days/hours associated with running a store.
The main benefit, however, is that customers love being able to see products in person. It's important to recognize that although some people enjoy shopping online, there will always be the shopper persona that likes to touch, feel, and see the product they're buying.
eCommerce Business
One of the main benefits of operating online is that you are exposed to the entire world, versus just one local area. Rather than depending on foot traffic, you have all the tools at your disposal to create exposure for your store online.
Additionally, there are much lower costs to operate an online store - fewer employees, you can operate from your home, and you get to create your own schedules (yes, holidays included!)
Although you are operating online and have the ability to connect with people all over the world, it's important to consider that you will need to invest marketing money upfront in order to promote your store to the right audience.
So, which business model should you go with?
Each model has their benefits, however, the consumer trends for swimwear line are shifting towards e-commerce businesses.
Search Interest
Let's take a look at the search trends for swimsuits over the last year:
🎬 How To Start A Swimwear Line
Setting Up Your Swimwear Line (Formation and Legal)
When it comes to setting up your business, you may find yourself in a place where you have to make some financial and legal decisions.
The first thing you'll want to decide on is whether you want to be an LLC, S-Corp, or C-Corp.
These three options are found to be the most common when starting a small business, and all serve to protect your personal assets and also provide you with certain tax benefits.
LLC: All income and expenses from the business are reported on the LLC personal income tax return.
S corp: Owners pay themselves salaries + receive dividends from profits.
C Corp: C Corps are separately taxable entities that file a corporate tax return (Form 1120). No income tax is paid at the corporate level and any tax due is paid at the owners individual expense.
Depending on where you're conducting business, you'll also want to consider securing the proper permits, licenses and liability insurance.
Learn more about securing the right permits and licenses ➜
Need to start an LLC? Create an LLC in minutes with ZenBusiness.
Determine Which Business Bank Account You Need
There are hundreds of banks out there, and it can be overwhelming to find one that's right for your business.
Here are some factors you may want to consider:
Location - Is your bank close enough that you can easily make deposits or get cash?
Low Fees - Make sure to understand any and all fees associated with setting up and maintaining your bank account. Ask for a list - banks usually try to keep this hidden and in the fine print.
Online Banking Services - Make sure you can easily navigate through your online portal and you have easy access to everything you need.
Line of Credit - What do your options look like (even if you don't need this now, you may need this down the road).
Every bank has something that differentiates them from the rest, so make sure whatever that is applied to your needs and values.
Check out this list of the 13 Best Banks for Small Business in 2020 and what makes them so unique.
Design A Prototype
Turning your idea into a reality can feel like a daunting task - but it's critical that you have an idea of what your product will look like (even if it's just a sketch) prior to finding a manufacturer.
Here are some common ways you can design your prototype:
Draw Your Initial Design on Paper
Form pieces of fabric together
Consider Taking A Generic Product And Putting Your Own Brand On It
Try Making the Product Yourself
Consider Building A Prototype With A 3D Printer
To learn more about how to design and prototype a product, check out our latest guide here.
Purchasing Inventory For Your Swimwear Line
When first starting out, it's important to start small with your overhead to get a gauge for what people want.
Just remember - if you order a line of items that don't sell, it's nearly impossible to recoup the money lost.
Buying the right inventory takes research and planning in order to get it right.
Identify your target audience: Identify the age, gender, annual income that you will be selling to. This is a defining factor in ordering the right inventory that will sell.
Research your competition: Conduct market research and identify the different types of styles, price points, and materials being used. This will help you see what's trending and ways that you can improve/stay ahead of the competition.
Create an inventory wishlist: Identify what you need for the launch of your business and create a budget that you will stay within. Remember, it's okay to start small.
Find a supplier Make sure to first compare prices and analyze different options.
Delivery timing: Schedule the inventory delivery to match with seasonality and trending buying seasons
Pro-tip: It's easy to become biased based on your own fashion preferences on what types of shoes/apparel to purchase. This is where a lot of fashion businesses go wrong. It's important to base purchase decisions on current buyer behavior, trends in the market, and specific to your niche.
Startup Costs For Your Swimwear Line
If you are planning to start a swimwear line, the costs are relatively low. This, of course, depends on if you decide to start the business with lean expenses or bringing in a large team and spending more money.
We've outlined two common scenarios for "pre-opening" costs of a swimwear line and outline the costs you should expect for each:
The estimated minimum starting cost = $1,315
The estimated maximum starting cost = $21,100
| Startup Expenses: Average expenses incurred when starting a swimwear line. | Min Startup Costs: You plan to execute on your own. You're able to work from home with minimal costs. | Max Startup Costs: You have started with 1+ other team members. |
| --- | --- | --- |
| Employee & Freelancer Expenses | | |
| Payroll: This number depends on if you decide to pay yourself a salary upfront and how many employees you have on payroll. At first, many founders take on all responsibilities until the business is up and running. You can always hire down the road when you understand where you need help. Keep in mind, if you do plan to pay yourself, the average salary founders make is $50K. | $0 | $4,000 |
| Total Employee & Freelancer Expenses | $0 (min) | $4,000 (max) |
| Equipment & Supply Expenses | | |
| Technology Office Equipment: This includes (but is not limited to) physical items such as: laptops, cameras, monitors, microphones, speakers, headsets. Technology needs grow as your company evolves, so to minimize costs, try and only purchase what is needed for you to run your business at the time. | $500 | $5,000 |
| Total Equipment & Supply Expenses | $500 (min) | $5,000 (max) |
| Website Costs | | |
| Website builder: The cost of your website will vary depending on which platform you choose. There are many website builders on the market, so it's important you choose the right one for your business and overall goals. To learn more about your options + how to build a great website, check out this article. | $15 | $100 |
| Total Website Costs | $15 (min) | $100 (max) |
| Business Formation Fees | | |
| Small Business Insurance: Depending on which state you live in and the business you're operating, the costs and requirements for small business insurance vary. You can learn more here. | $500 | $2,000 |
| Total Business Formation Fees | $500 (min) | $2,000 (max) |
| Retail Business Expenses | | |
| Shop Decor: If you plan to operate a physical store, you may want to consider decorating the place with wall decor, furniture, plants etc. | $0 | $5,000 |
| Total Retail Business Expenses | $0 (min) | $5,000 (max) |
| Inventory Expenses | | |
| Upfront Costs For Inventory: This includes all upfront inventory you will need in order to launch. Be sure to compare prices of wholesalers to ensure you're getting the best deal and margins remain high. | $300 | $5,000 |
| Total Inventory Expenses | $300 (min) | $5,000 (max) |
| Total Starting Costs | $1,315 (min) | $21,100 (max) |
Raising Money
Since the startup costs to start swimwear line range between $1,315 - $21,100, there are ways you can raise money to cover these costs.
Here are a few ways you can secure additional funding:
Revenue Expectations
We've interviewed several different founders in the swimwear line and asked them how much $ they're making today.
$9.6K/year in revenue
Sells swimsuit cover-up.
2 founders
2 employees
$60K/year in revenue
Sells luxury beach and compeittion swimwear
Solo founder
0 employees
$300K/year in revenue
Sells swin trunks
Solo founder
1 employee
$120K/year in revenue
Sells sustainable swimwear.
Solo founder
0 employees
How To Price Your Swimsuits
One of the most challenging and critical pieces to starting your swimwear line is determining how much to charge for your swimsuits.
When businesses under-price their product, this can be extremely detrimental to their bottom line and reputation.
Often times, businesses under-price their products to drive demand and volume, but that last thing you want is for customers to view your product/service as "cheap." Additionally, this can have a big impact on the type of customer you attract, which can be difficult to recover from.
On the other hand, when businesses over-price, this tends to be just as damaging to the business.
When customers buy, it's likely that they will explore the internet and look at other competitors to ensure they're getting the best value + deal. This is why it's so important that you research your competition and understand where you land in the marketplace.
Here are some factors to consider when pricing your product:
Understand your customer
It's important that out of the gates, you identify the type of customer you want to attract and how much they're willing to pay for your service. One great way to do this is by surveying your customers. Here are some important items you'll want to takeaway:
Customer demographic: Age, gender, location, etc.
Buying habits of your customer: What they buy + when they buy
Level of price sensitivity with your customer
All of these segments will help you identify the type of customer you're attracting and how to price your product accordingly.
Understand your costs
When pricing your swimsuits, it's critical that you first identify all of your costs and consequently mark up your swimsuits so you can factor in a profit.
The actual cost of your swimsuits may include things like:
The actual cost to make the product (ie. raw materials, supplies, manufacturer).
Shipping + overhead fees
Rent
Operating costs to run your business
You may want to consider creating a spreadsheet with every single expense involved in operating/owning your business. This will give you an idea as to what you need to generate in order to at the very least, break-even and will help you price your products to factor in a profit.
Create revenue goals
When determining the price of your swimsuits, you'll want to create goals for revenue + how much profit you want your swimwear line to make.
This process is simpler than you may think:
Think about your breakeven cost (by completing the above step).
Create a revenue goal based on your break-even cost
Evaluate the # of items you plan to sell in a given period (make sure this is a realistic number)
Divide your revenue goal by the number of items you plan to sell
This figure will help determine your estimated price per product in order to meet your revenue goals.
Evaluate your competition
The last piece in determining how to price your swimsuits is by simply looking at your competition.
The best way to do this is by finding like-minded businesses that offer product(s) with similar perceived value. Then, you can compare prices of the different businesses and determine where your swimsuits fits best in the marketplace.
All of these factors play an equal part in pricing your swimsuits, so it's important you evaluate each one individually to come up with an accurate price that will help optimize your business from the start.
How To Find A Supplier For Your Swimwear Line
Here are the steps to consider when finding a supplier/manufacturer:
Know your design
One very critical step to finding the right supplier is having an initial idea of what your design/product will look like.
Sketching is one of the most simple ways to get started in the design phase.
What's great about sketching is that you can practically do this anytime, anywhere - even on the back of a napkin.
To get started, all you need to do is pick up a pen and paper and start drawing - or if you are working on a virtual/software product this can be a diagram that outlines the user interface or experience.
Decide your supplier type
You'll want to identify the type of supplier you are looking for.
Here are some questions you may want to ask yourself prior to searching for a supplier
Are you looking for a manufacturer to produce your product idea?
Do you want to find a supplier that can simply purchase existing products for you?
Do you want a drop-shipper to supply and fulfill orders?
Do you want a domestic supplier or an overseas supplier? Read more about the pros and cons of each here
Where to start your search
Once you have an understanding of what type of manufacturer/supplier will be best to bring your idea to life, there are several areas you can start your search:
Domestic Suppliers
Overseas Suppliers
🚀 How To Launch Your Swimwear Line
Marketplaces
There are various different marketplaces that you can effectively sell and promote your swimwear line, whether that's local or online!
Here are some of the most common ones:
Your own website! Shopify is known to be the best for e-commerce stores
Local places! Gift shops, farmers markets, festivals, grocery stores etc
Etsy - E-commerce website for craft supplies
Craft is Art Marketplace to buy and sell handmade crafts & fine art
Aftcra Online marketplace where you can buy and sell handmade products
Storenvy Marketplace for authentic brands
Etsy Tips From Founders
Etsy is one of the most common marketplaces for this business type, however, there are some tips and tricks from other founders you'll want to consider prior to listing:
Consider Selling On Amazon
In addition to selling your products directly on your site, you may want to consider selling on Amazon to reach a wider audience and attract new customers.
Here are some pros and cons of selling on amazon:
Pros
Easy and seamless process to get your product listed on Amazon
There are roughly 100 million thoroughly committed prime customers, so you're bound to tap into new business
Can help grow your business exponentially and reach new audiences
Cons
You may encounter some "copycats" and counterfeit products
Amazon owns the relationship with the customer (you lose control over product reviews + customer service)
If you already have a low-markup, amazon may not wrth your while and you could end up losing money
Commissions and listing fees are high - it's easy to lose control of your offering
Follow these instructions to get your product listed on Amazon or check out the video below on how to get started:
Make Sure You Get The Package Design Right
The way you package your swimwear line is often the first impression your customer has - so it's important to get it right.
You may want to ask yourself these questions:
If my product is on a shelf next to hundreds of other similar products:
Will my swimwear line stand out?
Will the branding/packaging create a connection with my customer, and hence, lead them to buy?
There are hundreds of tools you can use to help with packaging and design:
Build A Website
Building a website is imperative when launching your business, and with the right tools in place, this can be a simple task to check off the list (without having to hire someone).
Pick a domain name that's easy to remember and easy to type
Choose a Web Hosting Plan (ie. Shopify, Squarespace)
Make sure you choose the right theme and design
Implement the proper page structure (ie. about page, contact page, pricing etc)
To learn more about how to build a stellar website with little stress, we give you all the details on this step-by-step guide.
Web Design
Once you have chosen the domain, web hosting, and platform, it's time to get started with the design phase.
Themes are a great way to produce the fundamental style and identity of your website - this includes everything from your font design to your blog post styles.
One of the best ways to get started is to simply explore the various themes (free or paid depending on what you're looking for) and test them on your site.
If web-design really isn't in the cards for you, you may want to consider outsourcing a web designer to help bring your vision and brand to life.
Traditional Launch Strategies For Your Swimwear Line:
There are various different ways you can launch your swimwear line successfully.
Here are a few different strategies to get customers excited about your swimwear line:
Set up a Facebook page for your business. This is a great way to establish an online presence
Host an event in a fun location with drinks & food. This is a great way to get exposure in the local community.
Get Press! Pitch your story to the media and you may just land in an amazing publication
Live sales to get customers excited
Send a hand-written letter in the mail with a discount on your services to the local community/neighborhoods.
🌱 How To Grow Your Swimwear Line
Social Media Advertising
Social Media Advertising is one of the leading ways to get the word out when it comes to swimwear line.
There are various different Social Media platforms available to you. Some may be more critical for your marketing efforts than others, however, it's important to have an understanding of what's out there and available to you.
Let's talk about a few of the main platforms and what makes them unique:
Facebook Advertising - more than 2 billion monthly users. Facebook is the best for lead generation + capturing email addresses for e-commerce businesses.
Instagram Advertising - approximately 500 million monthly users and has a higher audience engagement rate than any other platform. Instagram ads are best for linking to a product page or landing page and reaches the 18-29 age group most effectively.
Twitter Advertising- Small businesses typically use twitter ads to drive brand awareness, but the platform is meant more for organic engagement (and is not as heavily used for paid advertising)
Pinterest Advertising - 175 million monthly users and most effectively reaches the female audience. Pinterest is great for promoting products without "promoted". The promoted pins have a way of blending right in.
LinkedIn Advertising - 227 million monthly users and is geared towards the B2B market and generates the highest quality leads. Great platform for recruiters, high-end products and services that will help businesses
It's important to first define your goal/objective so that you don't waste time and money into the wrong platform:
Here are some different questions to ask yourself as it relates to your goals:
Do I want to simply drive brand awareness?
Do I want to drive users to my website to gather information?
Do I want to increase sales and get my customer to take action?
From there, choose the platform that targets your audience best and start experimenting!
Learn more about social media advertising ➜ here.
Consider Working With Instagram Influencers
Partnering with like-minded influencers (within your industry) is one of the most effective ways to grow your social media organically.
Industry influencers already have an established and loyal following. With one post, your product immediately establishes a connection with a brand new audience. It's that powerful.
When finding influencers to promote your product, do your research and make sure that their following will actually be interested in your product.
It's easy to be blinded by any influencer with a huge following, but if those followers don't resonate with your product, there may not be any value there... so make sure you do your research!
Grow Your Email List
The more engaged list of emails, the more engaged customers, which ultimately leads to more sales.
One of the best ways to start growing your list is by providing your customer with something free (or discounted) in return.
This could also be anything from:
Ebook
Fascinating case study
Video series
Free week of the product
Discount on the product
Learn more about how to grow your email list and improve email marketing ➜ here.
Improve Your Email Marketing
Different types of emails
Here are the most common types of email campaigns you can send to your customers and their benefits:
Welcome emails - the perfect way to provide information from the start with a clear CTA. Make sure to tell your customer everything they need to know about your product or service.
Newsletters - a great way to give customers updates or send out your latest content
Product launch emails - the quickest (and easiest) way to increase sales is by selling to current customers. Make sure they're the first on the list to know about your new product
Promotional emails - promote discounts, deals coupons etc. Try and make this feel exclusive and for a limited time only
Abandoned cart emails - give your customers a reason to complete their purchase!
Here's a great resource for finding curated email designs, for all types of email campaigns!
🏃🏼‍♀️ How To Run Your Swimwear Line
Provide Great Customer Service
Providing exceptional care and creating relationships with clients is a great way to build your reputation and retain customers.
Whether you are an online business or a physical business, it's highly important to communicate with customers and make them feel like they are the priority.
Just remember: customer service represents your brand, values, vision and YOU as a person.
Authenticity
As a brand, you want to deliver an experience that authentic, honest and transparent.
Don't make the mistake of giving your audience less credit than they deserve.
Outsourcing
If you can afford to hire someone to help support your swimwear line, outsourcing is a great way to save you time and energy.
Most importantly, outsourcing can help you focus on the core growth of your business, versus spending your time on day to day tasks that other people can do just as well!
If you do plan to outsource your work, it's important to be hyper-familiar with the actual work involved.
Why is it important to be hyper-familiar with the work?
So you can understand how long it takes
So you understand the full process, edge cases, things that can go wrong.
So you can explain it in detail to your employee.
So you can make sure it actually works (for example - how do you know cold email works for your business if you're not on the ground floor trying it out?)
Understanding the tasks at a deep level will save you a lot of time and money.
Build a Referral Program
Word of mouth is one of the best ways to get the word out about your business and acquire new customers. Especially when you are starting out, it's important to build a solid referral program to encourage existing customers to help you find new ones.
A great way to do that is by offering a reward (ie. credit on your service or cash) to customers that refer you to their friends and family.
A fantastic referral program will help with clout, credibility, and establishing yourself in the space.
Resources
We put together the best resources on the internet to help you start your swimwear line.
Tools
Books
Web Resources
Videos
Case Studies
Share the story of Starter Story!