You've stumbled upon the idea to build a soap business and now you're ready to take the next steps.
There's a lot to think about when building a business, so we put together a guide on how to get started, launch, grow and run your soap business.
We also provide you with real-life case studies and examples of founders running successful soap business (and how much💰 they're making today).
💡 Idea
How To Make Soap
Surprisingly, the process of making soap is simple and there are not many ingredients or materials involved with making the product.
Additionally, the cost to make soap is very low (we'll get into exact costs in the startup cost section below).
We've outlined a few tips to consider when getting started:
Tools to start making soap
Slow cooker
Plastic, glass, or stainless steel container (for measuring lye)
Heavy duty plastic, glass, or stainless steel container (for mixing)
Scale
Silicone spatulas
Immersion blender
Thermometer
Silicone loaf mold (or individual molds)
Ingredients to start making soap
(note that these ingredients may vary depending on the soap you are making - these are great ones to get started and DIY):
Coconut oil
Olive oil
Distilled water
100% pure lye
Essential oils
Colorants (optional)
The process of making soap
The process of making soap takes about 1-3 hours depending on the type of soap you make.
Follow 6 easy steps to making your soap here.
Identify the fragrance style you want (essential oils)
This depends on the target audience you are going for.
For example:
Mass Market are great for scents such as vanilla, lavender, strawberry
Mid-market (one level up) typically prefer grapefruit or lemongrass
High-end (prestige) market look for more unique and complex scents like fig tree and blossom & basil
Research supply companies to source products
Here are some common suppliers:
Here are the top ten suggested essential oils to use as a beginner soap maker.
Is The Soap Business For You?
Let's look at the pros and cons of starting your own soap business
Pros:
Flexibility: One of the biggest advantages of starting a soap business is that you can put as much time into the business as you'd like. If you like the work and have some initial experience, you can start small and manage all aspects of the business on your own.
Ability to start your business from home: It's not necessary to have a physical storefront or office space to get your business started. You can do everything from the comfort of your own home, at least in the beginning!
Little startup costs required: The cost to start a soap business costs significantly less money than most businesses, ranging anywhere from 1,150 to 15,300.
Rewarding work: Starting a soap business can be really rewarding and fun work. After all, you're bringing joy and excitement into peoples lives.
Cons:
Crowded space: Competition is high when it comes to your soap business, so it's important that you spend a good amount of time analyzing the market and understanding where the demand lies.
Finding the right supplier: Most businesses in this space go the supplier/manufacturer route, which isn't a bad thing! However, finding the right supplier can take a lot of time, energy and trial/error. If done properly, this process can save you months (if not years) of time and energy. More on this below in the "finding a supplier" section.
Creating a successful soap business means that you will have the ability to sell, provide stellar customer service, communicate with vendors and motivate your team (even if it's down the road)!
Players
Big Players
Small Players
How To Name Your Soap Business
It's important to find a catchy name for your soap business so that you can stand out in your space.
Here are some general tips to consider when naming your soap business
Avoid hard to spell names: you want something easy to remember and easy to spell for your customers
Conduct a search to see if others in the space have the same name
Try not to pick a name that limits growth opportunities for your business (ie. if you decide to expand into other product lines)
As soon as you have an idea (or ideas) of a few names that you love, register the domain name(s) as soon as possible!
Why is naming your soap business so important?
The name of your business will forever play a role in:
Your customers first impression
Your businesses identity
The power behind the type of customer your brand attracts
If you're memorable or not
It's important to verify that the domain name is available for your soap business.
You can search domain availability here:
Find a domain starting at $0.88
Although .com names are the most common and easiest to remember, there are other options if your .com domain name is not available. Depending on your audience, it may not matter as much as you think.
It's also important to thoroughly check if social media handles are available.
As soon as you resonate with a name (or names), secure the domain and SM handles as soon as possible to ensure they don't get taken.
Here's some inspiration for naming your soap business:
Green Touch
Green Soap Inc.
Lemonbay Soap
Golden Glow
Sparkle Smirk
Sleepy Time Soaps
Vivian Gray
Love+Light
The Bro Bars
Able Body Care
Body And Soap
Gem Soap
Cosmix Soap Co.
Scrubbed Clean
Soft Soaps
Leftover Lather
Bubble Town
Beauty Plus
Soap Suds
Soothing Soaps
Clean Team
Luscious Lather
Luxurious Lather
Beautiful Bubbles
Beauty Bubbles
Wanted Wash
Suds Of Love
Soapmakers
Grateful Body
Pampered Skin
Bathing Beauty
Come Clean
Visionary Finds
Entangled Love
Pretty Skin
Shine Bright Soaps
Soap Love
Glitter Gold Soaps
Beauty Bars
Kiss The Skin Soaps
The Bath Babes
Lightworker Loves
The Bro Bars
Beautiful Bubbles
Classy Wash
Idyllic Body scents
Blissful Bubbles
Brilliant Skin Condition
Nature 2 skin
Faire Main
Opulencely Lavish
Naturals 4 U
Natures Mumbo Jumbo
Karisima Skincare
Lotta lather
Poseidon Paradise
Paradise Scent
Paradise Suds
Supreme Soap
Natural Essence
Gem Soap
Jasmine Essence
Nirvana Soap
Sunrise Luxury Soap
Royalcastle Soap
Skinglimmer Soap
Mountain Peak Soap
Indigoglow Soap
Read our full guide on naming your soap business ➜
🎬 How To Get Your Soap Business Started
Identify Target Customer
A very critical piece in building soap business is to identify your ideal target customer.
Develop a niche and create a consistent brand that reflects your target customer.
The colors, logo, content, and overall website should resonate with your target customer and should draw them in by helping them solve their specific "need".
For example, Outlaw Soaps speaks to a very specific (and niche) customer: one that loves adventures and the scents that come with it.
One of our most divisive scents is Fire in the Hole. It's campfire-inspired, which immediately turns some people against it... but we love the smell of a good campfire.
It reminds us of nights with friends out in the dusty high desert, drinking terrible beer and standing around a bonfire laughing about a good joke that someone told (and then someone else retold, because it's a little loud).
Our mission since the very beginning of the business has been to find our right customers wherever they are, and build the most frictionless buying experience possible.
Write a Business Plan
Writing a business plan from the start is critical for the success of your soap business.
Why?
Because this allows you to roadmap exactly what you do, what your overall structure will look like, and where you want to be in the future.
For many entrepreneurs, writing out the business plan helps validate their idea and decide whether or not they should move forward with starting the business.
You may want to consider expanding upon these sections in your business plan:
Executive Summary: Brief outline of your product, the market, and growth opportunities
Overviews and Objectives: Overview of your business, target customers, and what you need to run your business
Products and Services: Specifics on the products and services your business will provide
Market Opportunities: Analysis of customer demographics, buyer habits and if your product is in demand
Marketing: Outline of your marketing plan and how you plan to differentiate yourself from other customers
Competitive analysis: Analysis of your competition and the strengths and weaknesses therein
Operations: Hierarchal structure of the company and what it will take to run the business on the day-to-day
Leadership Team: Detailing roles and responsibilities of each manager based on their specific skill-set
Financial Analysis Understanding of all expenses, operating budgets, and projections for the future.
Learn more about how to write a business plan here
Determine Which Business Bank Account You Need
There are hundreds of banks out there, and it can be overwhelming to find one that's right for your business.
Here are some factors you may want to consider:
Location - Is your bank close enough that you can easily make deposits or get cash?
Low Fees - Make sure to understand any and all fees associated with setting up and maintaining your bank account. Ask for a list - banks usually try to keep this hidden and in the fine print.
Online Banking Services - Make sure you can easily navigate through your online portal and you have easy access to everything you need.
Line of Credit - What do your options look like (even if you don't need this now, you may need this down the road).
Every bank has something that differentiates them from the rest, so make sure whatever that is applied to your needs and values.
Check out this list of the 13 Best Banks for Small Business in 2020 and what makes them so unique.
Setting Up Your Soap Business (Formation and Legal)
When it comes to setting up your business, you may find yourself in a place where you have to make some financial and legal decisions.
The first thing you'll want to decide on is whether you want to be an LLC, S-Corp, or C-Corp.
These three options are found to be the most common when starting a small business, and all serve to protect your personal assets and also provide you with certain tax benefits.
LLC: All income and expenses from the business are reported on the LLC personal income tax return.
S corp: Owners pay themselves salaries + receive dividends from profits.
C Corp: C Corps are separately taxable entities that file a corporate tax return (Form 1120). No income tax is paid at the corporate level and any tax due is paid at the owners individual expense.
Depending on where you're conducting business, you'll also want to consider securing the proper permits, licenses and liability insurance.
Learn more about securing the right permits and licenses ➜
Revenue Expectations
We've interviewed several different founders in the soap business and asked them how much $ they're making today.
$14.4K/year in revenue
Sells homemade organic soaps
Solo founder
1 employee
$33.6K/year in revenue
Sells soap, lotions & bubble bath
Solo founder
0 employees
$60K/year in revenue
Sells handcrafted soap.
Solo founder
0 employees
$888K/year in revenue
Sells fun soaps and lotions
2 founders
7 employees
How To Find A Supplier For Your Soap Business
Here are the steps to consider when finding a supplier/manufacturer:
Know your design
One very critical step to finding the right supplier is having an initial idea of what your design/product will look like.
Sketching is one of the most simple ways to get started in the design phase.
What's great about sketching is that you can practically do this anytime, anywhere - even on the back of a napkin.
To get started, all you need to do is pick up a pen and paper and start drawing - or if you are working on a virtual/software product this can be a diagram that outlines the user interface or experience.
Decide your supplier type
You'll want to identify the type of supplier you are looking for.
Here are some questions you may want to ask yourself prior to searching for a supplier
Are you looking for a manufacturer to produce your product idea?
Do you want to find a supplier that can simply purchase existing products for you?
Do you want a drop-shipper to supply and fulfill orders?
Do you want a domestic supplier or an overseas supplier? Read more about the pros and cons of each here
Where to start your search
Once you have an understanding of what type of manufacturer/supplier will be best to bring your idea to life, there are several areas you can start your search:
Domestic Suppliers
Overseas Suppliers
Manufacturing Your Product In House
It's also very common to manufacture your soap product on your own - either from your home or in a shop.
In order to get the product right, you may want to consider experimenting with different scents, designs and formulas.
Warina Foster, founder of the Kiss My Crown Essentials walks us through her manufacturing process:
I design all of my products from home.
I select the soap base that I want to use depending on the consistency, look, feel, and design I'm going for. My main soap bases are Shea Butter, Aloe Vera, Goat's Milk, and Mango Butter. Each of these has its own set of health benefits for the skin.
I start by combining my ingredients like essential oils, carrier oils, flowers, freeze-dried fruits, etc. Next, I select the type of mold or shape I want this soap to take once it sets.
After pouring the soap in the selected molds I have about 2-6 hours to gather the materials for wrapping the soaps once they are set. That usually includes shrink wrap, my logo stickers, and ingredients labels for the back of each soap. I think of my business like my baby, therefore most of the packaging, labels, and designs are done by me.
Each order I fill and ship is carefully customized. I allow customers gift messaging when shipping my products because too often gifts are bought with little to no thought invested.
My customers are invested, they are wowed each time they receive gifts from me. No two shipments are ever the same.
Startup Costs
If you are planning to start a soap business, the costs are relatively low. This of course, depends on if you decide to start the business on your own or bring on a big team at first.
We've outlined two common scenarios for "pre-opening" costs of a soap business and outline the costs you should expect for each:
The estimated minimum starting cost = $1,150
The estimated maximum starting cost = $15,300
| Startup ExpensesThese numbers are based off the average expenses incurred when starting a soap business. | Min Startup CostsDefined as an soap business you have started and plan to execute on your own. You're able to work from home with minimal costs. | Max Startup CostsDefined as an soap business you have started with one other team member. You decided to rent out an office space to set up the business. |
| --- | --- | --- |
| Licenses and Business FormationThis refers to setting up your business license and establishing any legal contracts. | $250 | $1,000 |
| PayrollThis number depends on if you decide to pay yourself a salary up front and the amount of employees you hire. The average salary for a full-time soap business individual is | $0 | $4,000 |
| Advertising/PromotionThis includes (but not limited to): paid ads, public relations, networking events etc. | $200 | $2,000 |
| Website and Email HostingCosts to host website, domain names and email | $100 | $300 |
| RentThis refers to the office space you decide to work in. Depending on the cost of living, this number could vary. | $0 | $2,500 |
| Soap IngredientsThis includes but is not limited to: Lye, fats, oils etc. | $100 | $500 |
| Equipment and TechnologyThis includes (but is not limited to) any expenses such as: laptops, cameras, office supplies and technology platforms | $500 | $5,000 |
| Total Starting Costs | $1,150 (min) | $15,300 (max) |
🚀 How To Launch Your Soap Business
Build A Website
Building a website is imperative when launching your business, and with the right tools in place, this can be a simple task to check off the list (without having to hire someone).
Pick a domain name that's easy to remember and easy to type
Choose a Web Hosting Plan (ie. Shopify, Squarespace)
Make sure you choose the right theme and design
Implement the proper page structure (ie. about page, contact page, pricing etc)
To learn more about how to build a stellar website with little stress, we give you all the details on this step-by-step guide.
WordPress
WordPress is one of the most common platforms for agencies and landing pages.
Here are the main reasons agencies are using WordPress:
The platform is free
SEO is built into the platform (automatically generates title tags and meta descriptions for you)
Hundreds of different themes that are easily adjustable.
Great blogging functionality
Pricing:
Free to use/open source but you will need to pay for the hosting.
202 successful businesses are using WordPress
---
Website: wordpress.com
Shopify
Shopify is one of the #1 leading platforms for e-commerce businesses.
Here are some of the main reasons most e-commerce businesses are using Shopify:
Geared towards supporting store owners. Provides a simple way to launch and manage your online store
Customer support is off the charts (live chat)
Easy to use - You don't have to worry about the technical side
The design is clean and mobile-friendly. There are also hundreds of templates you can use.
Easy integrations and additional channels (ie. Amazon, email marketing integrations, Facebook, etc).
Pricing:
Basic Shopify: $29/month
Shopify: $79/month
Advanced Shopify: $299/month
331 successful businesses are using Shopify
---
Website: shopify.com
Traditional Launch Strategies (that work)
There are various different ways you can launch your soap business successfully.
Here are a few different strategies to get customers excited about your soap business:
Set up a Facebook page for your business. This is a great way to establish an online presence
Host an event in a fun location with drinks & food. This is a great way to get exposure in the local community.
Get Press! Pitch your story to the media and you may just land in an amazing publication
Live sales to get customers excited
Send a hand-written letter in the mail with a discount on your services to the local community/neighborhoods.
How To Price Your Handcrafted Soap
One of the most challenging and critical pieces to starting your soap business is determining how much to charge for your handcrafted soap
When businesses under-price their product, this can be extremely detrimental to their bottom line and reputation.
Often times, businesses under-price their products to drive demand and volume, but that last thing you want is for customers to view your product/service as "cheap." Additionally, this can have a big impact on the type of customer you attract, which can be difficult to recover from.
On the other hand, when businesses over-price, this tends to be just as damaging to the business.
When customers buy, it's likely that they will explore the internet and look at other competitors to ensure they're getting the best value + deal. This is why it's so important that you research your competition and understand where you land in the marketplace.
Here are some factors to consider when pricing your product:
Understand your customer
It's important that out of the gates, you identify the type of customer you want to attract and how much they're willing to pay for your service. One great way to do this is by surveying your customers. Here are some important items you'll want to takeaway:
Customer demographic: Age, gender, location, etc.
Buying habits of your customer: What they buy + when they buy
Level of price sensitivity with your customer
All of these segments will help you identify the type of customer you're attracting and how to price your product accordingly.
Understand your costs
When pricing your handcrafted soap, it's critical that you first identify all of your costs and consequently mark up your handcrafted soap so you can factor in a profit.
The actual cost of your handcrafted soap may include things like:
The actual cost to make the product (ie. raw materials, supplies, manufacturer).
Shipping + overhead fees
Rent
Operating costs to run your business
You may want to consider creating a spreadsheet with every single expense involved in operating/owning your business. This will give you an idea as to what you need to generate in order to at the very least, break-even and will help you price your products to factor in a profit.
Create revenue goals
When determining the price of your handcrafted soap, you'll want to create goals for revenue + how much profit you want your soap business to make.
This process is simpler than you may think:
Think about your breakeven cost (by completing the above step).
Create a revenue goal based off of your break-even cost
Evaluate the # of items you plan to sell in a given period (make sure this is a realistic number)
Divide your revenue goal by the number of items you plan to sell
This figure will help determine your estimated price per product in order to meet your revenue goals.
Evaluate your competition
The last piece in determining how to price your handcrafted soap is by simply looking at your competition.
The best way to do this is by finding like-minded businesses that offer product(s) with similar perceived value. Then, you can compare prices of the different businesses and determine where your handcrafted soap fits best in the marketplace.
All of these factors play an equal part in pricing your handcrafted soap, so it's important you evaluate each one individually to come up with an accurate price that will help optimize your business from the start.
Lauren Costanza, founder of Bluminary provides us with a detailed spreadsheet of all of her costs associated with running her business:
I knew this would be a self-funded adventure, and I set aside $3,000. During the first three months, I had a detailed spreadsheet where I tracked where the money was going and what was going toward products versus researching and developing new products.
The spreadsheets involved columns and rows of numbers to craft a budget and gain an understanding of how much would need to be invested at each stage of the process - from gathering supplies to building a website, and shipping materials.
-
Lauren Costanza, on starting Bluminary ($500/month)
full story ➜
Danielle Vincent, founder of Outlaw Soaps talks honestly about pricing your products and how to ensure profitibility:
Gross Margins
Our gross margins across all our sales channels and products is about 57%.
Personal care has not historically had great margins, and as we move more into the grocery market, margins get slimmer (we distribute through UNFI, who takes 18% - 20% of our wholesale price). Because grocery margins are so slim, we've had to re-evaluate our strategy for grocery stores, and now practically cover it as a "marketing expense." We cover costs, overhead, and labor, but there's almost nothing on top of that.
Even though our products are on the higher end of price, we still barely break even. When people tell us that they think our prices are too high (which happens), we just have to grin and bear it. There's no way to cut our prices without cutting our costs, and right now, we don't have the volume to cut costs.
So yeah, we can still sell a lot of product and only come away with a little money. The economies of small business really are surprising.
Understand your breakeven
For people who are starting out small manufacturing businesses, be sure to calculate the number of items you need to make and sell per month in order to break even. Can you make that? Can you sell it at a price that's attractive to your target market? Will you need to up-scale your target market in order to have customers at that price point?
As it turns out, a person has to sell a lot of soap to break even.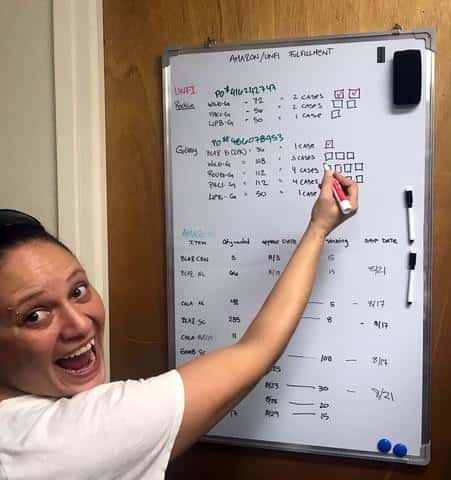 Make Sure You Get The Package Design Right
The way you package your soap business is often the first impression your customer has - so it's important to get it right.
You may want to ask yourself these questions:
If my product is on a shelf next to hundreds of other similar products:
Will my soap business stand out?
Will the branding/packaging create a connection with my customer, and hence, lead them to buy?
There are hundreds of tools you can use to help with packaging and design:
Alegna Soap Packaging Example
Once the soap is fully cured, it's time to wrap them.
I admit I have a complicated packaging procedure, but I love my labels.
They were designed by a local Long Island graphic art company called Digho. Since my soaps are natural I wanted a way to add color and Digho had some really great ideas. I wrap a strip of colorful material around the soap and then attach a see-through vellum label around the bar. I think it makes my soaps look high end. It's time-consuming and I know that I'll need to simplify the process someday. But for now, I take the time to wrap.
The creative part is the personalization of the soap or the decorating and scenting. I think of each of my soaps as being different individuals. What feeling do I want to evoke, what color do I want the soap to be, which botanicals will work with the scent blend? And the blending of essential oils to get just the right scent is another kind of magic.
-
Angela Carillo, on starting Alegna Soap ($5,000 revenue/mo)
full story
📈 How To Grow Your Soap Business
Improve Your Email Marketing
Different types of emails
Here are the most common types of email campaigns you can send to your customers and their benefits:
Welcome emails - the perfect way to provide information from the start with a clear CTA. Make sure to tell your customer everything they need to know about your product or service.
Newsletters - a great way to give customers updates or send out your latest content
Product launch emails - the quickest (and easiest) way to increase sales is by selling to current customers. Make sure they're the first on the list to know about your new product
Promotional emails - promote discounts, deals coupons etc. Try and make this feel exclusive and for a limited time only
Abandoned cart emails - give your customers a reason to complete their purchase!
Here's a great resource for finding curated email designs, for all types of email campaigns!
Outlaw Soaps Email Marketing Hacks
Be Yourself
In my emails, I am always a person writing as myself: Danielle Vincent, Bosslady of Outlaw Soaps.
I don't pretend to be doing anything I'm not…
I'm personable and I write frankly about our little company, express our excitement about a product, recount a particularly amazing product review, ask if people have a band (and if they do, would they share their music with us?), and generally be a human being running a company.
Cadences
And I try to keep a regular weekly cadence. Weekly? Yes, it seems like a lot, but we've found this is a good sweet spot.
Tell Your Story
I wrote an article for GoDaddy about how to tell your brand story on your website. In the article, I talk about a business's story being their core differentiator from the bazillions of other companies and manufacturers out there.
Side note: you can see what I mean by subscribing to our newsletter.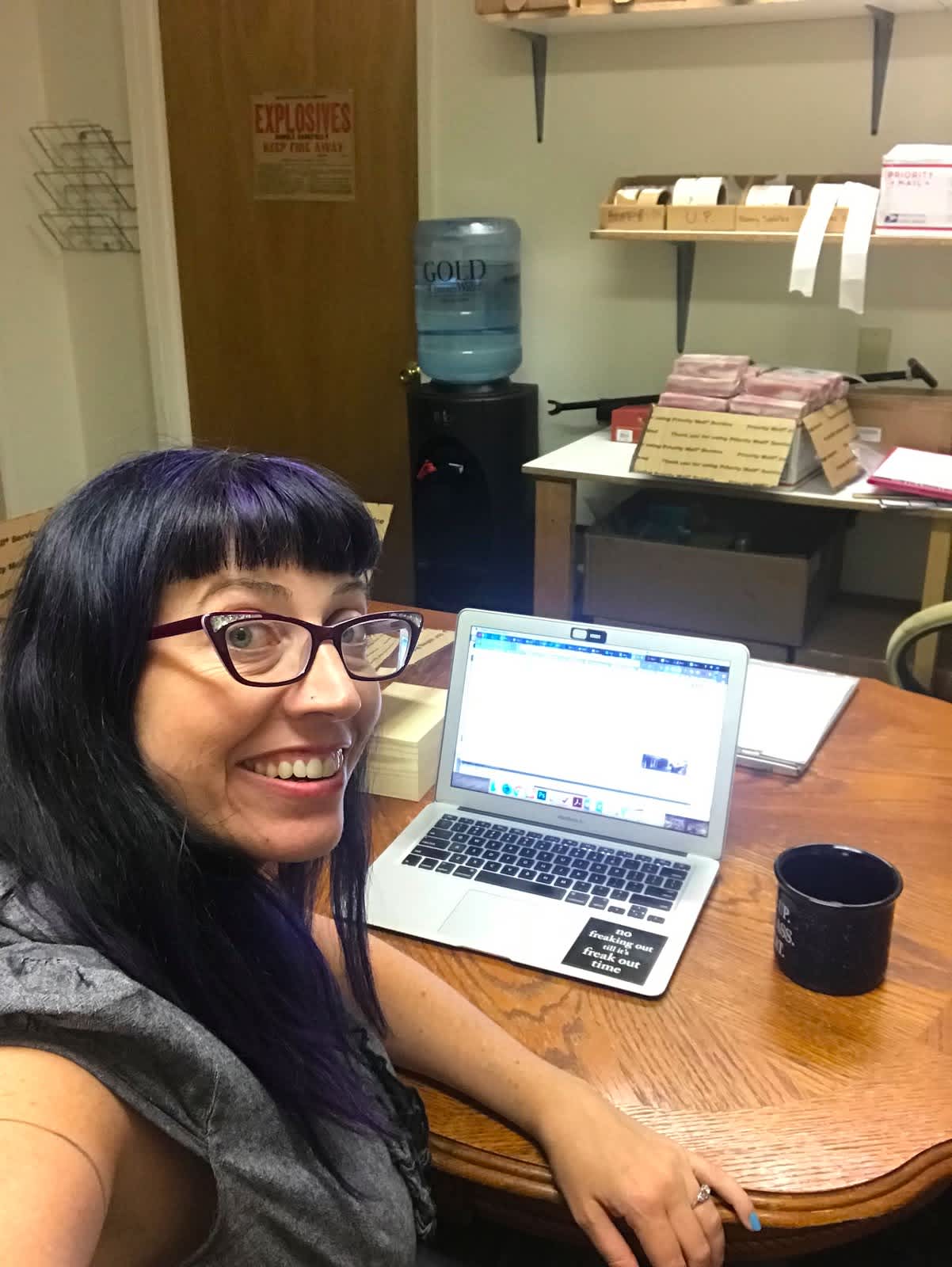 Marketplaces
There are various different marketplaces that you can effectively sell and promote your soap business, whether that's local or online!
Here are some of the most common ones:
Your own website! Shopify is known to be the best for e-commerce stores
Local places! Gift shops, farmers markets, festivals, grocery stores etc
Etsy - E-commerce website for craft supplies
Craft is Art Marketplace to buy and sell handmade crafts & fine art
Aftcra Online marketplace where you can buy and sell handmade products
Storenvy Marketplace for authentic brands
Outlaw soaps distribution channels
These days, we have a diverse set of distribution channels. I found that having just one revenue channel puts us at unnecessary risk.
The rough breakdown of our distribution channels is as follows:
Amazon - 40%
OutlawSoaps.com - 30%
Grocery - 10%
Wholesale - 10%
Subscription - 10%
We immediately embraced Amazon as a sales channel because I feel like Amazon is going to take over the world. I recorded a quick video overview of Amazon and how the Fulfillment by Amazon works.
Social Media Advertising
Social Media Advertising is one of the leading ways to get the word out when it comes to soap business.
There are various different Social Media platforms available to you. Some may be more critical for your marketing efforts than others, however, it's important to have an understanding of what's out there and available to you.
Let's talk about a few of the main platforms and what makes them unique:
Facebook Advertising - more than 2 billion monthly users. Facebook is the best for lead generation + capturing email addresses for e-commerce businesses.
Instagram Advertising - approximately 500 million monthly users and has a higher audience engagement rate than any other platform. Instagram ads are best for linking to a product page or landing page and reaches the 18-29 age group most effectively.
Twitter Advertising- Small businesses typically use twitter ads to drive brand awareness, but the platform is meant more for organic engagement (and is not as heavily used for paid advertising)
Pinterest Advertising - 175 million monthly users and most effectively reaches the female audience. Pinterest is great for promoting products without "promoted". The promoted pins have a way of blending right in.
LinkedIn Advertising - 227 million monthly users and is geared towards the B2B market and generates the highest quality leads. Great platform for recruiters, high-end products and services that will help businesses
It's important to first define your goal/objective so that you don't waste time and money into the wrong platform:
Here are some different questions to ask yourself as it relates to your goals:
Do I want to simply drive brand awareness?
Do I want to drive users to my website to gather information?
Do I want to increase sales and get my customer to take action?
From there, choose the platform that targets your audience best and start experimenting!
Learn more about social media advertising ➜ here.
🏃 How To Run A Soap Business
Diversify Your Product Line
Adding new products to your business is a great way to expand into new markets and grow your business.
It's important to note that adding new products and diversifying may not be in the cards for you right this moment, and that's okay. You can always consider it down the road.
Here are some reasons you may want to considering adding/diversifying your product
Meeting the needs of your customers
Establish yourself as a top provider in your industry and stay ahead of the game with competition
Resistance to downturns/trends fading
Create new revenue streams
How Danielle Is Diversifying Her Soap Business
Expanding their relationship with Whole Foods
Pitching the primary military store distributor
Launching their new spray cologne
Creating holiday-specific products!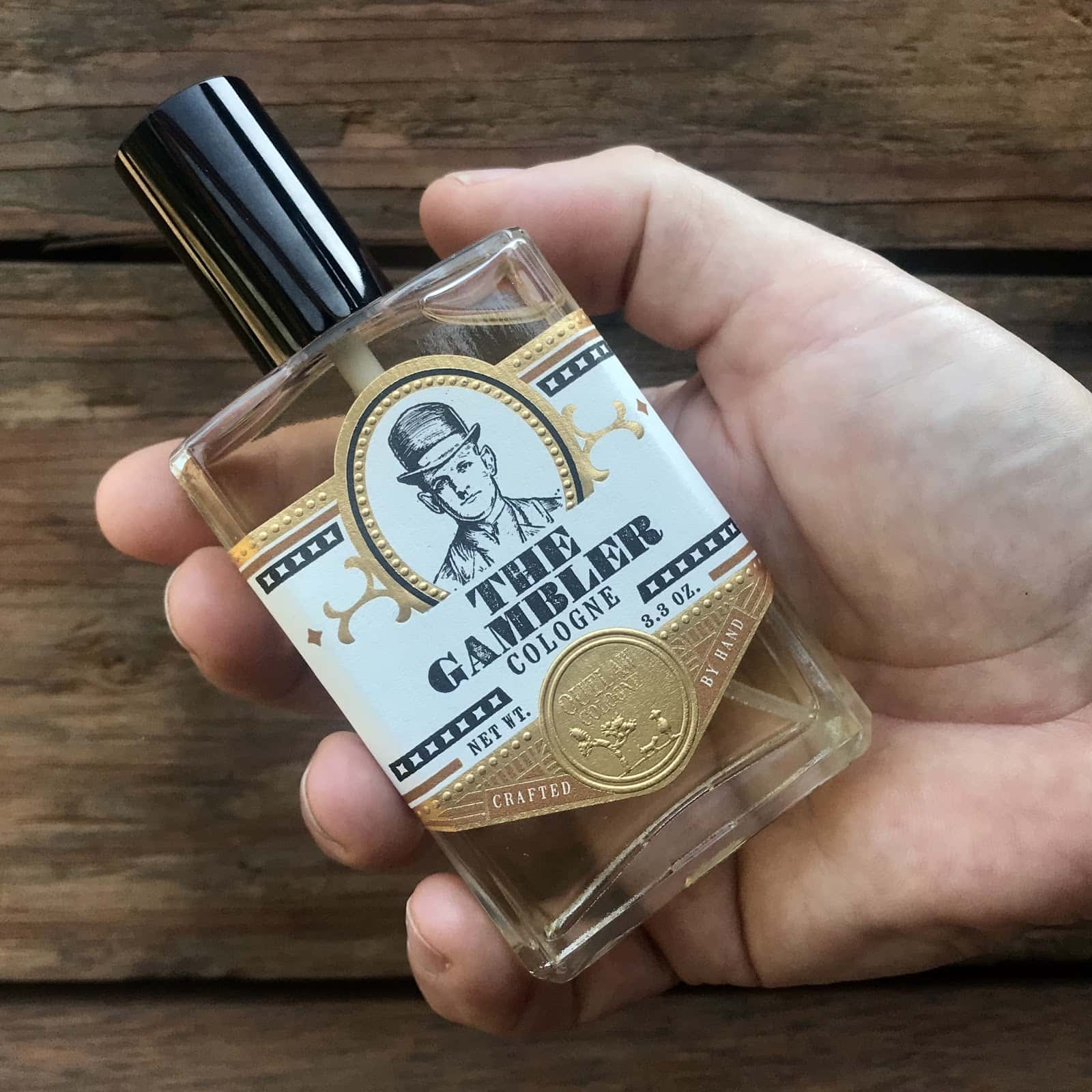 Build a Referral Program
Word of mouth is one of the best ways to get the word out about your business and acquire new customers. Especially when you are starting out, it's important to build a solid referral program to encourage existing customers to help you find new ones.
A great way to do that is by offering a reward (ie. credit on your service or cash) to customers that refer you to their friends and family.
A fantastic referral program will help with clout, credibility, and establishing yourself in the space.
Warnisha Foster, founder of Kiss My Crown Essentials implemented a loyalty and referral program for her customers:
To encourage my customer to come back I implemented a loyalty program. If customers continue to return and buy products they get exclusive discounts. I even started a friend of friend discount so that when my customers shared my products with other both parties would get discounts off of their purchases.
Also, building a rapport is what worked for me. I treat all of my customers like friends.
They can message me anytime with questions about my products and skincare. And I create those personal interactions for them. I never want my customers to feel like their only interaction with me is transactional.
Tools to get started:
As a soap business, there are some tools and platforms you may want to consider when getting started:
Resources
We put together the best resources on the internet to help you start your soap business.
Tools
Books
Web Resources
Videos
Case Studies
Starting costs, revenue, and profit opportunities for over 1,000 ideas.
Share the story of Starter Story!