5 recession-proof business ideas
5 recession-proof business ideas
This is an archive of the Starter Story newsletter, which is read by 87.2K people every week.
In each issue, we share the biggest business ideas that are working today, along with case studies of founders who are making millions every month. Sign up today ➜
---
Sponsored by BigCommerce
BigCommerce is hosting their 5th annual Make it Big Conference on September 13th and 14th, 2022.
This is a free virtual event for entrepreneurs, retailers and ecommerce professionals looking to take their business into the future. Make it Big features 15 exclusive expert-led sessions — all focused on staying agile and getting ahead of the competition.
Join the event and get expert insights from the biggest names in ecommerce, including best-selling author Seth Godin, Whole Foods Market co-founder John Mackey, as well as professionals from Google, Amazon, BitPay, TikTok, and more.
I love events where you can learn proven strategies and expert tips and tactics from real-world success stories that you can actually use.
5 recession-proof business ideas
Even though we may not be in a recession technically, the truth is that most economic indicators shrank in the last two quarters in the U.S. Americans are starting to have a bad feeling about the economic situation (source).
Still far from past recession numbers, but if you're thinking about starting a business it'd be a good idea to consider what type of businesses thrive in these situations.
As scary as it may seem, these are great times to start a business. The biggest companies of the future are being started now. If you can make it through these tough times, once the situation gets better it'll be a walk in the park for you.
To help you find out the best possible recession-proof business categories, we've put together this list with plenty of real-life examples:
#1. Children
Baby products are 100% recession-proof. It's pretty hard to stop spending on diapers, formula, and clothes for a fast-growing baby. It's even hard to avoid buying a toy every now and then. Parents will find other areas to cut back that are certainly less important.
A proven strategy to succeed in this market is to simply adapt trends from the adult world. Vegan products are on the rise? Make them for babies. Cupcakes are trendy? Make them baby-friendly.
Examples of baby products knocking it out of the park:
#2. Health care
Why these companies will keep thriving is clear. People need health care to live, so even when income declines you'd rarely cut on this.
Plus, the industry as a whole is one of the biggest and strongest. There are more health care companies in the top 10 stocks than in any other industry.
And if when you read the term health care it makes you think that you need a Ph.D. and $20M in funding to start a company, you need to read these case studies that show it can be a more accessible space than you think:
#3. DIY and repairs
When times are tight, one way to cut costs is to build your own stuff and repair yourself whatever it breaks rather than buying new things or taking them to a shop to be fixed.
During COVID-19 lockdowns we already saw a spike in DIY activities, crafts, and really all kinds of handy work.
Do you enjoy knitting, fixing smartphones, or woodworking? Start making videos and share them on Youtube and TikTok and make money from ads. Sell what you make on Etsy. Mention that you take commissions to create custom pieces.
Some success stories to learn from:
#4. Food and drinks
Just like health care, this category is something people can't really cut their spending on. It'll probably swift to different consumer behavior, with inexpensive items and cheaper restaurants increasing their sales. Keep that in mind when designing your offer.
If you want to make it in this industry, these founders have great tips for you:
#5. Guilty pleasures
Even in the toughest times, people need to chill, disconnect and just feel good for a moment. That's why sales of products such as snacks, candy, and alcoholic drinks always grow.
Did you know that Snickers and Three Musketeers were both introduced during the Great Depression? That should tell you how about everything you need about how the human brain works.
Selling these products can be hard though, see how these businesses did it and steal their strategies:
Join Starter Story
There is no secret to building a profitable business. All of the systems and strategies can be learned, so why not learn them from others who have already done it?
Join Starter Story to access our database of 3,000+ business case studies. See the exact timelines of how founders took their businesses from idea to thousands of customers.
Get real answers to questions like:
How do people find great business opportunities?
What did they do to get their 10 first clients?
What challenges do they face at every stage and how to overcome them?
Join Starter Story Premium for $2.58/week. A no-brainer investment for your business.
Quick hitters
(1) These first-time founders started an $840K/year smoking business. A great example of taking advantage of a structural change in the market: marijuana is now legal in most of the U.S.
The most impressive part? They bought the business from someone for just $300! This is a great entry door to becoming an entrepreneur: acquiring a business that already has some key connections established, systems in place, and a customer base can make it so much easier.
These other entrepreneurs acquired their current businesses and focused on growing them:
(2) This company went from losing $50K on its first product to 100 million players. It's pretty impressive to learn how this team bounced back from a pretty hard fall with their first product.
But they're hardly the first to do it. The entrepreneur's path is full of failures, the best you can do is learn from them. These other businesses also failed before finding success:
--
Thanks for reading!
Want to start your own business?
Hey! 👋I'm Pat Walls, the founder of Starter Story.
We interview successful business owners and share the stories behind their business. By sharing these stories, we want to help you get started.
Interested in starting your own business? Join Starter Story Premium to get the greatest companion to starting and growing your business:
Connect + get advice from successful entrepreneurs
Step by step guides on how to start and grow
Exclusive and early access to the best case studies on the web
And much more!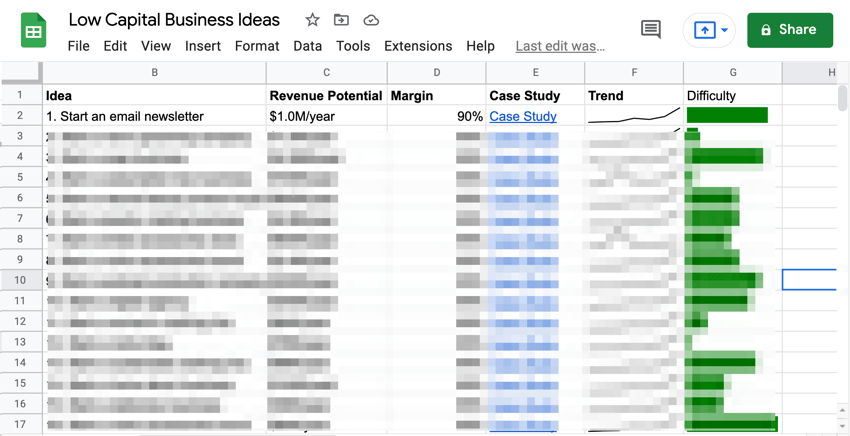 Wanna see 52 business ideas you can start with less than $1,000?
Join our free weekly newsletter and get them right now.
meet the author
David Bustos
Hey there! 👋 I'm David, and if you ever got an email from Starter Story, I probably wrote it. With a background in working with startups and writing, being part of this team is kind of a perfect fit for me.