How We Pivoted To New Offerings And Launched A DIY Kit
•
Published: February 11th, 2021
Start A Balloon Decor Business
This is a follow up story for BalloonWorks. If you're interested in reading how they got started, published about 3 years ago, check it out here.
---
Hello again! Remind us who you are and what business you started.
I'm Rilee Acrey! Founder and CEO of BalloonWorks. BalloonWorks is a leading balloon stylist company specializing in one-of-a-kind, dynamic installations thoughtfully designed to add style, creativity, and personalization to all of the amazing moments in life. BalloonWorks installations are a unique way to take any event to the next level – from birthday parties and weddings to corporate events and grand openings.
I left the corporate world to launch my own business at 24 years old and have since built a client roster made up of both brands and celebrities such as Paris Hilton, Lebron James, and Amazon. In 2 years, our team has quadrupled revenue without any outside funding.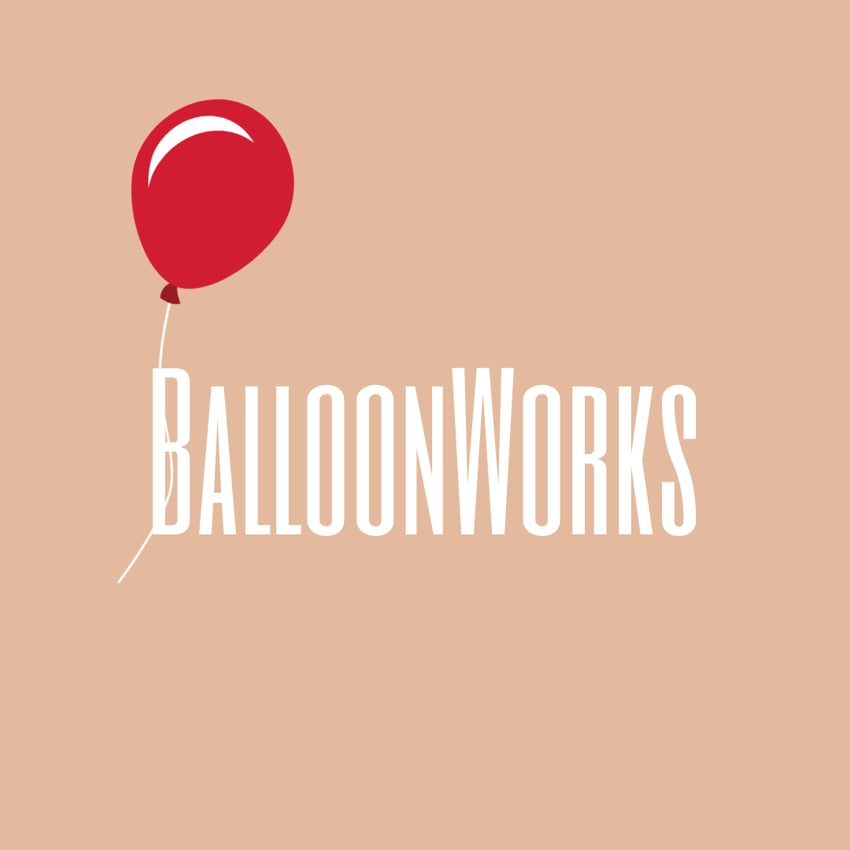 Tell us about what you've been up to! Has the business been growing?
WOW! First of all, thank you for having me back. Safe to say everything in the world has changed since I first shared about BalloonWorks on this platform, but I'm humbled and grateful to say our business has still grown despite the chaos.
People get so distracted by lack of instant gratification and that is usually paired with blaming others and being distracted by the competition. When you lose sight of the bigger picture, you end up paralyzed with fear, which doesn't serve you OR your business.
We purchased a 30-foot Mercedes Sprinter van, which has allowed us to take on huge jobs seamlessly without having to blow a single balloon up on site – we just roll up with thousands of balloons ready to go to make things as efficient as possible for both our clients and our team.
We extended the business beyond traditional balloon installs by offering chic bounce house rentals for parties as well as balloon drops for special occasions. During the lockdown, people and brands were looking for unique ways to celebrate, and, quite honestly, the balloon drops were what saved our business (we'll get into that later on).
We also launched something that services our customers outside of Southern California and people who are looking for a more inexpensive way to make their party pop: DIY kits. The kit comes with everything you need to create a unique garland for your event, whether it's a birthday party, baby shower, wedding – anything goes!
What have been your biggest lessons learned in the last year?
PIVOT FAST. Be flexible. Get ready to work your ass off.
This last year was like none other. We lost nearly 100 percent of our revenue overnight when lockdown hit. All major events were canceled (everything from conferences to Coachella to Stage Coach to grand openings) and we went from completely booked out to hundreds of people asking for their deposits back – overnight.
It was a tough pill to swallow, but we had no choice but to figure out how we were going to get through it. After you spend two years busting your ass every single day for your business, you're not going to let it crumble overnight – at least I wasn't.
We pivoted extremely fast to offer "Balloon Drops" to our Southern California customers. Within two weeks, we launched the offering, put a decent amount of marketing efforts behind it, and were able to hit our baseline revenue needs to keep things afloat.
The contactless balloon drops turned out to be a great way for people to celebrate safely this year, whether it was a birthday party, graduation, baby shower, you name it. Mother's Day was our biggest day of the year, completing XX Balloon Drops (complete with a balloon, card, and plant) in one single day. We learned a few lessons on the operational side of things that day, but we're extremely grateful for the business and glad we were able to bring a little bit of light to the holiday.
What's in the plans for the upcoming year, and the next 5 years?
Truthfully, I can't wait to get back to large-scale events. That is where we do our best work and where our creativity can really shine through. Here's hoping events can (safely) come back in some way this year.
For now, we'll continue to grow the DIY kits and Balloon Drop side of the business, likely hiring a team of people to execute just those and using a separate team on the bigger installs. We'd also like to add Holiday-themed DIY kits that families across the US can buy to create a fun atmosphere in their home or for their event.
The Bounce Houses have been a hit so far and we'd like to continue to rent those out. The market is hot right now and, as summer approaches and lockdown ends, we expect those to be rented out every weekend.
Long term, I'd like to see us build out teams of people that we can deploy all over Southern California on any given day to do installs of all sizes and I'd like to start traveling to do balloon installs for large-scale events around the country.
We also have dreams of opening an event space that doubles as both a retail store in the front and a chic event space / creative studio in the back. I see it being used for everything from birthday parties, influencer events, small gatherings, weddings, and more.
As far as content goes, I'd love to host an entrepreneurial podcast at some point, creating a place for people to get REALLY honest about the highs and lows of the journey. I laugh thinking about some of the shit we've been through, but ultimately it's only made us stronger and more resilient. I'd guess most entrepreneurs feel that way.
Have you read any good books in the last year?
Books? I'm much more of a podcast girl (hello SoCal traffic 7 days a week).
I love listening to people who have stories to tell about building brands and businesses. Their business may be completely different from mine, but there are always takeaways that relate to what we're doing and building.
The Blank Canvas Podcast - Ikonick podcast is killer and, of course, I love How I Built This. Group chat also keeps me up to date on what is happening in the world, breaking down news/business news in a way that's both entertaining and informative.
Open to any and other suggestions here!
Advice for other entrepreneurs who might be struggling to grow their business?
"Nothing changes if nothing changes."
We live in a society where the average person is all talk. Amazing ideas are just the start – you have to be willing to put forth the effort to execute. You can't keep doing the same thing and expecting different results. If you don't change your mindset, habits, and what it takes to get it done, nothing will change.
Luck, timing, and the grace of God is what gets businesses through.
People get so distracted by lack of instant gratification and that is usually paired with blaming others and being distracted by the competition. When you lose sight of the bigger picture, you end up paralyzed with fear, which doesn't serve you OR your business.
Don't be so afraid of not being a hit right away that keeps them from doing it at all. You have to start somewhere.
Are you looking to hire for certain positions right now?
Things change fast and you need to know who your next hire can / should be BEFORE you actually need them. Finding the right people takes time, but you must prioritize this process to get the right people in the right jobs.
Right now, we're hoping to hire for the following:
Balloon Installer: Installs balloon on-site, able to lift to 50 pounds, has a valid driver's license, and can drive large commercial van
Balloon Fabricator: Preps balloons for installations, fast at tying balloons together, oversee inventory management
Social Media Marketing: An strategic platform expert with a strategic eye for Instagram, Facebook, TikTok, and Pinterest
Where can we go to learn more?
If you have any questions or comments, drop a comment below!
-
Rilee Acrey, Founder of BalloonWorks
Want to find more ideas that make money?
Hey! 👋 I'm Pat Walls, the founder of Starter Story.
Get our 5-minute email newsletter packed with business ideas and money-making opportunities, backed by real-life case studies.