$178 billion of fresh air
$178 billion of fresh air
This is an archive of the Starter Story newsletter, which is read by 87.2K people every week.
In each issue, we share the biggest business ideas that are working today, along with case studies of founders who are making millions every month. Sign up today ➜
---
$178 billion of fresh air
Did your know that the outdoor recreation products market size (US only) is projected to reach $178 billion by 2028?
Once COVID lockdowns were over, people took to the streets. Now, all activities will take place outdoors whenever possible. It's safer, and besides, the good weather is here.
In addition to the traditional outdoor activities, others such as yoga, fitness or boxing are also held outdoors now. That's a huge contributing factor to the industry's growth.
There are many ways to capitalize on this growing trend, and make money. Here are some examples I broke down into 3 categories:
#1. Organize activities
This is the easiest way to get your foot into the outdoors industry. The investment you need to start offering tours or classes is close to zero dollars.
Read these case studies of people who found success by embracing the outdoors:
#2. Sell products
Probably the biggest category since to enjoy most outdoor activities you need gear. Whether it's something essential to the activity or an accessory (we all love those).
Some examples of products that knocked it out of the park:
#3. Create content
These are other unconventional ways of joining this space.
Creating content is great because most people would perform a search before going out hiking, camping or simply trying to find the best beach or park.
Online communities are always awesome. Yes, they can be tricky to start, but super rewarding and most members will be customers for life.
Sponsored by Crowdbotics
"I have an app idea that will make millions"
... but you don't have the knowledge or the experience to build it.
Crowdbotics will bring your idea to life 3x quicker and 3x cheaper than any other alternative out there. That way you can focus on what you do best: create a successful business.
Still not sure if you can afford it? They're 100% transparent, that's why they've built a free cost calculator, so you can easily get an estimate of how much it will cost to build your app with them.
Start building your dream app today.
Shopstagram
Have you read the news? Instagram will let shoppers place orders and track packages in their DMs.
Many online brands were already heavily relying on the Meta-owned platform to market their products and make sales. But this is a very important step in the process of turning Instagram into an ecommerce platform.
Read these case studies of businesses who leveraged Instagram to grow their businesses (and learn how you can do it too):
Starter Story Special Promo
Summer Sale!
Summer's here! Some would say it's a great time to relax by the pool.
But if you're like me, you get tired of that pretty quickly.
3 reasons you should use this time to build your next income stream:
#1. Your potential competitors are not working.
#2. People are more willing to spend money during the summer (facts).
#3. You can start making money in just a matter of weeks. This couple reached $10K in sales in a few weeks (now they're making over $10M/year).
25% OFF Summer Promo -> Join us today and learn how to start a successful business. Access 3,000+ real-life case studies and copy their winning strategies step-by-step. No BS, no fake gurus. Just the real deal.
Quick hitters
(1) This man's hobby became a $360K/year NFTs business. NFTs sure have had a rough time recently. But here's a project focused on delivering an eco-friendly solution.
Although it seems that the world of NFTs is living a constant apocalypse, there are some projects that are still able to capture the interest (and money) of the community: This $1.2M/year lifestyle brand launched its own NFT collection and this $4.2M/year art gallery is betting big on them.
Still new to NFTs? Learn 24 ways to make money with NFTs.
(2) This car tech startup grew to $14M/year. And it did so by disrupting car design. They're literally imagining what your next car will look like.
Almost every business we've interviewed in the automotive industry is huge. See some examples: This Ukraine marketplace sold $100M+ in automotive products, this $2M/year better windshield wiper, or this $27.6M/year car exporting business.
--
Thanks for reading!
Want to start your own business?
Hey! 👋I'm Pat Walls, the founder of Starter Story.
We interview successful business owners and share the stories behind their business. By sharing these stories, we want to help you get started.
Interested in starting your own business? Join Starter Story Premium to get the greatest companion to starting and growing your business:
Connect + get advice from successful entrepreneurs
Step by step guides on how to start and grow
Exclusive and early access to the best case studies on the web
And much more!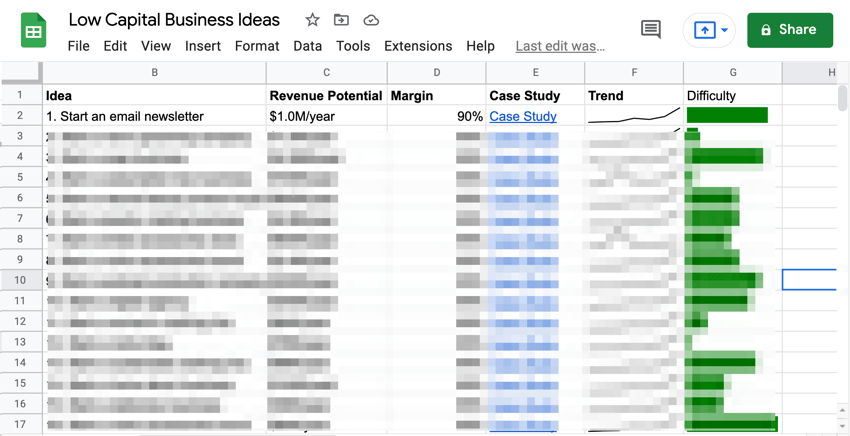 Wanna see 52 business ideas you can start with less than $1,000?
Join our free weekly newsletter and get them right now.
meet the author
David Bustos
Hey there! 👋 I'm David, and if you ever got an email from Starter Story, I probably wrote it. With a background in working with startups and writing, being part of this team is kind of a perfect fit for me.