These Childhood Friends Designed A $1.2M/Year Stand Up Paddleboard
•
Published: March 12th, 2022
Hello! Who are you and what business did you start?
I'm Shenglong You, one of the co-founders of Thurso Surf. We make award-winning stand-up paddleboards packages with best-in-class accessories to make every step of your journey to the water easier than ever so you can focus on having fun out there.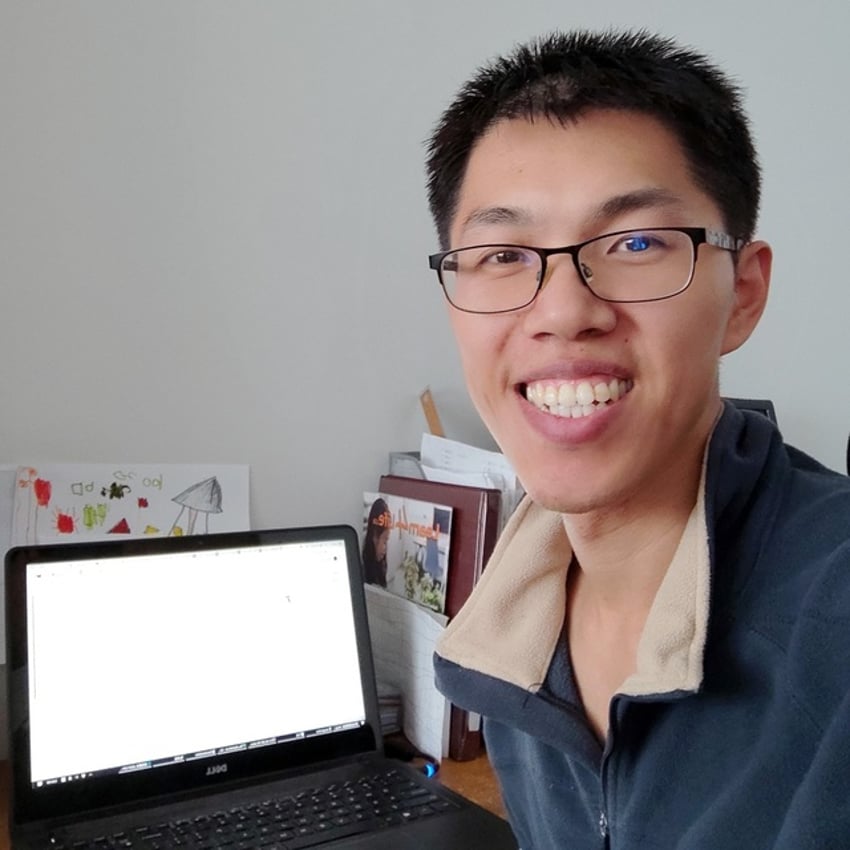 Shenglong You, co-founder of Thurso Surf
Our flagship product is the Waterwalker All-around SUP (an inflatable stand-up paddleboard or iSUP). It comes in different sizes and colors with an eye-catching design inspired by vintage surf culture. Its ultra-versatile, the all-around shape is an ideal fit for everyone from beginners to more advanced paddlers who want to do it all on one board; cruising, touring, yoga, fishing, surfing, paddling with pets, you name it! For those with a more specialized ride in mind, we also offer a full lineup of inflatable paddleboards and accessories that are dialed into the way you love to paddle.
I launched our first product line with my co-founder and childhood friend on Amazon in 2017 as a way to test the market and validate our product ideas before following up with our online store and fully realizing the product line at ThursoSurf.com for the 2018 season.
Since 2018 when we launched thursosurf.com we have grown rapidly and earned a name as one of the best SUP brands in the highly competitive mid-range market. We've sold thousands of boards in dozens of countries, including the US, Canada, the UK, and the EU. We've been named one of the top blogs in the SUP sector and we've seen traffic increase 16X since our first year in operation with sales not far behind. We're still in rapid growth mode and don't plan on slowing down!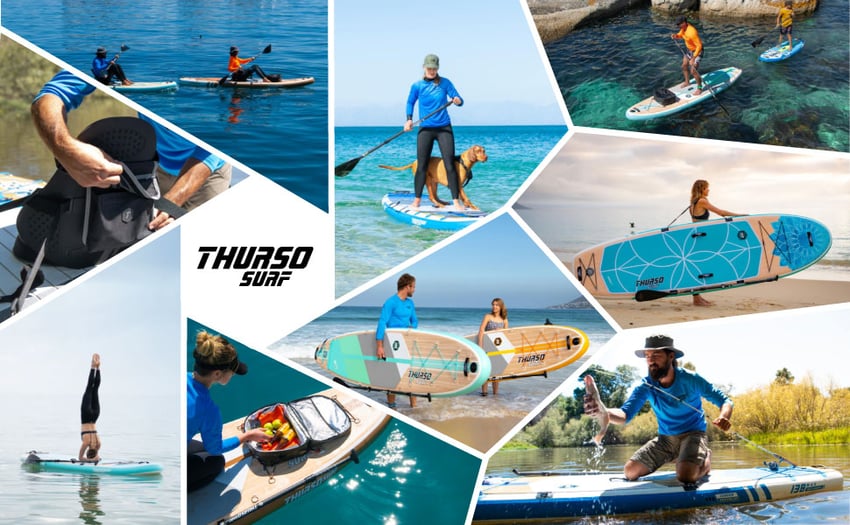 What's your backstory and how did you come up with the idea?
As I mentioned, Thurso Surf started when I reconnected with my childhood friend Yu Li, over paddleboarding. We'd both gone our separate ways for years and made it through college. He joined a hard top SUP manufacturer and I continued in school to complete a Ph.D. in fluid dynamics. When we met again, 15 years after we last met, he got me into the sport. At that point, inflatables were around but they had yet to gain mainstream traction.
Paddleboarding is easy to get the hang of so it was a lot of fun starting, but as we progressed, we quickly thought of modifications that we could make to our starter boards to improve the performance, stability, and user experience.
When we went looking for alternatives on the market, we just couldn't find the gear and accessories that we wanted. For some reason, it didn't occur to us to take "no" for an answer and just live with the stuff we had. Maybe it has to do with the engineering mindset, but instead, we just started tinkering. Once ideas were flying back and forth there was no turning back.
We'd been watching the innovation happening in the inflatable SUP space and knew that's where we wanted to begin. Unlike hardboards, inflatables are a total gamechanger for convenience and transportation. You can roll them up and throw them in the trunk of your car, hop on transit, or even take it on a plane! Even better, you can store them in any closet in your apartment. That means the opportunity to start paddleboarding on an inflatable is open to so many people.
On top of that, technology is moving fast. Advanced drop-stitching techniques are producing more and more rigid boards and eroding the performance advantage of epoxy SUPs year after year. In a lot of ways, our timing was perfect. We caught the right moment just as the momentum was beginning to shift from epoxy boards (which still offer the highest performance for surfing and racing) to inflatables as the best choice for most people when you consider cost, convenience, storage, and durability. That's also why SUP has been the fastest-growing sport/outdoor recreational activity.
We decided to test several products on Amazon to make sure they were viable.
By this time I was midway through my Ph.D. in fluid dynamics, the study of the mechanics of fluid movement. Designing paddleboards seemed like a fun way to combine my studies with my favorite way to escape and relax. On the other hand, Yu already has over 10 years of experience in SUP manufacturing. So the decision to collaborate and start a paddleboard business felt organic.
Take us through the process of designing, prototyping, and manufacturing your first product.
After we decided to take the leap and go for it, things took off. The goal was to create a board that is stable enough in the small chop you're likely to encounter most days and fast enough to be used as a touring board with minimal drag to travel longer distances with maximum efficiency. That sort of hybrid all-around/touring shape would be the ideal board for a beginner to pick up paddleboarding, and also great for intermediate paddlers who want to do long-distance trips.
With this concept in mind, we created a prototype, a 2D drawing of an inflatable SUP. Thanks to Yu's resources and connections in the industry, we were able to find manufacturers who were willing to work with us and shape boards to our specifications. However, this wasn't as easy as we thought.
Unlike the standard blanks many manufacturers churn out, predetermined shapes that anyone can come along and brand, we had a set of highly detailed requirements for the shape of our boards, which I knew would play an important role in their performance on the water. On top of that, we were meticulous about the details of everything that impacts performance, from the rocker of the board (the subtle curve built into the board's shape to keep the nose out of the water) to the layout of fins and more.
Luckily, by working together with a strong commitment from both sides and through lots of trial-and-error, we found a way to build boards to our standards in a fast and efficient way. In the end, both our manufacturer and our team were pleased with the final product. Throughout a couple of months, we designed and built 5 complete prototypes with different shapes, constructions, and features before we dialed in the hybrid all-around shape that's become our flagship.
We named our first board the Waterwalker, in the hope that you can use the board to walk freely and effortlessly on the water.
Next, we needed to design the graphics of the Waterwalker. We'd always loved the look of vintage surfboards and their wood designs. Paddleboarding is also a way to get closer to nature, so a wood design felt like a perfect match. However, it was not easy to apply a wood design to an inflatable paddleboard.
For hardtop SUPs, the technology and manufacturing processes had already been developed to prebuild a wood grain film into the board, but, because inflatable boards have a completely different structure, it was impossible to do the same. Thanks to a great collaboration with our manufacturer, we were able to print on the top layer of the board in a unique way which has defined the Waterwalker's classic look ever since.
Describe the process of launching the business.
Rather than going big out of the gate, we decided to test several products on Amazon to make sure they were viable. That turned out to be a great soft launch strategy for us. Amazon has a massive built-in audience and second-to-none fulfillment operation. By leveraging that, we were able to make sales and get feedback right away on our gear.
Starting on Amazon at that time gave us the ability to focus on the product and dial in our service, as well as attend events, reach out to SUP industry press, and begin growing our brand equity without the overhead of managing our store and logistics operation.
The competitive landscape on Amazon is always changing and changing fast. Just a few years ago when we began, there were fewer brands listed on Amazon, and those that were there didn't have as many reviews as they do today. At that time, success there was less of a profile optimization game so, although it was competitive, we were able to gain traction there as a brand rather than a commodity. Those were the good old days!
We worked hard to make our listing informative and visually appealing–striking design and great photography matter! We also did everything we could to make customers happy, and we sent individual review requests to customers while that function was available. Since points of contact with the customer on Amazon are limited, we went out of our way to provide over-the-top customer service at every turn. This has been great for our customers and our business because awesome service returns awesome reviews, referrals, and word of mouth recommendations, plus it just feels good to make people happy. It's truly a win-win!
For all the ease of getting started quickly on Amazon, there are lots of limits too. To communicate the value of your gear, to offer a truly customized shopping experience, and to build your community for the long term, you need a dedicated channel that you fully own and control.
With the relationships and reviews already in place from our Amazon set up in 2017, and with word of mouth growing from existing board sales, we got to work and launch our site on thursosurf.com in 2018. Although this was our first website, we had so much to share with our readers that it was packed with content from the start including everything from product details and use to how to get started paddleboarding. We've been committed to writing great blog posts to share with our community from the very beginning and have been building traffic and growing steadily ever since.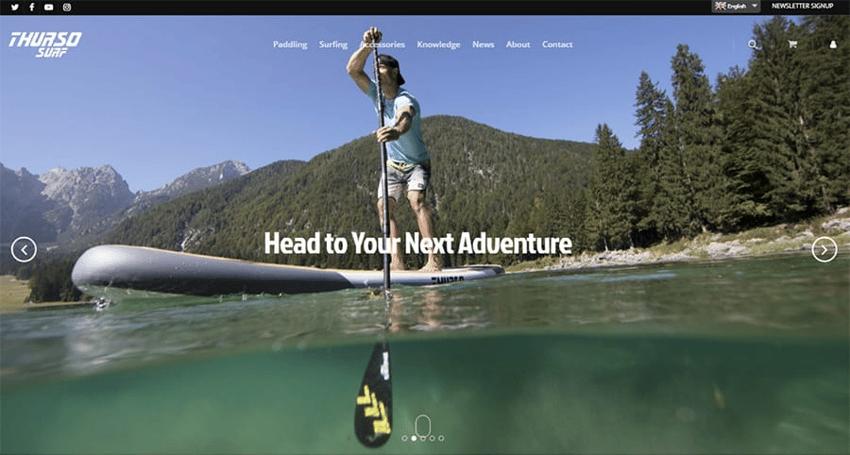 The Thurso Surf version1.0 site at launch
It wasn't long before our decision to build our site was validated. We learned firsthand why it's important to not keep all of your eggs in one basket. Any of your inventory stored at an Amazon warehouse is only theoretically yours. Amazon may decide to withhold it for any reason, making it inaccessible and not available for sale.
We're hyper-focused on building an authentic community that resonates with our values so we're taking our time to find and vet the right kind of storytellers and create long-term relationships. It's slow going at first but we're learning a lot and dialing in our process.
Sometimes they transfer inventory from one warehouse in California for example to another in Indiana without warning and take weeks to do it. Sometimes they 'research' your inventory effectively immobilizing it. What's worse is when they temporarily misplace your goods without a timeline for recovery or damage them so they can't be sold.
If we had been solely dependent on Amazon instead of launching our site a short time before any of these incidents, we could've been completely shut down for months in peak season. Luckily, we were able to scramble and set up a 3PL to keep sales going through our site while these issues were taken care of.
Since launch, what has worked to attract and retain customers?
SUP is a relatively new sport that most people are still discovering for the first time. They've never seen it before, they've seen it but never tried, or they've tried it and had a blast but never leaped to get their board. So, there are a lot of first-time buyers out there who are trying to understand the benefits of different boards and comparing them with one another.
To start, we focused on delivering review units to key SUP industry media connections. That's been a great way to get thoughtful feedback on our boards and gear while introducing our brand and gear to a fast-growing audience of motivated customers in the research phase of a purchase. Plus, it's super gratifying to earn high ratings, get listed among the top boards of the year, and even win awards from some press outlets like SUP Board Guide.
As coverage grows, we've gotten the attention of Wall Street Journal, The Chicago Tribune, The Independent UK, Outside Magazine, Maxim Magazine, and more. It's a slow burn, but each mention adds up to more coverage, and sometimes the biggest opportunities just surprise you.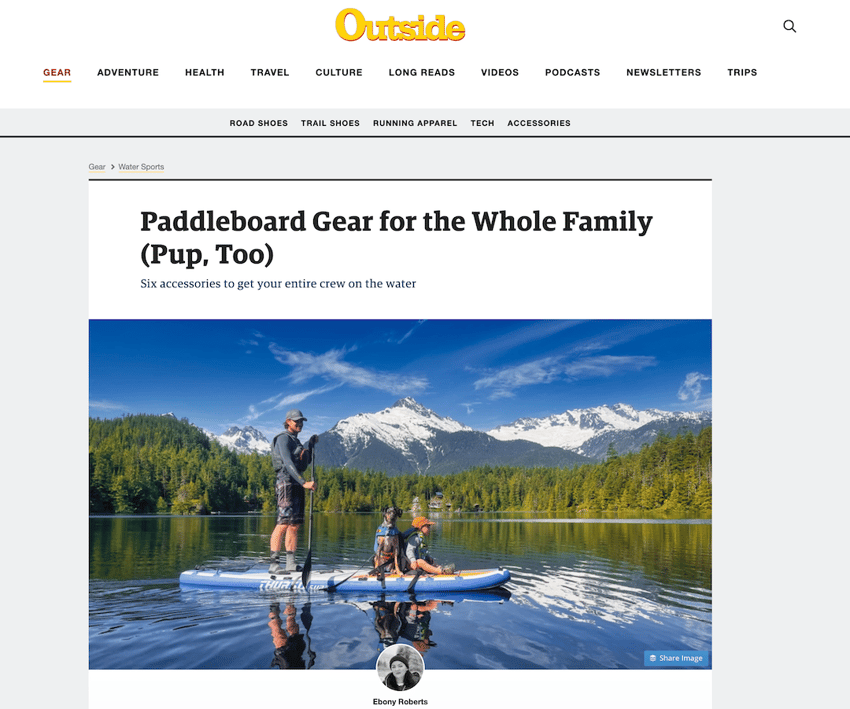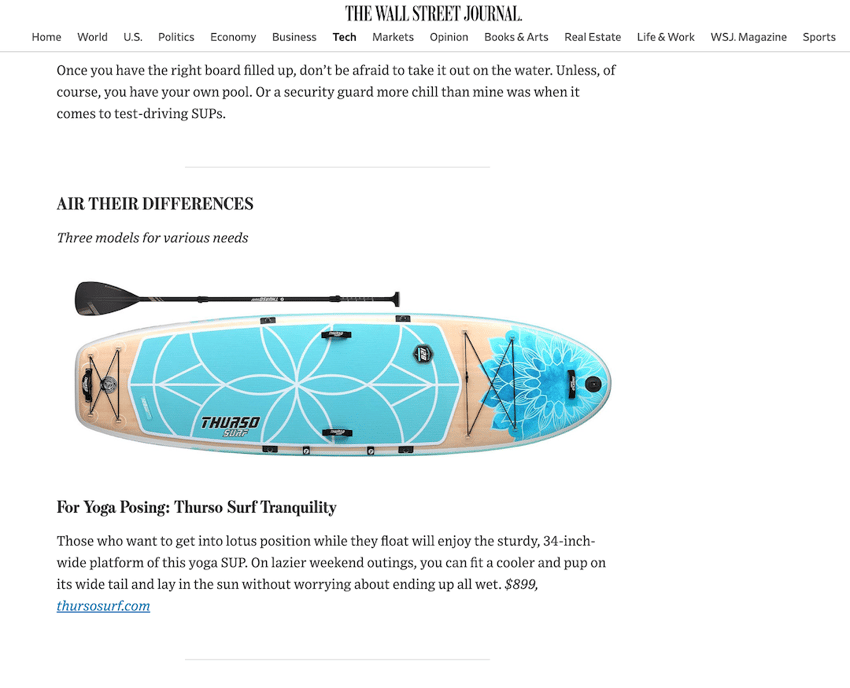 Regular blogging has been a great strategy to address as many customer questions and concerns as possible on our site and to build traffic via SEO, but the social proof of having an influencer highlight the best points about your gear is invaluable. Influencers are becoming a piece of the puzzle and will factor more heavily in our content and initiatives going forward. We're hyper-focused on building an authentic community that resonates with our values so we're taking our time to find and vet the right kind of storytellers and create long-term relationships. It's slow going at first but we're learning a lot and dialing in our process.
When it comes to serving our community, we take our mission seriously. We're all about making every step of their journey to the water easier. To connect with our community we focus on organic social posts and email, stoking user-generated content on Instagram, educating, informing, and entertaining with our blog.
We are the first (and only, as far as I know) to launch an interactive SUP Explorer Map where users can discover and share their favorite paddle spots along with tips about how others can paddle there. We have over 20 submissions in the US, Canada, the UK, and the EU, and the list is still growing. At the end of the day, you can't beat word-of-mouth endorsement. That's the kind of connection we want to have with all Thurso Surf customers.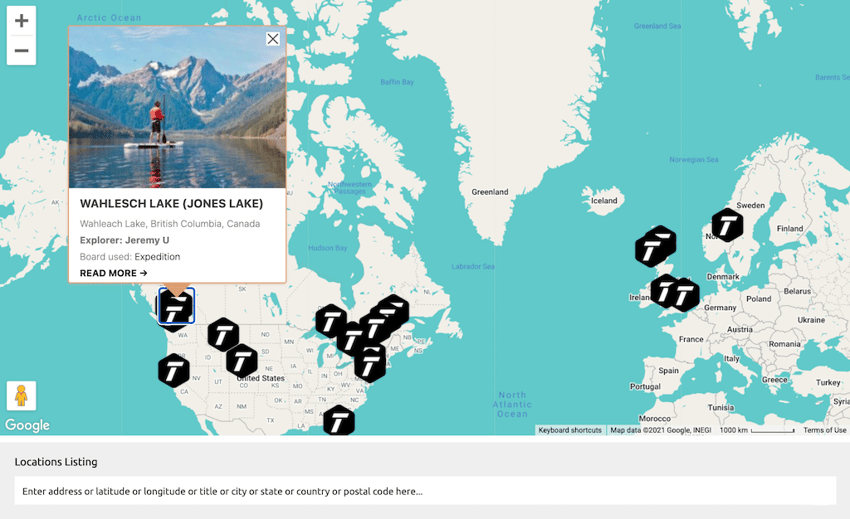 Thurso Surf's SUP Explorer Map - Discover and share the best places to paddleboard
Finally, it almost goes without saying but one of the best retention and referral strategies is just to build awesome gear that people love to use and share. If you're on the right track with the product, your users will want to share their experiences and that translates to thousands of amazing images and reviews that we reflect on the site and Instagram. Thank those who submit genuinely and share the love with the rest of your audience to create a virtuous spiral.
How are you doing today and what does the future look like?
As of today, we consider ourselves one of the top paddleboard brands in the mid-range market. Being a DTC brand, we sell directly to end-users to save on transaction costs and lower prices for customers. Right now our sales are 100% online, with a small percentage taking place on Amazon and the majority on our website. Thanks to our awesome community of committed paddlers who support us as we build thoughtful products, we have seen triple-digit growth over the past couple of years. This gives us tremendous confidence going forward.
We're based in North America so it's no surprise that the US and Canada drive the majority of our sales. High demand has led to production and logistics challenges across the industry, and we haven't had the flexibility to deliver as many boards to the UK and Europe as we would've liked. Despite those challenges, we're growing fast overall as well as becoming more international as a brand. It's incredibly rewarding to see user photos coming from far flung places all over the world where we don't even sell boards directly yet like Argentina, Albania, Japan, and Russia as well as countless sites closer to home.
Due to recent events, our short-term goal is to restore our supply chain and logistics to normal status. We're not alone. This is challenge companies are facing worldwide. It takes a lot of planning and effort to make operations predictable in the face of dramatic growth and global supply chain challenges. Luckily, by strengthening the relationship with our manufacturers and shippers, we'll be able to secure more production power and shipping resources in the near future.
It's amazing what consistent progress and working on the fundamentals can do. If you have that kind of process and routine set up in your business, then no matter what crisis or opportunity arises, like our hazardous materials incident or the challenges of a global pandemic, you'll always be starting from a familiar place.
Our long-term goal is to help new and experienced paddlers reconnect with nature and each other with our unique lineup of high-quality, accessible, watersports equipment.
This comes from our belief that we're our best selves when we're experiencing nature together and SUP is one of the most fun and affordable ways to truly disconnect from the daily grind. What's more, getting to the water shouldn't be a challenge, so our inflatable SUP packages make using your gear regularly easier than ever. We understand we have a long way to go to achieve these ambitions, but they're a guiding light that helps us move steadily in the right direction.
Through starting the business, have you learned anything particularly helpful or advantageous?
The narrative always comes together after the fact. It's only in retrospect that your trajectory smooths out into an arc and makes it seem like you were destined for success from the start. When you're in the mix with everything happening all around you, it certainly doesn't feel that way, at least not all the time. That's why it's important to have processes to guide you even when you're in crisis mode.
Learn from others. When you are in a startup, oftentimes there is no knowledge resource for you to refer to, and you will always need to figure things out yourself. Don't be shy. Ask others. It can be a mentor, another startup owner, or some seasoned manager.
We set quarterly SMART goals (specific, measurable, attainable, realistic, and timely) and we break those down into smaller actionable steps. By checking in and assessing our progress and the progress of the team against those goals regularly, we're able to stay on track.
It's amazing what consistent progress and working on the fundamentals can do. If you have that kind of process and routine set up in your business, then no matter what crisis or opportunity arises, like our hazardous materials incident or the challenges of a global pandemic, you'll always be starting from a familiar place.
What platform/tools do you use for your business?
While Shopify is popular with many eCommerce brands, we chose WordPress because of its flexibility and multisite capabilities. Shopify requires you to use their server and store your data with them, so there is not an easy way out if you don't like it or want to make changes. Also, Shopify does not have an economic multi-country solution for small businesses. At the moment they do have a multi-currency and a multi-language setting, however. WordPress is a mature platform that millions of developers work on. You can find all kinds of plugins that can achieve whatever function you want. With WordPress, you have the freedom to set up your server.
We use AWS as our server, which is easy to scale and very flexible. WordPress has a multisite version so you can easily manage different regions independently. You're responsible for updating the server, WordPress, and any plugins you use, as well as paying attention to security and compatibility, which can be complicated if you are new to all these. But we've found this route worthwhile for our scenario.
My favorite tool is Lark by Bytedance, the makers of TikTok. It is an all-in-one collaboration suite that has chat, video, and audio meetings, a calendar, documents, and email, on top of tens of apps built in it. More than 80% of our team collaboration happens on Lark. Even better, it is free for small businesses.
A partial list of tools used:
What have been the most influential books, podcasts, or other resources?
The most critical has been Fundamental Algorithms in Computational Fluid Dynamics by David W. Zingg, but that might not be for everyone... As a busy Ph.D. student, CEO, and new dad, I've found that reading, listening to podcasts–so-called 'consuming content'–is a major luxury. We live in a super-saturated media environment. With information everywhere, the trick is not to have the most information, it's having the right information when you need it and cutting out the rest.
Deep Work by Cal Newport is a good read about minimizing distractions and maintaining focus. Anyone that's part of a small team wears a bunch of different hats. With so many challenges dividing your time as a business owner and in your personal life, being able to focus and be present is essential.
The film Waterwalker has been my biggest inspiration in shaping the business. It features canoeist and naturalist Bill Manson making his way through the Ontario wilderness along the coast of Lake Superior back in the 1980s. It's hard to imagine today, but shooting in those remote areas must've been quite a challenge back then and the footage is jaw-dropping.
Waterwalker is a meditation on the natural beauty that compares the world around us to a kind of celestial art gallery. This perspective has greatly influenced the way we think of the brand. We want to build a brand that emphasizes the harmony of the relationship between humans and nature, and we want people to use our boards and gear to explore the beauty found there.
Advice for other entrepreneurs who want to get started or are just starting out?
Find the right market-product fit. It might sound obvious, but this is the most important thing you should think about when starting your business. Is there a need for your product? How is your product different from the others? What value does your product bring to the market and customers? You can have as many business ideas as you like, but you want to make sure, or at least try your best to find data that truly convinces you that there's a genuine need for the product you're launching before putting lots of money and energy into it.
Focus and move forward. It's incredibly easy to overlook steady incremental progress in favor of flashy strategies. If everything goes right, starting a business is a sprint that turns into a marathon. You can't afford to get distracted. You have to keep putting one foot in front of the other. Make a simple list of your top three to five things to accomplish each day. Do at least three of the five. Every. Single. Day.
Learn from others. When you are in a startup, oftentimes there is no knowledge resource for you to refer to, and you will always need to figure things out yourself. Don't be shy. Ask others. It can be a mentor, another startup owner, or some seasoned manager. If there are no such people around, try to find someone or join a community. You can be smart enough to figure out a solution, but it will be great to have a second pair of eyes to double-check. Remember, you don't know what you don't know, and sometimes the price of mistakes can be quite expensive.
Where can we go to learn more?
We're always stoked to connect with paddleboarders or people interested in the sport. Hit us up on social or at [email protected] to talk gear and paddling anytime!
-
Shenglong You, Founder of Thurso Surf
Want to find more ideas that make money?
Hey! 👋 I'm Pat Walls, the founder of Starter Story.
Get our 5-minute email newsletter packed with business ideas and money-making opportunities, backed by real-life case studies.