"I want to start a business but I have no ideas"
"I want to start a business but I have no ideas"
This is an archive of the Starter Story newsletter, which is read by 87.2K people every week.
In each issue, we share the biggest business ideas that are working today, along with case studies of founders who are making millions every month. Sign up today ➜
---
"I want to start a business but I have no ideas"
Maybe you've felt this way at some point. It could even be your current situation.
Like coming up with any kind of idea, thinking of business ideas can be hard. So, it's common to find yourself in this roadblock of wanting to start a business but not being able of coming up with an idea that suits you.
Luckily, our case studies database is full of regular people who shared how they came up with their ideas.
To provide some inspiration here are some of the most interesting ways of finding profitable business ideas.
Work on something you love
Hands down the most effective way to keep motivated once times get tough.
And if you're passionate about something, it means you can be an "expert" on that topic, which may help your business be more successful. Do you listen to and read about 60s soul music? Then you're among the top 2% of people in the world that knows more about that topic. That knowledge can be translated into a lot of dollars.
This guy's passion for gyms helped him create a $15M/year brand.
Another great example is how this girl's passion for traveling led to starting a $180K/year business planning vacations.
Capitalize on a new trend
This is the best reason to stay on top of new trends. Catching a popular trend relatively early, before it explodes, is a great way of finding a great idea to build a business around.
Being early is also a way to enter a less crowded, which means less competition.
This guy discovered CBD early and build a $500K/business.
How did he find out? He read about it on some online forums and thought it'd be interesting to try out. Forums, reddit, Twitter, etc. are great places to stay on top of new trends.
But sometimes you don't even need thorough research, being sharp and smart can help identify these trends. Eric was one day at a meetup and noticed an unusual number of bearded men. That small detail led him to start a $1.2M/year business.
Invest In The Startup Blending Tech & Fresh Food
Blendid is a startup that's bringing delicious and healthy food to gas stations, malls, and other high-traffic locations across the country.
Reasons to invest:
Fully-automated robotic smoothie kiosks that operate 24/7
Very few healthy choices for consumers available
Great operator margins due to less real estate and lower labor costs
500+ kiosks in contract
Partnerships with massive brands like Jamba, Walmart, and Sodexo
Invest in Blendid ahead of their nationwide expansion.
Write down the criteria for your dream business
This founder made a list of the criteria that his ideal business should meet. That analytic work was the seed of a $2.4M/year company.
Some of the things he was looking for? A highly fragmented market with no clear leader, with little brand differentiation and a product that was traditionally physical retail that he could help bring online with a DTC model.
Doing your homework pays off.
Solve your own problem
A very common way businesses are born. It could be something at work, in your home, or about your kids. If you have the problem, there's a really good chance someone else does too!
This guy was looking for a way to solve his hangovers and now makes $120K/year with the special remedy he came up with.
A similar thing happened to this woman who, tired of not finding the right product for her skin, decided to create her own. In her kitchen. Without any prior experience. The result? A $204K/year business.
Find a very specific niche
The more niche you go, the less competition there will be.
This guy started making memes for air traffic controllers (what?) and turned that into a $414K/year business.
There are lots of underserved niches. People tend to focus on "sexy" markets where it's hard to succeed and often overlook super lucrative opportunities.
A great example is how this founder focused on people with a very specific allergy to create a $264K/year brand.
Just put yourself out there
A very common situation among people that want to start a business is never getting started.
The perfect idea might not come to you but it can become perfect by working on it.
A small detail such as start telling people that you're starting a business might lead to getting the first customers. This is how this founder started a $1M+/year recruiting business.
Friends and colleagues knew he was working on it, so they just started referring him to others.
Use Starter Story!
At Starter Story we have interviewed over 3,000 founders and asked each one how exactly they came up with their ideas.
All that information is organized in our case studies database, Internet's biggest business knowledge source.
Join Starter Story
There is no secret to building a profitable business. All of the information can be learned, so why not learn it from others who have already done it?
Join Starter Story to access our database of 3,000+ successful business case studies. See the exact timelines of how founders built their businesses to thousands of customers.
Get real answers to questions like:
How do people find great business opportunities?
What did they do to get their 10 first clients?
What challenges do they face at every stage and how to overcome them?
Join Starter Story Premium for $2.58/week. A no-brainer investment for your business.
Quick hitters
(1) These founders built an app used by 500K people. (An idea so good they raised $40M) Business travel is a huge industry, 1.3M people travel for business every day in the U.S. alone. Hitting the spot when the market is so big can turn your idea into a multi-million dollar business.
Want to read more stories of founders who stroke gold in the travel industry? Check the story of this agency making $5.4M/year curating surprise vacations, or how this app to track frequent flyer programs became a $1.8M/year business.
(2) This guy brings in $30M/year with a real estate business. And it's all from mobile homes. His secret? Went for the most recession-proof real estate properties. Not the sexiest niche for some, but definitely a very profitable one.
Real estate is a space where huge businesses are constantly built, if you're interested in dipping your toes in that water, read how these mechanical engineers left their jobs and now make $160K/year flipping houses, or how this guy left the film industry to start a $300K/year commercial real estate business.
Want to start your own business?
Hey! 👋I'm Pat Walls, the founder of Starter Story.
We interview successful business owners and share the stories behind their business. By sharing these stories, we want to help you get started.
Interested in starting your own business? Join Starter Story Premium to get the greatest companion to starting and growing your business:
Connect + get advice from successful entrepreneurs
Step by step guides on how to start and grow
Exclusive and early access to the best case studies on the web
And much more!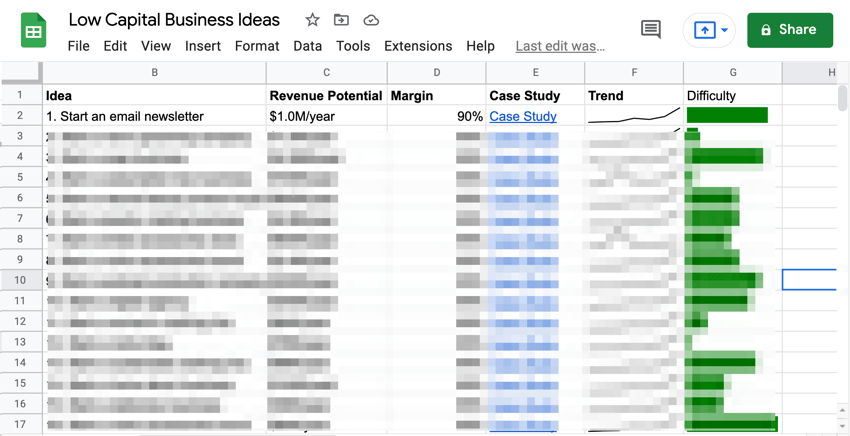 Wanna see 52 business ideas you can start with less than $1,000?
Join our free weekly newsletter and get them right now.
meet the author
David Bustos
Hey there! 👋 I'm David, and if you ever got an email from Starter Story, I probably wrote it. With a background in working with startups and writing, being part of this team is kind of a perfect fit for me.