From Film to Real Estate: How I Run A $300K/Year Commercial Real Estate Business
•
Published: April 29th, 2022
From Film to Real Estate: How I Run A $300K/Year Commercial Real Estate Business
Hello! Who are you and what business did you start?
Hello, my name is Wayne Steinberg, principal of Highline Real Estate Advisors. I'm a seasoned commercial real estate broker on Long Island. My focus is tenant representation which means my fiduciary responsibility is sole with the tenants who lease space in office buildings.
I advise on relocation options; I help design space plans and ultimately, create negotiation leverage and lower the cost of overhead. All my services are at no cost to my clients, the tenants.
I have been involved in hundreds of deals in submarkets from Lake Success to Mineola and Garden City through Jericho, Syosset, and Woodbury, and out east to Hauppauge and Islandia. I've also represented tenants in NYC, Westchester, and New Jersey. I have helped tenants with renewal lease negotiations from as small as 1,000 Sq. Feet to 40,000 Sq. Ft.
My client roster, including services such as law firms and accounting firms, insurance companies, nonprofits, and medical practices, has grown extensively over the years, which has allowed me to launch my own business.
Currently, Highline Real Estate Advisors produces between $300,000 and $400,000 of revenue each year. The luxury of the commercial real estate industry is that our expenses are so low. I manage my business out of a private office suite that normally costs about $1,000/mo., but I access it for free because of the referrals I bring into the building. My only other expenses are minor marketing expenses, such as ads in local publications. I'm taking home nearly 100% net income from my services.
In 2022 and beyond, our goal is to expand to become a name-brand commercial brokerage on Long Island, NY. We intend to do this by using new marketing techniques that other, older commercial brokers haven't adopted yet.
Founder Wayne Steinberg: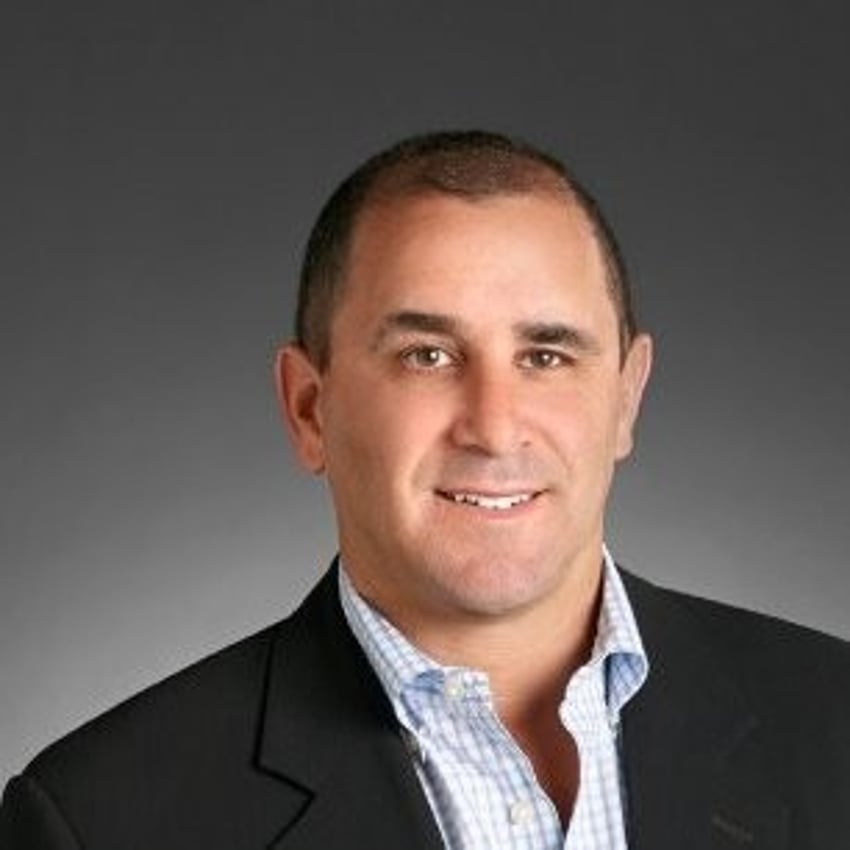 What's your backstory and how did you come up with the idea?
I have an MBA from NYU Stern's School of Business. My career started in film distribution, where I was responsible for financial analysis as a basis for talent contract negotiation.
When the parent company, Time Warner, merged my company into another firm based in LA, I took the opportunity to reinvent my career using my skill set that had been developed over the past 15 years. Building cash flow models and analyzing contracts was the perfect base to seamlessly move into the more entrepreneurial business of the real estate.
In real estate, you must harvest the marketplace for deals. It requires creativity, people skills, and persistence. It's been a wonderful challenge through the years. I sometimes experience setbacks but the successes are more prevalent and further motivate me to grow in this field.
The biggest setback we face is a deal that falls through. Sometimes, you'll spend months showing potential client buildings and working through negotiation, and the deal never happens. This is the cost of doing business as a commercial broker.
The lesson to be learned is to never keep your eggs in one basket. We're constantly prospecting and looking for new opportunities so that we never become too dependent on one person/stream of revenue.
You should live every day as if it was your last, but you should approach your business decisions as if they will live forever.
Launching Highline Real Estate Advisors has been a thrill in itself. Designing a website for marketing my service, targeting new types of clientele, and opening up opportunities that did not exist before is very exciting.
Take us through the process of designing, prototyping, and manufacturing your first product.
Highline Real Estate Advisors targets those office space users that use the internet to search the market. Once they find my website, they see that my business is set up to advise and help them find the perfect office.
I have listed all the major office buildings that range from class "A" full-service buildings that feature covered parking, food cafes, and impressive lobbies with high-end finishes to class "C" buildings that offer good value for those seeking a lower-cost alternative.
I formed a partnership with an internet marketer named Jake, who owns his own company, Bolt Consulting, which offers web design, SEO, and Google Ads. We met at the local coworking space where my office is; he was helping them with their marketing.
Rather than working with some other company that I've never heard of, Jake offered me a personal relationship, and we've worked back and forth to make this project a success. He is extremely motivated and will share in the success of my business as it grows through his efforts.
Together, we will be able to reach new audiences and expand to major markets in the coming years. As we move into the next generation of office users, who have greater and greater amounts of information at their fingertips, SEO and Google Ads will be the ultimate driver of this business.
Our website, branded as Office Rentals Long Island, a tool for commercial tenants in our local area, will be the hub for all commercial real estate knowledge and searches.
Jake built the website in Wix. Wix offers an all-in-one CRM that makes it easy to send automated emails, phone calls, and texts from one place. With their dynamic web pages, it was easy to create over 130 listing pages for offices and have them all follow the same template. Wix's dynamic pages also make it easy to manage SEO for each listing page at scale, and many of our listing pages rank high on the first page in Google for that address.
Describe the process of launching the business.
My launch is very recent and, fortunately, is experiencing a steady stream of client activity from relationships that I've developed in the past through networking efforts. Pre-covid, networking was easy and often in large group social settings. This method of growing business has been compromised over the past couple of years, so prospective clients are best found now as they go online.
We use SEO, content marketing, and Google ads to attract our clientele. When new leads come in, we use Zapier and Ascend in Wix to automatically send them a confirmation message. I'll also receive a text with their name and phone number, which allows me to give them a call within 60 seconds of their form submission. New prospects are more likely to choose our services because we are different from a traditional commercial broker.
A regular broker will have a relationship with commercial landlords since they make deals with the landlords more often than the tenants (a landlord has many buildings/spaces that he needs to be rented out frequently, but a tenant only rents once every couple of years). Thus, the broker is more inclined to represent the tenant, and any negotiation information you share with your regular commercial broker is bound to end up in the landlord's ear.
As a tenant representative, we offer a different service. Rather than representing landlords, we represent commercial tenants exclusively. Our only communication with the landlord is on your behalf and in your best interests as a commercial tenant.
That's why the design of the Highline Real Estate Advisors website and its ability to both capture and nurture leads is essential for future growth.
Our first client came from my experience at Real Estate Strategies, Inc. in Philadelphia. There was a big account moving to Long Island, and I followed them. That deal provided me a soft cushion of revenue to struggle for a little bit while I grew my network on Long Island.
In the beginning, it was all grassroots: conferences, handshakes, and just being in the right place at the right time. As I built trust with my clients, I began to get referrals which became a larger part of my business. Typically, when a new client comes in through a referral, they're not shopping around with other commercial brokers, making the closing process much easier.
Since launch, what has worked to attract and retain customers?
As mentioned above, we've attracted customers through networking events and personal relationships, but have more recently been adopting a digital-first approach.
Our SEO approach is heavily focused on content marketing to build a hub of credible information, specifically focused on Long Island submarkets. We use on-page optimization and off-page link-building strategies as well, but ultimately, our goal is to put out great content.
Our digital strategy is to build authority and trustworthiness through SEO first, even if it takes longer so that when we run ads, later on, they're even more effective. We need to give people a reason to choose us over our very-well established competitors like Loopnet and Property Shark. We intend to do that by positioning ourselves as the most credible source for Long Island commercial real estate news and advisory.
Only when you leave your comfort zone, then you'll be able to experience real personal growth.
Once we begin our digital ads campaign, we are going to run a full-funnel campaign using display and search ads. We will run display ads on our competitor's websites advertising our Long Island expertise and our role as tenant representatives versus brokers, then we will use search ads to reach people at the bottom of the funnel. We intend to run ads against terms like "commercial space for lease near me" and "office buildings near me."
Being an authority in space pays dividends for decades to come. A commercial tenant typically signs on once, and if you've done a good job, you work with them for life. The leases we negotiate are typically at multiple years. In the meantime, between the first contract and the renewals, we will maintain contact here and there to keep the lead warm, so that when they're ready for something new, Highline Real Estate Advisors is the first in mind.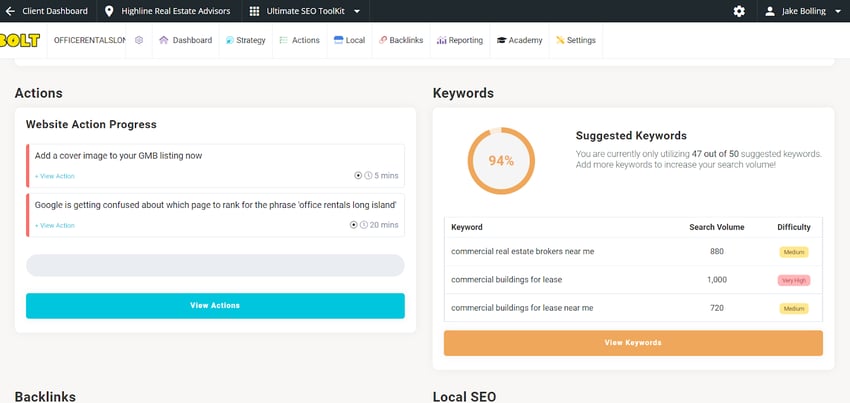 Our SEO Dashboard, we use Bolt Consulting's SEO service. More info
How are you doing today and what does the future look like?
In Highline's first year of business, we will be very profitable. But the future is even more encouraging. We're now meeting with a private equity-funded medical practice that plans to roll out 20-40 offices nationwide. If it works out, Highline Real Estate Advisors will be their exclusive real estate advisor in these deals. The margin in our brokerage deals is very large as we have looked to keep overhead very low in the nascent years. Marketing will be our largest expense line-item.
In another few months, Highline will be licensed to transact deals in 15 states. We also have contacts in companies throughout all 50 states so we can partner in any market to represent firms with a national profile.
Through starting the business, have you learned anything particularly helpful or advantageous?
I believe the most important thing when starting a business is to keep your overhead very low and operate efficiently. When you bleed money, the pressure mounts, and you put yourself in a position where you may not be making the best decisions.
I once heard the advice that you should live every day as if it was your last, but you should approach your business decisions as if they will live forever. Both parts of that advice allow you to focus on the big picture without sweating the small stuff.
What platform/tools do you use for your business?
We use a commercial real estate listing database and financial lease management tools.
For our website, we use Wix because of its dynamic content, CRM, and marketing automation tools. Wix makes it easy to capture leads and automatically assign them to email campaigns. Wix also makes it easy to collect cookie data and retarget your leads later with Ads.
For our advertising, we plan to use Google Ads. We intend on running a full-funnel campaign with display ads at the top to reach as many people as possible, then search and video ads to retarget them and capture leads.
What have been the most influential books, podcasts, or other resources?
Some podcasts we're fans of are:
Advice for other entrepreneurs who want to get started or are just starting out?
My advice to entrepreneurs is to wait until you have had a few years working in a business that you've identified to have a great potential for reward, develop a good perspective of how you could do things better, and ways to separate yourself from competition….and then go for it!
There is no experience in the world that has a greater learning curve than when you have your own business. It forces you to get out of your comfort zone, And only when you leave your comfort zone, then you'll be able to experience real personal growth.
Where can we go to learn more?
If you have any questions or comments, drop a comment below!
-
Wayne Steinberg, Founder of Highline Real Estate Advisors
Want to find more ideas that make money?
Hey! 👋 I'm Pat Walls, the founder of Starter Story.
Get our 5-minute email newsletter packed with business ideas and money-making opportunities, backed by real-life case studies.