4 Bicycle Company Success Stories [2022]
•
Updated: September 8th, 2022
4 Bicycle Company Success Stories [2022]
A surge in exercise and heightened anxiety over public transportation during the Covid-19 pandemic are reasons more people have embraced biking.
Apart from being a form of exercise, using bicycles is also good for the environment as there are no emissions.
Therefore, starting a bicycle company can be a profitable venture. Research the market and choose a niche. Then, register your brand and focus on the production of high-quality bicycles.
Here are some real life success stories of starting a bicycle company:
1. State Bicycle Co. ($12M/year)
Mehdi Farsi (from Tempe) started State Bicycle Co. almost 13 years ago.
Team
2 founders / 15 employees
Case Study
My name is Mehdi Farsi, I'm the co-founder of State Bicycle Co. in Tempe Arizona. We specialize in great-looking, great riding bicycles, parts, and accessories that are both attractive and affordable.
We sell our own brand of bikes, clothing, and accessories, as well as a handful of curated complimentary products directly on our website and through over 400 bike shops worldwide. The business has grown to over $50m+ in annual sales and we've produced over 100,000 bikes.
2. Santafixie ($3.6M/year)
Xavier Claveria Masip (from Barcelona, Catalonia, Spain) started Santafixie over 12 years ago.
Team
3 founders / 20 employees
Location
Barcelona, Catalonia, Spain
Case Study
Hello, I'm Xavi Claveria and I'm the founder of Santafixie.com. Santafixie is an e-commerce focused on urban bicycles, and since 2018 we are a brand with our own products (Bicycles and components). Now we are a mix between marketplace and a Brand of bicycles and components.
Our monthly turnover is 200.000€. Our main markets are France, Spain, Netherlands, Italy and UK. And our brand represents around 20% of the turnover. The rest are third brands on our marketplace.
3. Sole Bicycles ($3M/year)
Jonathan Shriftman (from Los Angeles, California, USA) started Sole Bicycles about 13 years ago.
Team
2 founders / 14 employees
Location
Los Angeles, California, USA
Case Study
My name is Jonathan Shriftman, and I am the co-founder of Sole Bicycles. I am also the founder of Humin app, acquired by Tinder, and part of a team building a new conversational AI company called Snaps.
Sole's flagship product is certainly our fixed gear bicycle, and more recently, our city cruiser and dutch step-through. Since inception, Sole has generated over $10M in sales, sold over 40,000 bicycles, all with only $300k of capital raised.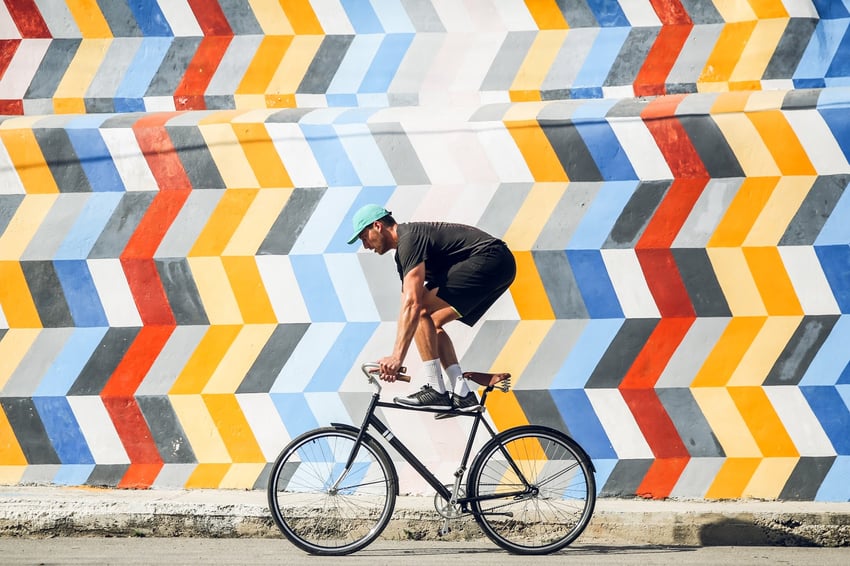 4. Smoove ($300K/year)
Ruan Deyzel (from Pretoria, Gauteng, South Africa) started Smoove over 14 years ago.
Team
1 founders / 5 employees
Location
Pretoria, Gauteng, South Africa
Case Study
Hi I'm Ruan Deyzel I started a business 11 years ago in the South African cycling industry that develops, manufactures and sells the SMOOVE Chain Lube and SMOOVE PREP chain cleaner.
We are more determined than ever to work hard and to hold on for the ride!
Want to start your own business?
Hey! 👋I'm Pat Walls, the founder of Starter Story.
We interview successful business owners and share the stories behind their business. By sharing these stories, we want to help you get started.
Interested in starting your own business? Join Starter Story Premium to get the greatest companion to starting and growing your business:
Connect + get advice from successful entrepreneurs
Step by step guides on how to start and grow
Exclusive and early access to the best case studies on the web
And much more!
Starter Story
Wanna see 52 business ideas you can start with less than $1,000?
Join our free weekly newsletter and get them right now.