8 side projects ideas (making bank)
8 side projects ideas (making bank)
This is an archive of the Starter Story newsletter, which is read by 87.2K people every week.
In each issue, we share the biggest business ideas that are working today, along with case studies of founders who are making millions every month. Sign up today ➜
---
Sponsored by Semrush
How this website went from side project to 5M visits and $200K/year
They took these 3 key steps:
#1. Removed links from spammy websites using Semrush Backlink Audit. 
#2. Found relevant low-competition keywords and targeted them to quickly grow traffic and build site authority.
#3. Achieved a 2.5X increase in page views using Semrush's SEO Writing Assistant.
Want to grow your business like they did?
>> Try these Semrush tools FREE for 14 days and take your website to the next level.
8 side projects ideas (making bank)
Side projects are a great stepping stone to starting a business. You won't have the pressure of having to make a living out of it, and you can enjoy working at your own pace.
There are plenty of reasons to start a side project:
Develop new skills. You won't believe how much you can learn when you have to do almost everything.
Generate extra income. Whether to pay debts quicker or to start saving, a few extra bucks never hurt.
Do something you love. It's the perfect excuse to allocate some time for enjoying a hobby.
Tips for identifying a good side hustle:
Keep it simple. At the start, it's better if you can handle everything yourself. If it requires a team of developers, salespeople, etc. That's a company that needs your full attention.
You enjoy doing it. You're probably going to work on it at nights and weekends (aka when you'd rather be not working), so to make it a bit more appealing it better be about something you like.
It's right for you. Establish criteria of how much time you can dedicate to it, how much money you can invest in it, etc., and pick a project based on that.
Next, there are some successful side hustles making bank. Some became huge businesses and others remain as a side gig, but all of them (no matter what they're about) are great examples of how to start a side project.
Get inspired by these stories and get pumped to start your own:
Why isn't there a Tinder for hiring people? Why isn't there a Yelp for kindergartens?
Asking yourself these kinds of questions is a great framework to find money-making opportunities. And that's what this starter did.
Today, these spreadsheet templates have grown into a $240K/business.
This journalist lost his job at The Athletic during the Covid pandemic.
As a diehard NFL fan, it only made sense to merge his love for the sport with his writing knowledge.
Based purely on organic growth, the newsletter has now 5,500 subscribers and has gone from a hobby that pays to a legitimate side income of over $4,000 a month.
Some people start a side project to destress from their 9 to 5 jobs. There are people who like to go for a run, others enjoy locking themselves in their workshop.
As a result, this craftswoman started selling small items on Facebook, quickly moved to Etsy to broaden the audience and reach a greater audience.
During the last Christmas season, sales ramped up to $20K.
You probably expected only low-revenue projects here, but some side hustles can grow to become huge businesses. And this is a great example that shows how it's possible.
This is the classic story of someone looking to buy something and noticing that the options available are very limited. Undeterred and very tenacious, this couple contacted a manufacturer to create a couple of neon signs.
They posted them on Instagram and they were an instant hit. Soon after they were selling $10K worth of signage a week.
This HR professional has sold over 6,000 resume templates supporting job seekers from 50+ countries.
After years of doing her job, she realized that even the most successful people struggled with crafting a resume that accurately presents their successes.
The genius part? Ditched the initial idea of doing consultations and instead created digital products that are sold on Etsy. Which means she wouldn't have to trade her time for money.
Today the business brings in up to $4,000 per month.
The way this starter approached was the digital version of flipping a house. He landed on a website with resources for woodworkers (his hobby) and while the information there was useful, it was very outdated.
With very little expectation of getting a response, contacted the owner. Surprisingly, he ended up buying the website for $5,000.
It had such great SEO that without putting any effort into marketing, he's already banking $1K per month.
Fictionally, of course!
This is a great story. The founder actually belongs to the Federal Police in Belgium. After years of seeing how cases are solved, it became evident that the way to work them was always pretty similar: double-checking witness reports, alibis, motives, etc.
That's how he thought he could create fictional murder cases and let people solve them with the police file and online media.
The first time we interviewed them they were making around $8K/month. Today, they've reached $1.5M/year and have partnered with Netflix.
This founder fell in love with New York's Metropolitan Museum of Art. He liked it so much that started hosting tours for his friends while working his day job selling electrical equipment for small airplanes.
It started getting so popular that there was a waiting list. That made him think "would people pay to jump to the top of the list?"
Yes, they were. Because these tours were awesome and bloggers were already writing about them.
From there, more guides, more museums, more cities,... the operations has grown so much that it has become a $2.8M/year business.
And you can replicate this with almost anything! Show people around baseball stadiums, food trucks, street art,... the possibilities are endless.
But not just any type of cleaning service. This couple went super niche and specialized in cleaning after-parties.
Why go so niche was a great decision?
Underserved. No one specializes in it.
Hard to find. These services will often take place on the weekends so most cleaning companies won't do them.
Last minute. You probably don't think in advance that you're going to need this service. Until you do.
So far they've been able to reach some $7K months despite both working full-time jobs.
--
Ready to start your own side project? Check out our free database with over 100 side hustle ideas to find one that's perfect for you.
Join Starter Story
There is no secret to building a profitable business. All of the systems and strategies can be learned, so why not learn them from others who have already done it?
Join Starter Story to access our database of 3,000+ business case studies. See the exact timelines of how founders took their businesses from idea to thousands of customers.
Get real answers to questions like:
How do people find great business opportunities?
What did they do to get their 10 first clients?
What challenges do they face at every stage and how to overcome them?
Join Starter Story Premium for $2.58/week. A no-brainer investment for your business.
Quick hitters
(1) This analytics app for restaurants just hit $600K ARR. Managing a restaurant is hard. And now they have to pay attention to dozens of apps. The key to this app is that they make restaurant owners' life easier. If you can do that, they'll be your customers. Just don't call or visit during lunch/dinner service.
The restaurant tech industry is within the top 3 fastest growing markets with a total market size of €350Bn. Huge opportunity. Here are some other businesses that capitalized on it: inventory management SaaS ($12K/month), meal prep software ($1M/month).
(2) This computer engineer quit her job and now makes $10K/month as a nutrition coach. Even with the most lucrative professional career possible ahead, lots of people are leaving their jobs. Reasons include: not feeling fulfilled, toxic environment, or simply, boredom.
Making a living doing something you enjoy (even if the income at first isn't as good) is an option that is gaining popularity.
Some examples of founders who took the leap:
--
Thanks for reading!
Want to start your own business?
Hey! 👋I'm Pat Walls, the founder of Starter Story.
We interview successful business owners and share the stories behind their business. By sharing these stories, we want to help you get started.
Interested in starting your own business? Join Starter Story Premium to get the greatest companion to starting and growing your business:
Connect + get advice from successful entrepreneurs
Step by step guides on how to start and grow
Exclusive and early access to the best case studies on the web
And much more!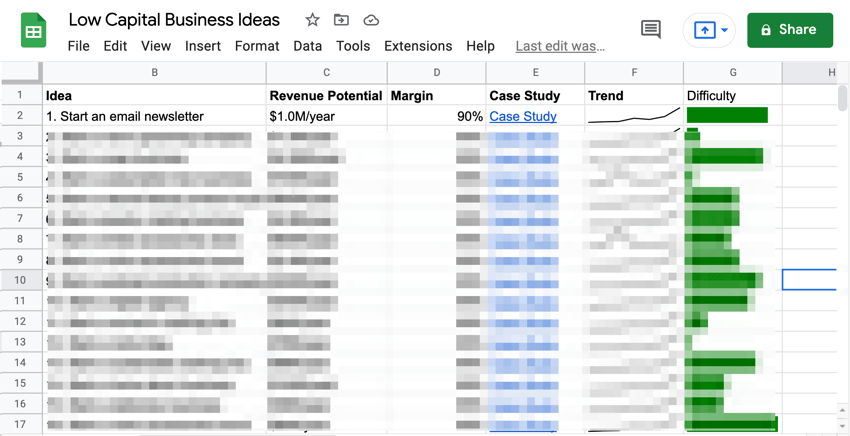 Wanna see 52 business ideas you can start with less than $1,000?
Join our free weekly newsletter and get them right now.
meet the author
David Bustos
Hey there! 👋 I'm David, and if you ever got an email from Starter Story, I probably wrote it. With a background in working with startups and writing, being part of this team is kind of a perfect fit for me.