I Launched A $30K/Year Etsy Shop That Sells Resume Templates [Side Hustle]
Ana Colak-Fustin
•
Published: April 1st, 2022
Hello! Who are you and what business did you start?
Hi, my name is Ana Colak-Fustin and I am the founder of ByRecruiters, a website and resume shop for job seekers (originally named Recommended By Recruiters). In 2018, I started an Etsy shop selling resume templates that have since supported over 6,000 job seekers on their career journey.
My core products are functional and minimal resume templates designed for corporate professionals. I also offer digital job search tools, such as job search planners and workbooks, as well as 1:1 job search services, including job search coaching and job search assistance that can best be described as outsourcing of a job search.
Since 2018, I have sold over 6,000 resume templates supporting job seekers from 50+ countries. Today my business brings in between $1,500 to $4,000 per month.
What's your backstory and how did you come up with the idea?
Back in 2018, after four years of corporate experience working as a recruiter, reviewing job applications, reading resumes, and interviewing job seekers daily, I decided to make a slight career change and become a corporate career coach at a British bank.
So, I started working 1:1 with hundreds of successful professionals, from graduates to vice presidents, looking for new job opportunities within the company. My job was to help them prepare for an internal career move by supporting them with their career clarity, resume writing, interview preparation, and other career-related topics.
I noticed that, regardless of their experience, even the most successful of them struggled with crafting a resume that accurately presents their successes and effectively communicated their value in interviews. At that point, I realized that everyone could use some help with their job search. And this was the first time I spotted an opportunity for a side business that I could start along with my 9-to-5. It was my first "aha" moment!
Following this realization, my initial business idea was to start a job search coaching business, utilizing my direct insight into hiring. Then, after doing my market research, googling competitors, and reading about successful coaching businesses, I stumbled upon Etsy and discovered digital products for the first time, including resume templates. It was a breakthrough for me!
I realized that I could create digital products that have the same purpose of helping people navigate their job search without trading my time for money by doing 1:1 coaching.
At the time, the Internet was filled with overly designed resumes created mainly by graphic designers without hiring experience, which may have worked on rare occasions. But, with years of experience in corporate recruitment, I knew they wouldn't cut in the corporate setting. And that was it for me! The idea of an online shop with professional, functional, and corporate-proof resume templates was born.
Take us through the process of designing, prototyping, and manufacturing your first product.
Considering other resume templates available on the Internet and Etsy that were over-designed and heavily filled with graphic elements, I knew I wanted to create something different. My goal was to focus on functionality. Instead of creating resumes that only look good but are not functional, I aimed to create resumes that would pass the screening of most corporate recruiters and ATS - the software used by companies to process job applications.
So, for more than six weeks, I had used every spare moment to create my first batch of 20 products. I designed resume templates, wrote about resume best practices and job search tips, compiled them in a resume writing eBook, and worked on an editing manual – all to prepare practical and functional products that will help job seekers create better resumes and land jobs faster.
After completing the products, I shared them with my fellow recruiters asking for feedback. Based on their input, I put the finishing touches on the designs. And in July 2018, my Etsy shop was officially open for business!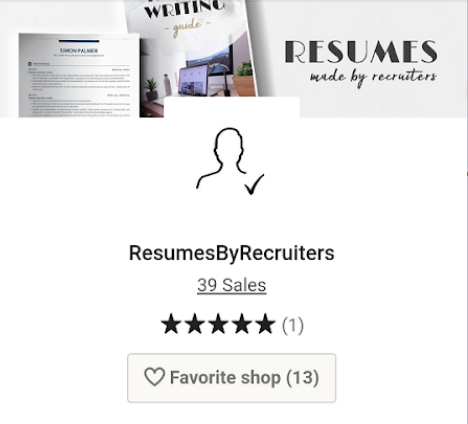 First Etsy Banner - January 2, 2019
Describe the process of launching the business.
I'm a fan of calculated risks. Since this resume shop was my first side hustle, I wanted to make it as easy and risk-free as possible by minimizing the initial investment and any back-end work needed for setting up a stand-alone e-commerce store. So, I opened a free Etsy shop and decided to first offer my templates there.
My main initial investment was the time I put into creating products, along with $0.20 per template to publish them on Etsy (totaling $4 invested for the first 20 templates I posted), which looking back seems crazy low. Comparing it to other types of business, starting an Etsy or other online shop with digital products seems like the most affordable and fastest business to start. I had my first sales within a month, and it covered my 'launch' investment! However, it took me 9-12 months to start getting regular sales.
In the meantime, I created my website using Wix. Besides resume templates, I started offering other services for job seekers, including resume reviews and interview preparation. My Etsy shop and resume templates sold there serve as lead generators, so 80% of my website customers come through my sales on Etsy.
Original website - September 2018
Looking back, I still encourage the idea of getting the first products out and available to the customer as fast as possible. This approach allows testing the concept early on and then improving it based on the customer feedback - instead of perfecting the products endlessly without ever putting them out. However, what I would do differently would be drive traffic, attract customers, and build an audience on social media or the site even before the launch to ensure more frequent sales right from the start.
Since launch, what has worked to attract and retain customers?
To find customers, I focused on trying out free marketing channels, such as Pinterest and Instagram.
Pinterest initially seemed daunting, as the suggested frequency of posting is 20-25 pins per day! It took me a while to figure it out and optimize my process of generating so many graphics and posting them so often. However, I've created an Excel spreadsheet that helps me keep everything in order. Also, creating educational infographics and product photos has become my creative outlet, so now I genuinely enjoy using it!
Unlike social media, Pinterest works like a search engine (i.e., Google), meaning that things posted there stay there and can be found by potential customers even months or years later. Also, it doesn't require constant direct communication with the audience, which is much easier for introverts like me. Since 2019 when I started my Pinterest profile, Pinterest drove 36.5K unique visits to my Etsy shop. 580k views per month on Pinterest was my all-time high!
Views on Pinterest - Feb 11, 2021
When it comes to Instagram, I'm still trying to find a way to make it work for me. I tried posting regularly, but creating photos, writing captions, researching hashtags, filming reels, and engaging with others takes a lot of time. Over a few months, it resulted in only a few visits to my shop, which didn't justify the time invested, so I've put it on hold for a while.
I also tried paid ads on Google, Pinterest and Etsy. Pinterest Ads and Google Ads have been a flop resulting in zero sales. But Etsy Ads have 115% ROI on average, so I keep them going.
Learning and doing everything yourself is great, but it takes too much time.
What has also worked best was partnering with other companies. For example, I was contacted by Jobscan.co - a leading online resume optimization tool. I created customized resume templates for their site. Since they provided a backlink to my shop, this partnership brought in 1K+ unique visits to my shop in 3 months.
How are you doing today and what does the future look like?
Due to the low launching costs and digital nature of the products, I am proud to say that my business has been profitable since day one.
In 2021, my stats were the following:
Distribution: Etsy - 90%, website - 10%
Gross margin: 60-70%
Cost of goods: $0.20 per product (the cost of publishing products on Etsy)
Ad costs: $10.00 per day (only Etsy ads)
Return on ad spend: 116.91%
Monthly traffic: avg 4,500 visits per month
Conversion rate: 4.7%
Fun fact: One of my bestselling templates has brought in $11K since April 2020!
As cliche as it may sound, the part about my business I love the most is that today I wake up to sales notifications and feedback from people who have landed interviews and jobs using my templates!
Even though 3.5 years of having this shop are already behind me, I feel like I've just scratched the surface of its potential. The options to scale an online business seem limitless – from affiliate marketing to online courses, coaching programs, etc.
For 2022, I have two big things coming up.
First, I want to help online entrepreneurs start selling their digital products, focusing on career coaches, job search coaches, resume writers, and new business owners looking to start or scale their online businesses.
To do so, for the last couple of months I've been working on a one-of-a-kind resume shop starter kit that consists of my bestselling resume templates, social media templates for a successful launch via IG and Pinterest, and a step-by-step interactive guide on starting a successful resume shop. The idea is to help others kickstart their shop without going through the painful process of creating and selling resume templates to their audience from scratch.
Second, I know that a job search is more than a process of updating a resume, submitting dozens or hundreds of job applications, and hoping for the best. An efficient job search requires a strategy.
So, in 2022, I will create and offer a comprehensive coaching program for job seekers, helping them navigate their job search strategically and with ease. Thinking about the long-term future, I aim to become a go-to platform for job seekers with the most actionable, practical tips and techniques to land a job.
This year, I am committed to improving the SEO of my website by guest posting and cold outreach to improve organic traffic. I also plan to experiment with social media, test TikTok, reels on IG, and video/idea pins on Pinterest to build an audience and attract new customers.
Through starting the business, have you learned anything particularly helpful or advantageous?
Since starting my business, I have done most of it by myself. I've worn many hats, from being a product designer, graphic designer, copywriter, web designer, blogger, SEO specialist, social media manager - I did it all. Considering that my background is in HR, each of these roles required a lot of self-learning. And even though I am incredibly proud of doing it all by myself and developing new skills I wouldn't have developed in my 9-to-5 job, this has also slowed me down.
Learning and doing everything yourself is great, but it takes too much time.
I now understand that I don't have to figure out everything on my own when there are millions of smart, talented people who have already done the things that I'm trying to do. However, I'm still working on reaching out and asking for help or hiring support when I need it. It's a lesson that I'm now trying to apply in my business more and more.
What platform/tools do you use for your business?
Without these platforms and tools, it would be much more challenging, if not impossible, for me to manage my business:
I love all these tools and wholeheartedly recommend them!
What have been the most influential books, podcasts, or other resources?
I studied psychology, and I love psychology-based books (and prefer books over podcasts), so some of the books I would recommend would be The Power of Habit by Charles Duhigg, Mindset by Carol Dweck, and anything from Malcolm Gladwell. These books drastically changed my perception of and approach to success, motivation, mindset, and daily habits.
Don't go after a shiny object. Instead, make sure that by building a business you're also creating a job you love.
Besides these books, two books that stand out are The 4-hour Workweek by Tim Ferriss and StrengthsFinder 2.0 by Tom Rath.
The 4-hour Workweek by Tim Ferriss is a classic (or a cliche), even though some of the concepts presented in the book are outdated now. However, I read it in 2015, and it was an eye-opener. It planted my desire to start a business that would allow a different lifestyle rather than working 9-to-5 until retirement. It inspired me to think differently and motivated me to start a side hustle that grew into a full-time business that allows location independence.
StrengthsFinder 2.0 by Tom Rath is more than a book. It's a powerful psychological toolkit that offers great insight into an individual personality. It comes with a code for access to an online self-assessment, and the book entails scary-accurate descriptions of 32 different strengths. Understanding my strengths and values helped me align my life decisions and create a fulfilling career and business.
Advice for other entrepreneurs who want to get started or are just starting out?
If you are starting a business, my main advice is to do something you know or believe you could enjoy doing for the long term, at least a year from now. Starting a business based on personal interests may seem obvious to some. Still, I've seen so many people asking others for side hustle ideas, then jumping into 'sexy' side hustles based on what they think will bring them money fast.
For example, some people start blogging even though they hate writing; some start managing social media accounts, even though they dislike spending time on social media. Then, they quickly give up if things don't go as planned.
So, don't go after a shiny object. Instead, make sure that by building a business you're also creating a job you love. Figuring out what it is for you will help you persevere and succeed when times get tough.
Additionally, if you're doing it all alone, learn the difference between action and motion. James Clear, the author of Atomic Habits, has defined motion as being busy doing something, but that task will never produce an outcome by itself. On the other hand, action is the type of behavior that will get you a result.
For business owners, being in constant motion is a huge trap. They may believe they are being super productive when in reality, they are keeping themselves busy without truly moving forward or achieving their goals. When I learned this, I created a list of things I do for my business and divided all activities into two categories - action vs motion. This list has been a game-changer for me! It helped me become more mindful of my actions and skyrocketed my productivity and results!
Are you looking to hire for certain positions right now?
I'm currently collaborating with freelancers on SEO optimization and soon plan to find someone to support my social media management. The plan is in the early stages, so I don't have further info at the moment.
Where can we go to learn more?
To get connected or learn more about my products, services and business, please visit:
If you have any questions or comments, drop a comment below!
-
Ana Colak-Fustin, Founder of By Recruiters
Want to find more ideas that make money?
Hey! 👋 I'm Pat Walls, the founder of Starter Story.
Get our 5-minute email newsletter packed with business ideas and money-making opportunities, backed by real-life case studies.
Join Starter Story
See exactly how online businesses get to millions in revenue
4,818 founder case studies
Access to our founder directory
Live events, courses and recordings
8,628 business ideas
$1M in software savings