The 12 tools that millionaire founders can't live without
The 12 tools that millionaire founders can't live without
This is an archive of the Starter Story newsletter, which is read by 87.2K people every week.
In each issue, we share the biggest business ideas that are working today, along with case studies of founders who are making millions every month. Sign up today ➜
---
Sponsored by Mercury
80,000+ businesses of all sizes already trust Mercury to help them scale. Why? It's not just the slick UI — Mercury makes tedious banking* tasks simpler, more intuitive, and even a little enjoyable. 
Send money seamlessly 
Find transactions in seconds
Issue virtual cards for your whole team
Customize user permissions
Use thousands of dollars in credit and discounts on business tools
Access fundraising programs that connect you directly with investors
Don't settle for a second-rate banking experience. Give their demo a spin to see what real banking for startups feels like. 
Try it now and get $150 in cash [Exclusive deal for Starter Story readers]
*Mercury is a financial technology company, not a bank. Banking services provided by Choice Financial Group and Evolve Bank & Trust®; Members FDIC.
*The Mercury Debit Cards are issued by Choice Financial Group and Evolve Bank & Trust, Members FDIC, pursuant to licenses from MasterCard. The IO Card is issued by Patriot Bank, Member FDIC, pursuant to a license from MasterCard.
The 12 tools that millionaire founders can't live without
If you're looking to get a business started or just launched, there are so many things you have to figure out on your own. How do you design a website? Should I have an email marketing platform? Is there a better way to handle logistics than having my dining room full of inventory and cardboard boxes?
When you're starting, oftentimes you don't have a clue of what tools you need, sometimes simply because you don't know what are the options available out there!
To help you out, we've put together this list with the favorite tools recommended by 8-figure entrepreneurs. Some of them were instrumental in their business growth, while others made their day-to-day a lot easier. You'll see very popular names, but others are not so well known:
71lbs
Case study: This company went from selling on eBay to a $4.2M/month business
This is a hidden gem, very few founders have mentioned it in our interviews. If you do any shipping with FedEx or UPS, look them up. 
What is it for? Contract negotiation, shipping savings, and refunds for lost/damaged/late deliveries.
It saved this founder around $12,000 every year. 
Clover
Case study: These brothers built a $500K/month sneakers business
The fees for some payment methods can get crazy expensive. So you need to look after every percentage point you can save there.
These founders saved thousands a month by switching away from Square. Their words.
"Talk to your local bank (we use Keybank) and get info on a larger account for credit card processing."
Airtable
Case study: This heavy goods e-commerce makes $3M/month
This hack is straight-up gold. So I'll just leave you with it:
"We use the integration of Airtable and Parabola to automatically message vendors if orders are not shipped within a certain inputted time frame.
Airtable allows you to store data pulled from Shopify including orders, customers, and products
Parabola creates automated workflows to pull that data based on conditional criteria
We set it up in a way that saves us hours each week. It automatically pulls orders that have not shipped within 4 business days. With one click, we can email those orders to 100+ suppliers to get status updates"
Front
Case study: This former builder started his own $1.3M/month business
When running a business, communications are key. A good response can help you gain a customer or, even better, turn one into an evangelist.
Allowing different teams (one person can be a team) to collaborate on email messages will result in better customer support since this type of system makes it easier to give the best info from the right person whenever a customer reaches out.
Gmail
Case study: These college students started a $3M/month business
You're probably thinking: email, duh!
Well, yeah. But when mismanaged, email can take up a huge chunk of your day. And this founder has a great approach to it:
"Snooze function in Gmail is HUGE for me. I think a lot about efficiency (when it comes to email) revolves around the philosophy of "Inbox Zero".
The Snooze function in Gmail allows you to a) address important emails first while moving less important emails out without losing them and b) give a quick and easy way to follow up with emails without just "leaving them" in your inbox or having to set calendar reminders."
DeepMine
Case study: This $750K/month company started at a kitchen table
Any business that handles a certain volume of products (like a clothing brand), items with different variations such as size, color, etc. will need a tool similar to this Shopify app.
Monitoring sales to spot which items perform better (and worse) is absolutely key. That will allow you to promote the underperforming products and reorder your best sellers based on the speed of sales so you don't run out.
Freshdesk
Case study: This company specialized in DIY solar solutions and reached $3.27M in monthly revenue
As soon as any company starts to grow and people join the team, it's time to start building a knowledge center. What's our return policy? Do we accept PayPal? What if a customer didn't receive a confirmation email?
In the early days, everything the founder has all the information in their heads. However that's not very practical and to a certain point, dangerous. 
Gathering all that information and documenting processes seems like a tedious task (because it is), but it really pays off.
Dropbox
Case study: This discount mattress company grew to $2M/month
Especially now that remote teams are so common, file sharing is critical and has to be done in the cloud. 
Before Dropbox, files were kept on each computer and people would email the files to the team for them to save on each computer. A very cumbersome, error-prone, and inefficient way of keeping all the required files updated.
Yotpo
Case study: This founder went from NFL prospect to making $3M/month selling window blinds
Do you know who always will be your best salespeople? Happy customers.
That's why it's so important to collect customer reviews and ratings.
The best thing about it is that there are plenty of solutions to implement on any platform. Some are even free(mium) and they're super easy to set.
Klaviyo 
Case study: This gender-neutral underwear brand yields $500K/month and grows 100% every year
No matter what space you're in, email marketing is essential. Capture a visitor's contact details, create email flows, design campaigns, and send newsletters regularly. You have to do all that. It's not optional anymore.
Control, test, and analyze your email activity will have a huge impact on your business.
Amazon ads
Case study: This couple created a $750K/month Amazon-Bestselling cycling tools
Even though advertising on Amazon can get expensive if you don't know how to properly set a campaign. This tool has been essential to the growth of many businesses.
The important thing to remember is to go all in and use all the possible advertising options, ranging from sponsored and headline ads to product display ads.
Affirm
Case study: $2M/month teeth whitening kits
Do you sell expensive items? This one is for you.
This service allows people who want to buy our product but don't want to pay all at once to pay in 3, 6, or 12 monthly payments. 
Implementing this will help you close those sales from people who find your product price point too high. Or they just simply want it but can't afford it in a single payment.
Join Starter Story
There is no secret to building a profitable business. All of the systems and strategies can be learned, so why not learn them from others who have already done it?
Join Starter Story to access our database of 3,000+ business case studies. See the exact timelines of how founders took their businesses from idea to thousands of customers.
Get real answers to questions like:
How do people find great business opportunities?
What did they do to get their 10 first clients?
What challenges do they face at every stage and how to overcome them?
Join Starter Story Premium for $2.58/week. A no-brainer investment for your business.
Quick hitters
(1) This $24K/year side hustle hit 10K email subscribers. I want to highlight this case study because is quite the contrary to overnight success (which rarely happens). They started back in 2015. It's important to be consistent. It takes time. 
However, it's not rare to see examples of bloggers making great money. It's a great business that you can start with $0 and it can be about anything. No matter how crazy. See these case studies: this $42K/year blog about bar games (ended up being sold), or this blog about books that generates over $600K/year.
(2) This guy makes $25K/month creating TikToks for e-commerce brands. A truncated career as a professional ballet dancer led him to do something related to another of his passions: photography. Taking all kinds of gigs from all types of companies gave him a great understanding of the video needs that business owners have. That's why the business is thriving now.
The truth is that TikTok provides lots of opportunities now. Whether you're an established company (it helped this keto candy business hit $3M in sales), a marketing agency (this guy makes $48K/month matching TikTok influencers with brands), or a new venture like this super niche account that reached $155K followers and makes $3K per month.
--
Thanks for reading!
Want to start your own business?
Hey! 👋I'm Pat Walls, the founder of Starter Story.
We interview successful business owners and share the stories behind their business. By sharing these stories, we want to help you get started.
Interested in starting your own business? Join Starter Story Premium to get the greatest companion to starting and growing your business:
Connect + get advice from successful entrepreneurs
Step by step guides on how to start and grow
Exclusive and early access to the best case studies on the web
And much more!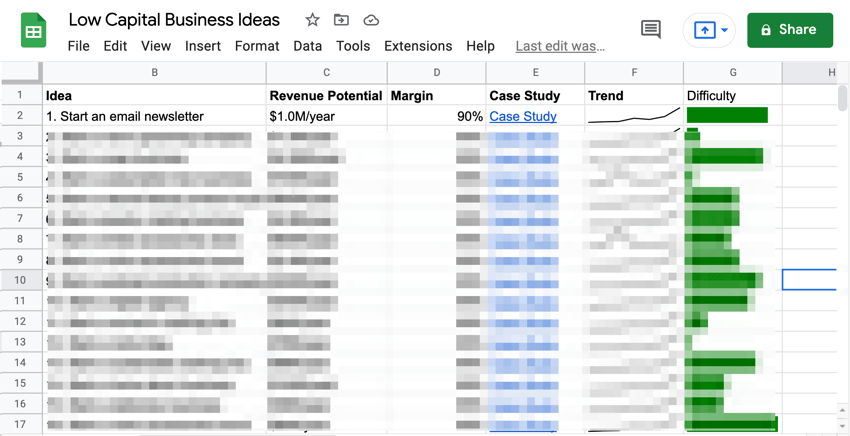 Wanna see 52 business ideas you can start with less than $1,000?
Join our free weekly newsletter and get them right now.
meet the author
David Bustos
Hey there! 👋 I'm David, and if you ever got an email from Starter Story, I probably wrote it. With a background in working with startups and writing, being part of this team is kind of a perfect fit for me.