Make your first sale this week using these 8 strategies
Make your first sale this week using these 8 strategies
This is an archive of the Starter Story newsletter, which is read by 87.2K people every week.
In each issue, we share the biggest business ideas that are working today, along with case studies of founders who are making millions every month. Sign up today ➜
---
Make your first sale this week using these 8 strategies
Making the first sale is hard. But the joy you get when it happens it's hard to compare.
To make it a bit easier for you, we've gathered real-life examples of successful founders who shared how they made their first sale, so you can leverage their experiences and shortcut the path to achieving yours.
#1. Leverage your network
Friends, family, colleagues,... let them know that you're starting a business!
Even if they're not potential customers themselves, they also have friends, family and colleagues who can talk to about you.
The founder of this $420K/year business got her first customer by reaching out to people she worked in the past with.
The best part? She shared the exact emails that helped her achieve it:


Why are they so good? They're relevant, she added something extra to make it personal and made him feel special.
#2. Partnerships
If your friends and network can't be your customers, maybe they can help you open some doors or arrange a meeting with someone. All you have to do is ask!
A friend helped this $1M/year email marketing tool get a partnership with a hosting provider in their early days that started bringing some cash in.
Another example? These $12,5K/month email marketers also got their first customers thanks to partnering with an agency that they cold emailed.
#3. Hair salon
Really? Yup.
When you're starting a business, you should never stop selling.
This founder was telling her hairdresser all about her new business and she hired her services on the spot!
Besides the money, getting that first customer allowed her to share the work and results on Instagram, which resulted in getting more customers.
Today she makes $6,5K/month helping businesses grow on Pinterest.
#4. Friends
Who better to start working with to gain confidence and start building your portfolio?
Of course, there needs to be a fit between what you offer and what they do. But if there is, don't be afraid to ask. You'll also get tons of valuable and honest feedback.
These founders turned lots of friends into customers and were able to generate more than $100K in revenue in less than 3 months.
#5. Blogging
Starting to write as soon as possible and building backlinks for those blog posts is laying the foundation for earning your first dollars.
That was the strategy that this developer used to promote the scrapping tool he just built. Picked a keyword with a very large volume of google searches and then started posting the link on Reddit, Medium, Product Hunt, Indie Hackers, etc.
He then was able to grow the business to $264K/year thanks to this strategy. By the way, in this case study, he shares his 4-step SEO framework that everyone can follow.
#6. YouTube
Similar to blogging, the sooner you start working on your content, the better. You don't need to have a product ready to do it! In fact, it's better to start doing it way before your product is ready. So when it is, you'll have an audience to share it with.
Thanks to this approach, this $1.8M/year tool was able to attract its first customer just a couple of days after launch.
#7. Upwork
Yes, it's crowded. And yes, competitiveness can be brutal. But it's still a great place if you can't pull any other levers. Lots of founders that we interview started their businesses here.
This email marketer was able to find his first big customer, after doing a couple of small gigs. That was the first step to build a $2.5M/year agency.
#8. You
This may sound silly, but it's not. When you're actually your first customer and you use your product / service, you'll be able to tell others how good is it and why, and also spot opportunities to make it better.
This guy built a Shopify app to solve his own problem and grew it to a $720K/year business with 7,500 customers.
Join Starter Story
There is no secret to building a profitable business. All of the systems and strategies can be learned, so why not learn them from others who have already done it?
Join Starter Story to access our database of 3,000+ business case studies. See the exact timelines of how founders took their businesses from idea to thousands of customers.
Get real answers to questions like:
How do people find great business opportunities?
What did they do to get their 10 first clients?
What challenges do they face at every stage and how to overcome them?
Join Starter Story Premium for $2.58/week. A no-brainer investment for your business.
Quick hitters
(1) This couple built a $360K/year Christian brand. Religion is something people obviously are very passionate about. If you can hit the nail on the head like they did with their unique products, it could mean having customers for life.
Some other faith-oriented businesses that we've had in the past prove that this can be a very lucrative path:
(2) This woman sells 2 and a half tonnes of popcorn in the arctic circle every year. The idea of starting a gourmet popcorn brand in the Yukon Territory may not sound like the best business at first. But she's killing it. Why? Because snacks are the best.
People love snacks. There's no way around it. If you can make a delicious snack, you'll sell it. Literal empires have been built on snacks:
--
Thanks for reading!
Want to start your own business?
Hey! 👋I'm Pat Walls, the founder of Starter Story.
We interview successful business owners and share the stories behind their business. By sharing these stories, we want to help you get started.
Interested in starting your own business? Join Starter Story Premium to get the greatest companion to starting and growing your business:
Connect + get advice from successful entrepreneurs
Step by step guides on how to start and grow
Exclusive and early access to the best case studies on the web
And much more!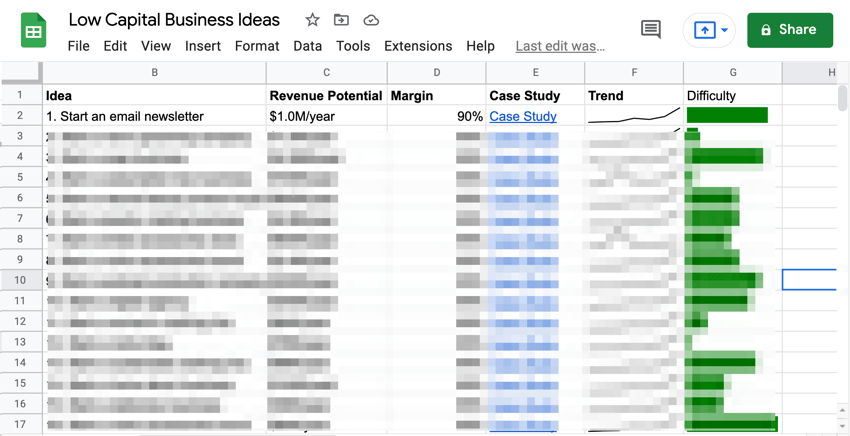 Wanna see 52 business ideas you can start with less than $1,000?
Join our free weekly newsletter and get them right now.
meet the author
David Bustos
Hey there! 👋 I'm David, and if you ever got an email from Starter Story, I probably wrote it. With a background in working with startups and writing, being part of this team is kind of a perfect fit for me.