Thank you Klaviyo for sponsoring Starter Story ❤️
Turn one-time buyers into repeat customers. Try the platform loved by 265,000 brands
I Make A Full-Time Income Helping People Grow On Pinterest
I Make A Full-Time Income Helping People Grow On Pinterest
Hello! Who are you and what business did you start?
Hello! My name is Kelsey Vetter and I have a Pinterest Marketing + Strategy company, Kelsey Vetter Co.
I help online businesses leverage the power of Pinterest to generate leads, increase sales & grow their audience on autopilot.
In my first month in business, I made $675. Roughly a year later I am generating anywhere from $5,500-$9,500 a month through my Pinterest management & strategy services, as well as self-paced educational courses.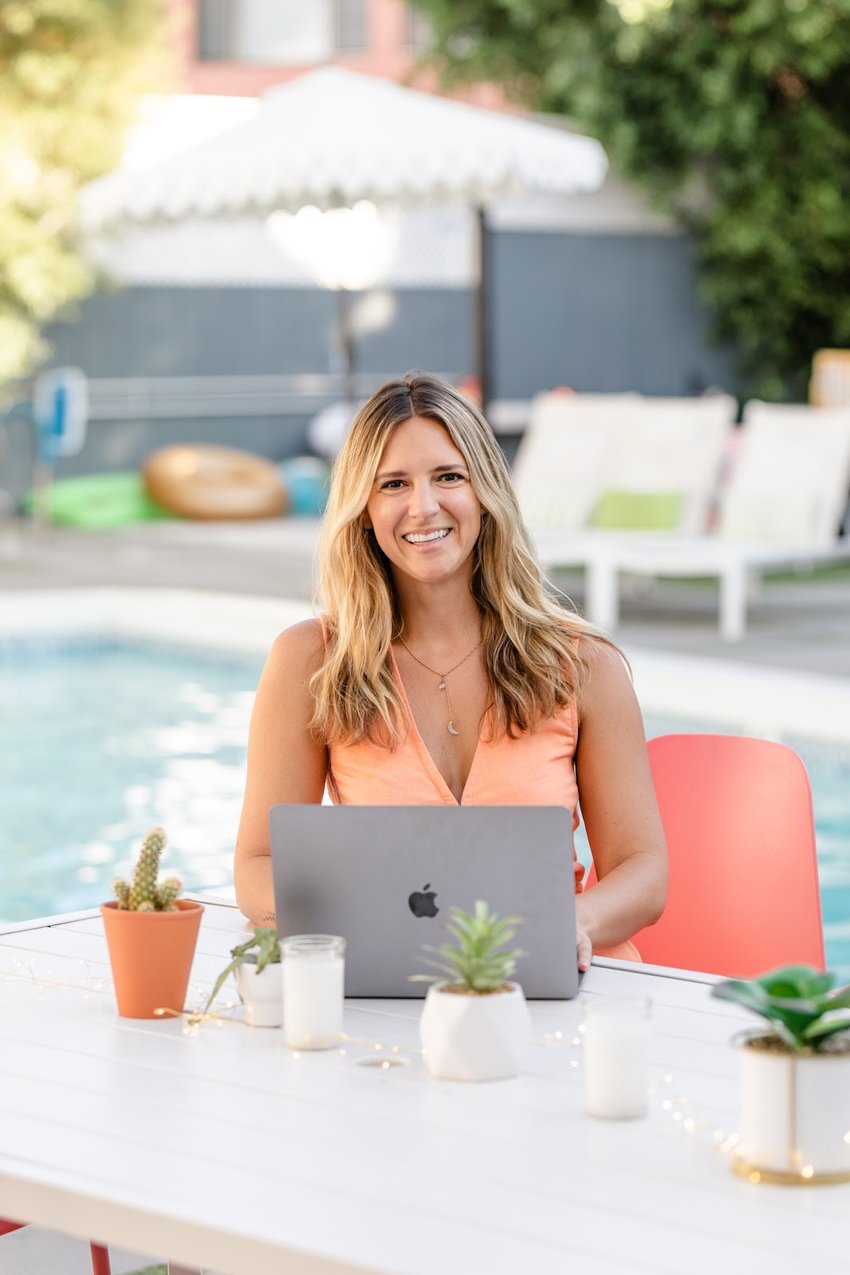 What's your backstory and how did you come up with the idea?
I graduated from college with a bachelor's degree in Merchandise Management and then decided to continue and get an additional associate's degree in Merchandise Product Development. I worked in the corporate fashion industry in Los Angeles for over 10 years, gaining experience in marketing, product development, and sales.
After 10 years I was burnt out by the apparel industry and knew I needed a major change. My family is made up of entrepreneurs and I always knew I wanted to start my own business, but had no clue what I wanted to do. During the beginning of the pandemic, I started trying to figure out the best ways to make money online so I could leave the corporate world, work from anywhere in the world, and have control over my days. I stumbled upon the world of dropshipping and decided to start a print-on-demand Etsy shop. It felt like a natural fit to leverage my experience in the fashion world.
I dove into learning everything I could about marketing my new business, which is when I learned about Pinterest marketing. I had always been a Pinterest user, and the digital marketing aspect came easy to me due to my corporate experience.
I quickly realized that dropshipping/Etsy was way too similar to the industry I was trying to escape, but I loved doing Pinterest marketing! That's when I learned that Pinterest marketing was a *thing* that I could do for other people's online businesses, and that's how my business was born. I got on a call with my business coach and went through all of the different skills I had that I could turn into a business, and we agreed Pinterest was the perfect fit.
Take us through the process of building out your services.
Starting out, I did a LOT of research on what other Pinterest marketers were doing. I looked at their websites, and their Pinterest accounts, and downloaded their free resources.
Clubhouse was popular when I was starting and I joined Pinterest marketing rooms every day. I found mentors and invested in business coaching.
From there I built out my first package, which at the time was just monthly Pinterest management. That included Pinterest account set up, pin design & daily pinning.
As my business has grown and I've taken on more clients, I've added different services based on where I saw a need and what clients were asking for.
That is how my Strategy Sessions and Account Set Up Packages were born. I think it's important to add services based on actual feedback, not just what you think your clients will want.
Describe the process of launching the business.
I quit my corporate job in February of 2021 and was working on building my business up, but I didn't officially launch it until May 10th because I had done an astrology reading and the astrologer told me to launch on that particular new moon. It was written in the stars!
I had a good amount of money saved when I quit my job and lived off of that during the early days of my business. I started talking about my business and posting consistently on Instagram.
My first client was the owner of the hair salon I go to; I mentioned my business to her while getting my hair done and she hired me on the spot!
In managing her account, I gained confidence and had tangible results that I could share with my Instagram following. After sharing the results I was getting for my first client consistently, my 2nd and 3rd clients reached out from Instagram & signed on. It all snowballed from there!
I invested in getting a great website set up and was able to funnel potential clients from Instagram to my website. I created a Pinterest mood board for my web designer, Hayley, and she took my vision and made it a reality. I get so many compliments on my website and truly believe it legitimized my business from the start. It's probably my favorite business investment to this day!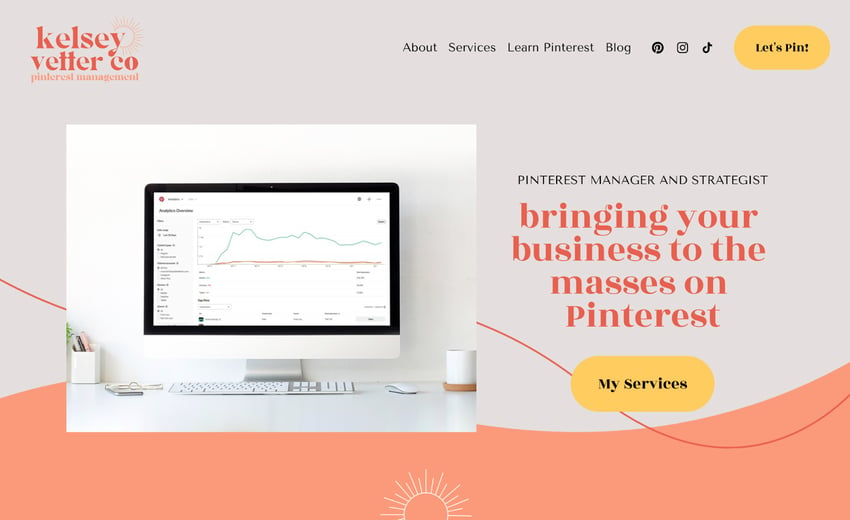 In the early days, most of my clients found me on Instagram. Now the majority of my new clients come from referrals and TikTok.
One of the biggest lessons, I learned from launching my business was that you do NOT need a huge online following to have a successful online business. Had I known that earlier, I would have started this a long time ago!
Since launch, what has worked to attract and retain customers?
I am lucky to work with amazing business owners who continue to renew their contracts, many of which have been with me from my early days.
Now at least 50% of my clients come from referrals from current or past clients, or online business owners who haven't worked with me but whom I've networked with. Networking and brand visibility is KEY in the online business space!
TikTok has been another huge source of business for me. I focus on providing value to my community and, in turn, they reach out for my support or purchase my courses.
This was the first big TikTok video that took me from 300 followers to 3,000+. I was traveling in South America on a working vacation when I filmed this. I had some downtime and felt inspired to film (plus the lighting in my Airbnb was perfect ;) so I filmed about 5 TikToks that day. It was so fun to watch them get traction while I was traveling & living out the digital nomad lifestyle of my dreams!
A few others have done well since then, like this, this, and this.
And of course, the majority of my website traffic comes from Pinterest marketing! I get about 1,200 clicks from Pinterest to my website each month which boosts course sales, social media followers & my Google ranking.
My own Pinterest account has taken a back seat in the past few months as I've taken on so many clients & have had less time to work on my own (I need to clone myself!).
However, because I laid a strong foundation when I started my account, even if I'm not posting consistently right now, it's still driving traffic for me.
On Pinterest, we want to focus on creating legacy pins as opposed to "viral" pins that get traction and die off. Legacy pins last forever and can drive traffic for years! The key is to do great keyword research and SEO to optimize your profile and pins to get your content in front of your ideal audience. If you're interested in learning more about keywords for Pinterest, I check out my Key to Keywords Mini Course!
How are you doing today and what does the future look like?
I've been a solopreneur since starting my business but have scaled to the point that I'm now bringing on an ops manager and working on hiring team members.
My growth goals for the next year include creating more online courses, implementing a better email marketing strategy, and overall better brand visibility. One thing that's always been important to me is growing at my own pace and not getting ahead of myself.
I think it's important to feel aligned with every new offer you promote in your business and make sure it's something your audience is asking for. My 3 business core values (which I recommend all small business owners have!) are integrity, happiness & impact. Every decision I make in my business must align with those core values, or it's not the right decision! Having those core values in place (and sticking to them) also helps attract more of the right kind of clients into your business. I have no problem saying no to opportunities that don't feel aligned, but for the most part, I've been able to attract lots of great opportunities by sticking to my core values and setting boundaries in my business.
What platform/tools do you use for your business?
My favorite business tool is Pinterest, for obvious reasons! It's a traffic-driving machine that's extremely impactful for online business owners.
I also couldn't run my business without Dubsado (my CRM for sending contracts, invoices etc.), Canva Pro, TikTok & Kajabi for my online courses.
Joining an online business community has also been critical to my success. Life as a solopreneur can be isolating, and having a community is key. I have been a part of The Success Society Membership since before I launched my business & having that community has been beneficial in so many ways!
Advice for other entrepreneurs who want to get started or are just starting out?
I firmly believe that starting a business is 80% mindset & 20% skill/dedication. Avoid distractions, spend more time creating, and be less time-consuming. Actively work on having a positive mindset every day and don't burn yourself out trying to do everything all at once - take your time! If you believe in your product or service, stay true to your core values & stay focused on your goals - you will succeed!
Are you looking to hire for certain positions right now?
I am looking to bring on a junior Pinterest Manager! The ideal candidate will be a Canva design wizard and have an interest in learning about SEO, digital marketing & of course all things Pinterest. Email [email protected] if you're interested!
Where can we go to learn more?
-
Kelsey Vetter, Founder of Kelsey Vetter Co.
Want to start your own business?
Hey! 👋I'm Pat Walls, the founder of Starter Story.
We interview successful business owners and share the stories behind their business. By sharing these stories, we want to help you get started.
Interested in starting your own business? Join Starter Story Premium to get the greatest companion to starting and growing your business:
Connect + get advice from successful entrepreneurs
Step by step guides on how to start and grow
Exclusive and early access to the best case studies on the web
And much more!
PROMOTED
Did you know that brands using Klaviyo average a 95x ROI?
Email, SMS, and more — Klaviyo brings your marketing all together, fueling growth without burning through time and resources.
Deliver more relevant email and text messages — powered by your data. Klaviyo helps you turn one-time buyers into repeat customers with all the power of an enterprise solution and none of the complexity.
Join Brumate, Beardbrand, and the 265,000 other businesses using Klaviyo to grow their online sales.
Starter Story
Wanna see 52 business ideas you can start with less than $1,000?
Join our free weekly newsletter and get them right now.