How I Bootstrapped A $1.8M/Year UX Research Software
•
Published: March 17th, 2022
How I Bootstrapped A $1.8M/Year UX Research Software
Hello! Who are you and what business did you start?
Hi everyone! I'm Lindsey Allard, originally from Boston and currently living in New Hampshire. I started PlaybookUX just over 3 years ago. Our goal was (and still is!) to help businesses quickly get feedback on their digital assets.
Back in 2018, there weren't many cost-effective all-in-one research tools for startups, SMBs, and freelancers. I wanted to make sure that any freelancer with an idea could sign up and talk to their target customer within hours. Interestingly enough, we created such a valuable product that it attracted huge brand names. Our customers range from a Fortune 500 business, like Google, to sole freelancers.
Our customers tend to be researchers, product managers, marketers, designers, and founders. However, anyone with a digital product can use our tool.
Our biggest accomplishment is that we were able to bootstrap our business as opposed to going the traditional venture capital-backed route.
At its core, PlaybookUX specializes in qualitative research. Imagine you're software for dog owners in New York and you're interested in testing your website. Our software allows you to recruit those individuals, and receive a video of them speaking their thoughts out loud while reviewing your website. This type of research is called "unmoderated testing". It's time effective - since the researcher doesn't have to be present when the study is conducted.
Over the years we've added many other types of qualitative and quantitative research to the mix.
We spent 5 months building our MVP (and I'm talking bare bones MVP!!) The day that we launched our MVP was 2 days before my 5-year college reunion. While we invested heavily in putting out content in our pre-launch days, we didn't expect to have any immediate organic sign-ups. Right as the festivities were starting, I noticed a payment on our Stripe account. It was an exciting starting point!!
We achieved profitability within the first year of business. As of early 2022, our revenue was $150k/month, and currently, we have 1,100 customers.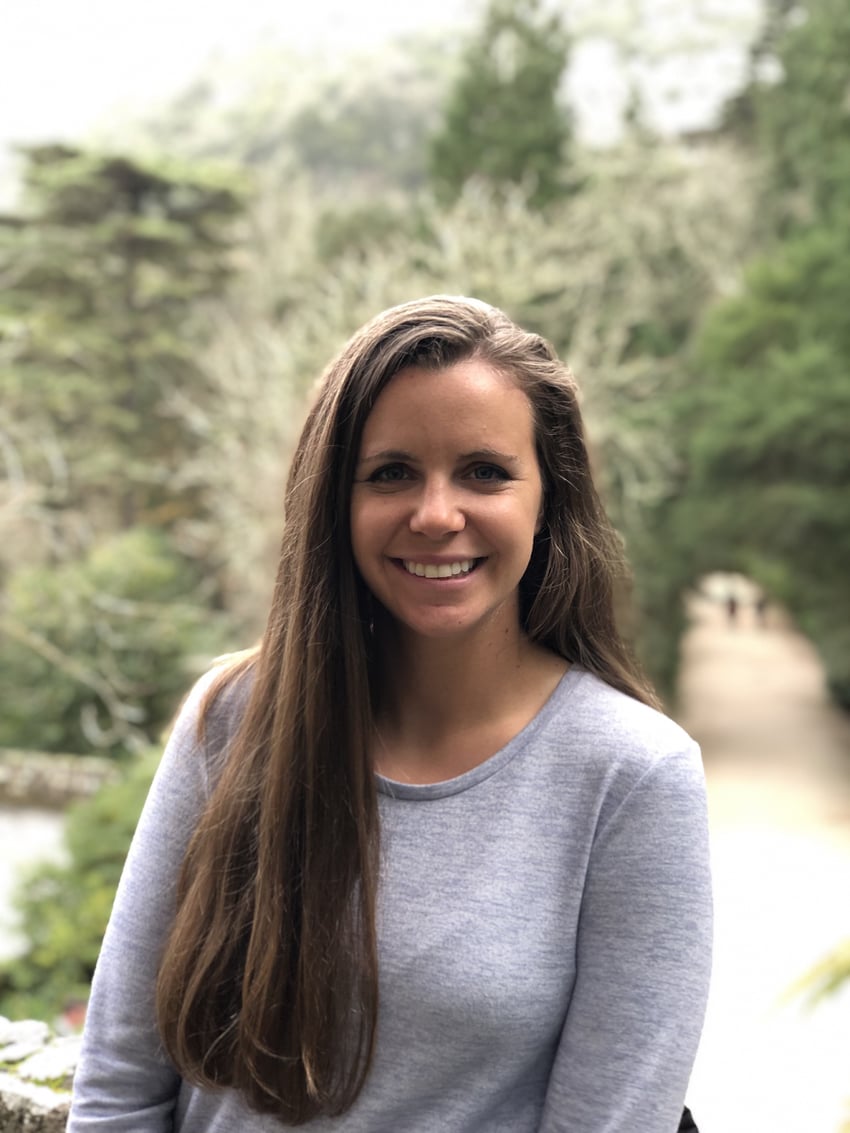 What's your backstory and how did you come up with the idea?
In 2014 I graduated from Dartmouth College with a degree in psychology.
After college, my first job was in sales. At the time I figured that sales would be a great foundational skill to have in my toolbox. It definitely paid off in my founder days.
After that, I worked in various product management and UX research roles at startups.
I always wanted to start a company but I didn't know exactly what it would be. Earlier in my career, I used to come up with consumer-based ideas i.e. a phone case that holds keys. After a while, I realized that B2B products suited me better. Nearly all of my startup experience involved building products for businesses.
My great grandfather started a sports store that my grandfather scaled to a national soccer & lacrosse brand. My dad founded and sold a variety of companies in the sports and private aviation space.
Those early examples of entrepreneurship encouraged me to think like one.
B2B companies are founded on a practical need. That's exactly where our story begins. My co-founder, Kristen, and I met in college. We both played Lacrosse at Dartmouth College together. Kristen was working for a large financial institution that had challenges conducting user research. All of the expensive "all in one" tools were difficult for the average person to use. Also, "all in one" tools were missing a lot of features core to conducting research.
While working at startups, I noticed that I also had a user research problem. Everything was either too expensive for a startup or it wasn't a quality product.
Thus, PlaybookUX was born.
Take us through the process of designing, prototyping, and manufacturing your first product.
While starting out, we conducted tons of user interviews to see if there was a market fit. Of course, we did all of this manually since this was the exact problem we were looking to solve!
We used Linkedin to reach out to UX Researchers & designers from various company sizes. Then, we spoke to them on Zoom and sent over gift cards as a thank you.
Once we validated that other people weren't happy with their current UX solution, we mocked up low-fidelity wireframes in Sketch.
Once again, we repeated our makeshift research process and updated the wireframes.
We kept iterating (research, design, repeat) until we had high fidelity prototypes in Invision.
We ran a series of research studies with the same participants. That was particularly helpful since they were able to see us through each iteration. That group of people had thoughtful reactions to our changes and updates. They were also able to apply what we were building to their current workflow.
Some of our early designs were, messy.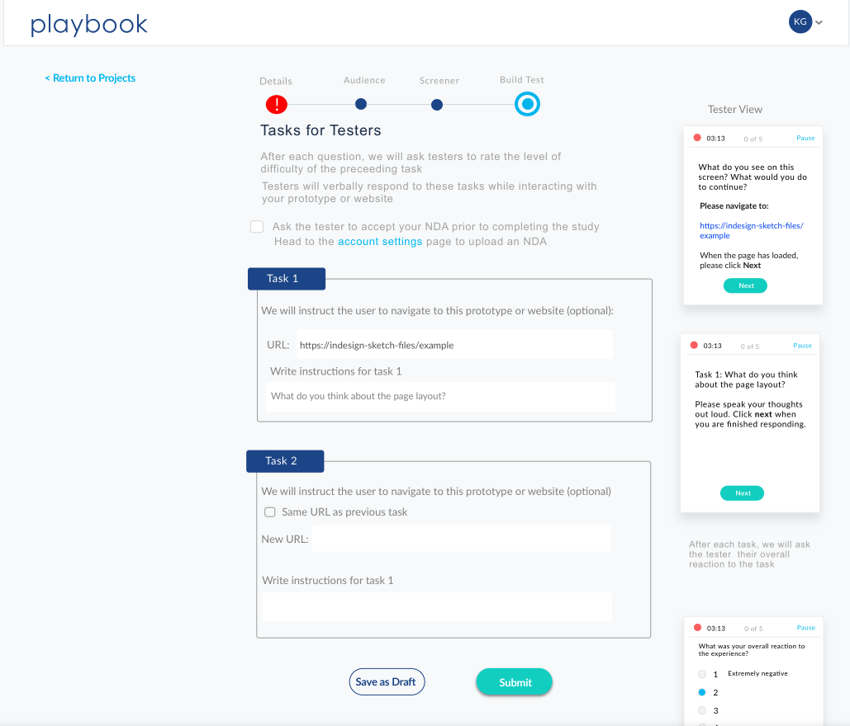 I had previously worked with developers who I wanted to bring into the project. It was a fairly complex build since we had to develop a web-based company platform, a web-based admin platform, a web-based tester platform, and a desktop & mobile app for testers to conduct the session. Since we were sitting on top of Apple and Android's native recording components, we were beholden (and still are) to any changes they make.
You should talk to your customers early and often. Customers are extremely helpful in determining what to build/improve next.
In addition to a skillful development team, we hired a DevOps manager early on. Since we planned to host company data, we had to make sure we were as secure as possible.
Early on we experimented with technologies that were rarely used in the user research space. We hired a data scientist to examine transcripts from sessions. As a result, we were able to run keyword analysis and sentiment analysis.
Our main costs early on were development and marketing. Since we planned to bootstrap, we were very cost-conscious. Luckily we were able to capitalize on Google, Amazon, and Stripe startup programs that gave out free credits to their services.
Describe the process of launching the software.
One of my jobs was as a product manager at an agency. We helped businesses build and ship tons of products every year. That gave me a good understanding of how to successfully launch a product.
Our goal was to get a barebones product out there and continue to iterate in biweekly releases afterward. Our months of writing content and pumping out Youtube content paid off as we saw our first customer days after launching.
Right when the customer paid, I instantly felt that we released too soon. Looking back, I realize that we could have spent years building and I still wouldn't have felt ready. Nothing prepares first-time founders for the post-launch frenzy! We started seeing more and more customers in the coming months.
After launch, we doubled the size of our development team. Since we were looking to build an all-in-one research tool, we needed to iterate quickly. We continued to self-fund our business through this stage.
Ever since we first hit profitability, we've been able to continue to fund the business through our profits.
Our growth accelerated around May 2020 when companies shifted from traditional means of research (i.e. interviewing people in their office, focus groups) to remote research.
To this day, our only source of traffic remains organic search and word of mouth.
Since launch, what has worked to attract and retain customers?
We made the decision early on to do things that didn't scale. We did a lot of things manually. That helped our developers focus on building valuable features for our customers (instead of building features for us internally).
Deprioritizing internal automation early on allowed us to quickly release valuable features for our customers. Over the past 6 months, we hired an additional team of developers to build out some of our manual tasks. In addition, we hired an operations manager to oversee things that couldn't be automated.
Early on, all we cared about was adding more developers to the list. As a result, I do wish we hired more business-focused people early on. Over time it definitely took a toll since we were working long hours to do what a machine would do.
To retain customers, we hired a customer success manager to serve as a central point of contact, conduct training sessions, and weekly check-ins.
Another way that we retain customers is by listening to their product feedback using our own software PlaybookUX. We're serious about implementing any suggestions that come our way.
Our competitors vary in size and market saturation. One of our biggest competitors recently went public. They were founded when I was a sophomore in high school, which is pretty crazy to think about.
Usually, when people look for alternatives due to costs, features, etc, they look to us. It's exciting how we're right up there with the "big guys".
How are you doing today and what does the future look like?
We continue to be bootstrapped and profitable. We haven't spent a dollar on advertising nor have we done any outbound outreach. Also, many inbound leads haven't been capitalized. In the coming months, we plan to hire our first sales representative to lay the foundation for our sales program.
Another untapped area is digital ads. We have relied heavily on organic traffic and word of mouth thus far. We plan to explore that growth avenue this year as well.
On the development side, we continue to build out new ways to conduct & analyze research. We plan to add other methodologies to our product (for example surveys, five-second testing, click testing).
Since launch, we added a whole lot of analytics features that help with stakeholder buy-in. For example, you can create clips of important moments during sessions and compile them in a highlight reel. We've all had those stakeholders who think they know what the customers want. BUT what's more convincing than showing a stakeholder a video of the customer telling you exactly what they want.
Another popular feature tag. We allow you to codify transcripts, notes, and clips to track themes over time. We continue to build out this feature in the new year.
Over the past 2 years, we've added the ability to conduct one-on-one sessions over a video call, card sorting, and tree testing methodologies. The latter two are ways of testing your website's navigation structure.
Our revenue and profit growth is over 100% YoY.
Through starting the business, have you learned anything particularly helpful or advantageous?
We waited too long to hire our first non-developer. Since we're bootstrapped, capital is allocated intentionally. I handled chat support for the first year after launch, which was longer than I should have.
Since we've hired people to help with the business side, I've been able to keep my eye on the big picture instead of being stuck in the day-to-day.
We were also able to capitalize on big trends in the UX space. We noticed that none of our competitors supported non-English speaking countries. As soon as we launched, we spent the time, money, and effort to translate our platform into 30 languages. We were able to attract non-English speaking customers through that effort.
What platform/tools do you use for your business?
We're a remote company so Slack keeps in touch with our team. Another communication tool that we use is Zoom. Internal team meetings and external calls with clients are conducted over Zoom.
Notion is my favorite tool for collaborating internally. We keep track of anything and everything there. I love the simple design and flexible workspaces.
Fun fact: Notion also uses PlaybookUX to test their user experience.
On the sales side, Copper helps us keep track of leads opportunities. It's a cost-effective alternative to Hubspot and Salesforce. Copper is really easy to use too!
To hire people for one-off jobs (i.e. a German translator to localize our platform), we use Upwork. It's a lightning-fast process - from launching the job to hire.
What have been the most influential books, podcasts, or other resources?
I listen to Nathan Latka's podcast almost every day. I love that he interviews founders with companies of all sizes and gets down into their economics and strategies for growth.
As PlaybookUX surpasses a new milestone (i.e. when we hit $1M in annual revenue) I replay episodes where Nathan interviews founders who are at a $2M monthly run rate. They talk about strategies that actually work.
We recently identified the need for a customer success role. The Profit Well podcast is great for understanding customer retention and how to set up a customer success program.
Advice for other entrepreneurs who want to get started or are just starting out?
One of the biggest reasons we were able to attract and retain customers is because we were always building and improving. We prioritized user experience and built tons of valuable features. My biggest piece of advice is that you should talk to your customers early and often. Customers are extremely helpful in determining what to build/improve next.
Another reason we were able to bootstrap to find the product-market fit is that we did a lot of things that didn't scale for years. Don't be afraid to put in the hours until you can build technology that automates operational tasks.
Are you looking to hire for certain positions right now?
As we scale, we're looking to hire someone to build our sales department.
Enterprise Account Executive, full-time
We have an abundance of inbound leads that haven't been tapped into. In addition to our strong inbound pipeline, we are looking for someone to create an outbound program.
Responsibilities
Manage the entire sales process from prospecting to close
Conduct inbound product demos. Since you will be the first sales representative, you'll receive all inbound leads.
Prospect new clients through LinkedIn sales navigator and other sales tools
Prospect current customers through our CRM to upsell
You'll become a product expert as selling should be educational and consultative
Benefits
Uncapped commissions
Equity stake in the company
100% premium-covered healthcare
Generous PTO + accrue an additional day per year of employment
Fully remote/work from home
Continuing education stipend
Apply by emailing your resume to [email protected].
Where can we go to learn more?
If you have any questions or comments, drop a comment below!
-
Lindsey Allard, Founder of PlaybookUX
Want to find more ideas that make money?
Hey! 👋 I'm Pat Walls, the founder of Starter Story.
Get our 5-minute email newsletter packed with business ideas and money-making opportunities, backed by real-life case studies.