Prayer Bowls: How Tom & Karen Berry Built a Successful Christian Brand
•
Published: October 21st, 2018
Start A Christian Faith Based Business
Hello! Who are you and what business did you start?
My wife Karen and I run a Christian business called PrayerBowls. A PrayerBowl is a bowl that holds your prayer intentions. The prayer intentions are written on PrayerCards that come with the PrayerBowl. The bowl is placed in a location where you can sit and find quiet time daily with the Lord.
We now have 9 styles that are produced in four different countries. We have sold to roughly 450 stores and 50% of our revenue comes from online retail sales. The bulk of our customers are Christian women 35-65+.
We are aligned with a local charity Mary Lee's House, and two International charities Compassion and A21. Each of our PrayerBowls is aligned with one of these charities. Every PrayerBowl comes with a marketing piece and a prayer for that particular organization. You can find out more about how we are supporting these great organizations.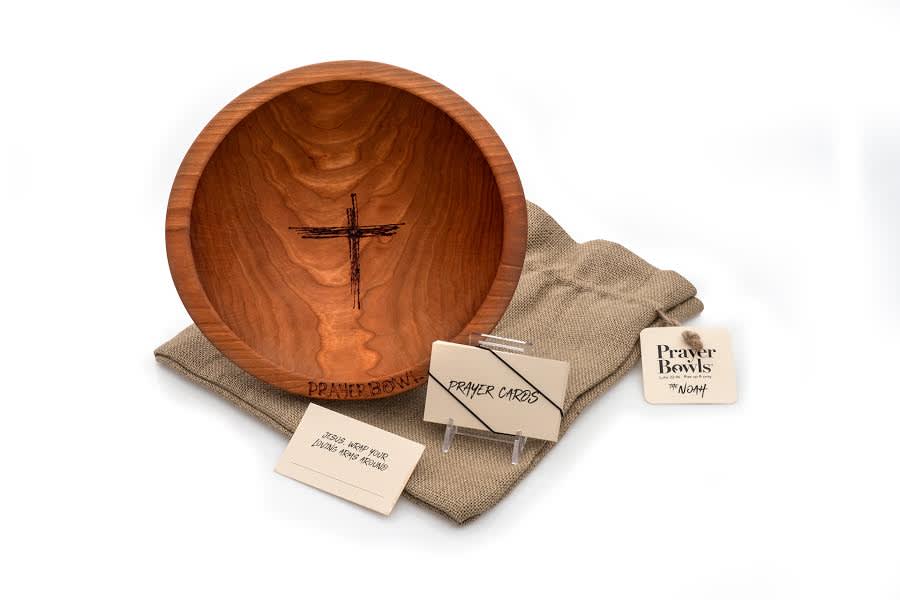 What's your backstory and how did you come up with the idea?
My wife Karen became extremely ill in April of 2007 after we had our son Billy. Her illness lasted a year and a half.
At a Christmas party in 2009, a woman named Angie, who Karen had never met told Karen that she had been praying for her daily for over a year. Karen was overcome with emotion learning that a stranger had prayed for her daily. Angie went on to tell Karen that she kept a prayer bowl at her desk and each day she prayed for the people in the bowl.
Karen liked the idea so much she began creating her own distinct bowls and began gifting them to friends and family. The first PrayerBowls she painted scripture and crosses on white inexpensive ceramic bowls. Her friends convinced her to sell them at a home party. She did and sold out. Referrals were coming fast, so she hired a high school artist to help her paint the bowls and fire them in our oven at home. I came home one day after work to a dozen gift bags on the front porch. I immediately went to the computer to purchase the URL and created an LLC.
For about a year, we did all the little things you do when you start a business. Then we went to a few of our favorite stores and started flipping ceramic dinnerware to see where it was made. At one particular store, I noticed "Made in Portugal" on many of their pieces. I called their corporate offices in Philadelphia and spoke with one of their buyers. A few weeks later we were in Portugal visiting factories.
Neither of us had any idea how to sell and market a Christian product or any product for that matter. I owned a residential Maids franchise that cleaned high-end homes and renovated one historic home a year. Karen was a teacher. In our spare time, we began to build PrayerBowls slowly and by the summer of 2015, we were both all in.
Describe the process of designing, prototyping, and manufacturing the product.
We wanted an heirloom product and felt comfortable that we could get this type of quality in Portugal.
We picked shapes of molds they already had to save money and then chose the colors. We wanted Karen's handwriting for the bible verses to give it a more hand-painted feel. It's a pretty amazing process. Each bowl touches close to a dozen different hands. We have some great videos here.
Our first production run went smoothly. We ordered 3,000 of each of the two styles. We ordered that many to keep the price per unit reasonable. We wanted a price point that fit for gift giving and was affordable for the masses. That price point is almost double today than what we thought is would be back then.
They came 30 to a box and were dropped in our parking lot. This was back when everyone who was following you on social media would see your posts. I know it sounds crazy, but we can't really remember how we sold $50,000 of only two styles with no gift box. A big part of it was friends and family on social media. There was no big launch day because Karen was teaching, I was renovating a home and cleaning 100 plus homes a week.
In 2015, we signed on with a company based in Atlanta (AmericasMart) to rep our bowls. Store owners now carrying our two styles of PrayerBowls told us the bowls should come in gift boxes. After a few tries, we ended up creating a high-quality gift box and a satin inlay for the bowl to sit. We began offering our bowls in a gift box by mid-2015.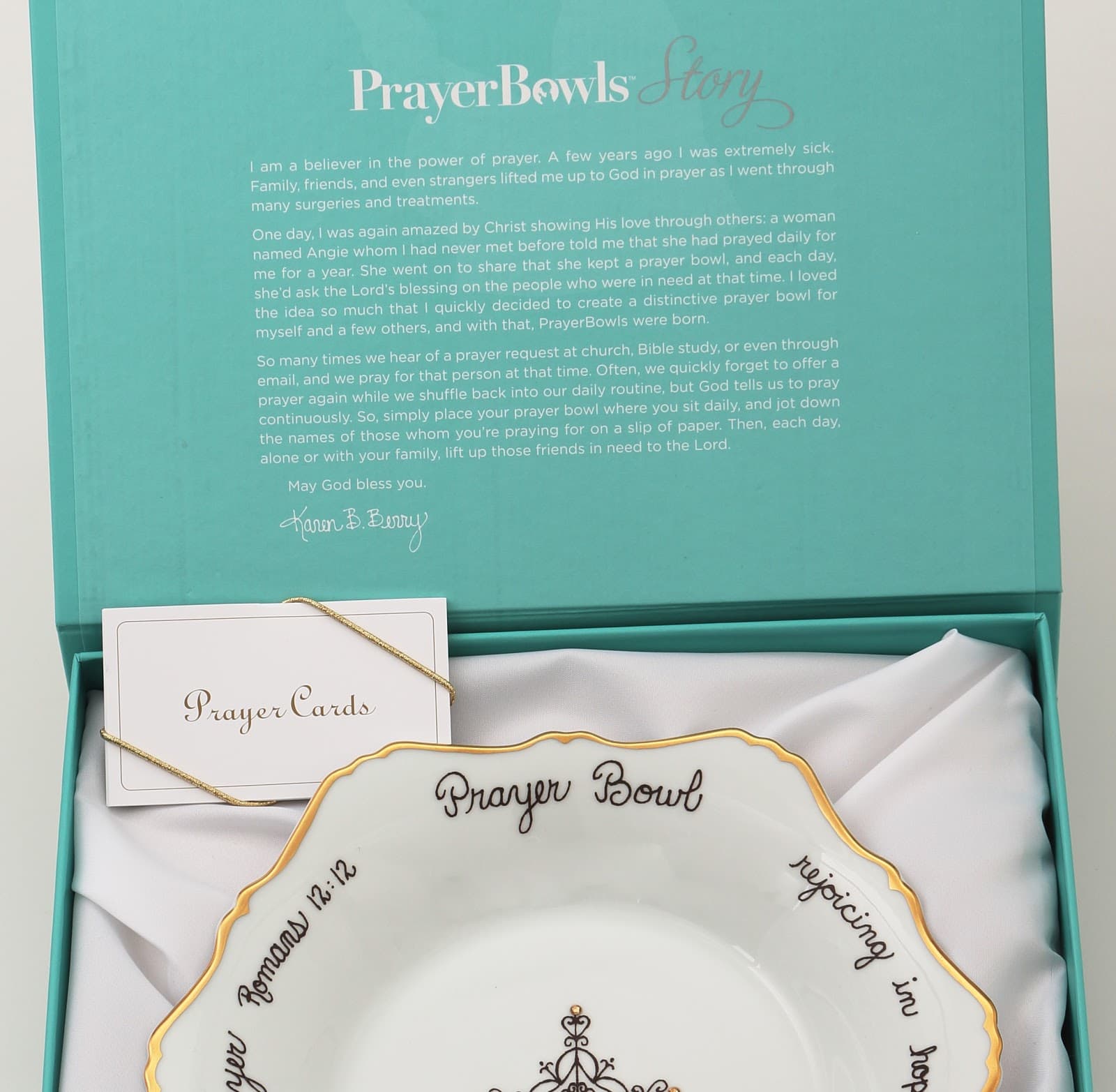 Our next two PrayerBowl styles were made in Poland/Czechoslovakia and arrived in April of 2017. We added a 5th bowl in October of 2017 and four new styles by the middle of 2018.
Describe the process of launching the business.
We made a big mistake when building our first website. We worked with a company that built out a WordPress site so that only they could work on it.
The difficult thing about WordPress is keeping up with the plug-ins and we didn't want to pay high fees for them to do this over and over again.
Our entire system from order to printing out labels was a mess. We didn't know what we were doing. The Wordpress order was brought into QuickBooks by My Works and from Quickbooks to FedEx by way of Shipgear. True story. We really did it that way. Every day a link somewhere in the chain was down. The amount of work we were putting into processing orders was archaic and depressing.
Then we found Shopify & Shipstation. The great thing about these two companies is that they will talk to you on the phone and help you fix just about any problem. We won't work with companies anymore that won't speak to you.
Since launch, what has worked to attract and retain customers?
Early on, remnant spots in Southern Living and The Magnolia Journal changed the game. They put us on the map. Remnant spots in some of the more popular high readership magazines have become too risky in the past 2 years. They are 2-3 times more than what we paid for our first remnant spot in 2016.
I believe you have to try different marketing approaches to create revenue, but you have to do it without breaking the bank. Try it, if it doesn't work move on or go get professional help.
Boutique niche magazines that the cost $6.99 - 16.99 on the rack have been really effective for us. We can tell an edited version of Karen's story and show our product on a full page ad that has real staying power.
We worked with a PR firm for a year. We really enjoyed working with them, but it was time-consuming and costly. The PR firm would send out a monthly story on "The PrayerBowl Story" with a different spin each month.
We had dozens of radio stations, blogs, small magazines, and local TV affiliates request a PrayerBowl and time to talk to us. We never landed the big influencer. We did tons of small radio and blog interviews and sold very little product from it after a year. It was a great experience how the world of PR works.
Amazon
Amazon was a great learning experience. We had dozens of Amazon sellers wanting to sell PrayerBowls. The problem was our prospects were not finding us on Amazon. They went from our advertising to our website and then to Amazon. We all do it, because we want free shipping and 2 day delivery. So, we lost a retail customer, their information and it depleted our inventory.
We decided not to do Prime ourselves, because we did not want to hurt our brick & mortar stores. We love supporting small community businesses. #shoplocal
How are you doing today and what does the future look like?
A PrayerBowl is an emotional gift that has become a go-to gift for many of our customers. We also see the person receiving the gift immediately purchasing to give as a gift. These are two big reasons we have turned a profit in our last two years and are on par to grow at about 38% in 2018 after growing our revenues by 55% in 2017.
In a little over a year, we went from two PrayerBowl styles to nine. Our stores are making larger purchases and we average $100 in sales per order online. It's going to be exciting to see how it affects our 4th quarter. Our wholesale sales and retail sales have been split 50/50 for about 2 years now.
It's still just my wife and I. We do some things great. We do some things good and there are some things we don't get to. We are happy with our growth and look forward to growing at a comfortable pace, while continually adding new products. We are building this business to support ourselves, our charities and promote prayer. We have heard dozens of touching stories about how PrayerBowls have affected people's prayer lives.
We want to affect people's lives. Our hope is that Christ's light shines through us for others to catch a glimpse of His power. Our hope is that people will sponsor a child in need through Compassion. A child sponsorship averages about 7 years in length at $38 a month. If we can help 50 children get sponsored a year through our marketing efforts that dwarf the $1 we send Compassion for every PrayerBowl sold.
We sponsor three children from Haiti. We truly cherish PeterLee, Melissa and Darlensky. We love getting their letters. Melissa likes to draw flowers in her letters to us. She inspired us to create a floral PrayerBowland we name it after her. If you would consider sponsoring a child please use this link compassion.com/prayerbowls so we can track our efforts.
Through starting the business, have you learned anything particularly helpful or advantageous?
Andy Stanley said in a podcast, "we are the masterminds behind our own greatest regrets." Mistakes and poor decisions are part of starting a business.
We made some really expensive ones dealing with technology. Our first website was an expensive fail. We built a PrayerBowl app that was costly and we didn't get what we were sold.
We just couldn't put anymore money into it at the time, so it died. A prayer app will be part of our business plan in the future. We need to meet the right person/group that believes in our vision for it and help us do a better job planning.
What platform/tools do you use for your business?
Shopify is a great platform. We mentioned earlier that they will talk to you on the telephone and help solve problems quickly.
Same thing for Shipstation. We have a dedicated rep named Kasey Cantu. My wife talks to him more than she talks to me. He has made our transition painless.
We also use HeyCarson for many of our Shopify needs. They are a great service for on demand website work.
What have been the most influential books, podcasts, or other resources?
Advice for other entrepreneurs who want to get started or are just starting out?
Marketing is overwhelming. There is so much out there. I believe you have to try different marketing approaches to create revenue, but you have to do it without breaking the bank.
Try it, if it doesn't work move on or go get professional help. We have recently chosen a digital marketing firm to help us with Google Adwords and FaceBook/Instagram advertising, because that is not something we have done well. We are going to spend much more here in the 4th quarter than we typically would. I don't know if it is a sound strategy, but the 4th quarter can create some really great momentum for the following year
I believe in branding, but branding does not necessarily bring immediate sales. You just keep plucking away at the little things and before you know that little thing lands you a post by an influencer that has a big following or a popular magazine that wants to put you in their Mother's Day issue.
Are you looking to hire for certain positions right now?
We are looking for an individual to partner with that can build an app and help manage it. A person who can code, manage people and the business side.
Where can we go to learn more?
-
Tom & Karen Berry, Founder of PrayerBowls
Want to find more ideas that make money?
Hey! 👋 I'm Pat Walls, the founder of Starter Story.
Get our 5-minute email newsletter packed with business ideas and money-making opportunities, backed by real-life case studies.