Thank you Klaviyo for sponsoring Starter Story ❤️
Turn one-time buyers into repeat customers. Try the platform loved by 265,000 brands
Update: How We Grew Our Email List And Doubled Profitability [$200K/Year]
Start A Podcast Production Company
This is a follow up story for Counterweight Creative. If you're interested in reading how they got started, published over 3 years ago, check it out here.
---
Hello again! Remind us who you are and what business you started.
My name is Jeremy Enns and I'm the founder of Podcast Marketing Academy & Counterweight Creative.
Podcast Marketing Academy is an outcome-oriented podcast growth program that breaks growth down into a 6-month step-by-step action plan for podcast creators and publishers who are serious about improving their marketing.
The Academy has launched two years ago as an add-on to the podcast production and marketing services my team provides through my agency, Counterweight Creative, but is growing to the point where it is diverging from the agency and spinning off into its own business.
The two branches of the business combine to generate around $200k/year, though the agency income is shrinking and Podcast Marketing Academy income is increasing.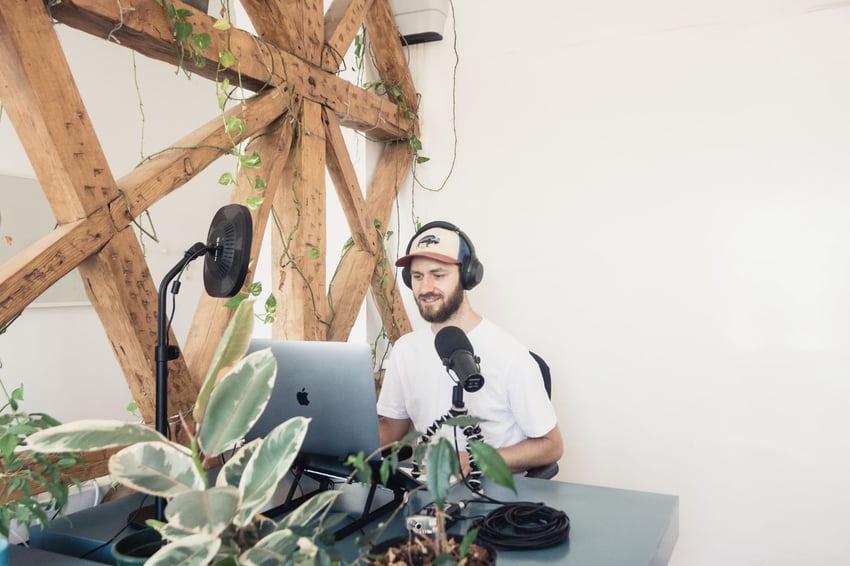 Tell us about what you've been up to. Has the business been growing?
Over the past year, the revenue of the business has shrunk by about 20% but the profitability has doubled.
The biggest reason for the increased profitability is the shift to focusing more on Podcast Marketing Academy which has a very low overhead. That said, on the agency side, we've also continued to raise our rates and be a lot more selective about the clients we take on.
The biggest thing I've come to understand is that people might come for the topic but they stick around for you
One of the benefits of having these two disparate arms of the business is that it lowers the pressure on either one of them to carry the load and allows me to be more selective about the opportunities I'm pursuing each.
Over the past year, my biggest focus has been on putting the pieces in place to generate more top-of-funnel awareness and grow my email list. This has been a long, ongoing process, but so far the results are promising.
Since we last checked in, I've run two free, multi-day workshops, Blueprint for Podcast Growth and the Podcast Traction Playbook, which have combined to bring in about 800 new email subscribers, largely through affiliate promotion.

In addition to the free workshops, I've been more intentional about my Twitter strategy, where I've gained ~1000 followers and started to see a regular stream of new subscribers.
Most of my momentum on Twitter has come from my Quick Podcast Tip series where each weekday I share a short tip about creating and growing a standout show.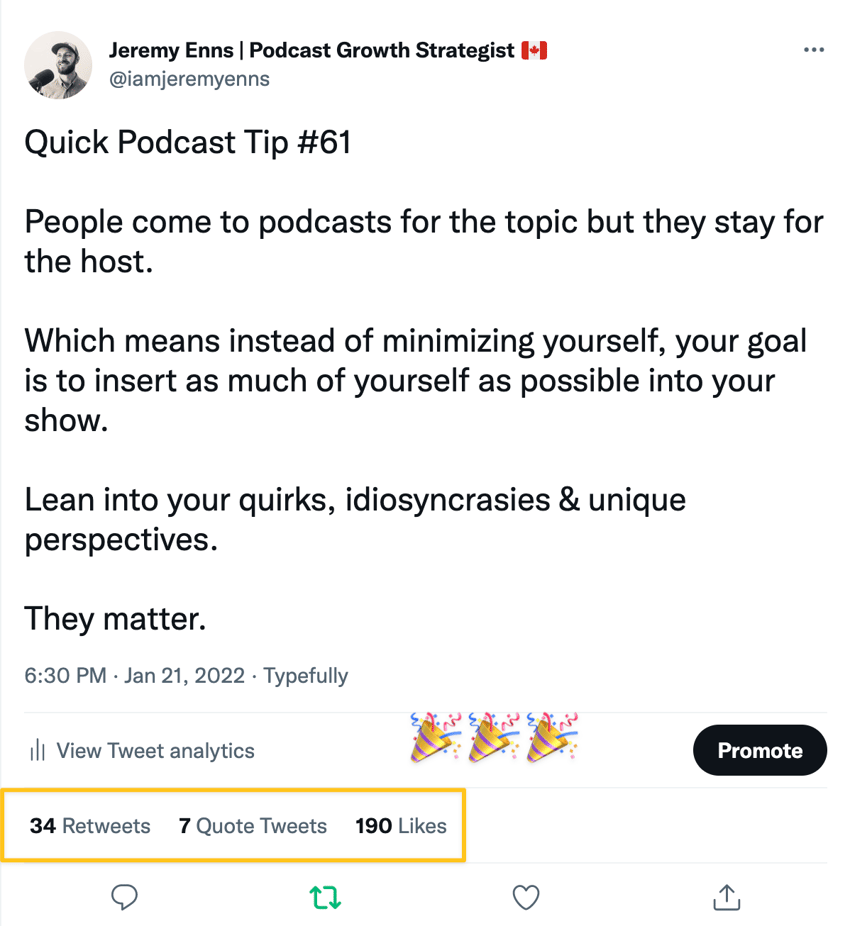 I've also been experimenting with both Facebook and niche newsletter advertising, both of which bring in a consistent stream of new subscribers.
On top of the awareness-boosting activities, I've created the weekly Scrappy Podcasting Newsletter where I share one 2-minute tip per week on how to punch above your weight as an underdog podcast creator. These writeups are more in-depth than my Quick Podcast Tips and provide the next logical step for someone who follows me on Twitter and wants to hear more.

I've also continued to publish my weekly Creative Wayfinding Newsletter which recently passed the 100 issue milestone and continues to gain momentum with a ~50% open rate and a regular stream of effusive reader responses.

All told, I've added 1800+ people to my email list over the past year with the total now over 2,100.
This increase in both list size and the backend nurturing that takes place through the newsletters resulted in last month (April 2022) having the biggest Podcast Marketing Academy launch yet, bringing in $18k, just shy of double the previous launches' total.
What have been your biggest challenges in the last year?
As I mentioned above, the biggest challenges have been around increasing exposure and list size.
While I'm pleased with the results so far, I know I need to keep my foot down on the pedal and accelerate my growth if I want to continue to grow and expand PMA and go all-in on it as a self-sustaining business, which is my ultimate goal.
With that in mind, I'm currently putting a huge amount of time into expanding my network with key people and brands in the podcast industry and finding mutually-beneficial ways to collaborate.
While I'm still early on in this strategy, the early indications are that this is going to be a highly successful method of expanding my reach and influence while growing the Academy.
Another growing challenge has been splitting my time and focus between two diverging businesses that don't have a lot of overlap from an operations perspective. A big part of that problem has revolved around taking on client projects that required a lot of input and attention from me.
The benefit of those projects is that they pay well and have lower overhead than projects where the full team is involved and I am not, but they are a drag when it comes to the time I have available to grow PMA.
With that in mind, I'm currently in the process of reassessing the types of projects and commitments I take on, especially those with open-ended timeframes, and establishing a set of rules for myself in regards to the types of engagements I'll say yes to going forward.
What have been your biggest lessons learned in the last year?
The single biggest lesson from the past year has been that I've been aiming too small with Podcast Marketing Academy, which was hindering its growth.
With the help of some encouragement from friends in the podcast industry, I've realized that I can and should be more ambitious with the vision for PMA. Instead of viewing it as a single, standalone course, I've realized that there is room for it to evolve into a larger brand or school that can be the industry hub for podcast marketing education.
That said, the second most important lesson I've learned has been around accruing ongoing time debt by overcommitting myself to low-priority projects and opportunities.
For that reason, I'm both excited and wary at this point about expending PMA outside of its current single course/program model too quickly.
What's in the plans for the upcoming year, and the next 5 years?
The goal right now is to build out the Podcast Marketing Academy brand to become the hub for marketing and growth education in the podcast industry.
A lot of times the result is work that doesn't look like anything anyone else is doing.
This will involve partnering with the most successful marketers and creators in podcasting to build out a content library covering every aspect of podcast market education for brands, networks, and creators alike.
What's the best thing you read in the last year?
Much like last year, I haven't read a single business book and have been focused much more on reading fiction, reading 10 or so sci-fi and fantasy novels in the past year, as well as a handful of non-fiction books, mostly about natural sciences.
As a creator, all my most original and compelling ideas come from well outside the business world, so I try to make sure I'm always feeding myself content from a broad variety of sources.
When it comes to podcasting, I've been listening mostly to:
Advice for other entrepreneurs who might be struggling to grow their business?
The biggest thing I've come to understand is that people might come for the topic but they stick around for you.
This means you have to release the handbrake and allow your messy, awkward, authentic self into your work.
A lot of times the result is work that doesn't look like anything anyone else is doing. This is scary because you can't look to anyone else for a roadmap…but it's probably also the only way to achieve what I like to think of as your creative potential.
Where can we go to learn more?
If you have any questions or comments, drop a comment below!
-
Jeremy Enns, Founder of Counterweight Creative
Counterweight Creative has provided an update on their business!
About 1 year ago, we followed up with Counterweight Creative to see how they've been doing since we published this article.
About 2 years ago, we followed up with Counterweight Creative to see how they've been doing since we published this article.
Want to start your own business?
Hey! 👋I'm Pat Walls, the founder of Starter Story.
We interview successful business owners and share the stories behind their business. By sharing these stories, we want to help you get started.
Interested in starting your own business? Join Starter Story Premium to get the greatest companion to starting and growing your business:
Connect + get advice from successful entrepreneurs
Step by step guides on how to start and grow
Exclusive and early access to the best case studies on the web
And much more!
PROMOTED
Did you know that brands using Klaviyo average a 95x ROI?
Email, SMS, and more — Klaviyo brings your marketing all together, fueling growth without burning through time and resources.
Deliver more relevant email and text messages — powered by your data. Klaviyo helps you turn one-time buyers into repeat customers with all the power of an enterprise solution and none of the complexity.
Join Brumate, Beardbrand, and the 265,000 other businesses using Klaviyo to grow their online sales.
Starter Story
Wanna see 52 business ideas you can start with less than $1,000?
Join our free weekly newsletter and get them right now.