Thank you Klaviyo for sponsoring Starter Story ❤️
Turn one-time buyers into repeat customers. Try the platform loved by 265,000 brands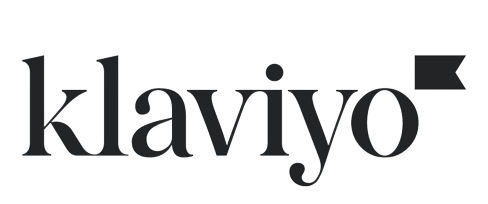 On Starting An Online Women's Boutique Without Previous E-commerce Experience
Start A Clothing Boutique
Hello! Who are you and what business did you start?
Hi everyone! My name is Jessica Carter, popularly known as Jess Michelle, and I am the founding owner of Jess Mi Boutique. I cater to women of all shapes and sizes on more of the dressier side than casual.
We offer dresses, jumpsuits, matching sets, tops, bottoms, swimwear, activewear, and accessories! Through my boutique, I am also a blogger! My business has always been more than just clothes for me. So in my blog, I express some of the hurdles I have overcome as well as what my boutique truly means on a deeper level. Everything I do stems from my desire to help women see themselves through the eyes of God and the beauty they have always possessed!
The main products I offer that receive the most attention are my dresses; they are my staple pieces! Just like the famous Fashion Nova is well known for its jeans, my boutique is often known for its dresses!
I have carried a wide range of dress styles that one would typically not find in common places. With that being said, women with evening plans such as dinner dates, photoshoots, formal occasions, etc. have turned to Jess Mi Boutique for their dress needs!
In today's market, I easily make about $500 a month in sales compared to barely $75 per month when I started. My business went from something that was just on Facebook to now a wardrobe necessity for events such as annual hair and beauty shows across the Seattle-Tacoma Metropolitan area!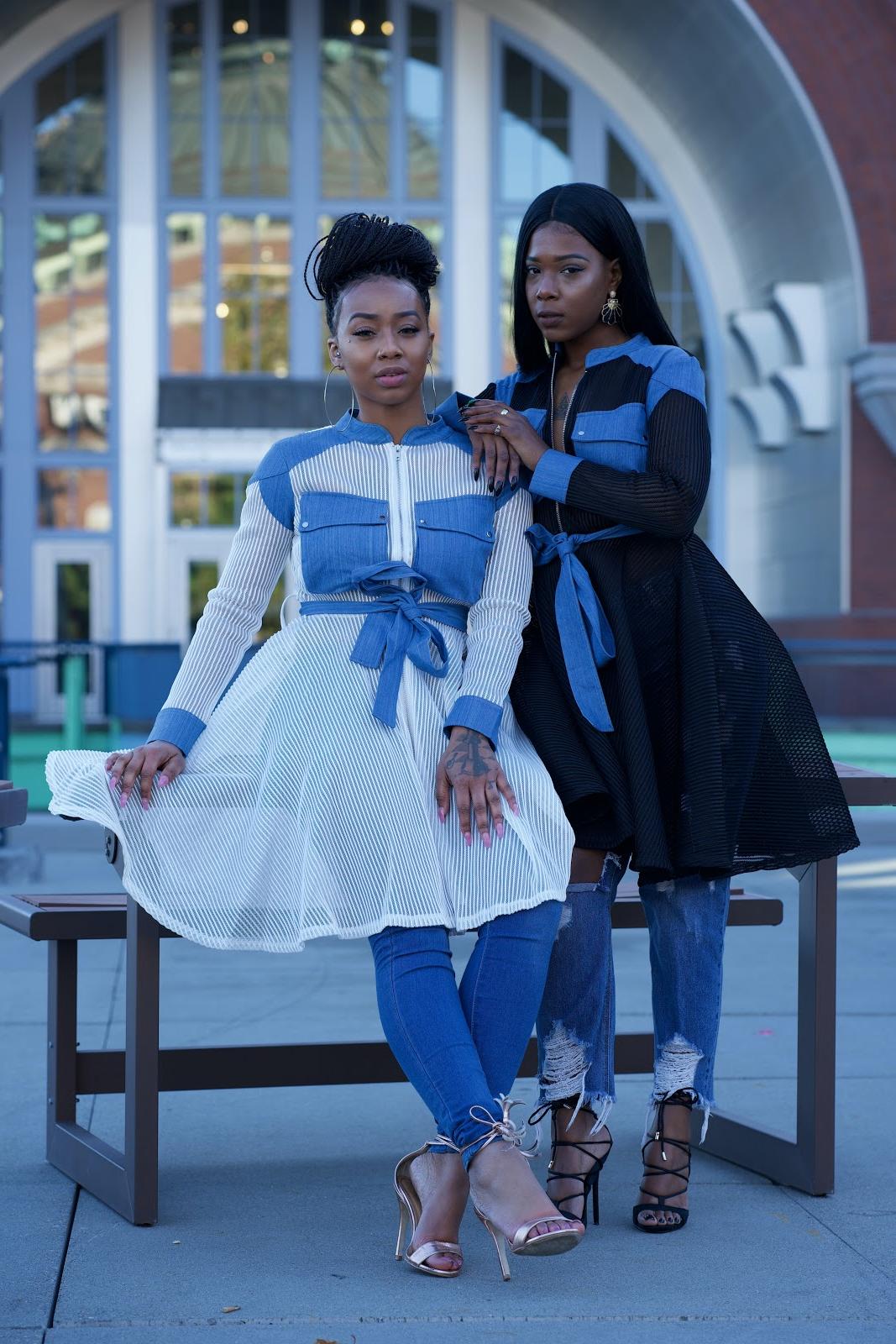 "Lady In The Streets" Dress
What's your backstory and how did you come up with the idea?
I have always had an eye for fashion as well as the ability to put styles together in such a way that others would not have normally done. Overall, I carry myself as a very classy woman with sex appeal. Therefore, my style reflects just that: an unapologetic woman who is not ashamed of the curves God has given her. However, I would often find myself struggling to balance between, "Is this too sexy or too conservative?"
A few years ago, 2017 to be exact, I went out almost every weekend to nightclubs primarily because my ex-husband at the time was a club promoter. Therefore, I needed to look my best being by his side. So every weekend, I spent the day shopping for my "nightlife" outfit. Week by week, I brought home a new look that was not previously in my closet. However, once I got to the club, I noticed other women wearing either the same outfit as me or something I had seen in the store while shopping earlier that day. It frustrated me; I certainly did not want to look similar to anyone else especially considering I had put so much effort into my look (I take fashion seriously). This same disappointment went on for a few consecutive weeks: I would buy something, then that night another woman would be wearing it.
One afternoon, God placed the word "boutique" on my heart. Let me say this: I did not expect operating a business let alone a boutique! So I just casually googled how to start a boutique out of curiosity. I came across an article similar to this one here. To my surprise, the steps were simple! I was so amazed at how easy it appeared to be that I made the decision that day to take it seriously and go about starting one with unique styles you would not find anywhere else! I figured if I'm going to continuously buy clothes to go out every weekend, why can't it be my items? So by following along those steps paired with research, Jess Mi Boutique was born.
After my divorce in 2018, I soon realized that dressing up to match the nightclub scene was never who I truly wanted to be; it was only because of who I was connected to. Again, I am a classy, conservative woman with an edgy sex appeal. So I ultimately wanted my boutique to reflect that as well. So for the past three years, my clothing items have certainly evolved because I, myself, was evolving and coming into the knowledge of who I am as a woman in Christ.
The wonderful thing about starting and maintaining a boutique is you can be as creative as you want or pay someone else to do the leg work such as marketing and do as little as you want; depending on your budget.
I was no longer going for clothes that competed with the major Instagram models, for example. But clothes that reflected what I currently refer to as "classy sexy," and not "trashy sexy." Oops! Yep, I said it. My boutique has evolved from one extreme to the other. You can still find some of my older pieces today which are on sale!
Before I started my boutique, I never considered myself an entrepreneur; I was not even looking in that direction. I had always loved fashion, but surely I thought a regular form of employment was my destiny. Making sure my family was taken care of was all that mattered to me, and if my regular job satisfied that then I was fine. I did, however, have a side hobby which I found much joy in modeling.
For four years before starting my boutique, I had done commercials, commercial photo shoots, and runway shows with hopes of making it in the modeling world. I never saw modeling as becoming my main career, but I did view it as a way to make extra money on the side while having my regular form of employment. That explains why currently, the majority of my pieces are showcased by me! I AM my brand!
The knowledge I gained in the modeling world in terms of posing and understanding what looks good on me came in handy when my boutique was born. Instead of modeling and promoting someone else's clothes as paid work, I was finally modeling my own!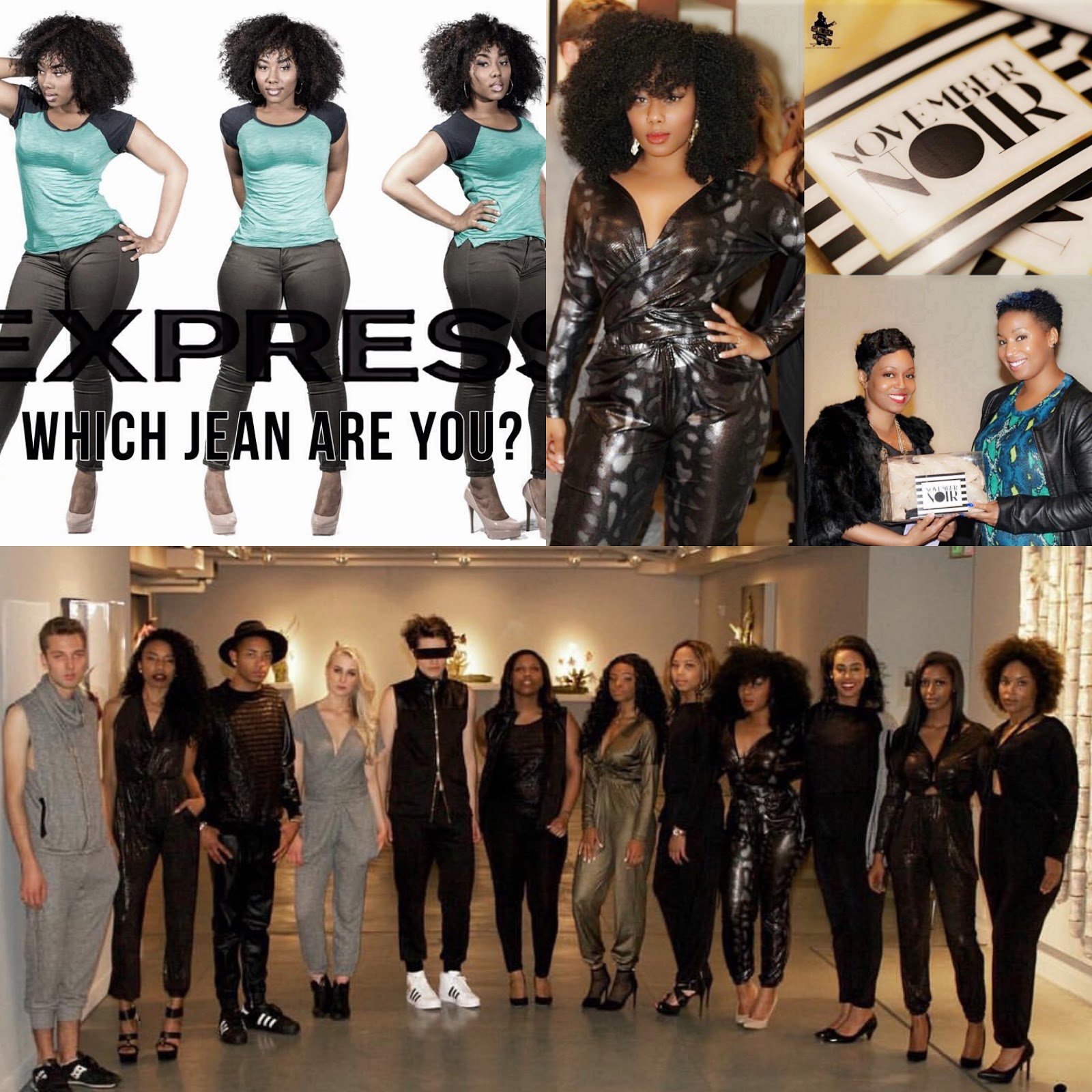 Snapshots of Jess Michelle's early modeling career
Take us through the process of designing, prototyping, and manufacturing your first product.
Despite the research I did in terms of wholesale manufacturers, I started my business trying to save as much money as possible. So I came across this site known as Girl Merry.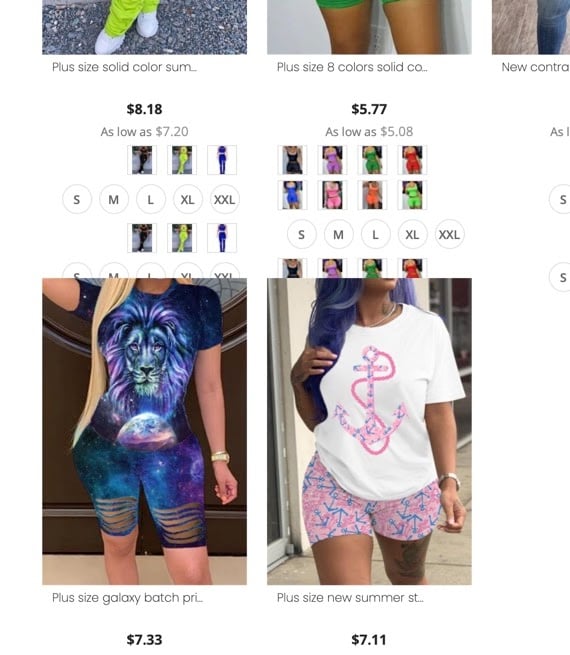 Technically speaking, it's a regular website where anyone can purchase basic-quality items at wholesale prices. Therefore, my budget was based on their prices. The biggest part of budgeting was estimating the shipping. Although their prices are ridiculously low (because they're based in China), shipping was outrageous, which was my first mistake, at least $15-$20 even for just one item. The reason being is, I got much less for my money due to shipping costs than I would be going through an actual wholesaler.
No matter how much research and studying you do, you will not be 100% perfect so be easy on yourself! We all had a learning startup experience.
Nevertheless, I still spent time browsing items from their website that stood out to me; items that I did not notice in other places. So I placed my first order spending roughly $700; however, it does not require that much. It all depends on how many items you purchase and there is no minimum amount. I then began preparing for the first photoshoot of Jess Mi Boutique.
Jess Mi Boutique's first shipment from GirlMerry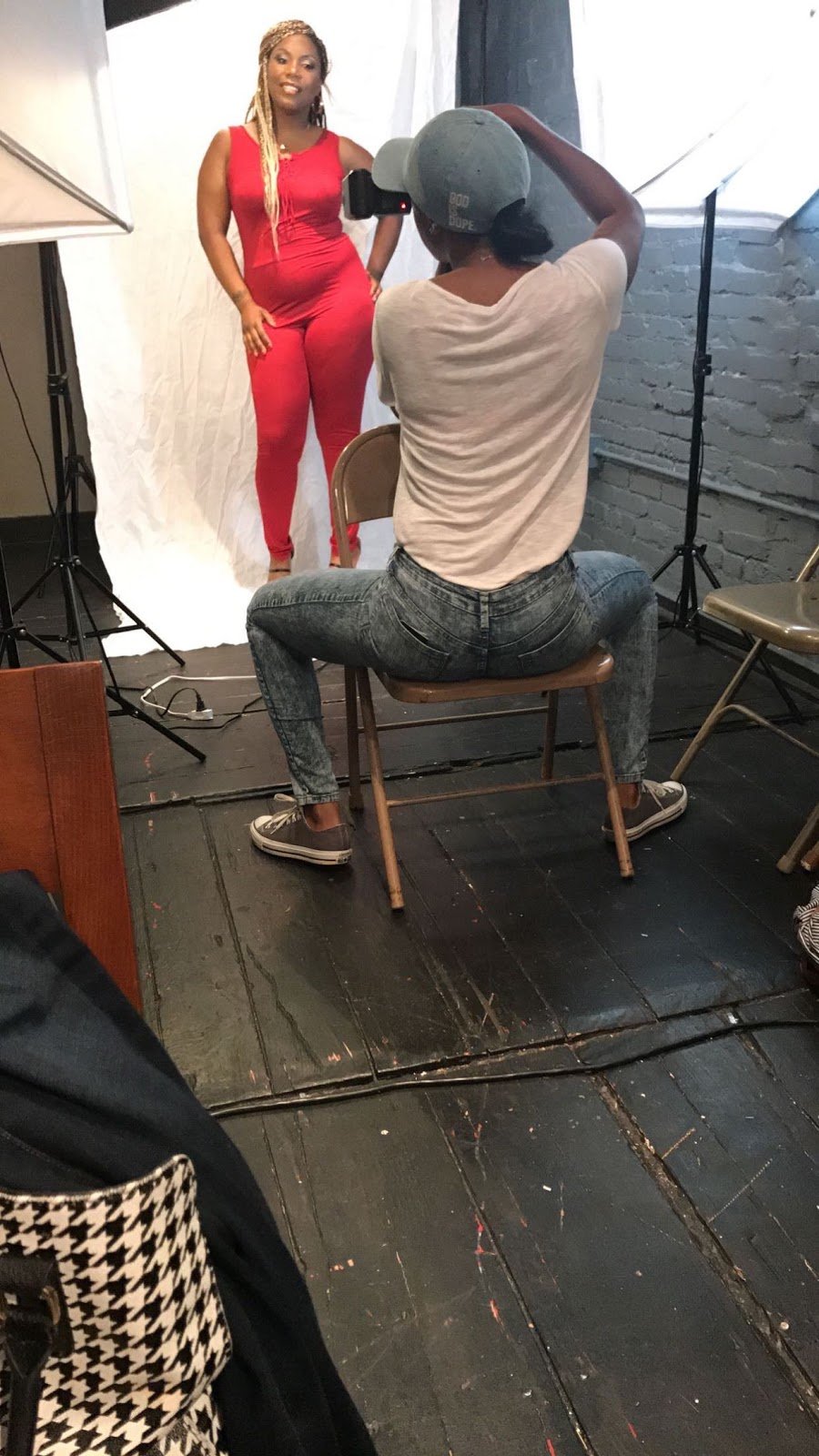 First Photoshoot from GirlMerry
After I completed my first photo shoot, I then began designing my website which became a fairly easy process. The website host I began with is the same awesome host I currently use: Shopify. When it comes to e-commerce, using Shopify was one of the best decisions I have ever made with only $29 a month!. They have custom layouts where you can easily choose your color theme, upload your photos in premade templates, as well as drag those templates in the location you want! That is it! No coding was necessary for my startup!
I spent my first year using GirlMerry for all of my items just to keep my business flowing.
My shipping process at the time was also simple: USPS. I did not obtain a business account from the post office, but instead I would purchase bubble mailers individually as orders came in (which was not a lot). I was unsure how well my business would do so I did not want to get a bunch of mailers; reflecting I should have done that. In addition to individual mailers, I'd prep my orders inside the post office then shipped them off!
In the process of that first year, I spent time getting my business license and tax ID. Everything started in Washington state because that was my home base, so I googled the filing process of obtaining my business license in Washington State and used about $250 of money saved to file and order my business license documents and LLC. It took a few weeks (about the same time it normally takes to receive your passport) before my license and tax information came in the mail.
Once I received that, I did more research to seek out another wholesale manufacturer. I came across Pioneer Apparel which is a wholesale manufacturing site based in Atlanta, GA with quality items without ridiculous shipping costs. One thing to note about actual wholesalers is that they require business license documents to gain access to their merchandise; therefore, doing all the necessary paperwork to get those things within my first year beforehand was important.
Three main things to have: LLC, Business License, and a Business License of your city. Googling these makes them easy to find and the process is simple to walk through. After my GirlMerry hurdle, I transitioned to using Pioneer Apparel fulltime.
After my second year of business, I took a weekend trip to Los Angeles, CA! They have a wonderful area known at the Fashion District where you can shop countless wholesalers for your store in person! However, living in WA, it was unrealistic for me to visit there every time I needed new items or to restock. So luckily they also have a wholesaler website with EVERY store in the Fashion District; it is known as FashionGO. The same process applies in terms of submitting your documents to get access to their merchandise.
Describe the process of launching the business.
I have always been a hard-working woman who saved her money for whatever was to come my way. So when I decided to start my boutique, I budgeted $1000 for everything: wholesale merchandise, advertising, website design, photoshoots, video promotions, etc.
I later discovered it was not necessary to start with that much. $500 is just as doable! But my mindset was "go big or go home." This hindered me for a while because starting, it took me a while to make my investment back. So if I could go back to the beginning, I would not have unnecessarily invested as much. I would have started smaller like it was recommended.
Nevertheless, eventually, I did sell out as my business began growing. I began paying closer attention to other boutiques as well as famous clothing stores so that I can make sure my wholesale manufacturers did not give me the styles I was seeing in other places; after all, that was my original goal.
The original launch date was set for some time in May 2017; however, GirlMerry shipment came late so that threw me off in terms of the photoshoots, editing, and organizing everything on the website. Therefore, I pushed my launch date to July 22nd, 2018.
Why July 22nd? At the time I knew I wanted it in the summer and I wanted to launch on a Saturday. When it comes to e-commerce, what better way to get others' attention to shop online than the weekend? So I did just that! Like I mentioned earlier, the process of designing the easy premade templates in Shopify made launching very smooth. I also got my launch flyer done by using PosterMyWall which is another easy site to design any flyer you'd like!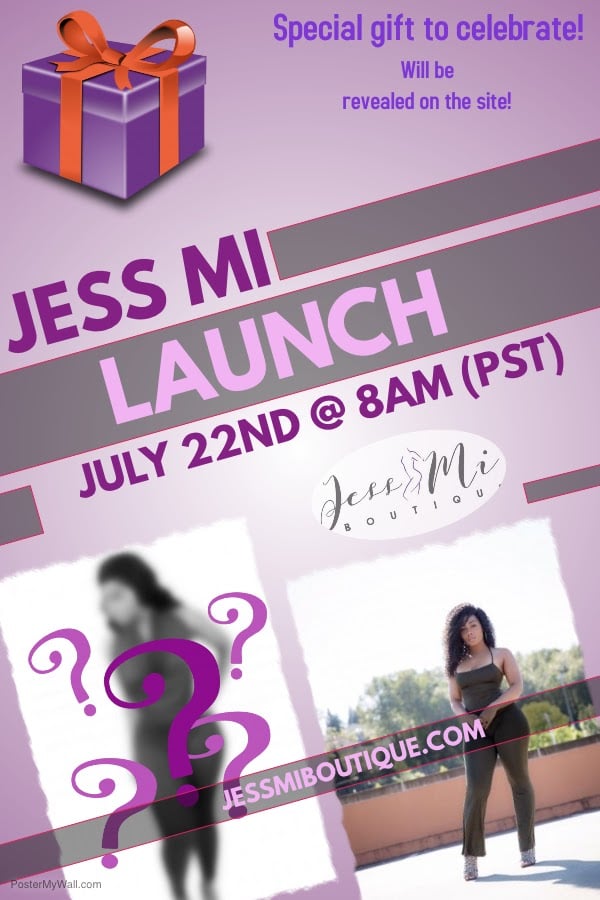 Since launch, what has worked to attract and retain customers?
Since my launch date, several factors such as paying for Facebook Ads, making personalized videos for certain signature clothing items, and posting on my social media platforms almost daily has worked well for my growth.
Marketing is an important aspect of getting your brand out to the world; therefore, it is important to budget that as well. I started out spending maybe $10 a week on Facebook Ads and it reached people in hot locations such as New York City, Atlanta, Los Angeles, and Seattle. I was also able to pinpoint the exact people on Facebook I wanted to reach such as sex, age, and shopping habits. That helped tremendously; however, that was not enough.
The main concept that allowed me to grow my business and retain existing customers was consistency. I made sure I advertise and posted about my products at least once a day. I also got creative as opposed to simply posting the same photos over and over again. I would use catchphrases that potential customers could relate to as well as hashtags. I would also create and edit videos of myself wearing one of my outfits and showing the various ways you can wear it. I stayed offered free items with a purchase limit as well as special discounts during holiday seasons just like your favorite clothing store would. Overall I paid close attention to marketing tactics from places such as Macy's, Victoria Secret's PINK, etc.
Using Shopify as my website platform host was easy because they included various apps such as email marketing templates. Every order saved the customer's email through Shopify so getting marketing emails was just as easy!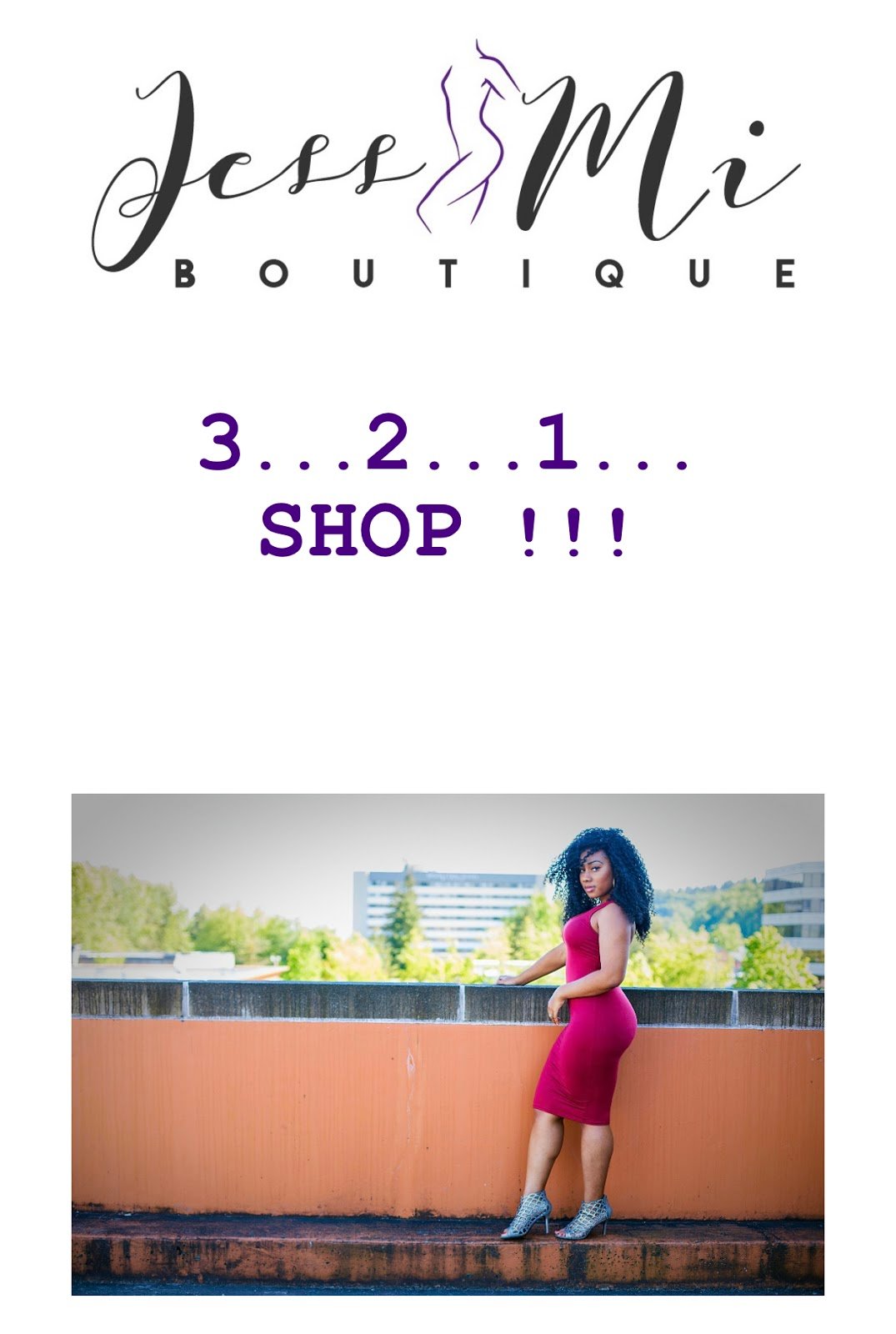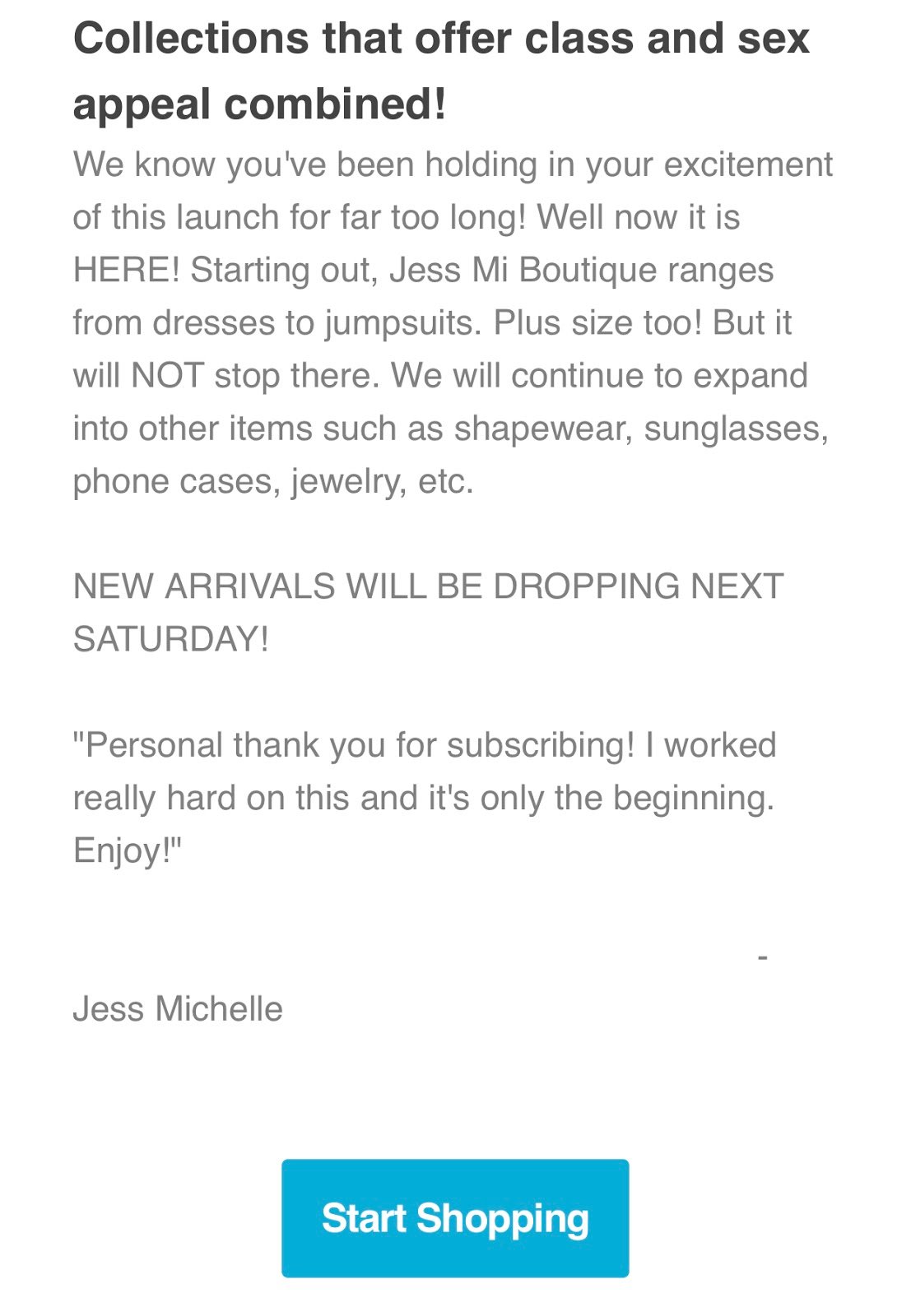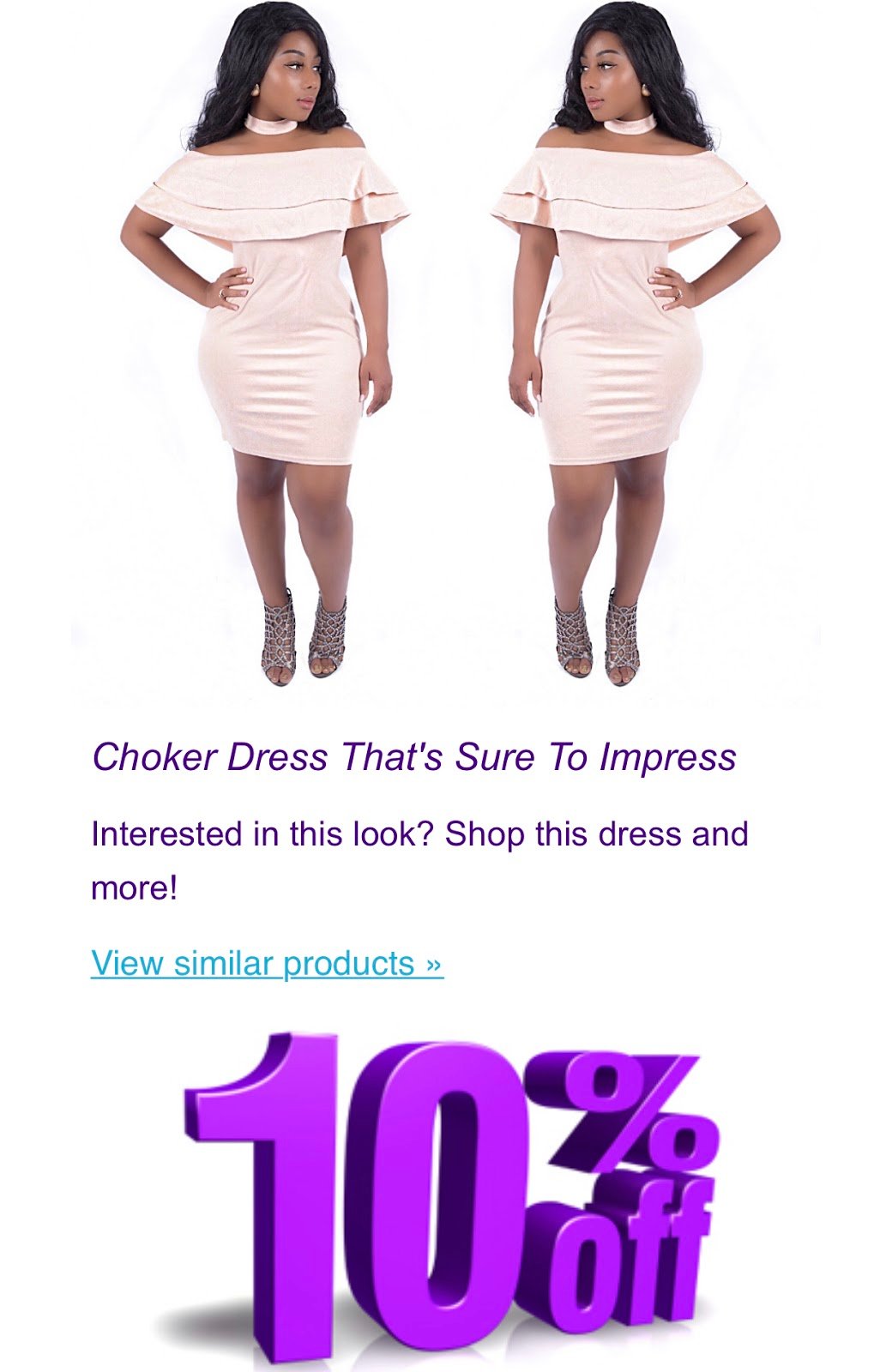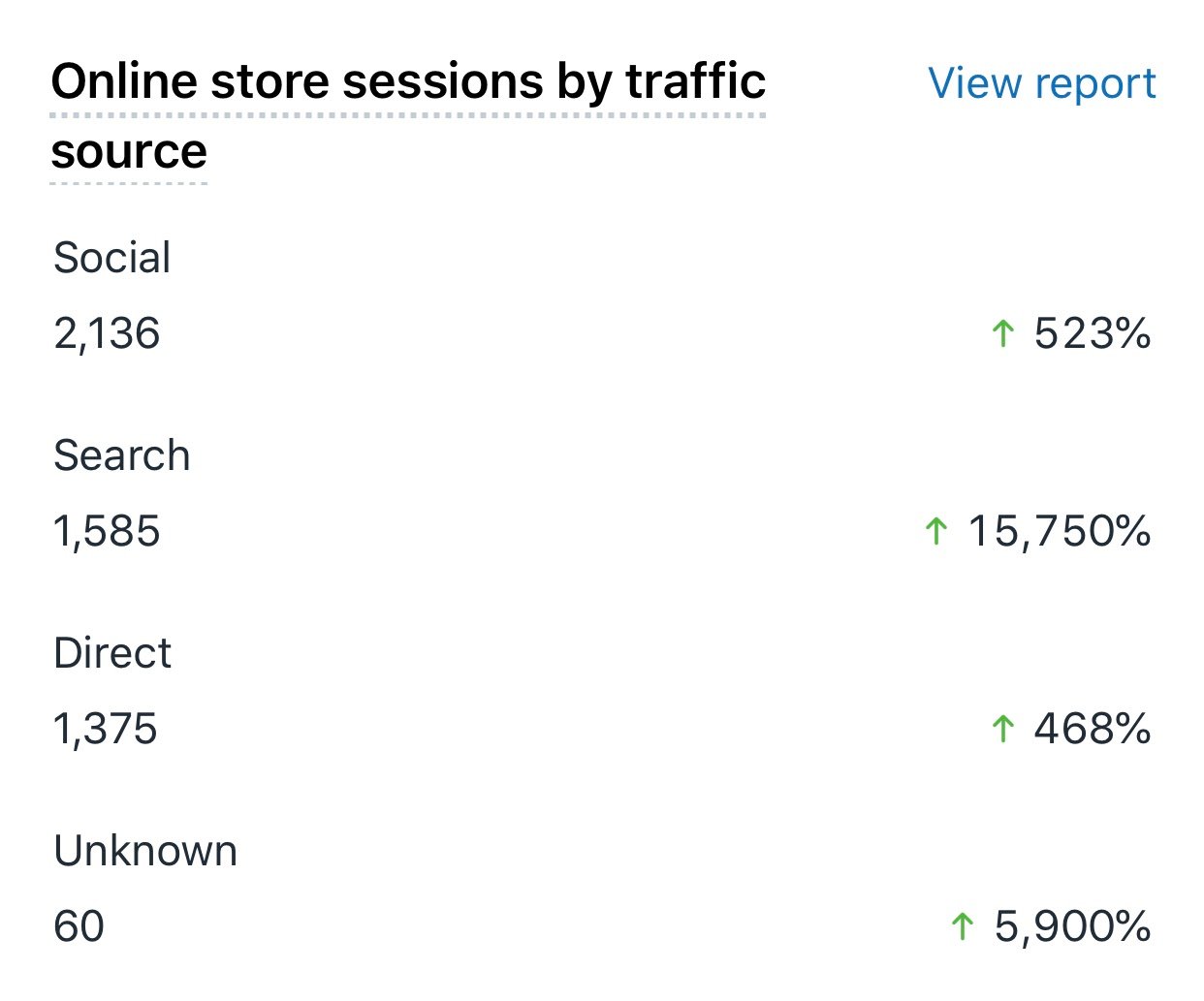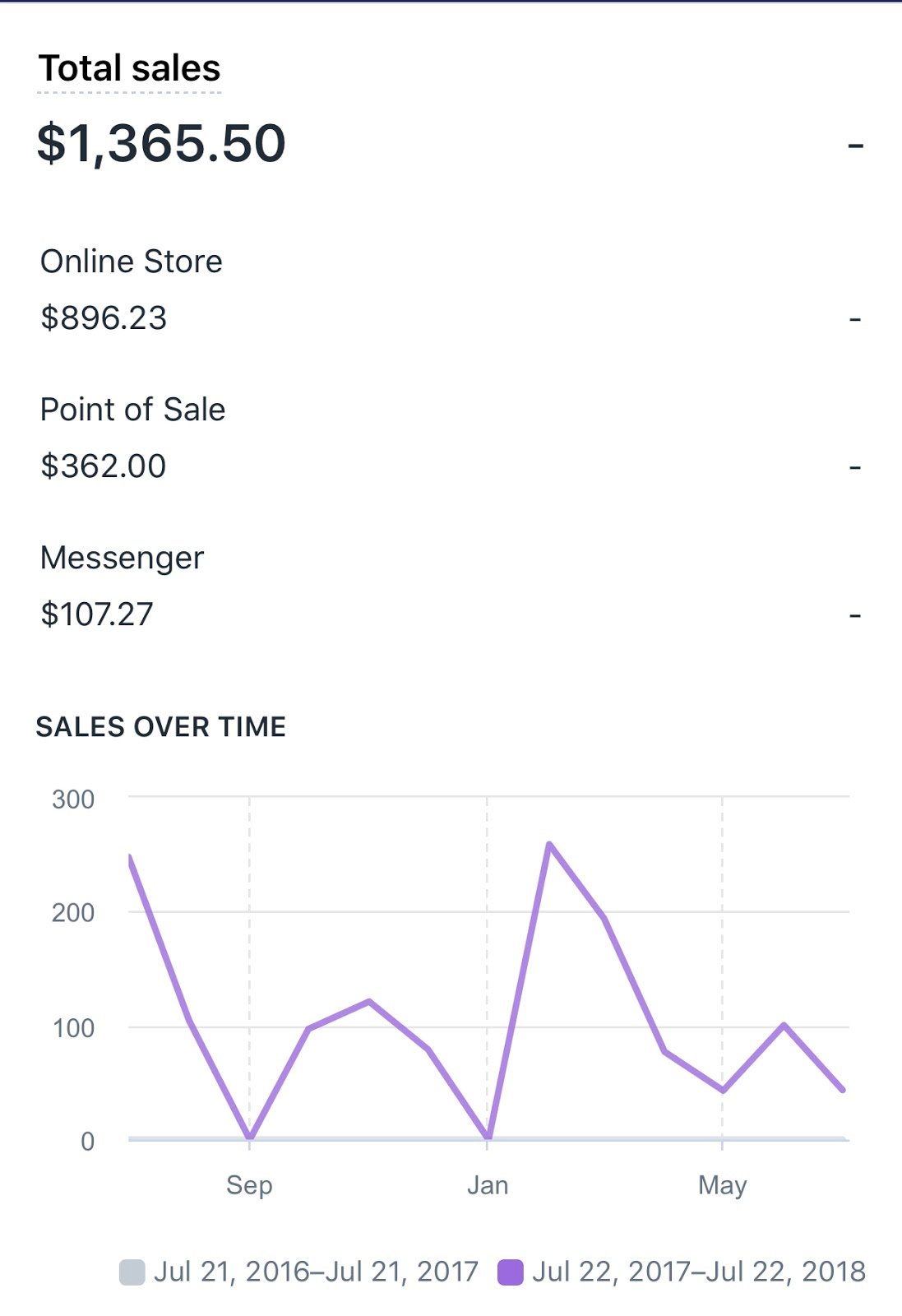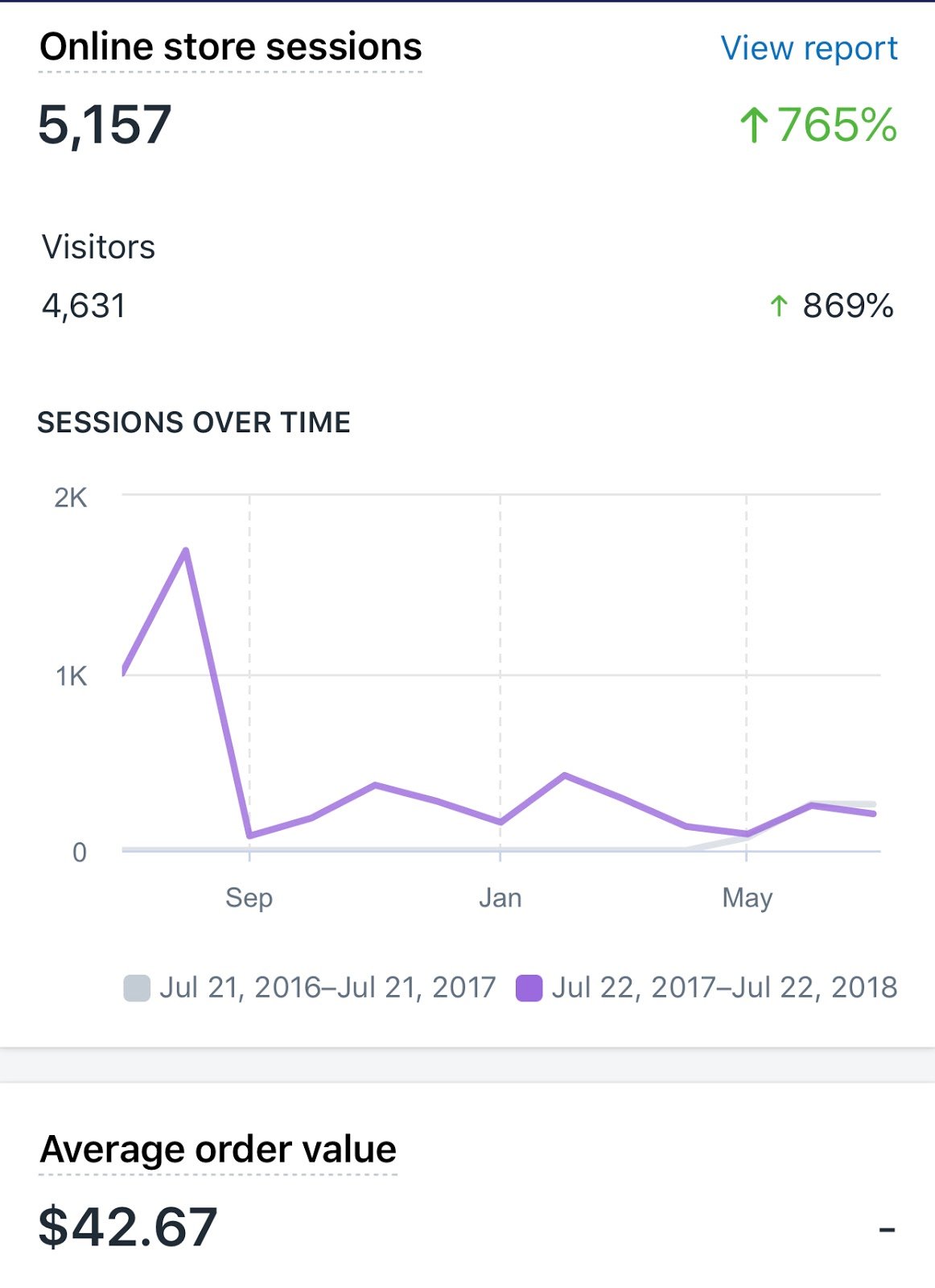 All analytic screenshots are from the first year in business: 722/17 - 7/22/18
How are you doing today and what does the future look like?
Jess Mi Boutique has certainly been profitable since the beginning stages in 2017. I've learned to charge a fair amount for each of my items to where I make everything back per item as well as roughly about 20% as pay to myself. For example, if one wholesale dress cost me $26, then I would charge about a $20-$25 increase which would make it around $50 on my website. Depending on the product, you can play around with how much you charge. As long as you consider the amount per item, marketing costs, shipping costs, packaging costs, photoshoots, website costs, laboring, etc. They all make a difference and go into the final value!
Lately, I have also utilized the wonderful TikTok to continue growing my boutique as well, especially throughout the 2020 pandemic where almost everything has been dependent on online activity. The majority of my sales, as shown in the Facebook report above, have started and continued to grow the most via Facebook which includes ads and posting on Facebook stories.
In addition to social media, I've upgraded items to include plus-size selections as well which is another way I am continuing to grow my business because more people can relate to my clothing. In the beginning, I only carried sizes small through large. Currently, I carry sizes small to a 3XL in the same look simply by purchasing those sizes within the same wholesalers I mentioned earlier. New plans for the future? Men's clothing.
Just as I have spent the time researching and advertising products for women, I plan to do the same thing for men's clothing in the future. That is expected to release some time in 2021 for now. Nevertheless, I have always seen Jess Mi Boutique expanding into more than a boutique, but an actual clothing line of my own.
I am aiming and aspiring to design my clothing verse solely depending on what is available from established wholesalers. What that process will look like? Well just like there are wholesalers, there are also companies who have a team to help bring your design to life with can also be googled using key terms such as 'clothing design manufacturers.' Of course, it is more expensive than simply using wholesalers; however, as my boutique continues to grow and I continue to save, that will be an upcoming investment I am willing to make!
What have been the most influential books, podcasts, or other resources?
There has been one consistent, influential boutique owner and designer that has been a major resource for me: Nichole Lynel. She has a boutique as well as a design label where your clothing designs live. She has documented a lot of her process through her social media which I find a lot of inspiration. She also has created a step-by-step guide to starting your online brand as well as things she wished she knew beforehand which I also refer to often. It costs $599 to enroll in what she calls THE BLING PRINT.
Advice for other entrepreneurs who want to get started or are just starting out?
My greatest desire is for other entrepreneurs to know that it is not as difficult as it looks! Yes, it requires time and effort; however, it is DOABLE and not out of your reach no matter your budget. I always refer to Nike's famous slogan, "Just Do It" whenever I'm analyzing my upcoming steps. It is that simple.
There is absolutely nothing that you cannot find on Google so make it your best friend! There is no question too silly or too stupid that Google does not have the answer to. That is why research is so important. I had plenty of savings to go big with my launch, however, that is not necessary. I made the mistake of over-analyzing the process.
If I would have known that I only needed about $300-$500 to start my boutique versus well over $1000, I would have started small and been more strategic. So research wholesale sites via Google to get an idea of how much you need.
If you know for sure that a boutique is something you want to pursue, it is best to go ahead and get your boutique name (whatever you have come up with) into an LLC and/or trademark. That way, you can begin uploading those documents into wholesale websites to see their exact prices and understand how much to budget. The bottom line is paperwork matters and is crucial to getting almost any business going.
The wonderful thing about starting and maintaining a boutique is you can be as creative as you want or pay someone else to do the leg work such as marketing and do as little as you want; depending on your budget.
Saving money in the boutique business is easy because you can do your marketing/promotion by posting on your social media as normal, making your flyers, designing email templates, completing photoshoots, etc. Living in this 2020 era, smartphones have been the best tools for photos.
So do not feel like you need a professional photographer for everything if your budget does not allow that. You can easily invest in a ring light from Amazon at affordable prices and begin taking photos of your products. Here are a few resources that I mentioned earlier that you can use to achieve your boutique startup easily:
Last but not least, HAVE FUN! Do you know why so many businesses have a start-up guide? Because it's THEIR process that they have developed over time from their mistakes and personal techniques. So there is truly no right or wrong way to begin as an entrepreneur.
Use resources that you find are beneficial for the market you are aiming to reach and grow from there. No matter how much research and studying you do, you will not be 100% perfect so be easy on yourself! We all had a learning startup experience. Honestly, I still feel that I am in the beginning stages. I am not all the way there yet but I have learned to enjoy the journey and develop my process along the way, so you are no different! Enjoy the journey!
Are you looking to hire for certain positions right now?
Photo and videographer on-demand - MUST BE IN WA STATE
Seeking a photographer and videographer who is available on-demand to capture behind-the-scenes of me working.
Part-time by the hour (we can discuss prices). Ideally, prefer photographers/videographers desiring to grow and get their name out there; in the beginning, stages.
Social media marketing - REMOTE - Anywhere
Seeking someone who can make marketing posts on all social media accounts on my behalf. Must be consistent at least three times a week on all platforms such as Instagram, Facebook, and Twitter.
Part-time who will get paid $5 per post or receive free clothing at the end of the week.
Researcher - REMOTE - Anywhere
Seeking someone who enjoys researching and able to provide whatever I need such as potential wholesalers, new filing laws, etc.
Part-time paid by the hour (we can discuss prices) or receive free clothing at the end of the week.
Where can we go to learn more?
If you have any questions or comments, drop a comment below!
-
Jess Michelle, Founder of Jess Mi Boutique
Discover the best strategies of successful business owners
Join our newsletter and receive our handcrafted recap with the best insights shared by founders in Starter Story each week.
Useful, convenient, and free:
PROMOTED
Did you know that brands using Klaviyo average a 95x ROI?
Email, SMS, and more — Klaviyo brings your marketing all together, fueling growth without burning through time and resources.
Deliver more relevant email and text messages — powered by your data. Klaviyo helps you turn one-time buyers into repeat customers with all the power of an enterprise solution and none of the complexity.
Join Brumate, Beardbrand, and the 265,000 other businesses using Klaviyo to grow their online sales.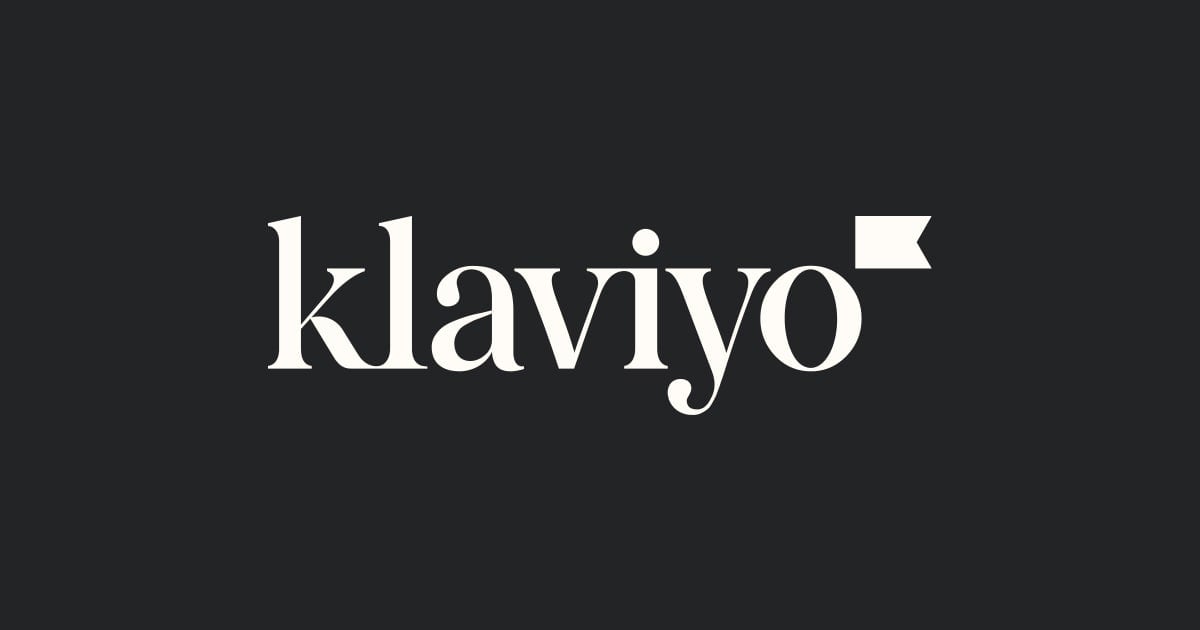 Together With Klaviyo
Companies using Klaviyo see a 95x ROI (yes, 95x)
Use Klaviyo to turn hard-earned customer data into hard-working emails and texts.
Try the platform that 265,000 brands use to grow their business.
Try it now (it's free) ➜