Thank you Klaviyo for sponsoring Starter Story ❤️
Turn one-time buyers into repeat customers. Try the platform loved by 265,000 brands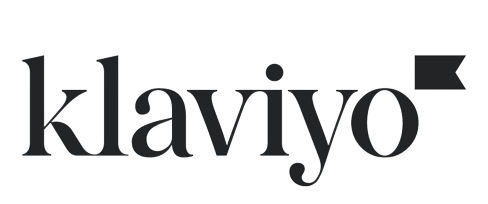 What is an Infographic? Examples, and Design Tips
•
Updated: July 2nd, 2022
What is an Infographic? Examples, and Design Tips
This article is a part of our encyclopedia, and is editable by you. Edit ➜
Cost Details
Infographics can be created using the free version of Canva or even using a google doc.
What Is An Infographic?
Infographics are a visual document that shows data and complex concepts about a specific topic.
Infographics are a great way to present facts and statistics about your product or service.
Presenting information in a visually appealing way allows visitors to spend time on your site and share your content.
Additionally, infographics can make your product more credible if there's research-driven data involved.
Infographic Key Takeaways
The core purpose of an infographic is to simplify a complex idea
Infographics are ideal when presenting an overview of a topic instead of an in-depth analysis.
A good infographic has a must see, should see and can see qualities
Understanding How Infographics Work
An infographic uses images, charts, icons, and illustrations to give data a visual facelift.
Through the simplified presentation, users can absorb information in a matter of seconds.
A good infographic presents a more creative and engaging approach to provide:
Topic overview
Explain a process
Compare and contrast ideas
Displaying research findings
Therefore, an infographic involves a heavy design, and it is light on copy.
According to statistics, 32% of marketers believe that visuals are the most important type of content that their business creates.
This illustrates that an infographic is among the most powerful visual components in content marketing.
Real Life Examples of Infographics
1. Social Media Today
Social Media today presents a good example of how to use infographics in content marketing.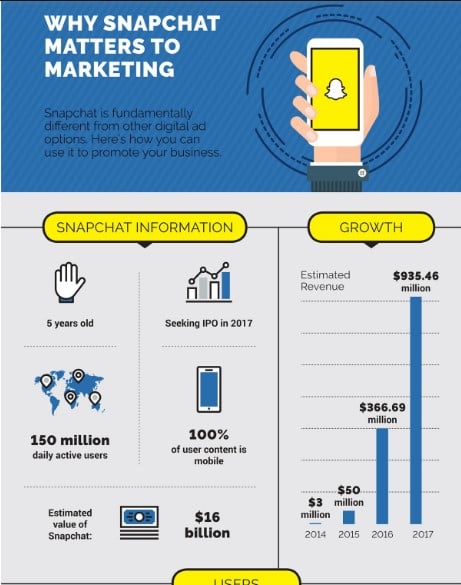 In the example Why Snapchat Matters to Marketing, the infographic is used to explain Snapchat marketing.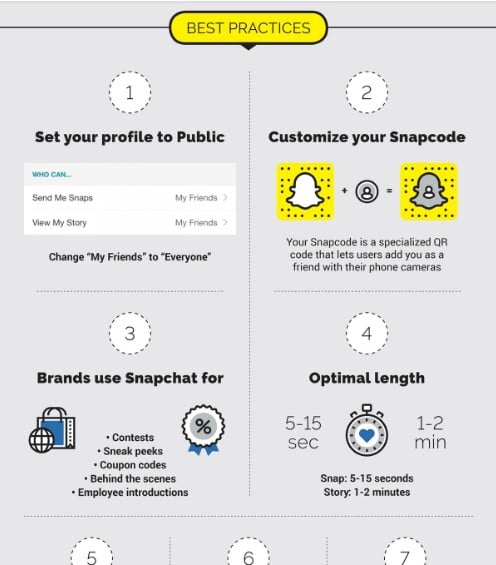 The infographic explains what Snapchat marketing is and how it works. This illustration breaks down the concept of Snapchat marketing, making it easier for readers to grab the idea.
2. Florida Realtors
Florida Realtors gives us another example of how infographics help break down a complex idea and present data.
On their website, Florida Realtor's present different topics relating to real estate. Therefore, the reader does not have to spend too much time reading a blog.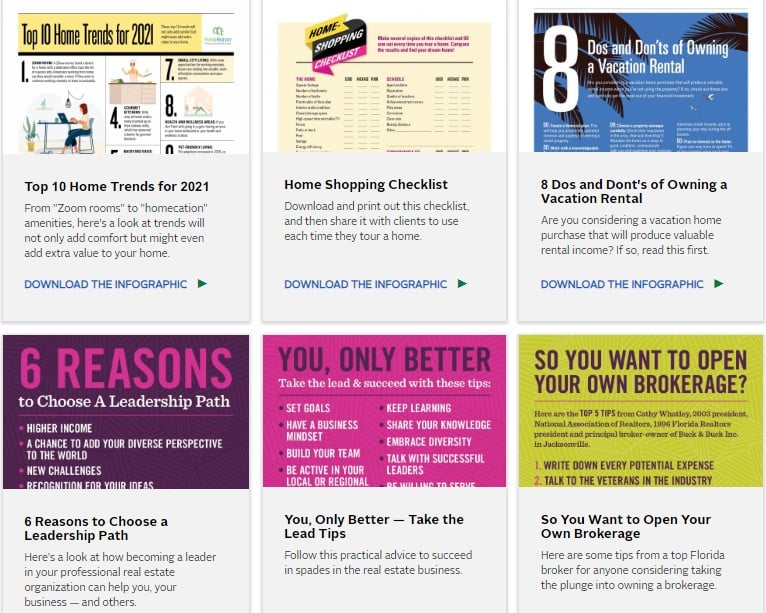 The infographics break down the big ideas in the real estate industry in an approach that is attractive and easy to understand.
Getting Started With Infographics
Generate a topic to be covered in your infographic
Dive into research and data collection
Craft a narrative that ties all the information together in a concise, organized, and compelling manner
Design and present the information in ways that enhance the message your infographic intends to communicate
Content marketers have a few options to choose from. One is to use free infographic templates and the second option is creating the infographic from scratch using design software tools:
Canva
Free graphic-design tool website. Drag-and-drop format with access to over a million photographs, graphics, and fonts.
Businesses using Canva:
455 successful businesses are using Canva ➜
Sketch
Design toolkit.
Businesses using Sketch:
57 successful businesses are using Sketch ➜
Alternatively, you can hire a freelance infographic designer online to help you create the first infographic. Here are a few freelance platforms you can check out:
Fiverr
Freelance services marketplace at affordable costs.
Businesses using Fiverr:
276 successful businesses are using Fiverr ➜
Upwork
The largest freelancing website, where businesses connect with talented freelancers.
Businesses using Upwork:
303 successful businesses are using Upwork ➜
Contributors
Contributors to this article:
Pat Walls, Founder @ Starter Story
Samantha Walls, Head Of Content @ Starter Story
David Gitonga, Writer @ Starter Story
Discover the best strategies of successful business owners
Join our newsletter and receive our handcrafted recap with the best insights shared by founders in Starter Story each week.
Useful, convenient, and free:
PROMOTED
Did you know that brands using Klaviyo average a 95x ROI?
Email, SMS, and more — Klaviyo brings your marketing all together, fueling growth without burning through time and resources.
Deliver more relevant email and text messages — powered by your data. Klaviyo helps you turn one-time buyers into repeat customers with all the power of an enterprise solution and none of the complexity.
Join Brumate, Beardbrand, and the 265,000 other businesses using Klaviyo to grow their online sales.
Starter Story
Wanna see 52 business ideas you can start with less than $1,000?
Join our free weekly newsletter and get them right now.