4 Tips For Starting A Successful Online Beauty Products (2022)
•
Updated: September 15th, 2022
4 Tips For Starting A Successful Online Beauty Products (2022)
Start An Online Beauty Products
Want to start your own online beauty products? Here are some tips you should know:
We've interviewed thousands of successful founders at Starter Story and asked what advice they would give to entrepreneurs who are just getting started.
Here's the best advice we discovered for starting an online beauty products:
#1: Kellie Yavalar, founder of keauty:
We chatted with with Kellie, founder of keauty ($1.5K/month). In our interview, Kellie says:
I remember being in a rush to launch in the beginning, I felt that every day the website wasn't active I was losing money. Although that would have been ideal, the most important thing is actually to put a product out that's right.
Additionally:
Talk to people and leverage all of the resources that you have access to. You don't need to know all of the answers when you start the business.
Read the full interview ➜
#2: Daisy Kimbro, founder of Aromaology:
We chatted with with Daisy, founder of Aromaology ($10K/month). In our interview, Daisy says:
My friends and family went into a particular store for about a month. They would ask, "I am looking for Aromaology products." About a month later the store contacted me to set up a meeting and the manager gave me a trial run.
Additionally:
You will fail, it's part of the process. My advice during difficult times would be to remain positive and to keep moving. There is no better teacher than failure. It helps us to learn from our mistakes and deter us from going down the wrong path.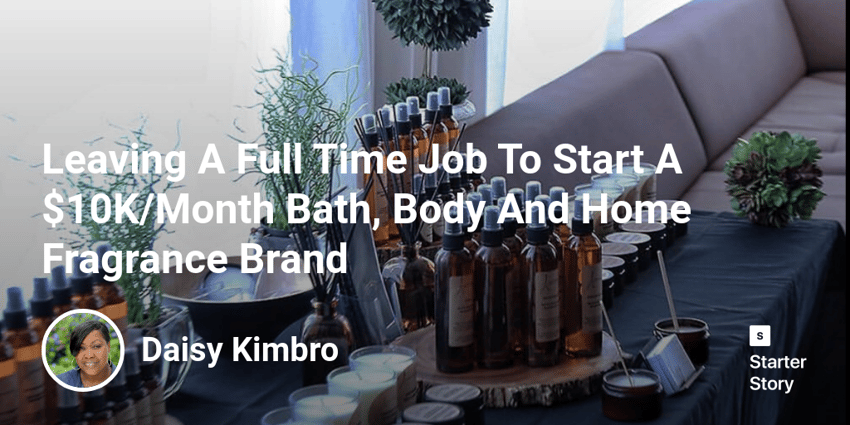 Read the full interview ➜
Want to start your own business?
Hey! 👋I'm Pat Walls, the founder of Starter Story.
We interview successful business owners and share the stories behind their business. By sharing these stories, we want to help you get started.
Interested in starting your own business? Join Starter Story Premium to get the greatest companion to starting and growing your business:
Connect + get advice from successful entrepreneurs
Step by step guides on how to start and grow
Exclusive and early access to the best case studies on the web
And much more!