Tips To Boost Your Holiday Email Marketing Campaigns[2022]
•
Updated: September 27th, 2022
Tips To Boost Your Holiday Email Marketing Campaigns[2022]
What Is A Holiday Email Campaign?
Holidays are a great opportunity to blast your email list with an amazing deal, great holiday discount, special festive bonanza, or maybe just a thoughtful message.
Startups send holiday email campaigns to explain to their audiences their amazing deals and the value they are offering particularly within the holiday season.
New Year, Black Friday, Christmas, Valentine's Day, and other holidays give you the chance to:
Drive more conversions
Provide important company news
Send your best regards to the subscribers.
This post explains how startups can take advantage of the holiday mood to drive more sales by sending holiday email campaigns to their subscribers.
Holiday Email Campaign Key Takeaways
How Holiday Email Campaigns Work
The holiday shopping season is important for e-commerce stores and brick-and-mortar stores.
Holiday email marketing offers businesses the chance to boost holiday sales significantly.
Remember that email generates a high ROI during the holiday season.
Therefore, it is more important than ever to strategize your holiday email campaigns.
Ideally, brands send personalized offer messages to their target audience, creating an interest in the holiday sale offers.
In that regard, sending holiday email campaigns is one effective way to convert your audience into buyers during the holiday season.
Tips To Boost Your Holiday Email Marketing
Here are important tips to boost your conversion rates through marketing emails sent during the holiday season.
1. Ensure Targeted Campaigns
A targeted and personalized holiday email has a much higher engagement rate compared to sending a generic email.
One way to ensure a targeted holiday email campaign is by segmenting the email list.
That way, you can tailor the messages to the specific interests and buying patterns of your target audience.
You can segment your email list based on:
Audience interests
Audience shopping frequency: year-round vs. seasonal shoppers
Coupon lovers.
2. Automate Holiday Email Marketing to increase Chances Of Success
Reaching the right people with the right message is the best way to increase email open rates and engagement.
The secret weapon to reaching the right audience is marketing automation.
Here are some great automation strategies to get the most out of your holiday email campaigns.
Setting up abandoned cart automation workflows to secure sales from abandoned carts
Track user actions like clicks or email open and enable lead scoring to build targeted emails
Target new signups and send special discount alerts
Your automated email campaigns help to maximize the opportunities when it comes to reaching the targeted audience.
3. Build a Smart Holiday Email Schedule
To achieve the best results out of your holiday email campaigns, it is a good idea to start planning in advance.
Starting on time leaves enough time to prepare all the different elements of a successful email campaign.
Remember that sending emails well before normal holiday shopping can cause general email fatigue. Besides, sending email campaigns too early risks email being ignored by customers.
Therefore, timing holiday email campaigns strategically is vital for engaging as many subscribers.
4. Focus On holiday Email Content
You need to come up with messages that will capture audience attention and foster engagement. Therefore, remember to:
Use fun, festive email designs
Come up with captivating email headlines/subject lines
Provide value to attract high open rates and increase engagements
5. Know What works For Your Audience
The proper basis for any email campaign is knowing your customer's interests and preferences.
Where possible, look back at data from previous holidays, including which emails received high opening rates, clicks, and conversions.
Focus on understanding why certain emails work better compared to others. Track the performance of past campaigns to determine what works and what does not work.
Real World Examples: Create A Holiday Email Campaign
Here is an example of a successful holiday email campaign.
How Wavebreak Sent Holiday Email Campaign That Generated Over $400K In One Week
Dylan Kelley, founder of Wavebreak, a leading eCommerce email marketing agency discusses the Black Friday email that generated $400K in one week.
A little background info:
All from their existing customer base and email list.
No expensive ad spend or complicated influencer marketing campaign.
The result wasn't chance or luck.
It happened by using a proven process they call "The Big Wave" method:

Here are all the details behind the successful campaign, from Dylan himself:
Step 1) The Warm-Up
Before you even start thinking about what sale you're going to run on Black Friday, you need to warm up your email list by doing something I call "email list priming".
Here's the deal: email marketing isn't what it used to be.
You can still make a ton of money with it, but not if you just spray and pray like it's 2005.
Too many stores are sending emails on a whim and wondering why they're not getting opened and not driving sales.
Maybe a discount here and there. A product launch email occasionally.
Or worse, they don't send email campaigns consistently at all.
That's money flushed down the drain.
Avoid making this common mistake by learning how to "prime" your email list.
You want your email list nice and warmed up for Black Friday and ready to buy on demand.
Instead of sending salesy "me too" email campaigns like every other brand, send consistently send valuable content leading up to Black Friday.
To do that, you need to think about WHY and HOW people actually buy.
Send emails that address your top customer objections and answer common questions.

Send emails that feature blog posts, videos, tips and tricks, and lookbooks.

Send emails that build trust by showcasing customer reviews.

Send emails that expose the rest of your product catalog for customers.
People are lazy.
Using email marketing, you can make it easy for them to convert.
It's your job to put the content your customers need to see right under their noses.
Step 2) Create a killer Black Friday offer
Your Black Friday Cyber Monday (BFCM) offer should be your best deal of the year.
Make it a win/win:
Make it a no-brainer for people to convert.
Make it profitable for your store.
Here are a couple of examples:
Casper has done $75 off before.

Tanner Goods has offered 20% off site-wide in the past.
Step 3) A BFCM Email Sequence Worth Stealing
The average inbox is overflowing with offers on Black Friday weekend.
You can't just send one email and hope for the best.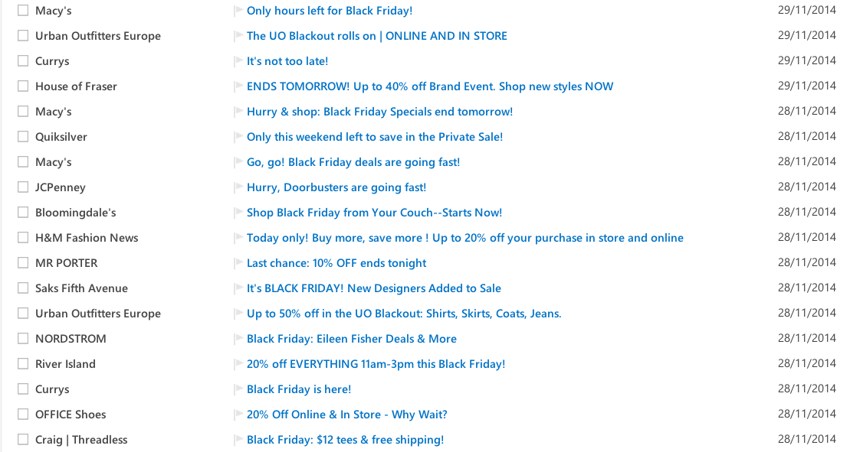 You must email your list at least daily during BFCM weekend (if not more) to stay on top of the inbox.
You could have the best subject line in the world written by Don Draper himself... if your email is at the bottom of the inbox, nobody is going to open it. Need some help?
Copy this BFCM email sequence template that's been CRUSHING year after year for e-commerce stores of all sizes.
1 - Teaser Email
Create hype before you launch your sale by sending a teaser email.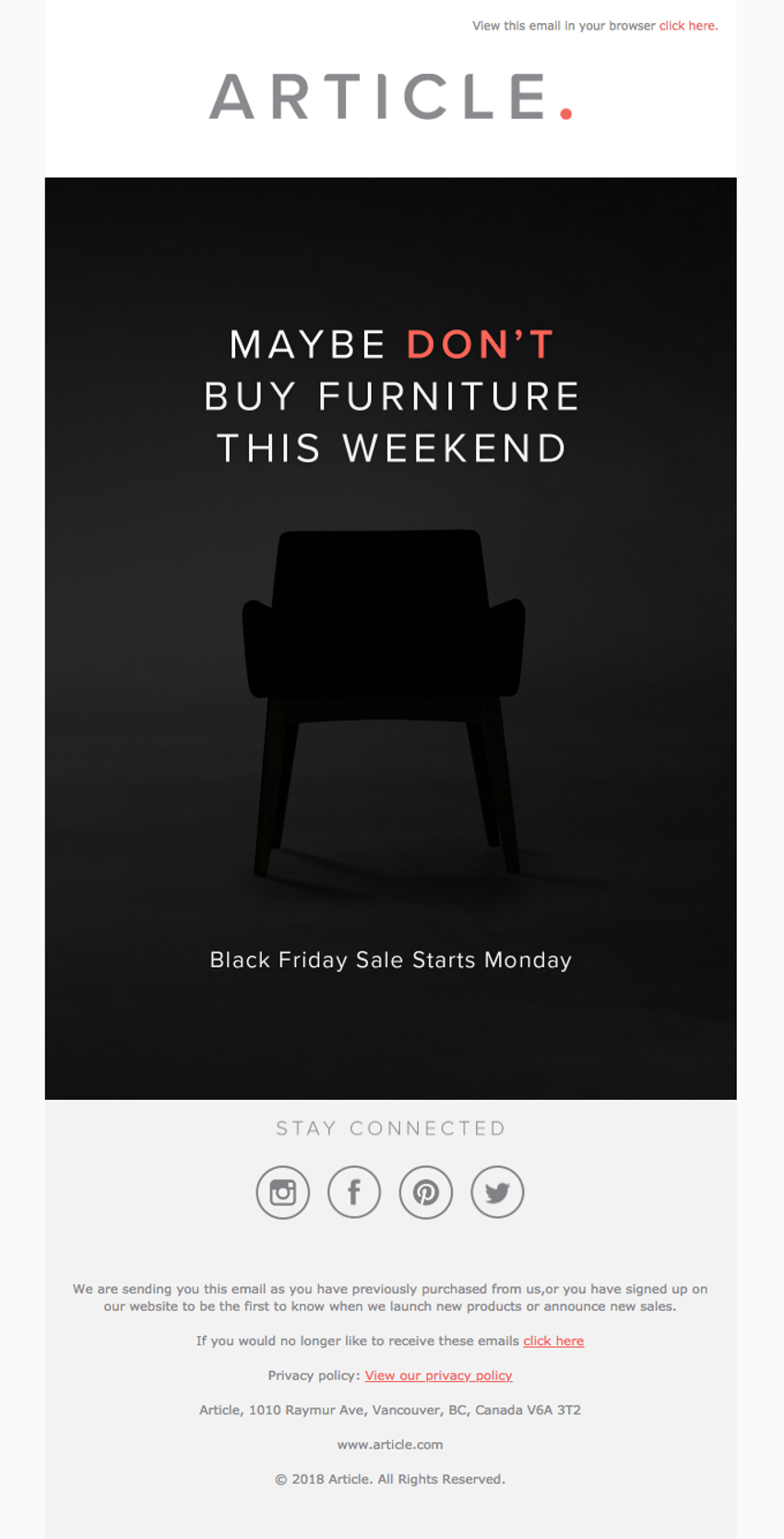 Send it a few days before your sale goes live.
2 - Announcement Email
On the morning of your sale, send this email to let your list know the sale is live.
Consider launching your sale before Thanksgiving to get a leg up over the competition.
3 - Reminder Emails
If you want any chance of smashing last year's numbers, you need to be sending multiple emails on BFCM weekend.
Follow up daily (or twice per day) during the sale.
Remind people about your amazing deal and the sale end date to manufacture urgency.
And even though you're communicating the same offer, you want the emails and subject lines to look and feel different.
Otherwise, people will skip over your emails because they think they've already seen them before.
Hit different angles to keep things fresh.
Get this part right and the sales will keep rolling in all weekend long.
4 - Final Day Email
On the last day of your sale, email your list and let them know they have less than 24 hours to save.
5 - Last Chance Email
This is one of the most profitable emails you can send.
A few hours before your sale ends, send a final reminder email.
Including copy like "ends in 3 hours" can make people convert like crazy.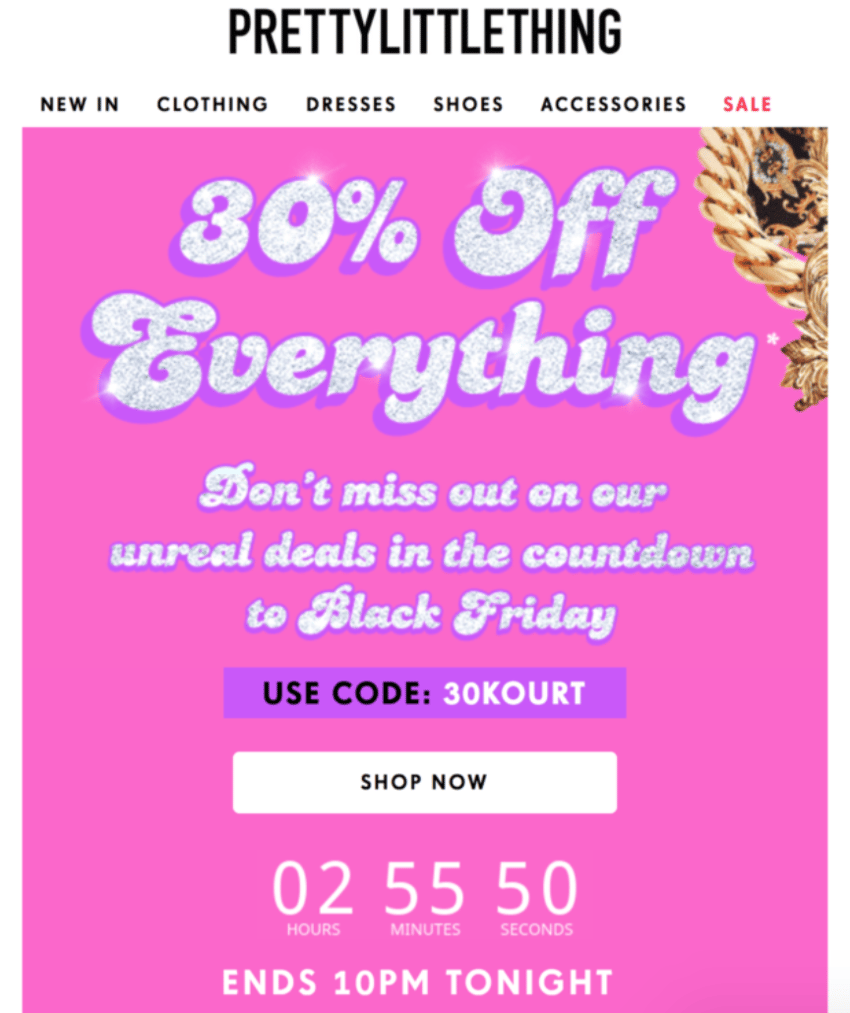 6 - Offer Extended Email
If your offer performed well, you can extend the sale for another day or two to get some more sales.
You should send this email the day after your offer ended, ideally in the morning.
7 - Final Chance Email
When your sale extension is almost over, send one last email: a final chance reminder.
Let people know this really is their final chance and you won't be extending your best deal of the year again.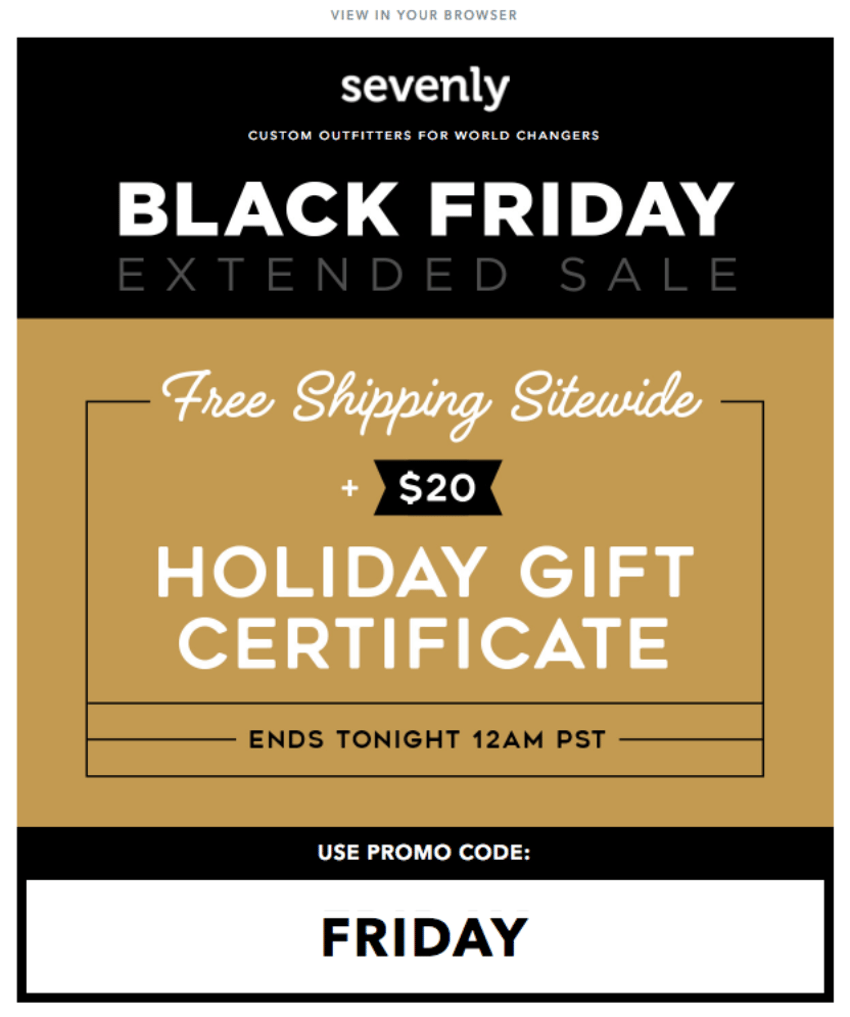 Bonus tip #1: Work harder on your emails.
You're competing with hundreds of brands. A last-minute email campaign won't cut it.
Your email design and copywriting need to be top quality with a clear call to action.
That's how you stand out from the competition during the holiday season.
Bonus tip #2: Stay on your customer's good side.
The last thing you want to do is make people mad during the holidays.
To avoid upsetting people, segment your email list and only email people who have NOT made a purchase in the last 14 days.
To summarize:
Warm-up your email list by adding value, addressing objections, and sending thoughtfully.
Come up with a killer offer.
Be assertive with your email promotion and don't be afraid of sending daily (or more).
How to Create A winning Holiday Email Campaign
1. Set specific holiday email campaign email goals
Setting defined campaign goals guides you when it comes to developing targeted campaigns.
Therefore, identify and define what exactly you want to achieve with the holiday campaigns
When setting campaign goals, start broad and get specific. Set targeted and measurable goals, and structure the campaign to meet those goals.
2. Identify KPIs and Track Them Closely
You need to pin down the KPIs that are important and relevant to your campaign.
The common metrics to track include email open rate, click rate, unsubscribe rate, and email bounce rate. The results will inform your subsequent email campaigns.
3. Craft Irresistible Email Content
Coming up with amazing email campaigns can be difficult, especially when you do not have a content strategy.
Start creating email content early enough, and consider subject lines, as well as call to actions.
When creating the email content, be sure to engage your audience in a friendly voice.
4. Choose the Right Graphics
Images attract the attention of your audience. Whether you are using video or still images, make sure you choose the best graphics, so that the email campaign is attractive.
Choose proper illustrations that create the holiday mood for a more impactful experience.
5. Include photography and video
Photos and video add an emotional connection to your email campaigns.
Therefore, adding images and videos to your campaigns makes the audience feel excitement and anticipation.
However, avoid using too many images so that the campaign does not appear cluttered or confusing to your audience.
Creating holiday email campaigns can be the best way to increase your sales and conversions in the coming holiday season.
However, you have to do your holiday email campaigns right, to attract the right audience and attain the results.
Follow the tips and learn from the example shared above to come up with the best email campaigns.
To set automated holiday campaigns, you may consider using the following email service providers:
Klaviyo
Klaviyo's the ultimate ecommerce marketing platform trusted by 50,000+ brands, like Chubbies, Living Proof, and Hint. Deliver higher-value, personalized marketing experiences across email, mobile, and web.
Up to 250 contacts: Free!
Up to 1,000 subscribers: $30 per month
Up to 2,500 subscribers: $60 per month
Up to 5,000 subscribers: $100 per month
Up to 10,000 subscribers: $150 per month

Up to 20,000 subscribers: $375 per month

Pricing: Freemium

Twitter: @klaviyo

Website: klaviyo.com
Businesses using Klaviyo:
286 successful businesses are using Klaviyo ➜
Mailjet
Up to 30k emails/month - $9/month
Up to 60k emails/month - $17/month

Up to 150k emails/month - $62/month

Pricing: Freemium

Website: mailjet.com
Businesses using Mailjet:
9 successful businesses are using Mailjet ➜
MailChimp
A marketing automation platform and an email marketing service.
The free plan, up to 2000 subscribers - what you get
Send up to 12,000 emails per month
Up to 2,000 subscribers
Email support included for 30 days
"Essentials" plan Plans start at $10 per month
Up to 5,000 subscribers $50 per month

Up to 10,000 subscribers $75 per month

Up to 25,000 subscribers $150 per month
Standard plan Plans start at $15 per month
Up to 5,000 subscribers $75 per month

Up to 10,000 subscribers $99 per month

Up to 20,000 subscribers $189 per month

Pricing: Freemium

Twitter: @MailChimp

Website: mailchimp.com
Businesses using MailChimp:
657 successful businesses are using MailChimp ➜
Contributors
Contributors to this article:
Pat Walls, Founder @ Starter Story
David Gitonga, Writer @ Starter Story
Want to start your own business?
Hey! 👋I'm Pat Walls, the founder of Starter Story.
We interview successful business owners and share the stories behind their business. By sharing these stories, we want to help you get started.
Interested in starting your own business? Join Starter Story Premium to get the greatest companion to starting and growing your business:
Connect + get advice from successful entrepreneurs
Step by step guides on how to start and grow
Exclusive and early access to the best case studies on the web
And much more!