The Black Friday Email Sequence That Generated $400K In 1 Week
•
Updated: March 17th, 2022
The Black Friday Email Sequence That Generated $400K In 1 Week
Attention ecommerce store owners: if your Black Friday email sequence doesn't look like this, you could be sabotaging your chances of hitting a home run this November.
I'm Dylan Kelley, founder of Wavebreak, a leading ecommerce email marketing agency.
We've helped top ecommerce brands all over the world maximize their email revenue.
In this guide, you'll learn the "Big Wave" email strategy that 8-figure ecommerce stores use to dominate Black Friday.
Using this exact strategy, we generated over $400k in email revenue for a client in just 1 week.

All from their existing customer base and email list.
No expensive ad spend or complicated influencer marketing campaign.
The result wasn't chance or luck.
It happened by using a proven process I call "The Big Wave" method.
Step 1) The Warm Up
Before you even start thinking about what sale you're going to run on Black Friday, you need to warm up your email list by doing something I call "email list priming".
Here's the deal: email marketing isn't what it used to be.
You can still make a ton of money with it, but not if you just spray and pray like it's 2005.
Too many stores are sending emails on a whim and wondering why they're not getting opened and not driving sales.
Maybe a discount here and there. A product launch email occasionally.
Or worse, they don't send email campaigns consistently at all.
That's money flushed down the drain.
Avoid making this common mistake by learning how to "prime" your email list.
You want your email list nice and warmed up for Black Friday and ready to buy on demand.
Instead of sending salesy "me too" email campaigns like every other brand, send consistently send valuable content leading up to Black Friday.
To do that, you need to think about WHY and HOW people actually buy.
Send emails that address your top customer objections and answer common questions.
Send emails that feature blog posts, videos, tips and tricks, and lookbooks.
Send emails that build trust by showcasing customer reviews.
Send emails that expose the rest of your product catalog for customers.
People are lazy.
Using email marketing, you can make it easy for them to convert.
It's your job to put the content your customers need to see right under their noses.
Step 2) Create a killer Black Friday offer
Your Black Friday Cyber Monday (BFCM) offer should be your best deal of the year.
Make it a win/win:
Make it a no brainer for people to convert.
Make it profitable for your store.
Here's a couple examples:
Casper has done $75 off before.
Tanner Goods has offered 20% off site wide in the past.
Step 3) A BFCM Email Sequence Worth Stealing
The average inbox is overflowing with offers on Black Friday weekend.
You can't just send one email and hope for the best.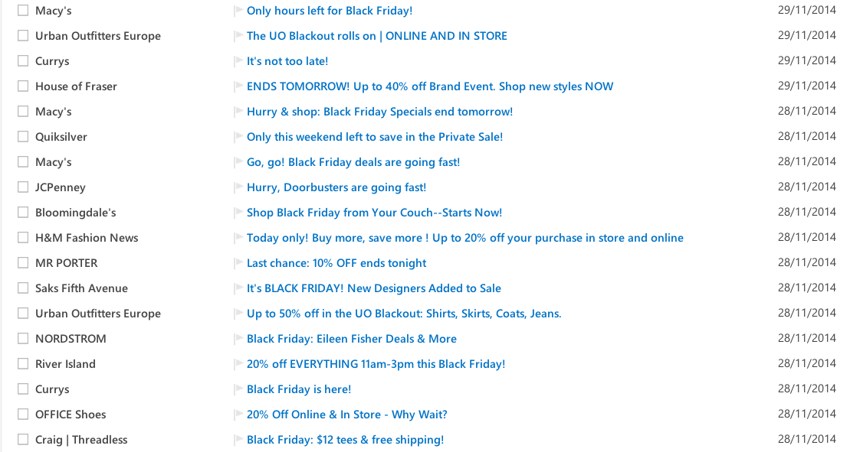 You must email your list at least daily during BFCM weekend (if not more) to stay on top of the inbox.
You could have the best subject line in the world written by Don Draper himself... if your email is at the bottom of the inbox, nobody is going to open it.
Need some help?
Copy this BFCM email sequence template that's been CRUSHING year-after-year for ecommerce stores of all sizes.
1 - Teaser Email
Create hype before you launch your sale by sending a teaser email.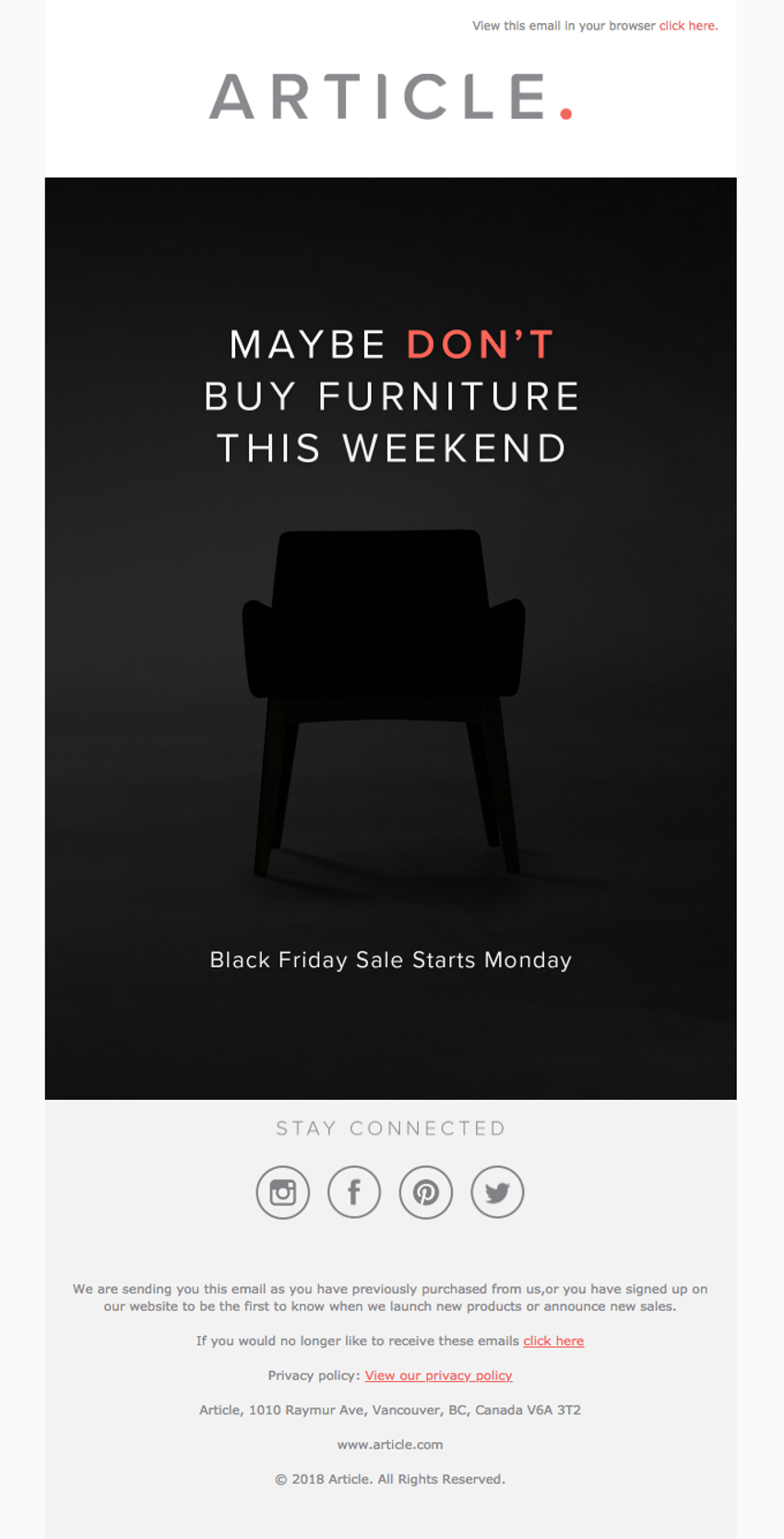 Send it a few days before your sale goes live.
2 - Announcement Email
The morning of your sale, send this email to let your list know the sale is live.
Consider launching your sale before Thanksgiving to get a leg up over the competition.
3 - Reminder Emails
If you want any chance of smashing last year's numbers, you need to be sending multiple emails on BFCM weekend.
Follow up daily (or twice per day) during the sale.
Remind people about your amazing deal and the sale end date to manufacture urgency.
And even though you're communicating the same offer, you want the emails and subject lines to look and feel different.
Otherwise people will skip over your emails because they think they've already seen them before.
Hit different angles to keep things fresh.
Get this part right and the sales will keep rolling in all weekend long.
4 - Final Day Email
On the last day of your sale, email your list and let them know they have less than 24 hours to save.
5 - Last Chance Email
This is one of the most profitable emails you can send.
A few hours before your sale ends, send a final reminder email.
Including copy like "ends in 3 hours" can make people convert like crazy.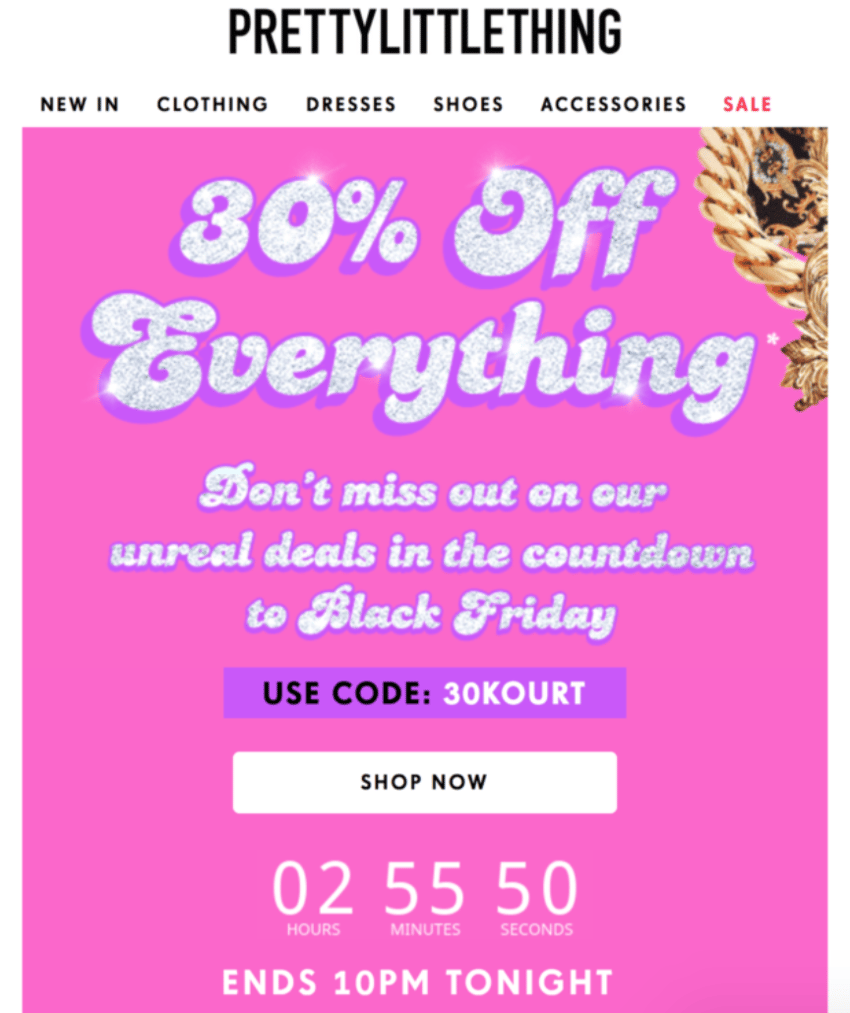 6 - Offer Extended Email
If your offer performed well, you can extend the sale for another day or two to get some more sales.
You should send this email the day after your offer ended, ideally in the morning.
7 - Final Chance Email
When your sale extension is almost over, send one last email: a final chance reminder.
Let people know this really is their final chance and you won't be extending your best deal of the year again.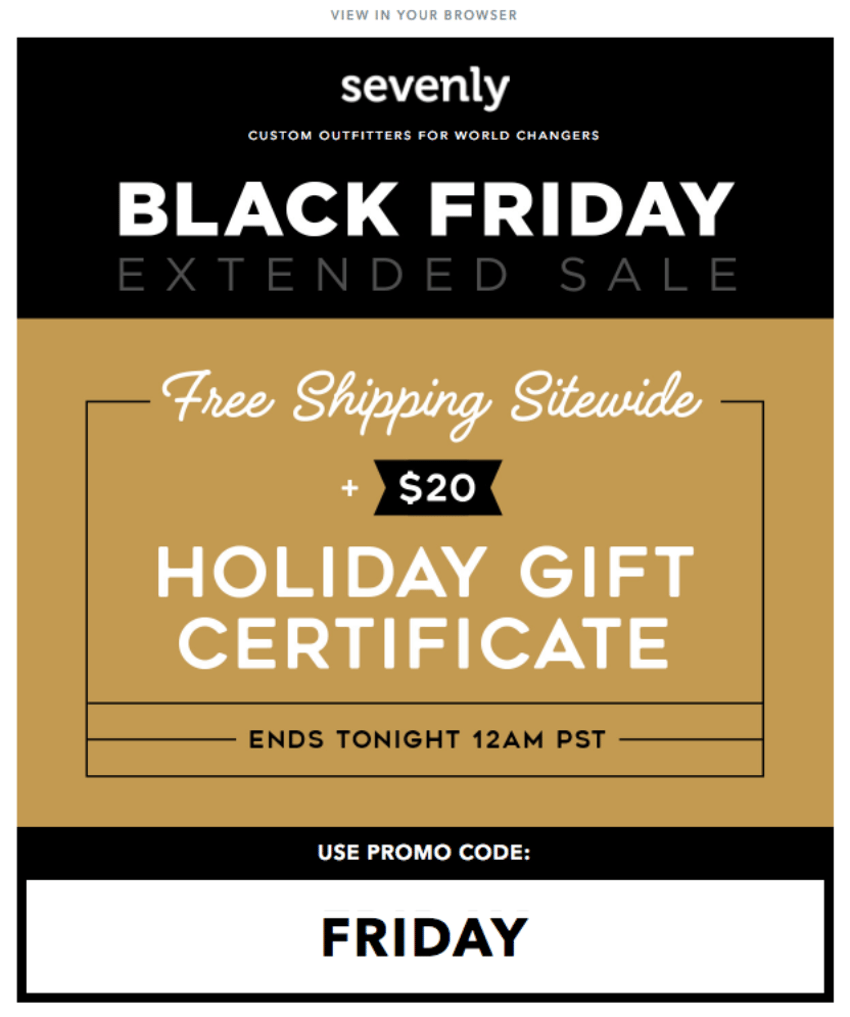 Bonus tip #1: Work harder on your emails.
You're competing with hundreds of brands. A last-minute email campaign won't cut it.
Your email design and copywriting needs to be top quality with a clear call-to-action.
That's how you stand out from the competition during the holiday season.
Bonus tip #2: Stay on your customer's good side.
The last thing you want to do is make people mad during the holidays.
To avoid upsetting people, segment your email list and only email people who have NOT made a purchase in the last 14 days.
Quick Recap + Action Items
To make things easy for you, I turned this article into step-by-step Black Friday email marketing checklist.
Click here to grab it for free.
To summarize:
Warm up your email list by adding value, addressing objections, and sending thoughtfully.
Come up with a killer offer.
Be assertive with your email promotion and don't be afraid of sending daily (or more).
Wishing you the best Black Friday ever!
-
Dylan Kelley, Founder of Wavebreak
Want to find more ideas that make money?
Hey! 👋 I'm Pat Walls, the founder of Starter Story.
Get our 5-minute email newsletter packed with business ideas and money-making opportunities, backed by real-life case studies.