Advantages Of Adding Customer Reviews On Your Website
•
Updated: October 6th, 2022
Advantages Of Adding Customer Reviews On Your Website
Result
Trust & Credibility
What Is A Customer Review?
Customer review is feedback on eCommerce and online shopping sites, left by a customer who has purchased and used or had an experience with products or company services.
Similar to user-generated content, customer reviews are generated directly from your audience.
Reviews can be a huge deciding factor for your customer on whether they will purchase your product or service.
Customer Reviews Key Takeaways
Customers are more concerned with star ratings than an actual customer testimonial
The easiest way to attract positive customer reviews is through customer satisfaction
Make review writing as easy as possible.
Handle negative customer reviews diplomatically
How Customer Reviews Can Impact Your Business
Online customer reviews allow potential consumers to get in-depth information from past customers. With just a couple of mouse clicks, a customer can determine the likelihood of enjoying satisfaction if they purchase your products or services.
According to statistics, about 95% of online shoppers read customer reviews before making a purchase. In addition, 92% of B2B buyers are more likely to purchase after reading a trusted review.
Therefore, adding customer reviews on your home page is critical to your success. Through customer reviews, businesses achieve increased sales as potential customers have the assurance of enjoying satisfaction.
Just like Yelp reviews, online customer reviews are critical to online reputation management
How To Generate Positive Customer Reviews
To generate positive customer reviews:
Provide exceptional customer service
Harness your social channels
Be prompt at replying to customer queries
Choose a customer review plugin that is easy and powerful
Leverage the moments of customer happiness and ask for a review
Reduce the time and effort needed to leave a customer review
Real World Examples Of Brands That Promote Customer Reviews On Websites
Here are a couple of examples for your inspiration.
1. Amazon Uses Customer Reviews To Attract Buyers
Amazon was one of the first online businesses to allow users to post reviews of products. To this day, this is a key reason why customers love Amazon so much and purchase items frequently.
Amazon allows any user to provide feedback and ratings on every single product. There's an entire section allocated just for this.
Additionally, they don't just showcase the positive 5-star reviews - they publish ALL reviews, which is something many businesses do not do. Users respect this level of transparency, and it supports them in making an informed decision about the product they're buying.
2. How Airbnb uses online customer reviews To Build Trust in The Community
Airbnb reviews are essential to the entire Airbnb community. Potential customers can check out Airbnb customer reviews to determine the best places to stay.
Besides, Airbnb guests can choose their travel plans wisely by looking at the reviews from other guests. Generally, the Airbnb reviews enable hosts to open their homes with confidence and attract guests who love to stay.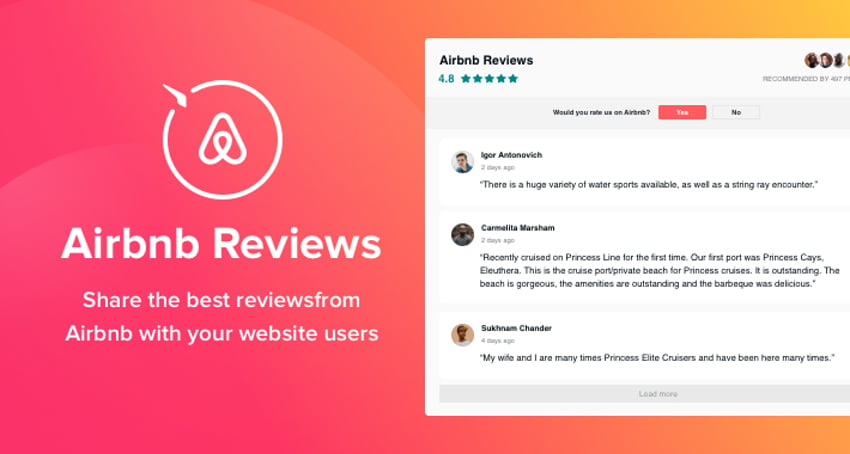 By adding customer reviews to their website, Airbnb has managed to build business through customer trust.
Best Tools For Building Customer Reviews On Your Website
Starfish Reviews
Easy to set up and configure with a familiar WP interface
Site Reviews
Allows your visitors to submit reviews with a 1-5 star rating on your website, similar to the way you would on TripAdvisor or Yelp.
Businesses using Site Reviews:
23 successful businesses are using Site Reviews ➜
Google Reviews Widget
Display Google Business Reviews on your websites in a sidebar widget.
Businesses using Google Reviews Widget:
25 successful businesses are using Google Reviews Widget ➜
Feedback Genius
Amazon seller feedback software
Businesses using Feedback Genius:
9 successful businesses are using Feedback Genius ➜
GatherUp
A customer experience and online review engine that enables insights, empowers marketing and converts customers.
Businesses using GatherUp:
Contributors
Contributors to this article:
Pat Walls, Founder @ Starter Story
David Gitonga, Writer @ Starter Story
Ankita Ghosh
Want to start your own business?
Hey! 👋I'm Pat Walls, the founder of Starter Story.
We interview successful business owners and share the stories behind their business. By sharing these stories, we want to help you get started.
Interested in starting your own business? Join Starter Story Premium to get the greatest companion to starting and growing your business:
Connect + get advice from successful entrepreneurs
Step by step guides on how to start and grow
Exclusive and early access to the best case studies on the web
And much more!