Thank you Klaviyo for sponsoring Starter Story ❤️
Turn one-time buyers into repeat customers. Try the platform loved by 265,000 brands
Ways To Increase Your Positive Yelp Reviews
•
Updated: June 29th, 2022
Ways To Increase Your Positive Yelp Reviews
This article is a part of our encyclopedia, and is editable by you. Edit ➜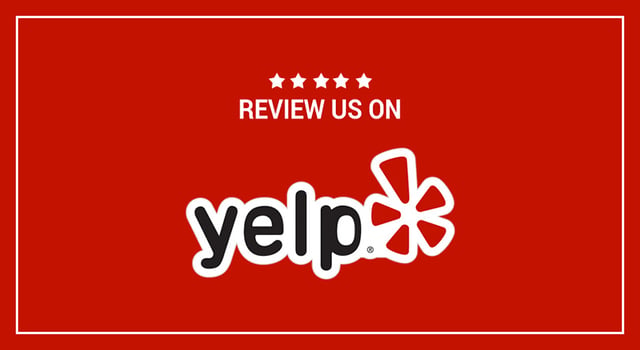 Topic
Social Media (Organic)
Result
Trust & Credibility
Cost Details
Satisfied customers will leave Yelp reviews voluntarily
Why Yelp Reviews?
Yelp is a social networking site that lets users postreviews and rate businesses. Positive Yelp reviews provide valuable input when it comes to lead generation.
According to Customer reviews data, 97% of people make a purchase after visiting Yelp. Besides, 80% of consumers visiting Yelp share businesses they find with other people.
Therefore, positive Yelp reviews can lead to greater social proof needed to inspire consumer confidence and foster customer loyalty.
Yelp Reviews Key Takeaways
If you want to get more Yelp reviews, authenticity is key.
Leverage Yelp Deals to get more customers and attract them to leaving a review of your business
Read and respond to both positive and negative yelp reviews
Claim your Yelp business page and check your profile regularly to ensure the information posted is accurate
Understanding How Yelp Reviews Work
Yelp provides a one-stop local platform for consumers to discover, connect and transact with local businesses of all sizes.
The platform provides visitors access to unmatched local business information, photos, and authentic review content. Yelp reviews are helpful in attracting new customers to the business.
Therefore, Yelp is a cost-effective advertising platform for local businesses. It is widely accepted in the US as an effective way to search and find local businesses.
Once a business has a critical mass of positive reviews, it can appear in more relevant search results, attracting new business opportunities.
Real-World Examples of Brands With Positive Yelp Reputation
1.eBoost Consulting
eBoost Consulting is a top-rated, award-winning digital marketing agency specializing in Facebook Ads, Instagram Ads, Google Ads, and Amazon Ads management.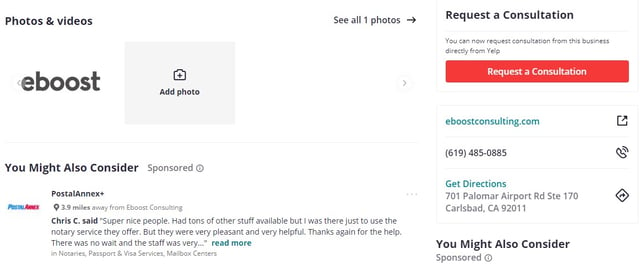 The company has incorporated Yelp reviews as part of its strategy to build a positive brand reputation. Ensuring positive reviews on Yelp has helped the business to establish a positive reputation.
To attract business from potential customers, the company has ensured a complete profile that includes providing contact information so that potential customers can call and request services.
2. ROAMERICA
ROAMERICA, an RV rental business in Hood River, Oregon, has maintained a positive reputation on Yelp.

The business owner has ensured a complete profile on Yelp, which is key to ensuring potential customers can discover the business. Including business, information helps Yelp to list the business whenever customers search online.
Ways To Increase Your Positive Yelp Reviews
Ensure excellent services or products
Create an excellent customer service
Include "Go check us out on Yelp" to create awareness for your consumers
Embed positive Yelp reviews on your website
Share favorite reviews on social media
Do not violate Yelp Terms and conditions
Have you registered and claimed your business on Yelp? If not, create a Yelp account and practice the tips listed above to get positive reviews.
Yelp
User reviews and recommendations of best restaurants, shopping, nightlife, food, entertainment, things to do, services and more.
Businesses using Yelp:
60 successful businesses are using Yelp ➜
Create Yelp ads to gain more views on Yelp.
Yelp Ads
Puts your business in front of consumers nearby who are looking to make a purchase.
Businesses using Yelp Ads:
6 successful businesses are using Yelp Ads ➜
Contributors
Contributors to this article:
Pat Walls, Founder @ Starter Story
David Gitonga, Writer @ Starter Story
Want to start your own business?
Hey! 👋I'm Pat Walls, the founder of Starter Story.
We interview successful business owners and share the stories behind their business. By sharing these stories, we want to help you get started.
Interested in starting your own business? Join Starter Story Premium to get the greatest companion to starting and growing your business:
Connect + get advice from successful entrepreneurs
Step by step guides on how to start and grow
Exclusive and early access to the best case studies on the web
And much more!
PROMOTED
Did you know that brands using Klaviyo average a 95x ROI?
Email, SMS, and more — Klaviyo brings your marketing all together, fueling growth without burning through time and resources.
Deliver more relevant email and text messages — powered by your data. Klaviyo helps you turn one-time buyers into repeat customers with all the power of an enterprise solution and none of the complexity.
Join Brumate, Beardbrand, and the 265,000 other businesses using Klaviyo to grow their online sales.
Starter Story
Wanna see 52 business ideas you can start with less than $1,000?
Join our free weekly newsletter and get them right now.