Thank you Klaviyo for sponsoring Starter Story ❤️
Turn one-time buyers into repeat customers. Try the platform loved by 265,000 brands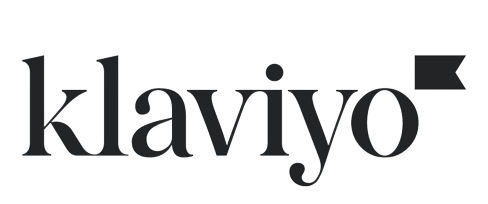 How A Side Hustle Became A $100K/Month Full Service Marketing Agency
How A Side Hustle Became A $100K/Month Full Service Marketing Agency
Hello! Who are you and what business did you start?
Hello, My name is Roger Sievers, and I founded Sievers Creative. Sievers Creative is a full-service marketing agency located in Red Wing, MN. We are a marketing and design agency in Minnesota that helps local businesses gain a competitive edge in today's crowded market.
We specialize in multi-channel marketing campaigns, including SEO, PPC, social media, email, graphic design, programmatic advertising, and website design. Year over year, we've experienced a 50-60% growth in revenue.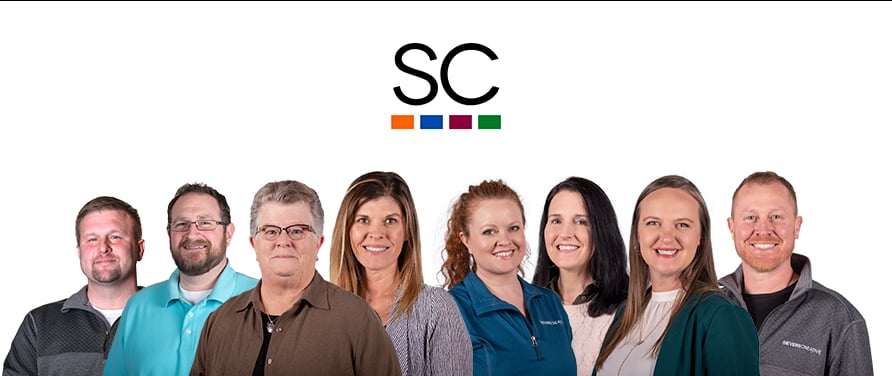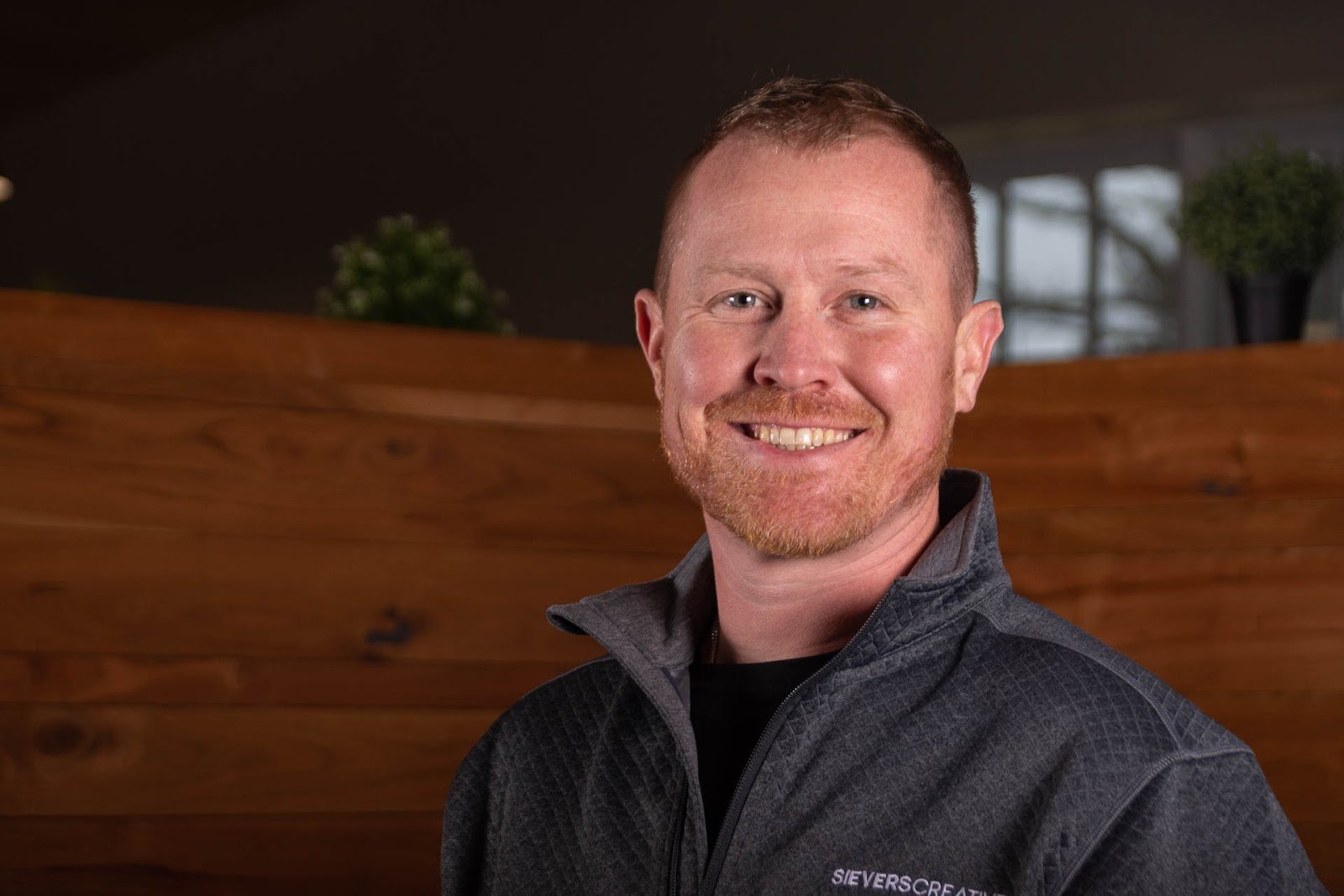 Founder / Roger Sievers
What's your backstory and how did you come up with the idea?
Sievers Creative was started as a side hustle to pay off my student loans early. I always felt like there was a certain size of business that was underserved by larger agencies.
So I spent nights after work and weekends self-developing the skills I needed. I had a degree in graphic design but had to develop all of the digital marketing, video, and website design skills. After working on side projects over the course of 7-8 years, the side hustle turned into a full-time "side job."
At that time, I was working as a digital marketing manager for a local media organization. Trying to fulfill the demands of both companies left me in burnout mode. That's when Jessica and Renee (co-owners) stepped in to take the company to a new level.
Without risk there is no reward. It is always an important step for any entrepreneur to evaluate what is holding them back.
Within 9 months of them stepping in and helping take over the company, they came to me and said they needed me full time. At that point, I tendered my resignation from the media company and jumped into Sievers Creative full-time.
After 4 years of full-time effort and focus being poured into Sievers Creative, we are now a team of 8 and experiencing growth of roughly 40-50% year over year.
Take us through the process of designing your services.
When we started our set of services, we focused on graphic design, web design, and video production. These basic skills that we had. However, after starting to work on digital marketing campaigns, we quickly found that we were good it at. So with the ability to create amazing content, we started creating multi-channel marketing campaigns, and our clients found huge success. Then so did we.
We focused on building marketing solutions that provided tangible results. So rather than focusing on revenue and profit, we decided to take a client-centered approach and find solid marketing solutions that worked for a variety of industries.
When we started building websites in hand-coded HTML and PHP, however, it quickly became evident that utilizing an open-source CMS was going to be the future of web development.
We started experimenting with WordPress and creating custom themes for our clients. Within 1-to 2 years, we developed a solid design and development practice, a list of highly trusted premium WordPress plugins, and a solid hosting partner.
After our web development section of the company was complete, we moved on to find the highest quality online advertising mediums, did a massive amount of testing, and then started applying the winning techniques to our clients. We tested long-term SEO plans, PPC Campaigns, Social Media Ad Campaigns, as well as a variety of online video campaigns.
Describe the process of launching the business.
I initially launched it as a side hustle to help pay down my student loans. Never had startup capital, never went into debt borrowing money. I worked tirelessly after work, before work, and on weekends to build a solid customer list. My full-time job was developing the digital marketing arm (products, sales training, etc) of a large traditional media organization.
The idea we started with was to create an agency-quality product at a price local businesses could afford. That idea morphed into creating a company that our clients LOVED working with. We shifted our focus to agency quality AND creating relationships. I eventually became so busy that I was starting to burn out. That is when Renee and Jessica (co-owners) stepped in and started managing day-to-day operations at the company.
Get up every morning 2 hours before everyone else and invests in your self-development. Read, write, explore, or whatever is necessary to grow as an individual.
When we decided to take our company full time, we realized that the company needed our full-time attention, not our side hustle attention. Once we gave our company our full effort and attention, the company started growing by leaps and bounds.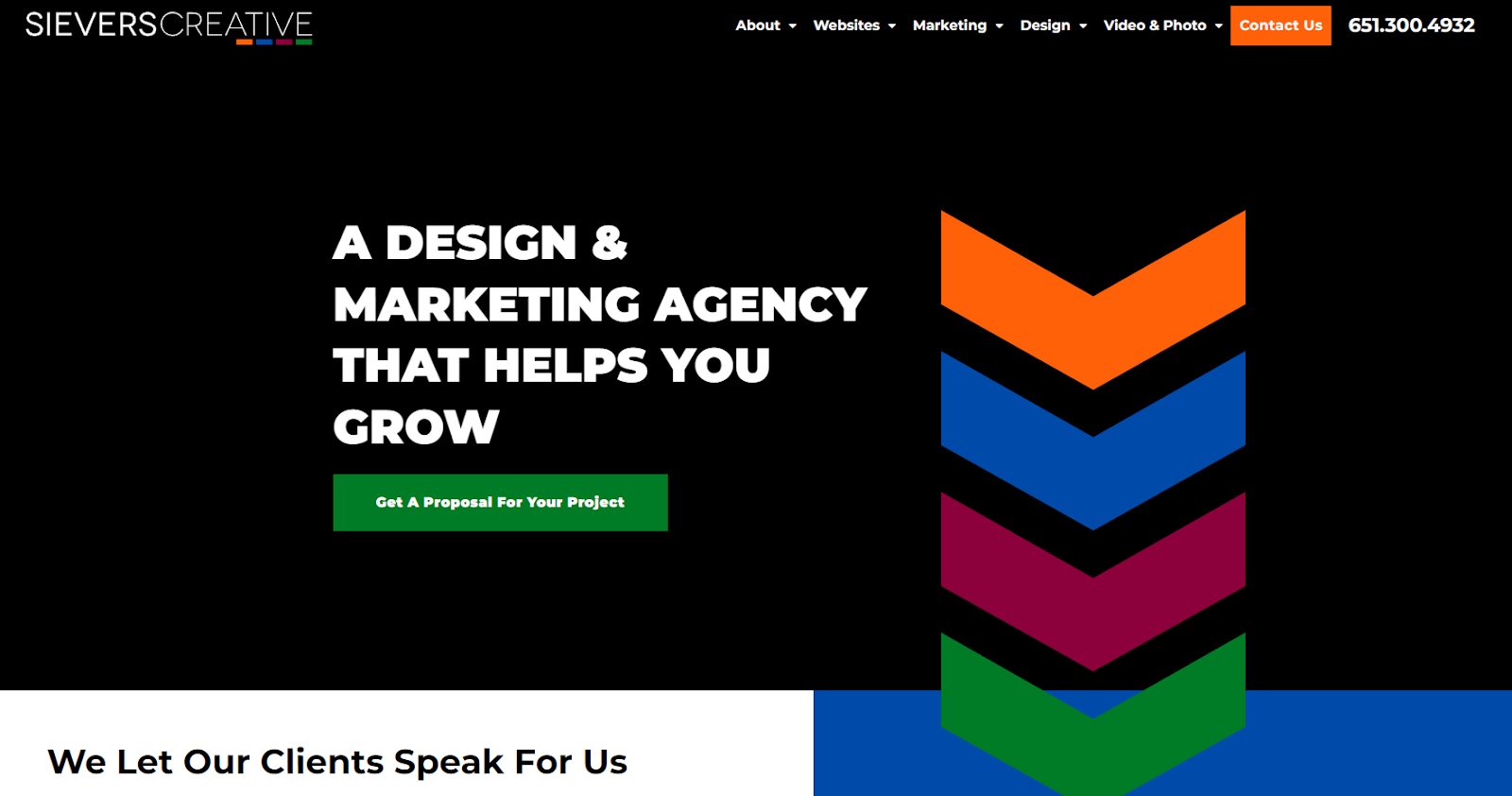 Since launch, what has worked to attract and retain customers?
We have focused on building relationships with our clients in tandem with bringing them results that help them grow their businesses. We've been part of the success stories of many of our clients. I think a solid name and positive reputation in the communities we serve is most likely the best fuel for the growth we've experienced.
To attract clients we've done many different things. Word of mouth has always helped us significantly, but we also built up a great online reputation, strong SEO campaigns utilizing keyword research, backlink acquisition, amazing content, social media, website retargeting, as well as targeted paid search.
Lastly, in small to medium-sized communities, networking events seem to always help get your name out there to other businesses that need your services.
Display/ retrageting: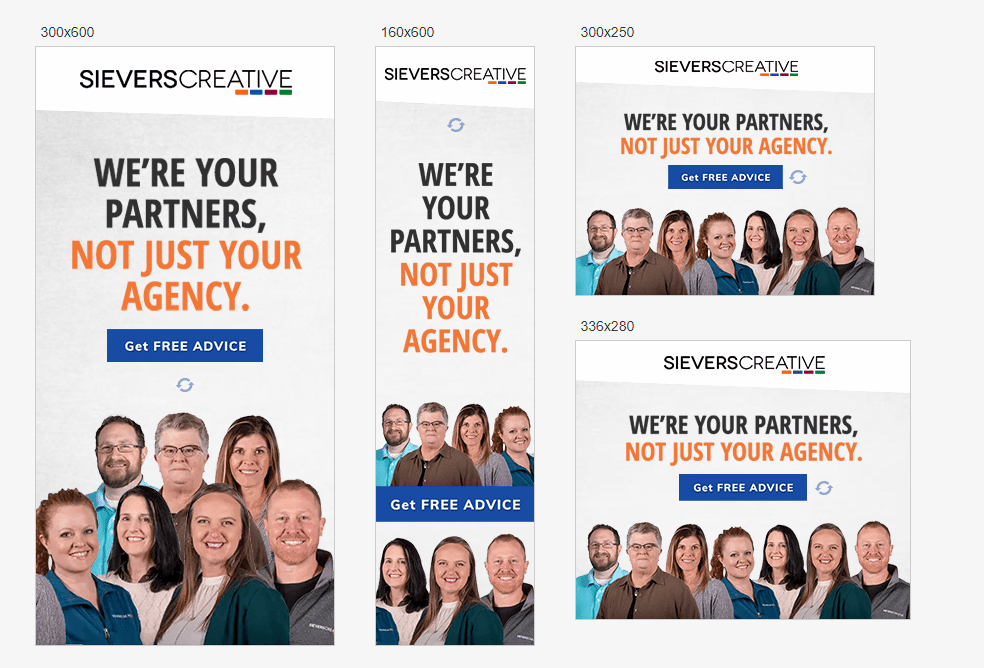 Facebook ad: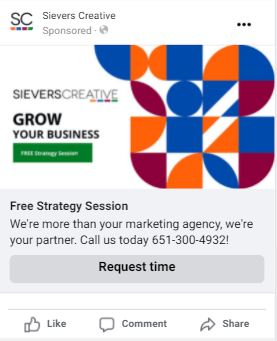 Email automation intro email: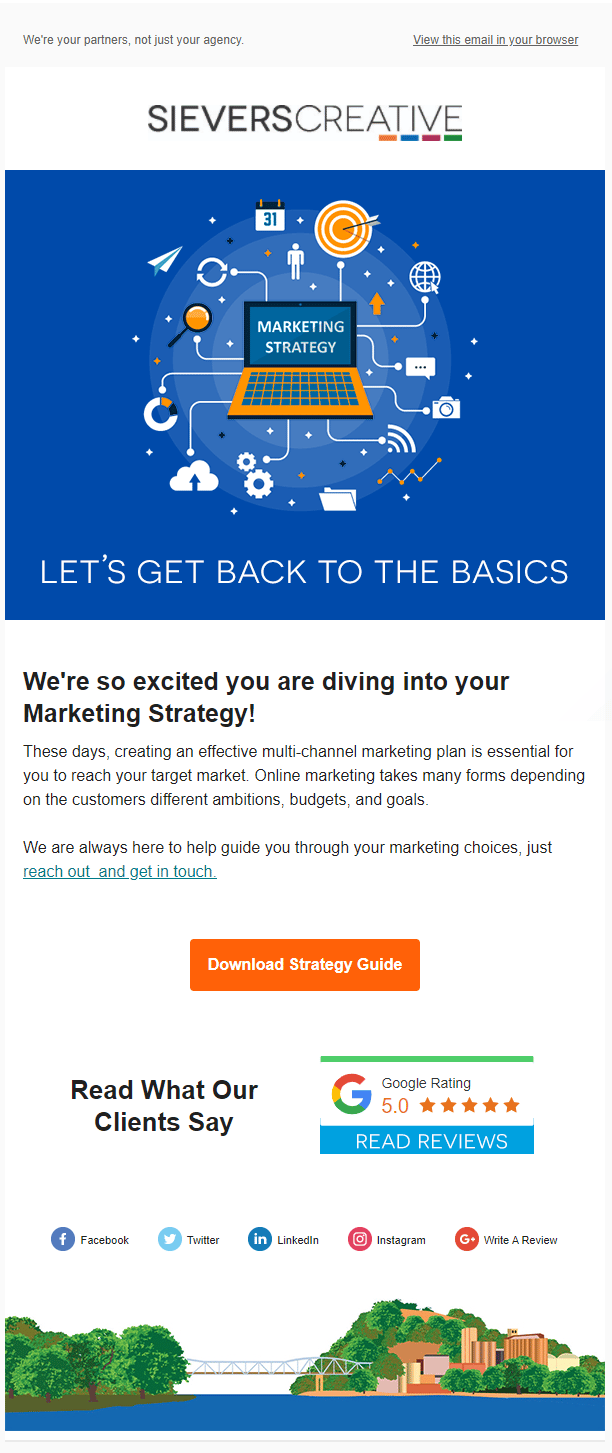 How are you doing today and what does the future look like?
We are doing phenomenal, in our 5th straight year of over 40% YoY growth. Looking to hire more talented people in the coming year. We can give back locally and internationally, can offer good benefits and work-life balance for our team, and have the flexibility to innovate as we grow.
The future for us holds some amazing possibilities, can't give away too much detail, but we're looking to start developing some products of our own.
Through starting the business, have you learned anything particularly helpful or advantageous?
That without risk there is no reward. It is always an important step for any entrepreneur to evaluate what is holding them back. When I was getting ready to leave my full-time job and benefits with a wife and two young kids, I was scared. What if things didn't work out? However, I realized that I needed to believe in my most important product…. Me. It was a huge risk to jump off of my full-time comfortable position and go full-time at Sievers Creative. It was for all of us. Without us leaping into full-time marketing agency work, we would have never realized our true potential. We're now able to live that out every day.
We've also found that aligning yourself and your company with the right people makes all of the difference. Choose the people you surround yourself with carefully, and hire the right people.
What platform/tools do you use for your business?
We use almost every platform out there but tend to lean towards the best ones.
We develop a lot of websites in WordPress/WooCommerce.
We utilize a full range of programmatic advertising via The Trade Desk (native, online display, CTV< OTT,m streaming audio, geofencing, etc),
We also spend a lot of time testing new tools and platforms. Just because the tools we currently use are the best right now, they may not always be. So we choose to always be on the lookout for something that may be a game-changer.
What have been the most influential books, podcasts, or other resources?
Best books… hmmm.
Are good starters.
Advice for other entrepreneurs who want to get started or are just starting out?
My advice is to trust your instincts and act. What I've come to find is that the difference between someone who makes a successful business and someone who wishes they did, is the first step in making your path.
Get up every morning 2 hours before everyone else and invest in your self-development. Read, write, explore, or whatever is necessary to grow as an individual. I've found that by doing this, I accomplish more before the workday starts than many people do in the first half of each day.
Are you looking to hire for certain positions right now?
We are looking for digital marketing account managers and web designers, pretty much always. In the future, finding someone that can help link and leverage different technologies and not be afraid to break things and learn from them will be valuable as well.
Where can we go to learn more?
If you have any questions or comments, drop a comment below!
-
Roger Sievers, Founder of Sievers Creative
Want to start your own business?
Hey! 👋I'm Pat Walls, the founder of Starter Story.
We interview successful business owners and share the stories behind their business. By sharing these stories, we want to help you get started.
Interested in starting your own business? Join Starter Story Premium to get the greatest companion to starting and growing your business:
Connect + get advice from successful entrepreneurs
Step by step guides on how to start and grow
Exclusive and early access to the best case studies on the web
And much more!
PROMOTED
Did you know that brands using Klaviyo average a 95x ROI?
Email, SMS, and more — Klaviyo brings your marketing all together, fueling growth without burning through time and resources.
Deliver more relevant email and text messages — powered by your data. Klaviyo helps you turn one-time buyers into repeat customers with all the power of an enterprise solution and none of the complexity.
Join Brumate, Beardbrand, and the 265,000 other businesses using Klaviyo to grow their online sales.
Starter Story
Wanna see 52 business ideas you can start with less than $1,000?
Join our free weekly newsletter and get them right now.