I Built A Motorcycle Brand Earning $2.8M/Year [Featured In The New York Times]
•
Published: August 26th, 2021
Start A Motorcycle Sales Business
Hello! Who are you and what business did you start?
My name is Richard Worsham and I am a co-founder and lead designer at Janus Motorcycles, a motorcycle manufacturer building handmade, classically styled, lightweight motorcycles in northern Indiana. Janus is the ancient Roman god with two faces who simultaneously looks to both the past and the future. As the god of doorways and journeys, we thought this timelessness perfectly represented our classic motorcycles and manufacturing ethos. Janus Motorcycles focuses on building a line of simple motorcycles using traditional design, materials, and craftsmanship. We have produced our flagship model, the Halcyon, in various configurations for almost 9 years and just launched our latest iteration, the Halcyon 450 Motorcycle, this spring.
Our customers range from experienced riders looking for a lighter motorcycle to add to their garage, to new riders who have fallen in love with the classic styling of our model line. The typical Janus is distinguished from other production motorcycles by its comparative lightweight, ease of operation, distinctive looks, hand pinstriping, manageable power, and lack of plastic.
We offer extensive options for customization with a full menu of colors, upgrades, and add-ons that help each owner make their Janus their own. Unlike most other vehicle manufacturers, we are a direct-to-consumer brand, meaning that we design, build, market, sell, and service our entire line from our headquarters in Goshen, Indiana.
Because our motorcycles are so simple to ride and service, we can rely on an in-house service team, an extensive YouTube library of information and repair videos, and third-party repair shops around the country to provide service and maintenance for our growing owner base. Over the past 5 years, we have steadily increased sales by around 40% each year.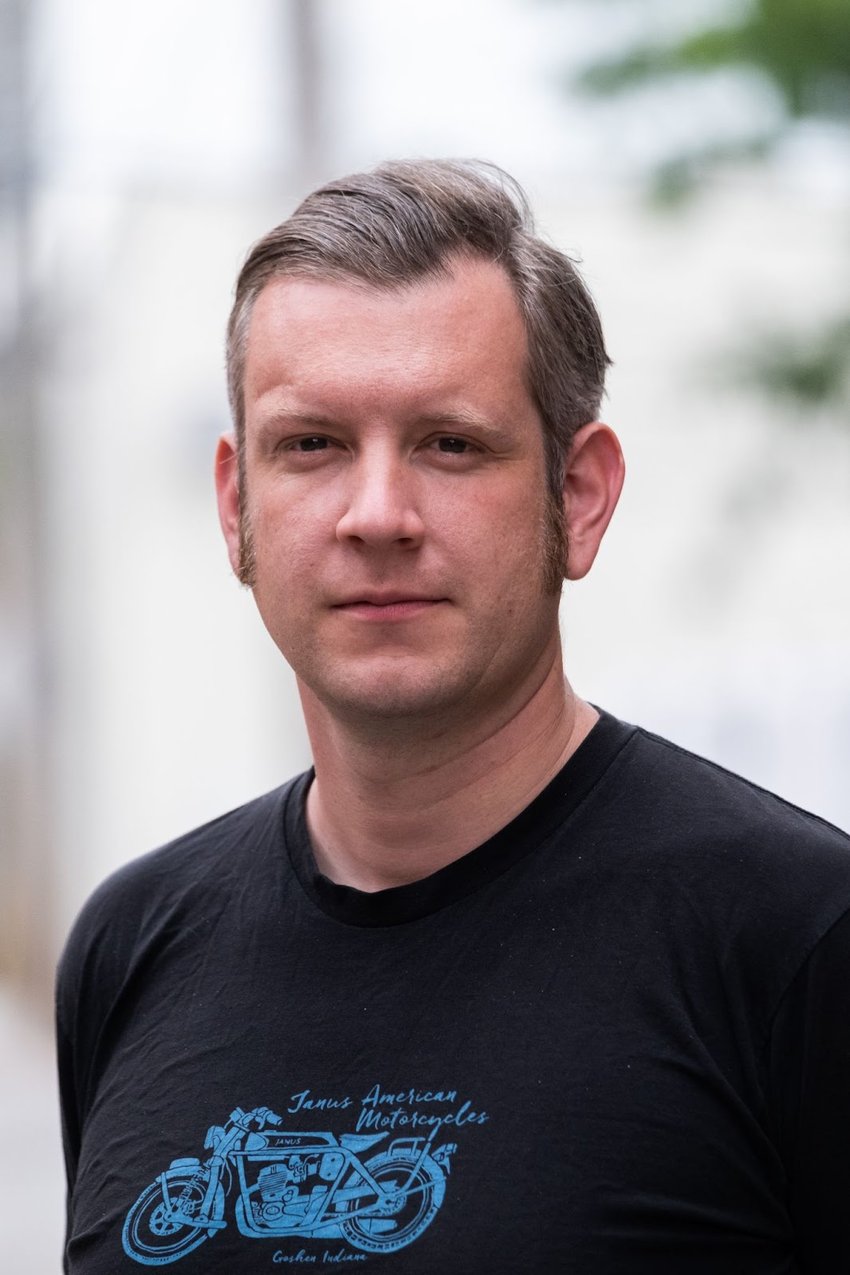 What's your backstory and how did you come up with the idea?
Although I am trained as an architect, I have been fascinated with automotive design from an early age and rode and worked on vintage small-displacement bikes over the summers at my co-founder's restoration and repair shop while attending graduate school. That experience riding, working on, repairing, and customizing vintage bikes and developing aftermarket and performance components for them was the main inspiration for founding Janus.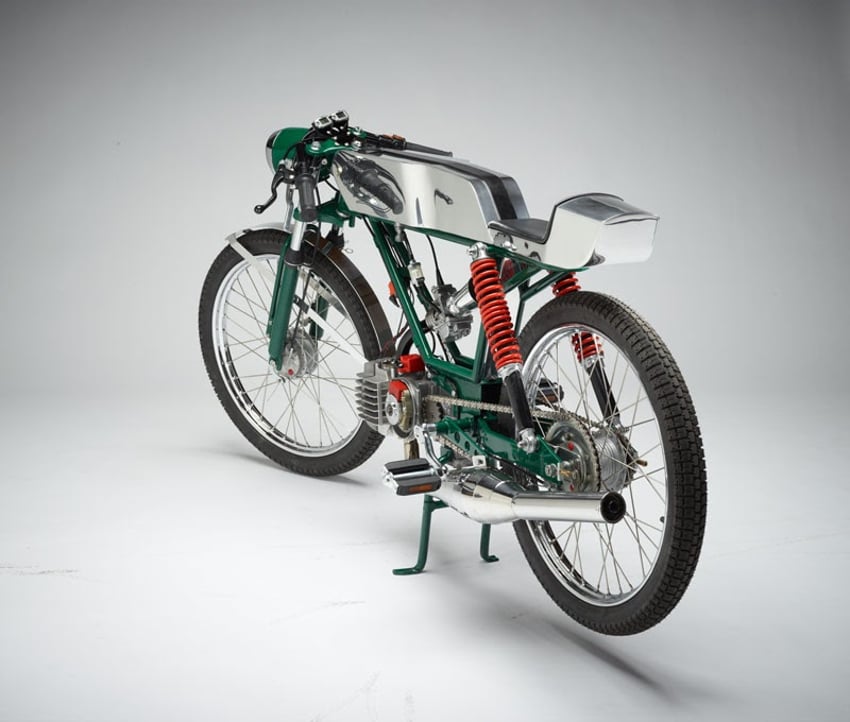 The Paragon
After building a one-off custom bike completely from scratch, we decided to leverage our rich local manufacturing resources and build a contemporary version of the fun, small vintage bikes we had fallen in love with. My partner's background in the aftermarket parts industry and our knowledge of the small-bike culture was our main strength at the time and gave us the confidence to make the jump to starting Janus.
One test we try to apply to difficult decisions is quite simple: is this going to be something we will be proud of in ten years?
The idea for the company almost formed itself, we just had to make ourselves available for it. It was our choosing to dedicate ourselves to the project that, in retrospect, was the most important moment in the founding of the company. Once we decided to start the company, we simply focused on raising the initial capital to get the company off the ground and bringing out the first model. My business partner had his aftermarket parts business to lean on as we got started and I took freelance design jobs and did a stint working out-of-state in the architectural field as we gradually built up the brand. During those first few years, we essentially rolled the funds from one bike into the next and relied on passion and side work to pay our bills.
Initially, we did little to validate the product, releasing what has become our flagship model almost as an afterthought ahead of the model we thought would be best received. As we have brought out more models and become more familiar with our audience, we have used customer surveys, emails, social media comments, and our experience speaking with customers around the country to tune the product to the market while retaining our vision for a Janus motorcycle.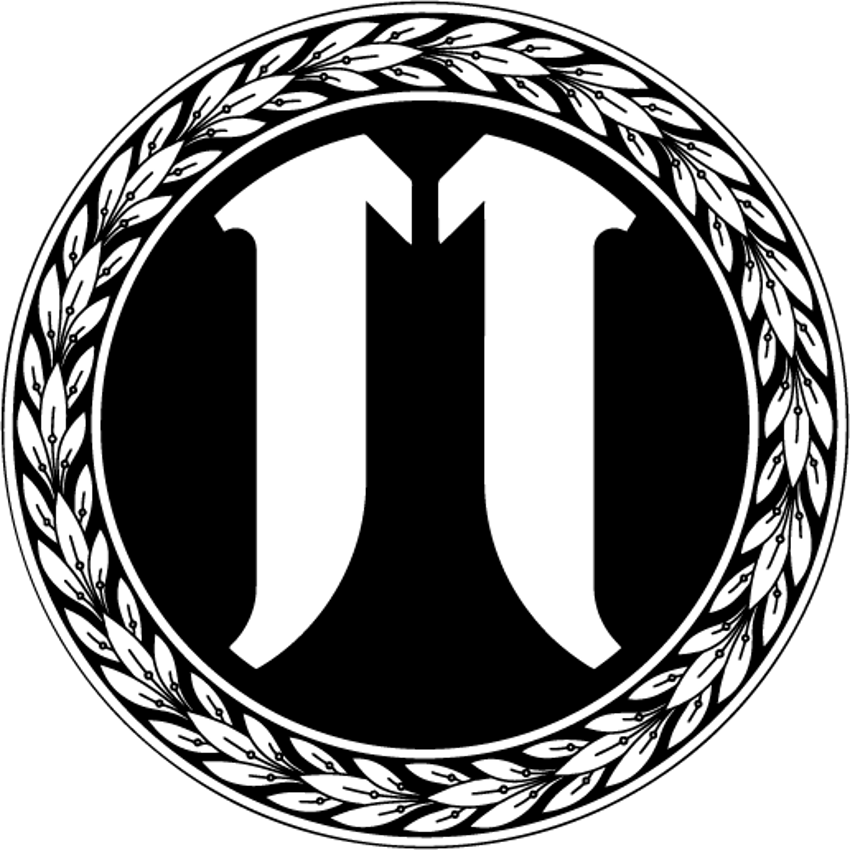 Take us through the process of designing, prototyping, and manufacturing your first product.
Janus has always been very product-driven. Instead of designing a product that perfectly met demand, we designed with very little compromise what we thought was the perfect motorcycle. By focusing on a very specific design brief, we were able to find a niche customer base who valued the timeless styling and craftsmanship around which we built the brand.
Because we and our customers value classic styling and traditional design, we began by spending a lot of time with historic designs, pouring through vintage car and motorcycle books, going to shows, and learning anything we could about the history and philosophy of Powersports. Our design process has changed dramatically over the years. Initially, we used our experience gained in the custom bike world to fabricate each part in the shop, following a schematic hand drawing or just working out the details as we went.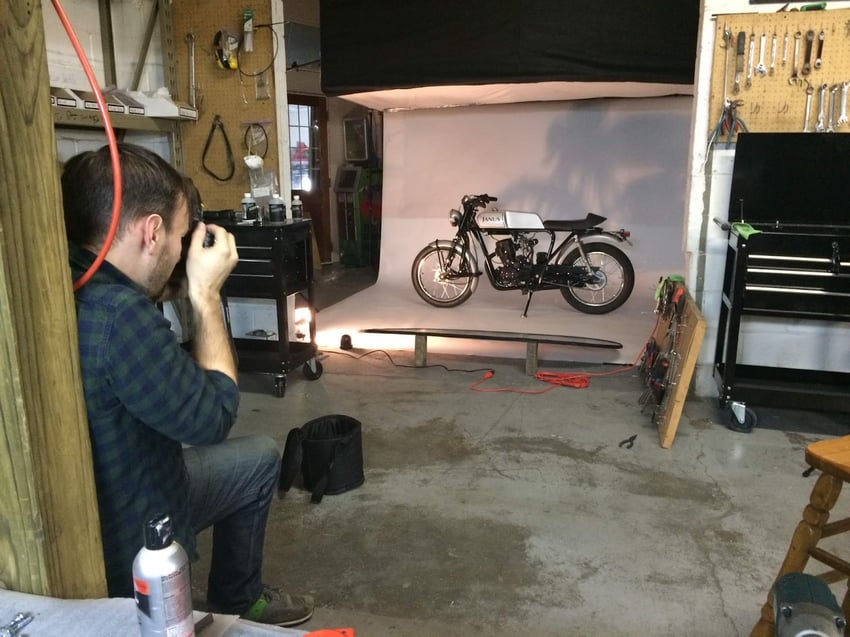 Grant photographing the first 250 prototypes in our homemade lightbox
As we continued to develop the model line, the number of components increased and the need for more versatile and sustainable design documentation helped us shift towards more advanced design and revision release software. This has helped us to be able to perform more and more of the design virtually with increased speed prototyping and developing new parts and model lines. We often say that we are not seeking to redesign the wheel or the motorcycle, but rather find new ways to capture the thrill of the open road. When we have a design question, our first direction is usually to ask how did such and such a company address this issue when they ran into it?
One of the most important decisions we made early on with Janus was that we were not going to start by doing everything. With just the two of us, we decided to outsource all but the final fit, finish, and assembly to local manufacturing businesses. We partnered with local shops for the chassis, suspension, fuel tanks, fenders, specialty hardware, axles, etc. Leather goods come from a harness maker a mile and a half from the frame shop; sandblasting and polish are just up the road, as are our machinist, powder coater, and laser cutter. For other specific components, we had to go further afield. Shock absorbers come from Australia, 250 engines from China, lighting from Taiwan. By outsourcing or partnering with local and international suppliers we were able to maintain our focus on the design, final assembly, and marketing of the bikes.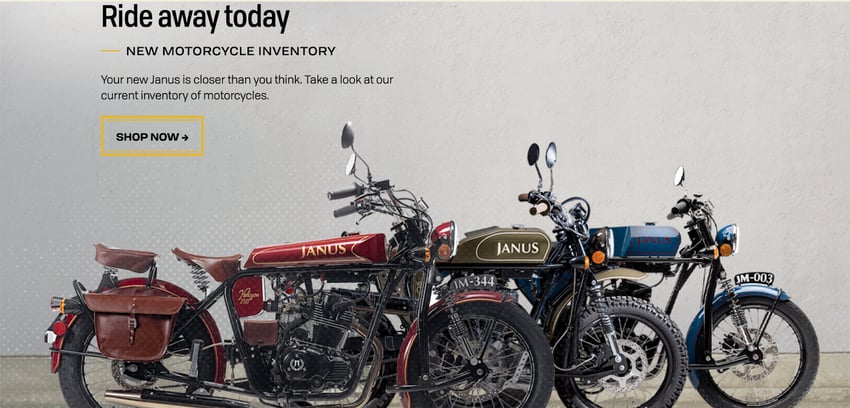 Describe the process of launching Janus.
Janus Motorcycles had a humble start in the loft of a vintage moped shop in the fall of 2011.
We sealed off part of the loft with plastic and kept it warm around a space heater, hosting business partners and potential investors on dented folding chairs and working on the prototype on the shop floor below. Through word of mouth and local entrepreneurs who found the idea captivating, we were put in touch with a local investment group that had us pitch our idea.
That initial pitch secured a $25K loan to get things off the ground. For us, this meant setting up the legal entity, vehicle identification numbering (VIN) system, working through US highway safety regulations, and designing and building the prototype. We formally launched the brand in the spring of 2012 with the debut of our prototype and a simple WordPress site.
The faster we can move an idea forward and learn if it doesn't work, the better we can move on to the next solution.
From there, production moved slowly from one individual bike to the next, with constant design and engineering improvements along the way. For the first few years, we divided the work between us, my business partner overseeing production and performing the assembly, while I handled design and sales & marketing. During this phase of the company, we relied on alternate sources of income from work on the side, or in my case, a patient spouse.
In the summer of 2014, we added two new business partners who brought with them considerable marketing and video production skill and experience. With these new skill sets and additional manpower, we planned the launch of the second Halcyon iteration, the Halcyon 250. This would require full emissions and highway safety certification for larger-scale production. To fund this growth, we decided to launch a Kickstarter campaign around a line of motorcycle luggage and gear that we had been developing on the side. We successfully raised $30K through that Kickstarter, but more importantly, we caught the attention of two experienced local entrepreneurs and investors who were captivated by the idea and helped us accelerate our growth and turn the idea into a more fully-fledged company.
Since launch, what has worked to attract and retain customers?
Initially, we marketed the brand through word-of-mouth and organic stories and articles that featured our bikes. We would share posts on social media but did not run paid ads. However, with the addition of more marketing-savvy partners, we redesigned our website and began running paid Facebook and Google campaigns. Eventually, we landed some high-profile stories in the Wall Street Journal, New York Times, Robb Report as well as other industry publications that helped us reach a larger audience. Gaining the attention of larger publications like this was a combination of having been around long enough to build up a reputation and sending out compelling press releases to a network of media contacts we made over the years.
Beginning in the fall of 2018 we launched a new sales initiative: the Discovery Day. Twice a month, we opened our shop to small groups of prospective customers who would sign up in advance for a full tour of the assembly, pinstriping, testing, and design process. Customers began to pour into the Discovery Days from around the country, flying or driving in to tour the plant, meet the production crew, and order their own Janus motorcycles. More recently, we have been featured on Jay Leno's Garage and invited to represent Indiana manufacturing at the White House.
A Discovery Day at the Janus shop
We strive to offer the best ownership experience we can with a very competitive warranty, personalized service, and down-to-earth Midwestern hospitality. Our owners can call us with any issues or questions and we can either walk them through the solution in person or with in-depth videos from our extensive YouTube library. For the past three years, we have hosted an annual owner's rally at our shop with owners coming in from around the country. We also have owner's forums both on our site as well as on Facebook to provide a place to continue the Janus experience and help foster a community among our owners.
We have a full merchandise, apparel, and luggage line with a variety of price points for prospective or existing customers, or just folks who enjoy the Janus story.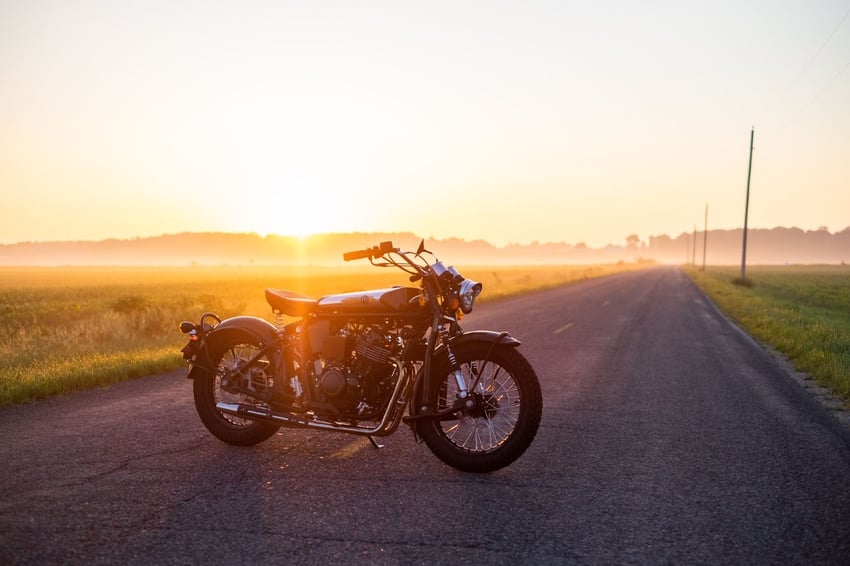 How are you doing today and what does the future look like?
Our Halcyon 250 Motorcycle continues to be our flagship product, although we just launched our newest model, the Halcyon 450, this spring.
The 250 line, which features three models, including the Halcyon, has become our bread and butter and is the framework around which we structure the drumbeat of the company. Everything from sales through assembly, purchasing, and delivery revolves around the steady flow of 250s leaving the shop.
Meanwhile, we are working on preparing the 450 models for production which is set to begin next month. We currently employ 16 full-time positions from assembly to certification, pinstriping, purchasing, sales, operations, engineering, chassis fabrication, service, and fender forming.
Our short-term goal is to enter production with the new model and work out the kinks in that production over the coming months as we gradually increase production.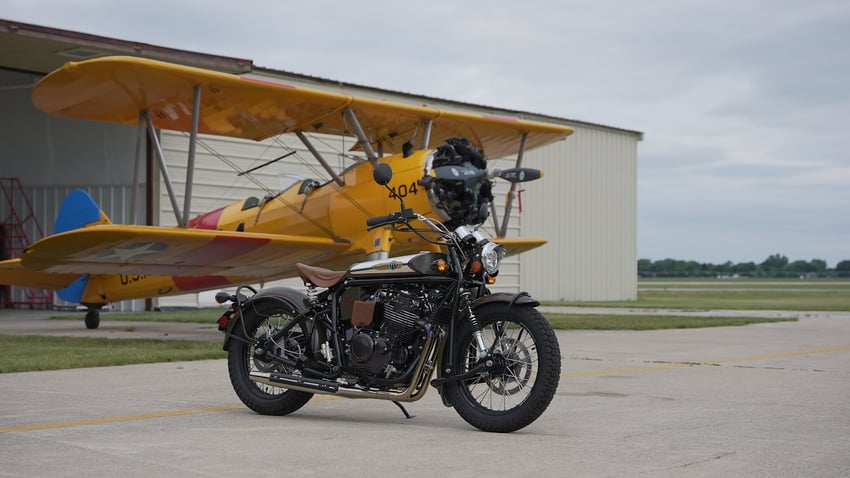 Over the past year, we have begun to implement lean manufacturing principles across the company. This has helped us to reduce waste and streamline our assembly plant, improve our vendor relationships, increase cash flow, and reduce inventory. This has been one of the most important transformations we have undertaken and has been rewarding in almost all areas of the company.
Our most recent development is the gradual move towards bringing more of the fabrication in-house. In March we opened our second facility where we will be manufacturing 450 chassis components and all the fenders for both model lines. We are excited to see the control over the production process, lead time, MOQs, and quality that this will provide us.
Through starting the business, have you learned anything particularly helpful or advantageous?
We have made plenty of mistakes over the years, from design failures to marketing missteps or production decisions, etc., but the adage of failing fast to succeed has certainly proven true for us. The faster we can move an idea forward and learn if it doesn't work, the better we can move on to the next solution.
One test we try to apply to difficult decisions is quite simple: is this going to be something we will be proud of in ten years? If we are honest with ourselves, we know that simple mistakes, though perhaps regrettable in the short term, are less of a challenge than decisions that could compromise our values or keep us awake a decade in the future.
What platform/tools do you use for your business?
We have used a design program called Onshape for the past three years. Onshape is a CAD program that offers much of the functionality of larger, better-known programs such as Solidworks or Inventor but is significantly less expensive and can be run entirely in the cloud. It features design, analysis, and release management functionality to help us both design and manage the manufacturing process.
Interestingly, while much of our manufacturing process is extremely traditional, our sales and marketing process would not have been possible before the internet. Without dealers or distributors, we can use the internet to market to customers around the country through Facebook, Instagram, and YouTube. For project management and team communication, we use Basecamp; and for our sales team & service tickets, we use Copper as our CRM.
One of the biggest challenges we have faced in setting up our purchasing and inventory management system. With thousands of parts and multiple model lines, purchasing and inventory management is critical to our success. For the last two years, we have used Quickbooks Enterprise, although this is an area we are looking to improve on.
What have been the most influential books, podcasts, or other resources?
I do enjoy reading and listening to podcasts, although my interests lead me more towards philosophy, religion, and literature.
One of the most influential books I have read in recent years was The Technological Society by Jacques Ellul. The book deals with the way technology have come to dominate the modern world and how this has made the need for absolute efficiency in every area of life a requirement.
This has given us food for thought as we try to create a product that meets the needs of modern society but reaches beyond efficiency and towards the joy of the open road that our customers relish on our simple and beautiful machines.
Advice for other entrepreneurs who want to get started or are just starting out?
One lesson we have learned over the years is that you can't do it all.
Knowing when and how to outsource a role or delegate a task is not only critical to success, but it isn't easy, especially for entrepreneurs who are used to doing everything as they start a business.
Seek out experts when you are out of your depth. They will likely be able to offer insights that would take you years to figure out.
Where can we go to learn more?
If you have any questions or comments, drop a comment below!
-
Richard Worsham, Founder of Janus Motorcycles
Want to find more ideas that make money?
Hey! 👋 I'm Pat Walls, the founder of Starter Story.
Get our 5-minute email newsletter packed with business ideas and money-making opportunities, backed by real-life case studies.