Thank you Klaviyo for sponsoring Starter Story ❤️
Turn one-time buyers into repeat customers. Try the platform loved by 265,000 brands
How We Sustained Our Business Through The Pandemic
This is a follow up story for Tentsile. If you're interested in reading how they got started, published about 3 years ago, check it out here.
---
Hello again! Remind us who you are and what business you started.
My name is Alex Shirley-Smith and I am the founder and CEO of a small company that sells Tree Tent and giant hammocks in an attempt to get people to take more interest in our forested environments. We hope that through increased engagement and awareness, we can help save some of the world's last remaining primary forests and help plant new ones to make sure that future generations are not left with barren land.
Our flagship Tree Tent, the Tentsile Stingray is a 3 person suspended tent that uses ratchets and 2.5ton webbing straps to create a comfortable accommodation pod that is big enough for a young family to camp in the trees.
This year, we will be looking at an estimated total of around 12,000 tree tents and giant hammocks sold which is about 20% up on last years' total.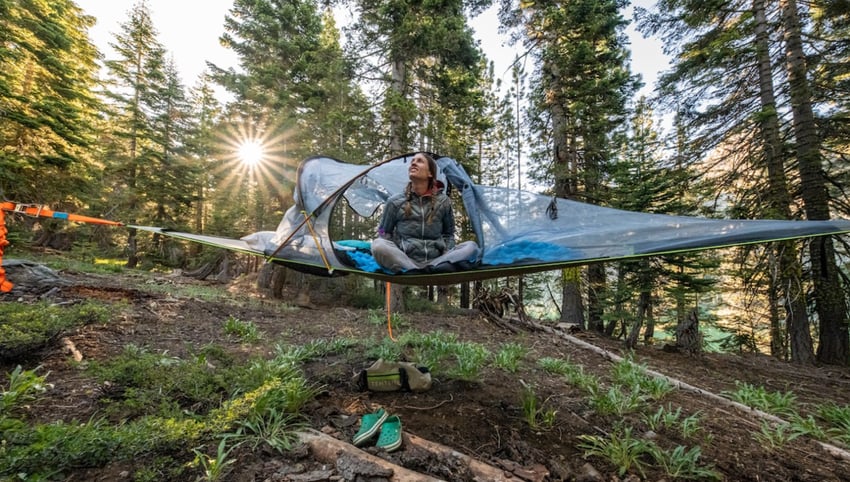 Tell us about what you've been up to! Has the business been growing?
Since our last talk, we have managed to maintain a level amount of sales for the past 3-4 years making us a sustainable business with a stable income, even during the toughest of market conditions. We have managed to keep most of our employee roles during the current pandemic and have no place to downsize.
Make sure you can walk before you run.
There have been huge challenges to overcome over the past 7-8 months, most of those are concerning our customers not having much understanding around the disruption to global international logistics and supply chains. We have been trying to keep everyone up to date, happy and reasonable by passing on information as soon as we have it (mostly over shipping times), but we have also been on the end of the customer's short fuse on many occasions.
We have recently appointed a new firm to take over our SEO and social media adverts as our team are still not big enough to sustain a full-time employee to tackle this workload and although we have been doing it ourselves for the past 6 years, we have seen the benefits of outsourcing this work over the past 9 months or so with a professional team that can get the best out of the time spent on these activities.
What have been your biggest lessons learned in the last year?
There are always mistakes made and opportunities lost/missed along the way. We have learned to keep our eyes open and ears to the ground when it comes to creating new and maintaining old collaborations and partnerships. Opportunities we missed out on including an advertising campaign with Microsoft which centered around how small businesses use various online communications methods to link different parts of their teams across the world ( Zoom, Skype, Trello, Online docs, etc ).
It would have been a good opportunity to get in front of a wide global audience, but we were in peak season when the offer came in and no one responded to the request until way past the deadline. You make your peace with it and move on, knowing that we did our best to manage the day-to-day through a time which was 3 times busier than we had anticipated. Win some, lose some.
What's in the plans for the upcoming year, and the next 5 years?
Tentsile is always looking to add to the product range. Finding ways to further enhance existing products with innovative accessories that provide further functionality, comfort, and fun. During busy times, it is hard to look too far down the line but when the intensity abates, we can again look into the folder marked "customer suggestions" and see what we can do to address some of those more frequent requests.
The future of tree camping looks bright and we are brimming with ideas and enthusiasm for the coming 5 years. Suffice to say that we can't reveal any of the upcoming surprises we have in store, we do want to assure our customers and followers that we are not done breaking the mold in the camping industry and bringing exciting new creations to life… watch this space!
Advice for other entrepreneurs who might be struggling to grow their business?
A simple piece of advice is to make sure you can walk before you run. You want to under promised and over-deliver, rather than the other way around. There is no point in getting ahead of yourself and then having to back-track or stress yourself unnecessarily to avoid the inevitable backlash against promises made and then broken.
We have struggled with this all year as the global logistics carrier fell apart leaving our customers without paid-for product for sometimes months! This year was not a normal year, but people are often blind to the wider implications of the knock-on effects of a global event and although most are understanding, some will hammer you on social just because they do not have the bandwidth to see the big picture.
Where can we go to learn more?
-
Alex Shirley-Smith, Founder of Tentsile
Want to start your own business?
Hey! 👋I'm Pat Walls, the founder of Starter Story.
We interview successful business owners and share the stories behind their business. By sharing these stories, we want to help you get started.
Interested in starting your own business? Join Starter Story Premium to get the greatest companion to starting and growing your business:
Connect + get advice from successful entrepreneurs
Step by step guides on how to start and grow
Exclusive and early access to the best case studies on the web
And much more!
PROMOTED
Did you know that brands using Klaviyo average a 95x ROI?
Email, SMS, and more — Klaviyo brings your marketing all together, fueling growth without burning through time and resources.
Deliver more relevant email and text messages — powered by your data. Klaviyo helps you turn one-time buyers into repeat customers with all the power of an enterprise solution and none of the complexity.
Join Brumate, Beardbrand, and the 265,000 other businesses using Klaviyo to grow their online sales.
Together With Klaviyo
Companies using Klaviyo see a 95x ROI (yes, 95x)
Use Klaviyo to turn hard-earned customer data into hard-working emails and texts.
Try the platform that 265,000 brands use to grow their business.
Try it now (it's free) ➜