How We Increased Our Sales Online And Through Our Storefronts
•
Published: December 7th, 2020
Start A Hot Sauce Business
This is a follow up story for Trini Pepper Sauce. If you're interested in reading how they got started, published over 3 years ago, check it out here.
---
Hello again! Remind us who you are and what business you started.
Hello again! It is Mustafa Mannan, co-founder, and co-owner of Trini Pepper Sauce by Findlay Food Group Llc. Family, friends and I started bottling our delicious pepper sauces about 6 years ago.
We have Original and Hot varieties of the sauce that were inspired by my family recipe passed down five generations. Notable qualities of the sauces are the fruity-pepper flavor, creeping heat, full-bodied taste, low vinegar and sodium content. Customers love to use the Original on morning eggs, fried plantain, and tacos; and the Hot as a spice bomb in ramen and chicken marinades.
Today, the sauces are sold in stores in North Carolina and Washington, D.C., with the majority of sales coming from our online storefront. During the pandemic, we have lost a significant number of annual sales due to the cancellation of all trade shows and vending events. However, we were able to make up for some losses with increased sales online and at storefronts. All in all, we are averaging $2250/month in revenue during 2020.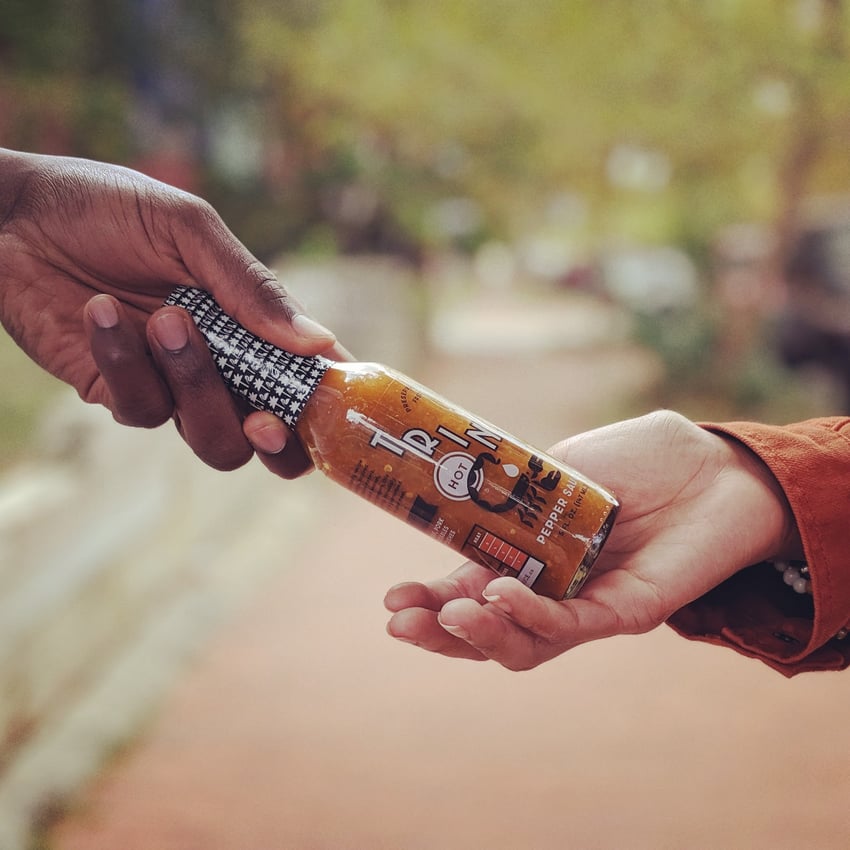 Tell us about what you've been up to! Has the business been growing?
Like many businesses this year has been about adapting to the new business landscape created by the pandemic. At the top of the year we were working on new products, lining up trade shows and vending events, shopping the sauce around to prospective storefronts, and scheduling potential dates for batch runs throughout the year to maintain our supply of the Original sauce that sells at twice the pace of the Hot. This all came to a halt at the beginning of March when quarantine began. We had to evaluate how much of a loss we would possibly experience because of the cancellation of trade shows and vending events, and how we would recover those sales.
It's okay to set large goals but break them out into smaller goals and milestones. It's okay to take breaks!
A month into quarantine, Trinidad's customs and NCSU labs were shutdown; meaning, we could not restock the original and hot sauces, or develop large batch recipes for the new products. The shutdown of Trinidadian customs created a pepper supply issue. We attempted to resolve the problem by sourcing peppers nationally, but were unable to find a reliable source that could supply at a competitive price compared to our Trinidadian supplier. So, we had to consider a more hands on approach.
In previous years, there were discussions about vertical integration of the supply chain to supplement our Trinidadian pepper imports that did not provide enough of a type pepper or color of pepper. Now developing a pepper farming capability was a necessity. We decided to work with Porta'Lu Farms in this endeavor. We were able to get the seedlings for Trinidad Scotch Bonnet, Trinidad Pimento, American Pimento, and Scorpion T peppers in the ground mid-July. Our harvest lasted from mid-September to mid-November and we picked over 400 lbs of peppers. Of the yield, 230 lbs will supplement our Trinidadian pepper supply for our next batch of sauce.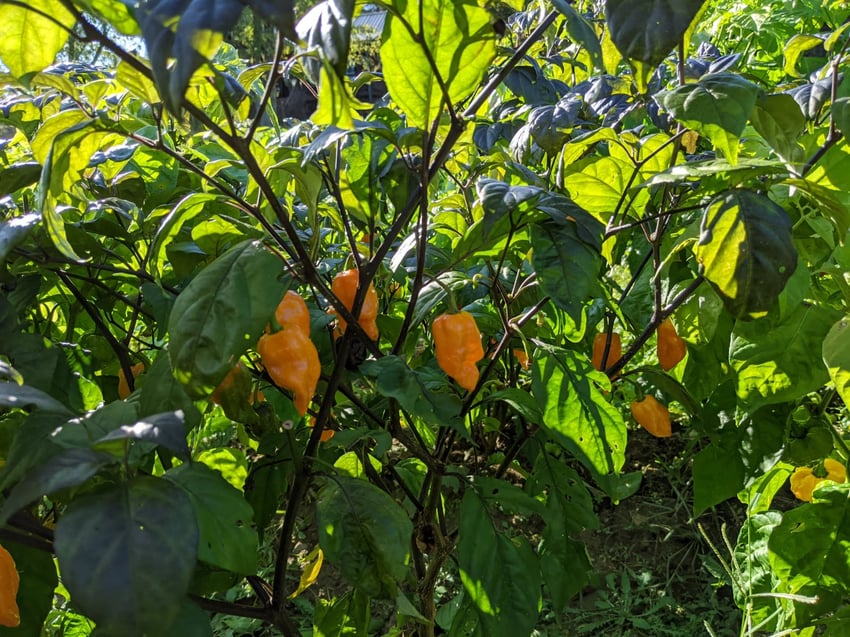 Since the beginning of harvest, we were able to refocus on developing new products which include a lime-flavored pepper sauce and a pepper jelly. Fortunately, NCSU labs reopened, meaning we could get a nutritional breakdown of the new products. However, due to the holiday season demand, our copacker was unable to commit to producing scaled batch recipes for the new products until next year.
Additional activity for the team involved obtaining a few more storefronts in Washington, D.C. and North Carolina and increasing online sales, which combined to be our best sales of the year over the summer. Also, we started developing a marketing strategy to increase revenue next year. And we participated in a virtual expo that introduced us to the idea of online vending. This led us to doing our own event to support our friend's small-businesses.
What have been your biggest lessons learned in the last year?
We refer to 2020 as the year of learned experience especially when it comes to our peppers. We have learned having alternate sources for our peppers would make our operation more secure, our product more consistent and down the road more cost effective. So, we started to develop our own pepper growing capability. In this endeavor, we learned a greenhouse would be necessary since NC is not hot enough year-round for pepper seeds to germinate. We found out it would be beneficial to set-up our fields to better irrigate and avoid flooding, prevent cross pollination that will yield unknown peppers we can not use [i.e. frankenstein peppers], and make picking and sorting more efficient. In order to increase pepper yield, we learned putting plastic around soil mounds would prevent weeds and covering peppers at night on freezing nights would extend harvest. Growing our own peppers was a great team building experience and it was immensely rewarding picking the fruit of our labor.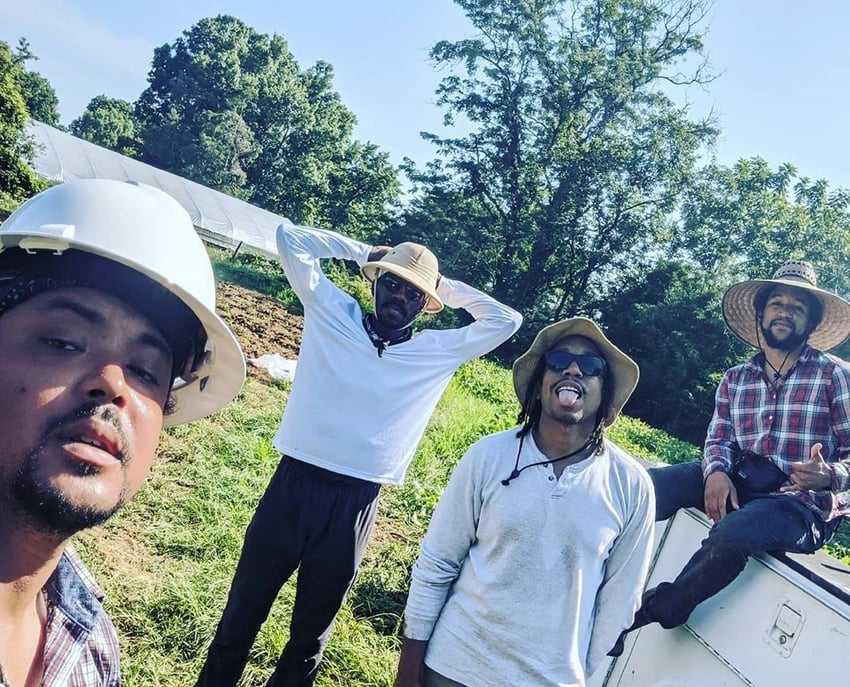 In past years, our usual means of selling the sauce included vending events and in-store pop-ups. In order to make-up for the lost revenue streams, we learned and took advantage of online opportunities. One of these opportunities was SV Market, an online store for vegan products, that can offer a loyal customer base. Also, we participated in an online expo hosted by Black Coffee, an black-owned coffee seller, which inspired us to start hosting our own online vending events. We have only hosted one event, but we see the potential for content creation, communicating and growing our audience, and helping other small-businesses.
We have learned the resilience of our two sauces, especially the original. Even without some conventional methods of selling the sauce, online sales improved this year. This was mostly done by maintaining our presence on Instagram, Twitter, and Amazon Marketplace. Also, we learned how good a returning customer base we possess and how that returning customer base supports us most by spreading the sauce by word of mouth. Most importantly, we have learned how to better juggle friendship and business as a team.
What's in the plans for the upcoming year, and the next 5 years?
Future plans include refining our growing capability so it is at least at cost-effective as importing peppers from Trinidad. Producing new products and rolling them out, beginning with the lime-flavored pepper sauce and a pepper jelly. We are interested in acquiring additional storefronts because they provide more consistent sales which lead to increased batch production of our products. Also, we'd like to invest more time and money in marketing to increase monthly revenue and develop our brand; adding to the overall value of Trini Pepper Sauce.
Being well-rested is important to make better decisions and some people think you have to be constantly working. A lot of the time the solutions to problems may come after you took a step back.
In the long-term, we hope to have our product in big-box retail stores with international and national distribution. We want to expand our retail presence across the USA and overseas as well. This may involve moving a part of our operation overseas to reduce the actual labor cost of producing the sauce or scaling up the quantities we currently produce to reduce overall cost.
Have you read any good books in the last year?
I really enjoyed David Goggins's book titled Can't Hurt Me. I found it fitting for this time where we needed to be resilient among all our hardships and find solutions. The author is one of those people who inspire and you'll often find that little voice in your head saying "what would David Goggins do?"
The podcast Bad with Money by Gabby Dun is a real eye-opening podcast into money and its importance in many aspects of our lives. It delves into different cultures and perspectives and works to find how our money can work for us. She's also energetic and comedic, I treat it as a morning cup of coffee.
Advice for other entrepreneurs who might be struggling to grow their business?
I've spoken with some other entrepreneurs starting similar companies. Don't be scared to reach out to seek advice from competitors. More than likely people will give advice and help. It's okay to set large goals but break them out into smaller goals and milestones. It's okay to take breaks! Being well-rested is important to make better decisions and some people think you have to be constantly working. A lot of the time the solutions to problems may come after you took a step back.
Just start! Don't worry about the various ranges of outcomes of safe choices. I believe the mind is wired to keep you safe at all costs and sometimes that prevents you from trying new things or doing the unfamiliar. Embrace the unknown and make those tough decisions sometimes. For example, you might not need to bring someone on in a certain position, or at the very least you exploring roles the business needs yourself can help narrow down what you want in an employee or contract worker.
Are you looking to hire for certain positions right now?
Currently, our biggest hurdle has been reaching a larger audience. We'd love to work with an independent contractor that provides marketing and advertising services. However, we do not envision hiring any employees right now.
Where can we go to learn more?
If you have any questions or comments, drop a comment below!
-
Mustafa, Founder of Trini Pepper Sauce
Trini Pepper Sauce has provided an update on their business!
11 months ago, we followed up with Trini Pepper Sauce to see how they've been doing since we published this article.
About 2 months ago, we followed up with Trini Pepper Sauce to see how they've been doing since we published this article.
Want to find more ideas that make money?
Hey! 👋 I'm Pat Walls, the founder of Starter Story.
Get our 5-minute email newsletter packed with business ideas and money-making opportunities, backed by real-life case studies.