Thank you Klaviyo for sponsoring Starter Story ❤️
Turn one-time buyers into repeat customers. Try the platform loved by 265,000 brands
MuskOx Update: How Sales Grew 143% Over Last Year
Start An Outdoor Apparel Brand
This is a follow up story for MuskOx. If you're interested in reading how they got started, published almost 2 years ago, check it out here.
---
Hello again! Remind us who you are and what business you started.
Hi friends. I'm Brad Hoos, founder of MuskOx. I suppose that also makes me the guy who named a men's outdoor apparel brand after the musky-smelling Arctic hooved prehistoric mammal with a two-layered coat that roams the tundra in herds today.
The MuskOx embodies everything we love: the outdoors, the power of the herd, ruggedness, and simplicity. To honor the great arctic beast -- launched an outdoor apparel brand two years ago. And because we think so highly of the muskox, we know we need our quality to be top-notch, uncompromising, and built for adventure.
Our customers are men who appreciate simplicity in design, functionality in features, and pursue greatness in their daily pursuits. And it will surprise nobody when they hear that these men love flannel shirts. And while we sell all sorts of cool stuff beyond flannels, there's no doubt that our flagship product is our Grand Flannel -- a flannel made of heavy-duty cotton twill with a soft brush finish so our guy can be prepared for any adventure without sacrificing comfort.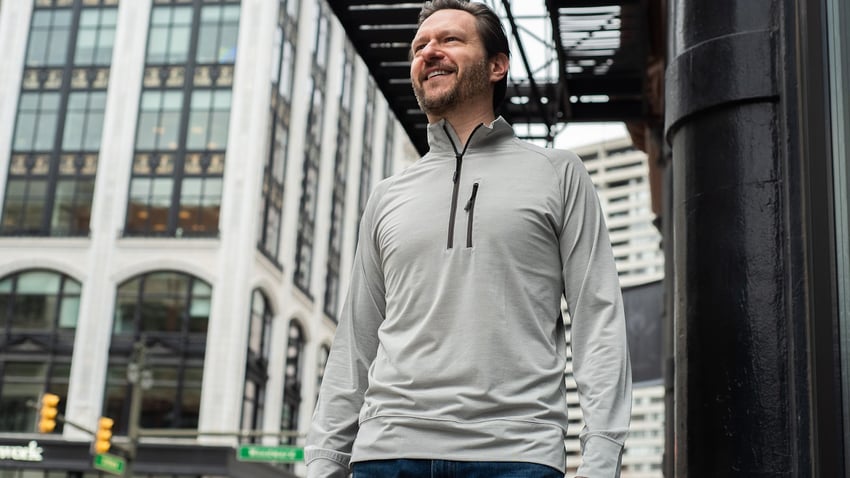 We're pacing at 143% annual growth here in 2021 & we'll be pushing close to $200,000 in sales. So while we've got a long long way to go, we're coming along. And much like the MuskOx in the wild, we are showing no signs of slowing down when adversity or blizzards come to town.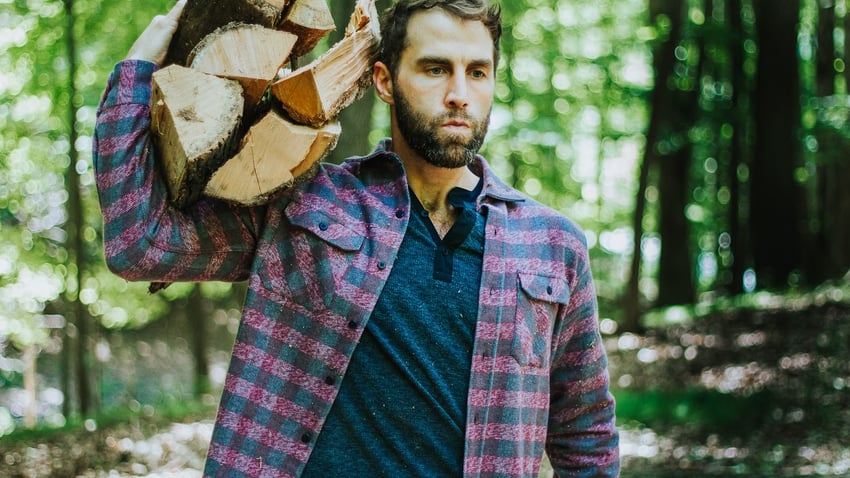 Tell us about what you've been up to! Has the business been growing?
The MuskOx business is good and we're growing. We're well on pace to continue to more than double our business year over year. We've moved away from Facebook ads a bit (by now you know the whole iOS 14 things) & have leaned into optimizing our email program. Our friends at Klaviyo selected one of our campaigns as a nominee for a top program, which was cool to see.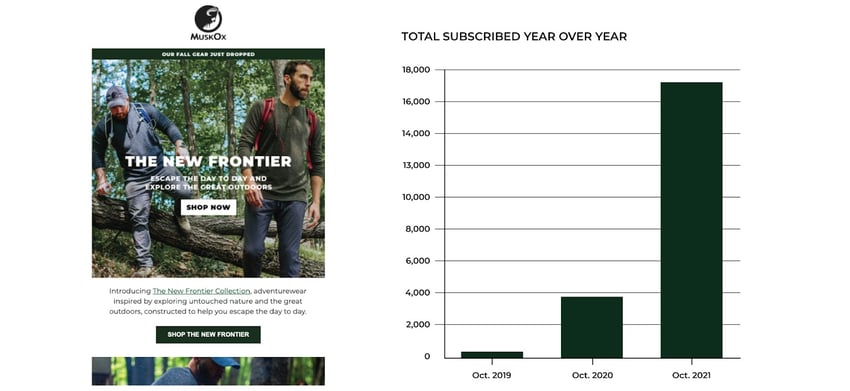 Since I last shared my story here, a lot has changed. From a partnership perspective, we've leaned into our alliance with the Alaska Wildlife Conservation Center -- where we donate $10 to support wildlife conservation for every $100 purchase. There are lots of brands that give a nod towards social support with 1% of profits for the environment -- and occasionally you'll see people who do 5% of profits for cause marketing. But we do $10 for every $100 purchase (not based on profit) -- and our dollars continue to support something that our customers believe in: nature. I say regularly that you speak the loudest when you speak with your pocketbook -- and despite us not yet being profitable, we're 100% committed to supporting wildlife through our partners at the AWCC. Maybe I'm crazy for doing donating $10 for every $100 purchase when our generous peers are donating 1% of profits, but I'm okay with that. In the long run, I believe firmly that doing the right thing pays off.
From a marketing perspective, we launched a 2020 holiday pop-up store in a mall that merited us staying open a month beyond what we had originally planned. COVID allowed us to get a good deal on rent, but it also throttled some of the traffic that we'd usually see. We'll be moving downtown this year and we have a presence in downtown Detroit over the holidays-- which allows us to have a ton of fun interacting with our customers.
We also established a great partnership with a talk radio host & I had the opportunity to be a guest on the No Dumb Questions podcast -- telling the story of MuskOx. We've also doubled down our partnership with woodworker Andy Rawls and leaned into using key creator partnerships to spread the word about MuskOx.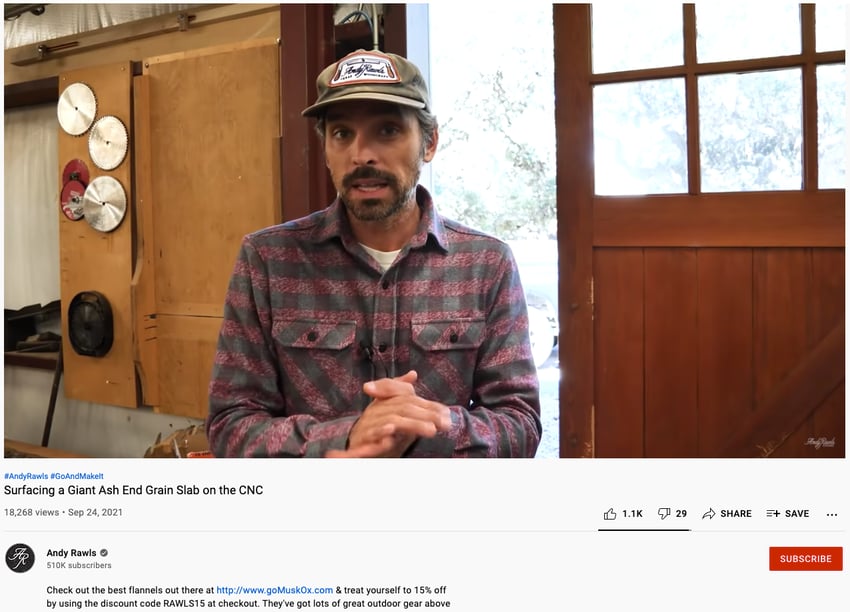 One of the advantages that we have as a small brand is that we can be raw and personal. So wherever possible, I try to keep things personal in my customer interactions. I've hand-delivered countless shirts over the holidays, I write a thoughtful email about my life to the MuskOx herd once a month, and generally do as much 1:1 engagement with customers as possible. And you know what -- that's the most fun part of what I do at MuskOx & it's the secret sauce that keeps me, well, keepin' on.
So, there's no secret sauce here. We continue to grind every day & every week. Our customers know they can rely on our customer service. They know that we're rolling out quality products -- and slowly but surely they are spreading the word with their friends. We'll continue to experiment with Google Shopping (positive early signs), giveaways, email list growth tactics, micro-influencer campaigns, and the like. Some campaigns will work and some won't, but we'll keep pushing the envelope. After all -- that's exactly what the MuskOx would want us to do.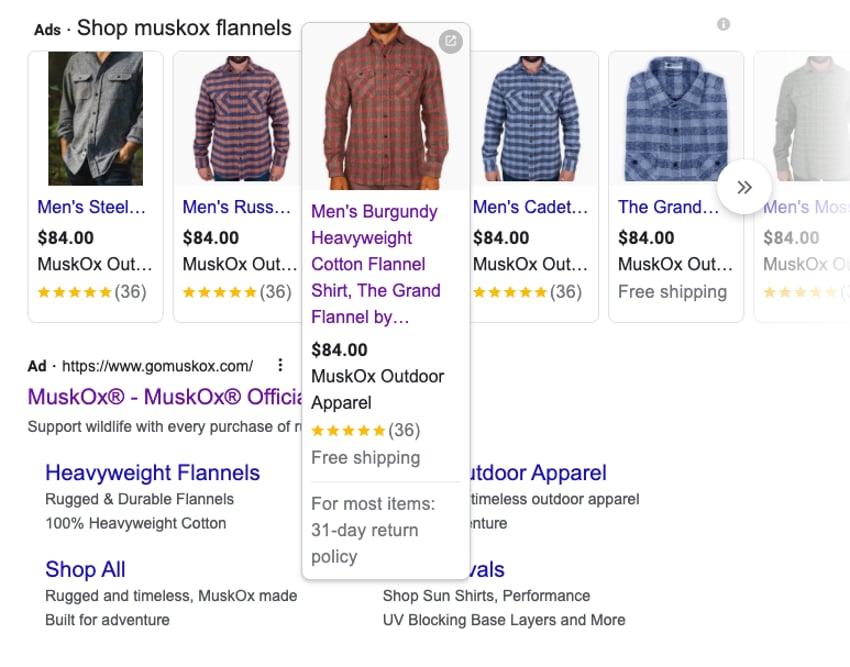 What have been your biggest lessons learned in the last year?
Given that it's Fall 2021, it's probably impossible to write about what I've learned in the last year without mentioning the C word. Yes, COVID brought plenty of challenges to MuskOx in terms of shipping delays, product delays (like -- switching from one nation to another only to have that nation shut down), and a quick change in consumer buying preferences. But we'll always be a people-first business -- and the biggest hurdle to overcome was managing our new store manager, getting COVID, and resigning within 10 days of opening our store. We did what any business owner would have done -- we found a way to make it work. Sure I spent most of my weekends at the mall & personally carried in the boxes of inventory -- but the unexpected is to be expected and given that we had our health -- we were in good shape.

We love to zig where others zag and by partnering with a talk radio host, we've been able to snag a strong loyal following in what's perceived by many as an "unsexy" marketing strategy in today's age.
Another partnership that's paid off well for us is a partnership with a local orchard that puts on big outdoor events every couple of months. By developing a good relationship and partnerships with Blake's, we've been able to move a lot of products and get our name out there at several different festivals. Again -- not sexy or scalable, but it's been effective for us to keep building the wall one brick at a time.
Track how you're spending your time & then sit with that.
For our incredible team -- we've tried to focus on controlling what we can control and not sweating the stuff that we can't control. This means executing every day & trusting our core strategy of building quality products that are meant to last & not getting caught up in too much of the day-to-day noise. It's paying off slowly for us -- as our returning customer rate has inched up to 20% and our conversion rate on our website is on a nice upward trend, even if it's not yet to 1%.
What's in the plans for the upcoming year, and the next 5 years?
One of the big shifts we're making at MuskOx going forward is cementing our focus on our flannel shirts. While we have several shirts that customers love (hello quick dry quarter zip & charleston performance hoodie), our flannel is our flagship product and it's what people are drawn to time and time again. So -- we're officially going to be a flannel company. In fashion -- the lead times are long, so this isn't something that's hitting our website immediately, but it's a clear focus for us moving forward.
We still have plans to open a permanent retail presence -- and we're excited to continue to scale our production so we can drive down costs without compromising quality. Lowering costs will make a huge impact on our business in that it will allow us to have sufficient margin to bring our goods to other retailers. We're rolling out this strategy brick by brick -- where we are capitalizing on local festivals and pop-ups plus warm retail relationships (like the AWCC gift shop in Alaska) where the benefit of having MuskOx in the store goes beyond what's shown in the P&L statement.
Our goal is to become the gold standard for men's outdoor apparel & to get there we're working to become the gold standard for flannels. Based on our 41 5-star reviews (we got our first 4-star review today, which I was super happy about because all 5-star reviews make it look fake. I suppose that's a good problem to have) of our flannels, we're off to a good start.
Have you read any good books in the last year?
HIGH GROWTH HANDBOOK - ELAD GIL
While this book is designed for brands that are a bit past the stage of MuskOx, I've valued the thinking and structure that are needed to create a strong organization. You need to have the minimum amount of process and structure to be successful -- but not less.
A PROMISED LAND - BARACK OBAMA
Reading biographies has always been one of my favorite ways to learn because it helps you to see how people think & empathize with what people from different backgrounds and perspectives have endured. I have pretty different views on policies than Barack, but I respect the heck out of the man & appreciate his measured but clear stance on things that were formed through research, trusted advisors, and ultimately trusting one's gut.
PRINCIPLES - RAY DALIO
Forming principles for how to live your life and how to conduct business is tough to argue with & I love a hard-charging approach that's based on transparency and equity. Sorta reminds me of the MusOx I guess you could say.
Advice for other entrepreneurs who might be struggling to grow their business?
At times when I'm struggling -- or something in my gut tells me we need to rethink our approach to the market, I like to:
(1) get out and talk to my customers and target customers &
(2) create a small circle of 3-5 trusted voices and host a ~4-hour workshop on what needs to be done with the brand. This group needs to be people who will dissent and push the thinking. We did this midway through 2021 and it led us to our decision to double-down on our flannel focus. It's probably worth noting that for 9 hours of the 10-hour session we were all marching down a different path but as we went deeper and deeper into it, issues surfaced that made us realize that flannels were the right approach -- despite our vanity trying to take us in another direction.
(3) disappear into nature. There's just something about being outside without technology that delivers clarity and insight. Something we're passionate about encouraging our customers to pursue. I can assure you that we "eat our own dog food" here.
One of the things I encourage anyone to do is to track how you're spending your time & then sit with that. We all have 24 hours in a day so I've quit using the term "I don't have time" and instead transitioned into "I chose not to prioritize that" because the second statement is the truth and while it may sometimes be difficult to stomach, nobody said it was easy for MuskOx to survive millions of years either. What's that mean? It means that at MuskOx we're committed to doing the right thing, even if it's hard. Especially when it's hard. So, track your time and be honest with yourself and your colleagues to test if that's the right allocation of energy.
Are you looking to hire for certain positions right now?
Hell yes, we are hiring. We're looking for a marketing legend -- especially if their legend isn't yet created. We're not big on bluster or pomp & circumstance -- but we love people who think, communicate, and execute like mad. If you're versed in digital marketing, love to write, and have a solid sense of design, then by all means please reach out to me personally: [email protected] & we'll chat and see what we might be able to make happen. And while I'm always open to different arrangements, I've found that having your full attention on something is super powerful.
Where can we go to learn more?
-
Bradley Hoos, Founder of MuskOx
Want to start your own business?
Hey! 👋I'm Pat Walls, the founder of Starter Story.
We interview successful business owners and share the stories behind their business. By sharing these stories, we want to help you get started.
Interested in starting your own business? Join Starter Story Premium to get the greatest companion to starting and growing your business:
Connect + get advice from successful entrepreneurs
Step by step guides on how to start and grow
Exclusive and early access to the best case studies on the web
And much more!
PROMOTED
Did you know that brands using Klaviyo average a 95x ROI?
Email, SMS, and more — Klaviyo brings your marketing all together, fueling growth without burning through time and resources.
Deliver more relevant email and text messages — powered by your data. Klaviyo helps you turn one-time buyers into repeat customers with all the power of an enterprise solution and none of the complexity.
Join Brumate, Beardbrand, and the 265,000 other businesses using Klaviyo to grow their online sales.
Together With Klaviyo
Companies using Klaviyo see a 95x ROI (yes, 95x)
Use Klaviyo to turn hard-earned customer data into hard-working emails and texts.
Try the platform that 265,000 brands use to grow their business.
Try it now (it's free) ➜