How We Produced Over 300 Virtual Events During The Pandemic
•
Published: April 8th, 2022
Start A Virtual Events Business
This is a follow up story for Entire Productions. If you're interested in reading how they got started, published almost 4 years ago, check it out here.
---
Hello again! Remind us who you are and what business you started.
Hello again, Natasha here, and I am the CEO and founder of Entire Productions, a 3x Inc. 5000 event and entertainment company based out of San Francisco, CA. That's my "day job", what many may not know is that I started as a classically trained violinist and jazz vocalist with 7 commercially produced CDs under my label.
I also host the Fascinating Entrepreneurs podcast which is ranked in the top 1.5% of all podcasts in the world and 2022 I am sharing my story, Relentless: Homeless Teen to Achieving The Entrepreneur Dream.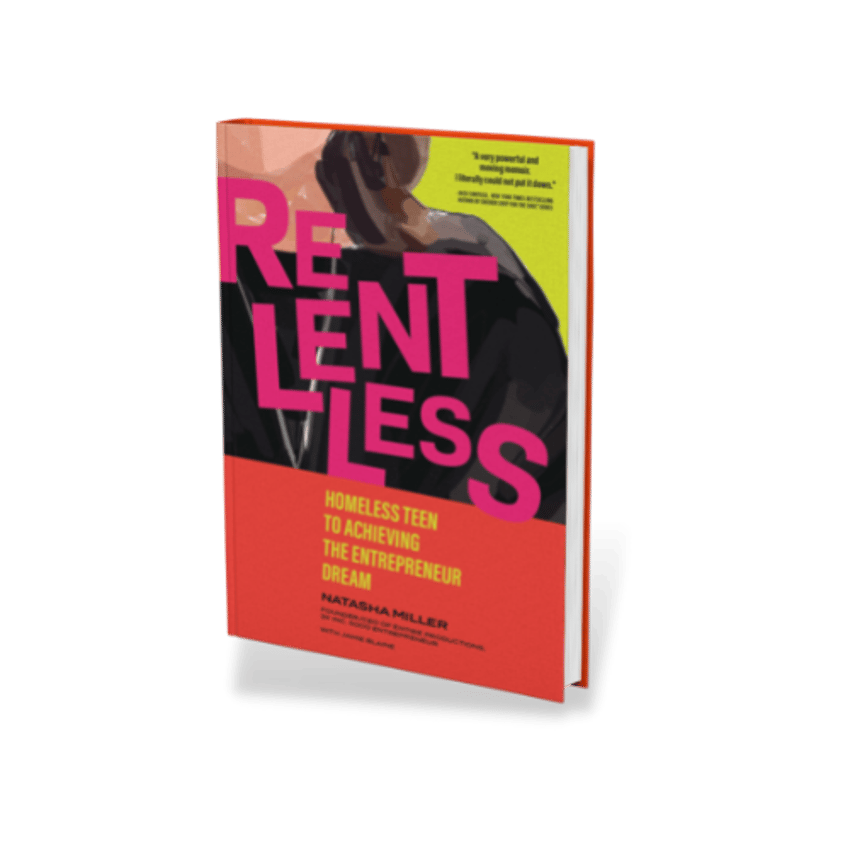 Tell us about what you've been up to! Has the business been growing?
It's been a while since my last Starter Story interview and A LOT has changed, in the world and my business. The pandemic hit our business hard. We went from a profitable multi-million dollar business to flat zero in one day with no hope in sight. I had to make the difficult decision of laying off some of my staff which caused me many sleepless, anxiety-ridden nights. Instead of packing up and moving on, we leaned into the pandemic, becoming the first to pivot to virtual events and leading the way for the rest of the industry.
A team of people who understand their work and want to do it is invaluable to your success.
The hair-brained idea that sparked our recovery was EntireVariety. It started as a once-monthly entertainment variety show over Zoom. It was initially our solution to assist artists to test their new virtual performances in a low-risk situation while simultaneously marketing them to our clients. For 14 months we programmed, produced, and broadcasted live an hour of different artists, tastemakers, thought-leaders, performers, and with our own company messaging woven in.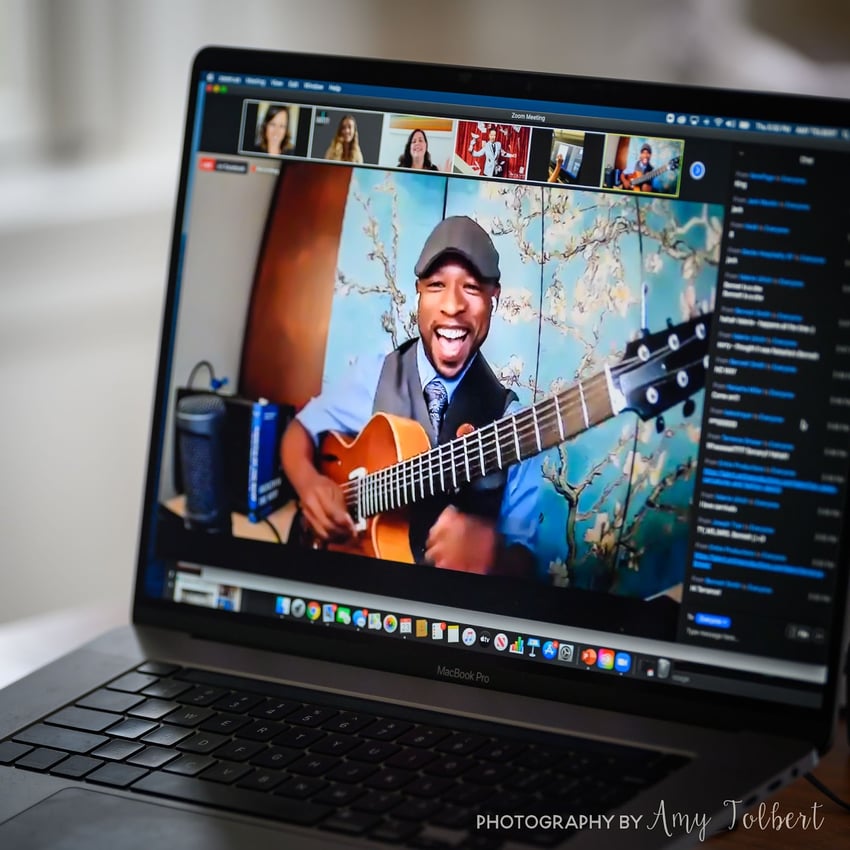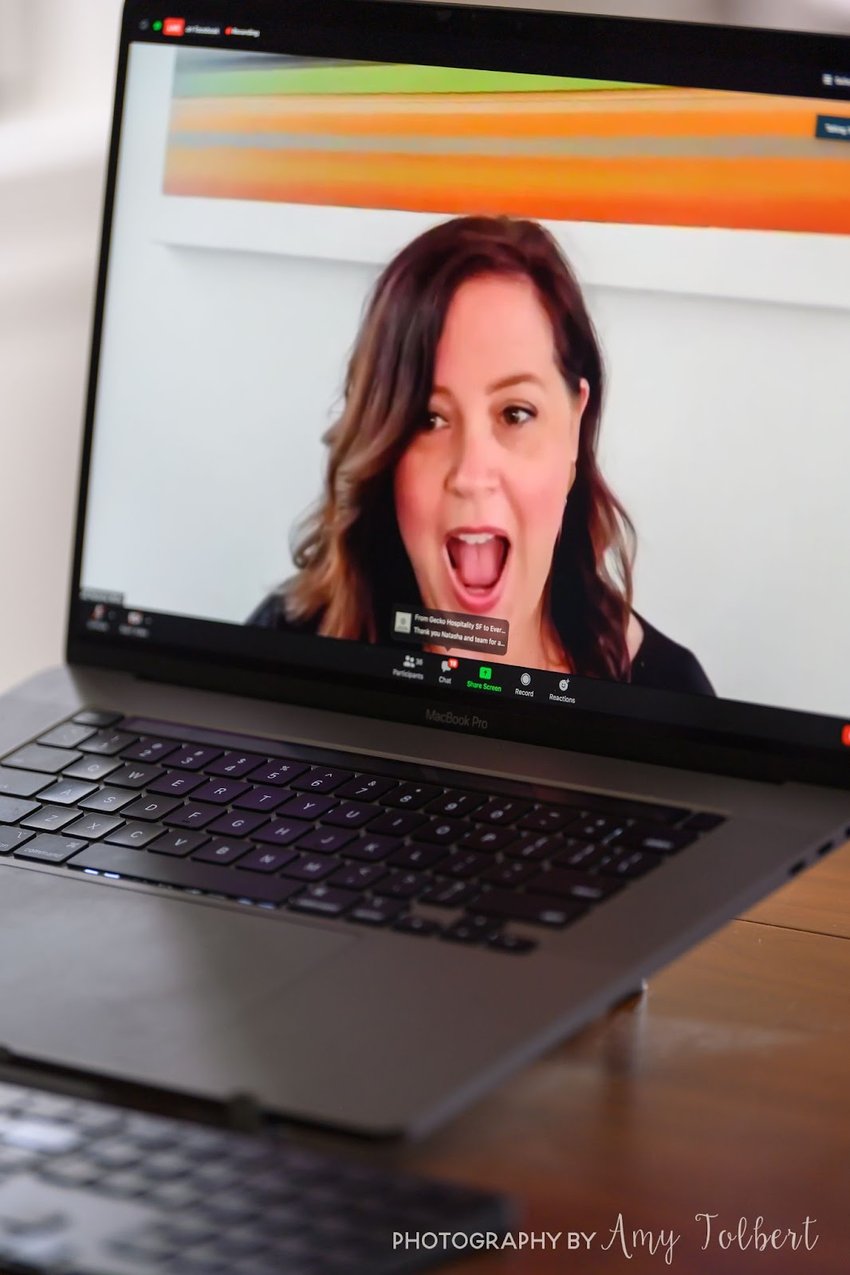 Soon enough, RFPs for a similar format of virtual events started flooding in. We produced well over 300 virtual events in 2020 and now in 2022 things are just starting to feel "back to normal". Of course, nothing is "normal" but my team is feeling almost as busy as they did pre-pandemic.
We've even welcomed a new virtual assistant, Veronica, who has been essential to the team, and a new account executive, Sara, who hit the ground running, booking three events with one of our biggest clients in her first week!
Speaking of hitting the ground running, our senior account executive, Katie, actually went on maternity leave at the start of the pandemic and came back to an entirely new industry. Katie took the proverbial bull by the horns and learned everything she needed to know about virtual events. Her strong leadership skills and go-getter attitude got her promoted to acting General Manager and I am one step closer to working ON Entire Productions instead of IN it. I can let you know more about what that means later.
What have been your biggest lessons learned in the last year?
I learned from a survey of Inc. 5000 founders that my strongest skill is delegation. As I grow my business and dive deeper into other avenues, it is essential to have a team of highly skilled people supporting me and each other along the way. A team of people who understand their work and want to do it is invaluable to your success.
Another lesson I learned this year is to always position your business to sell. When I first started Entire Productions I thought "why would I ever want to sell my baby?" Well, there is a lot of use to being able to sell your business. As I explore other business ventures, I find myself wanting to work less IN my business and more ON it. This means I'm not responsible for any of the day-to-day so I can focus on growing and scaling. To do this you must find new ways to activate profit, heavily optimize your systems, and become a leader with intention. Entire Productions, as an example, activated profit during the pandemic by branching into virtual events and premium corporate gifting. We also heavily document everything we do so that it can be easily taught to an employee or automation. Becoming a leader with intention means that you are just as invested in your business as you are in the people in it and the rest of the world.
What's in the plans for the upcoming year, and the next 5 years?
On Mar 22, 2022, my first book will be released, a memoir titled Relentless: Homeless Teen to Achieving The Entrepreneur Dream. It's extremely personal to me as it's the story of my life and possibly the hardest I've ever worked on anything in my life. After heavily researching the various publishing paths, I decided to go with hybrid by creating my imprint, Poignant Press and hiring the best in the biz to help me accomplish all of my other goals to help release this book into the world.
With this experience and my imprint, I am now on a mission to help other artists, entrepreneurs, tastemakers, thought leaders, and alike to bring their stories to life. In addition to helping entrepreneurs scale and grow past their first million.
Writing this book has been an absolute dream come true. I have received high praise from Jack Canfield, author of Chick Soup For The Soul series, Caroline Lind Should- 2x Olympic Gold Medalist, and the editor in chief of Inc. Magazine, Scott Omelianuk called it "...a terrific read on leadership and business, yes, but it's also a blueprint for how to be a very special human being."
Select proceeds from the book, event ticket, and speaking engagement sales will go to Covenant House, a similar organization to the one I experienced when I was just 16 years old on Christmas night.
To help celebrate the launch of Relentless we will be hosting two events! One is on March 22 and will be held inside the metaverse via AllSeated's platform ExVo. The event is free for GA and will feature speeches from athletes, artists, thought leaders, and a special performance from yours truly.
Next, we will be meeting in person at the San Francisco Museum of Modern Art on March 26 for a special red carpet gala celebration. It will be much like our marketing events, with aerialists, live music, light bites, and a champagne reception.
Have you read any good books in the last year?
My favorite books I read this year were Where The Crawdads Sing by Delia Owens, Untamed by Glennon Doyle, and Fearless by Rebecca Minkoff. They helped me find my vision for my book.
Advice for other entrepreneurs who might be struggling to grow their business?
Other than having a truly stellar product and business plan, securing free press is one of the best ways to organically grow your business. I suggest hiring someone within your company that knows all the ins and outs of "the story." Identify what makes your business different than others; maybe it's a service that no one else has, maybe you have a truly unique company culture, you're first to market with a new product or service, a new partner, etc. Whatever it is, identify journalists that cover topics within your respective fields and start researching how to pitch to them.
Landing press in authoritative outlets also helps your business gain authority which makes clients want to work with you more. If their favorite tv show or publication trusts you they will too. You may begin to notice a snowball effect where you become the main authority on a certain subject and you might even have journalists reach out to you! Once you land a press spot, make sure to keep track of it somewhere and reuse the heck out of it. There is such a thing as "bad PR", it's when no one sees it! Post your accomplishments on social media and share them with your clients so they see how cool you are.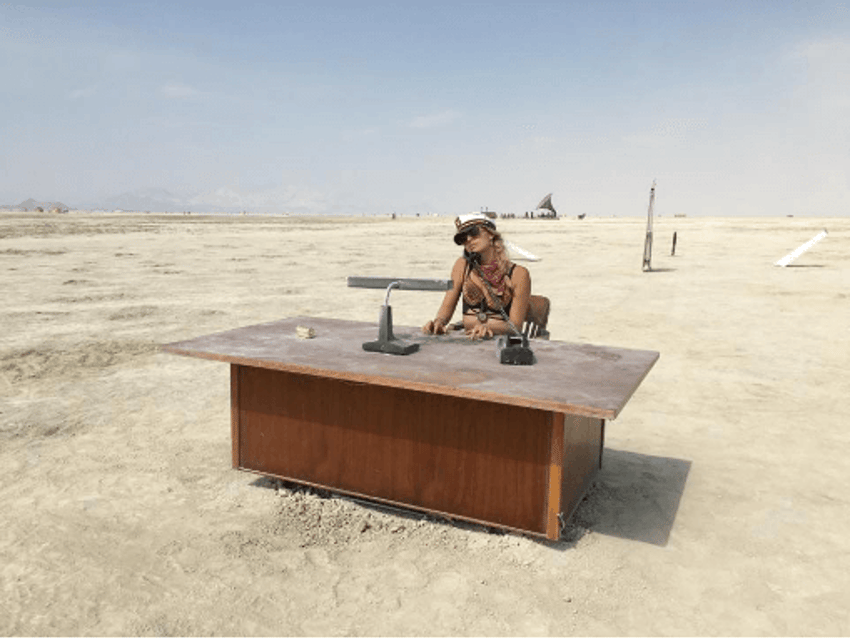 Are you looking to hire for certain positions right now?
It seems like every day my business and personal brand are growing exponentially and a new hire is needed. If you love what I'm doing and want to get involved, please reach out to me. I would love to hear your value proposition!
Where can we go to learn more?
If you have any questions or comments, drop a comment below!
-
Natasha Miller, Founder of Entire Productions
Entire Productions has provided an update on their business!
Over 2 years ago, we followed up with Entire Productions to see how they've been doing since we published this article.
Over 1 year ago, we followed up with Entire Productions to see how they've been doing since we published this article.
Want to find more ideas that make money?
Hey! 👋 I'm Pat Walls, the founder of Starter Story.
Get our 5-minute email newsletter packed with business ideas and money-making opportunities, backed by real-life case studies.