Thank you Klaviyo for sponsoring Starter Story ❤️
Turn one-time buyers into repeat customers. Try the platform loved by 265,000 brands
ByteStand Update: How We Grew 25% Over Last Year
Become A Shopify App Developer
This is a follow up story for ByteStand. If you're interested in reading how they got started, published over 3 years ago, check it out here.
---
Hello again! Remind us who you are and what business you started.
What up! I'm Todd Trimakas founder, head developer, and ringmaster of all that is ByteStand.
ByteStand is three Shopify apps in the Shopify App Store, and another in the oven. We specialize in taming the Amazon inventory and fulfillment beast. Amazon is this double-edged sword of democratized worldwide fulfillment for next to nothing, paired with a complete and total disdain for any sellers with revenue under $100 million. They are empowering and somehow demeaning all at the same time.
In a sentence that even Mom would understand, we help Shopify sellers create, and maintain their product catalog as well ship these same products to anyone covered by an Amazon warehouse around the world. We've been able to expand globally along with Amazon and Shopify to now count ourselves lucky with customers on every continent except Africa. This technological journey is being shepherded by me, a guy who just a couple of years ago didn't know Ruby on Rails from a diamond in the rough.
Five years ago I was a seller on Amazon myself, selling overstock items from Macy's, and realized I was in a losing battle. Selling commodity items, in a price race to the bottom that I couldn't win. I realized a need to diversify away from just Amazon. In my search, I found Shopify, discovered a niche for our apps, taught myself an ever-growing list of coding languages, listened to our customers, and arrived where we are today.
ByteStand is now five years old and we're no longer walking on wobbly infant legs. Last year we grew just over 25%, with expected revenue in 2021 to be north of $350k. We will probably never be featured on Inc Magazine 5000, but with me and two other full-timers, I couldn't be happier.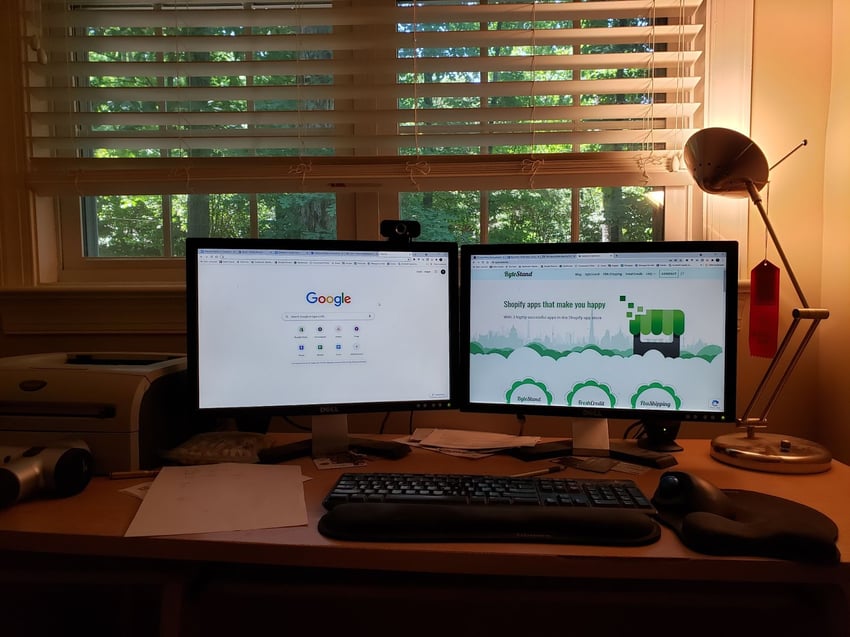 My busted-up desk, with a view of the backyard. Where the magic has happened for five years
Tell us about what you've been up to! Has the business been growing?
Honestly I'm just a touch embarrassed, but the global pandemonium has only improved our business. More people staying home, shopping online, potentially losing their jobs, and turning to create online businesses? Check, check, and double-check. All things that lead to year over year growth of 25% for ByteStand. I've been around long enough to be on the losing end of a recession. We count ourselves fantastically lucky to be on the other side of history this time.
We HOPE we're different, we TRY to be different, we're TOLD we are different, but in the end we're not. And when it comes to building a business that's a great thing.
When we started I invested in creating over 100 blog posts with a strong voice and valuable information about the wacky world of Amazon and Shopify. No garbage SEO driven posts rehashing old content with 1,600 links at the bottom promising six-figure this, or passive income that. Nope, not my style. Instead, we have articles like:
How to Setup a Successful Online Store without Ripping Your Hair Out
And;
7 Steps to Creating a Content Marketing Strategy That Will Crush Your Competitors
And one of my favorites;
How I Learned I Did Everything Perfectly Backward – Startup Story Part 6
All these seeds that were planted years ago are now paying off. We are ranked at the top of basically any relevant search term we can think of. What I've found is that in the world of Shopify apps, advertising outside of the app store is basically worthless. Unfortunately, no ads have ever delivered any measurable customer growth, so we had to leverage our content as much as possible.
The next step in our growth plan was tracking down a wonderfully elusive creature, rarely seen in the wild. A solid person to man/woman/non-binary the help desk. Fortunately after 15, yes 15, different help desk people in a year and a half I was able to bring her on. It may be my crowning achievement in my entrepreneurial journey. Her name is Cara, she lives in an RV, works from the road and she is the absolute best.
Whatever is more valuable than a gold mine, our help desk is it, and Cara heads it up. It's easily the most valuable source of customer feedback, new enhancements, pricing strategy, marketing performance, and overall customer sentiment. The majority of our customers are in the US, and speak English, and so does Cara. We spend probably 5x the amount of an outsourced help desk solution, but Cara is easily five times better. If you ever call and speak with her, she knows what she's talking about, can solve your problems, and will put a smile on your face in her Kentucky drawl.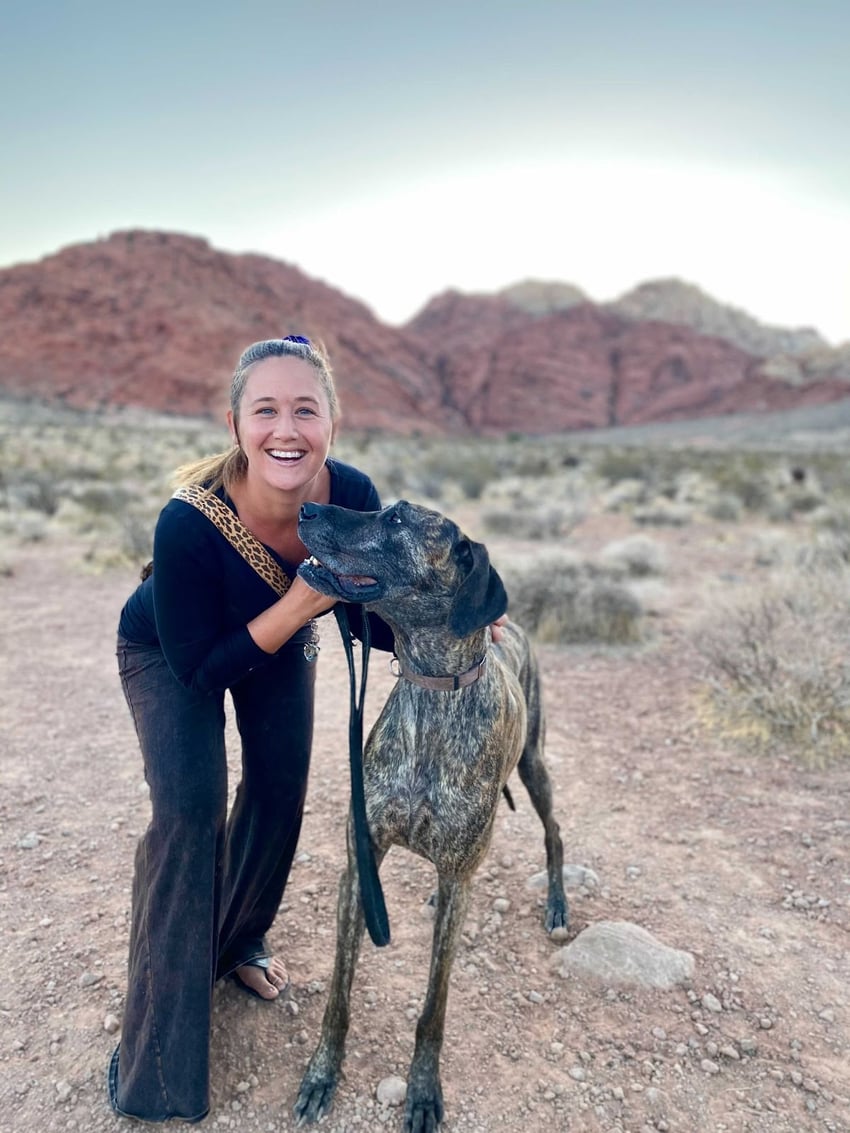 Cara with Charlie
Exclusively based on this valuable customer feedback, we continue to upgrade our existing apps. We are in the process of getting another app approved in the Shopify App Store. This will be our fourth app in the store, with this one name SnapSync. It will manage worldwide inventory and pricing between Amazon and Shopify. We are hoping to go live with SnapSync in less than two weeks.
What have been your biggest lessons learned in the last year?
The one thing I've never talked about before is side projects. We've had our share.
At first, I thought they were nice additions to revenue that could be tackled in our "free" time. My thinking went that a bump in revenue is always appreciated, and could enable us to grow the core business. I could not have been more mistaken.
Every side project that I've agreed to has in some way come back to bite us. More often than not in time-sucking maintenance, improvements, and my favorite request "should be just a couple lines of code, right?".
Most of the projects were relatively simple four and five-figure side gigs. But, like normal, I went too far and took on a six-figure project for a major nationwide retailer. I've been rewarded with an ambiguous, ever-changing, year-long, swamp of a project that continues to be a nightmare today. The hard lesson learned here is to stay far, far away from side projects, especially those that look so rosy at the beginning only to turn into Medusa at the end.
What's in the plans for the upcoming year, and the next 5 years?
Our main focus will be SnapSync, and a bevy of customer-generated upgrades to our FBA Shipping app, as well as our store credit app FreshCredit. There will be NO side projects thankfully.
Other than that? In the next five years, I really hope that we're all COVID-free.
Have you read any good books in the last year?
I run far away from business/self-help books. I live, breathe, eat, and poop ByteStand. I have to get out of my own head when I'm NOT working.
I've been reading some good Sci-Fi books as of late. My latest is Darwin's Cipher by M.A. Rothman.
Advice for other entrepreneurs who might be struggling to grow their business?
Fix your own problems.
We HOPE we're different, we TRY to be different, we're TOLD we are different, but in the end, we're not. And when it comes to building a business that's a great thing. My reasoning is that if I have a problem, then so do a couple of million other people trying to do the same thing as me. And If I can solve my problem, then I can charge them a monthly fee to solve their problem as well. It's really as simple as that.
As far as passion goes, I'm on the fence. I can't say that I'm passionate about international fulfillment services, but I AM passionate about running my own business, good coding, and making a decent living. I've had a lot of fun running vastly different businesses, and over time I've come to realize my passion lies in the process and not necessarily the subject matter.
I also think you need to try and fail and try again. I would love it, but I've never found a way to find what I'm passionate about without actually trying that thing. So when you try something and "fail" or decide to pursue other things it's interesting that society labels us as misguided, or rudderless. My thinking is that only NOW do I know that either that thing wasn't for me, wasn't a good idea, or simply didn't have legs and I need to explore other options. Then of course when your idea does hit, and does succeed and make you happy, everyone will have known that was the right thing all along.
Are you looking to hire for certain positions right now?
Thankfully no, I've hired and fired enough people in these last two years to last a lifetime.
Where can we go to learn more?
If you have any questions or comments, drop a comment below!
-
Todd Trimakas, Founder of ByteStand
ByteStand has provided an update on their business!
About 2 years ago, we followed up with ByteStand to see how they've been doing since we published this article.
Want to start your own business?
Hey! 👋I'm Pat Walls, the founder of Starter Story.
We interview successful business owners and share the stories behind their business. By sharing these stories, we want to help you get started.
Interested in starting your own business? Join Starter Story Premium to get the greatest companion to starting and growing your business:
Connect + get advice from successful entrepreneurs
Step by step guides on how to start and grow
Exclusive and early access to the best case studies on the web
And much more!
PROMOTED
Did you know that brands using Klaviyo average a 95x ROI?
Email, SMS, and more — Klaviyo brings your marketing all together, fueling growth without burning through time and resources.
Deliver more relevant email and text messages — powered by your data. Klaviyo helps you turn one-time buyers into repeat customers with all the power of an enterprise solution and none of the complexity.
Join Brumate, Beardbrand, and the 265,000 other businesses using Klaviyo to grow their online sales.
Starter Story
Wanna see 52 business ideas you can start with less than $1,000?
Join our free weekly newsletter and get them right now.