This is an archive of the Starter Story newsletter, which is read by 93.9K people every week.
In each issue, we share the biggest business ideas that are working today, along with case studies of founders who are making millions every month. Sign up today ➜
---
Sponsored by Semrush
How this website went from side project to 5M visits and $200K/year
They took these 3 key steps:
#1. Removed links from spammy websites using Semrush Backlink Audit. 
#2. Found relevant low-competition keywords and targeted them to quickly grow traffic and build site authority.
#3. Achieved a 2.5X increase in page views using Semrush's SEO Writing Assistant.
Want to grow your business like they did?
>> Try these Semrush tools FREE for 14 days and take your website to the next level.
All hustle, no budget
Whether it's because of the lack of resources to make a significant impact through advertising or because the founder has already figured out a way to grow organically, many companies are able to acquire customers without spending a dollar on marketing.
That's the dream.
Btw, did you know that startups spend 40+ cents of every VC dollar on Google, Facebook, and Amazon ads?
Relying so much on paid acquisition can kill both your profitability and your marketing creativity.
The following founders definitely didn't have VC money to burn on ads so they had to hustle and grind to grow without a marketing budget. If you're in that same boat or simply curious about ways to get customers, keep reading:
#1. Communities
Case study: This bootstrapped $72K/year online marketplace 
The best thing about communities is that there are tons of them out there. And they're full of people. So you don't have to create one, grow it and keep the members engaged.
Just by joining relevant communities where your potential users hang out you can learn a lot about their pains, get feedback about your product and make sales!
That's what these founders did to lure other founders into their online marketplace.
The important thing is that you interact like a normal person. If you're trying to sell a solution, prove that you know what you're talking about, and be helpful and generous.
More businesses that successfully piggybacked existing communities:
#2. Product Hunt
Case study: This tech talent platform made $1.2M in sales in its first year 
Being discovered on Product Hunt, and having people like what you built, it's a great start in your journey. It's a huge community with many influential people.
What are some good tips to launch on Product Hunt?
#1. Test. Before launch, make sure your product it's ready. Test it as much as possible. That day you'd probably get a lot of new visitors/users and you don't want to have a buggy product.
#2. Get familiar. The platform and its community have their own language and codes. It would be best to familiarize yourself with them so launch day isn't your first day there. Spend time doing some initial networking. Get the entire team to create accounts on Product Hunt before that day.
#3. Create some content. Writing a bunch of articles with use cases or press releases to provide more in-depth details on your product can work wonders. Some flashy video snippets or GIF animations that show your product in action will make you stand out.
#4. Participate. You're bound to receive a significant number of comments and feedback. Be active and respond with high-quality comments. If you want to knock it out of the park you can't just submit it and forget about it.
#5. Share it. On your socials and newsletter for a higher reach.
More companies that capitalized on a great Product Hunt launch:
#3. SEO
Case study: This authentication service has been used by 10M users 
And they're getting about 300,000 to 400,000 new users every month, and the business generates $240K/year.
How did they achieve those crazy numbers? They hit an SEO goldmine: something that was under-served and that was getting more and more demand.
But the best part is what they've done with that luck: they're squeezing every last bit of luck, learned SEO, learned why it was that they've reached high positions, and ever since then have done everything possible to solidify those rankings. They published articles, guides, and all kinds of content their potential users may be interested in.
For example, you could write a post like this:
How to tell if my bag is authentic
Or you could write these:
How to tell if my Gucci bag is authentic

How to tell if my Vuitton bag is authentic

How to tell if my Prada bag is authentic
If they had been lazy, someone else willing to do the hard work would've already taken their spot.
More businesses that grew thanks to SEO:
Join Starter Story
There is no secret to building a profitable business. All of the systems and strategies can be learned, so why not learn them from others who have already done it?
Join Starter Story to access our database of 3,000+ business case studies. See the exact timelines of how founders took their businesses from idea to thousands of customers.
Get real answers to questions like:
How do people find great business opportunities?
What did they do to get their 10 first clients?
What challenges do they face at every stage and how to overcome them?
Join Starter Story Premium for $2.58/week. A no-brainer investment for your business.
Quick hitters
(1) This super-specific tool generates $60K/month. What is it for? Equity management. Sounds boring? Well, I think setting a goal to be the best at one thing is great.
Of course, Salesforce, Hubspot, etc. are great companies. But trying to compete with them right off the bat will most likely lead to failure. A smarter move is to identify a small pain that went unnoticed to most and build the best possible solution for it:
(2) This couple started a $13K/month business after being laid off. A great case study on how to build a business grinding. No hacks. No tricks. Just the path to success of a hard-working couple.
Being fired can be a great motivator. Whether to prove wrong those who let you go or because it's the final push some people need to finally start their dream business. These are some great examples:
--
Thanks for reading!
Want to find more ideas that make money?
Hey! 👋 I'm Pat Walls, the founder of Starter Story.
Get our 5-minute email newsletter packed with business ideas and money-making opportunities, backed by real-life case studies.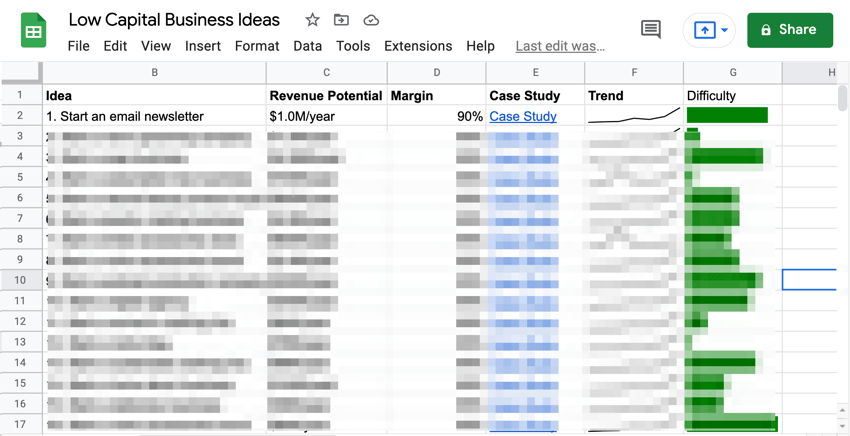 Wanna see 52 business ideas you can start with less than $1,000?
Join our free weekly newsletter and get them right now.
meet the author
David Bustos
Hey there! 👋 I'm David, and if you ever got an email from Starter Story, I probably wrote it. With a background in working with startups and writing, being part of this team is kind of a perfect fit for me.