4 Physical Therapist Success Stories [2022]
•
Updated: October 20th, 2022
4 Physical Therapist Success Stories [2022]
Become A Physical Therapist
Physical therapists are trained professionals who evaluate and treat abnormal physical function relating to injuries, disability, or other health conditions. The professionals can diagnose and treat various injuries and health conditions and improve a person's range of movement and quality of life, preventing further injury or disabilities.
A licensed physical therapist works in various healthcare settings, including private practice and fitness settings. To become a physical therapist, earn a doctor of physical therapy education and pass the licensure exams. Then, you can register your business and focus on growing the business.
Here are some real life success stories of starting a physical therapist:
1. Snuggle with Sam ($106K/year)
Samantha Varnerin (from Boston, Massachusetts, USA) started Snuggle with Sam about 6 years ago.
Team
1 founders / 0 employees
Location
Boston, Massachusetts, USA
Case Study
Hi there! My name is Sam Varnerin and I created Snuggle with Sam, my independent professional cuddling practice, while I was still working full-time as a construction engineer.
Here's all of the contributors on the panel at CuddleXpo in Chicago presenting how we came up with the Code of Ethics for Professional Cuddling. Back left to right: Maryelen Reid, Madelon Guinazzo, Samantha Varnerin (me!), Samantha Hess, Jean Franzbleau, Fei Wyatt, Janet Trevino. Front left to right: Keely Shoup, Lisa Meece. Photo credit Rellian Chen Merrin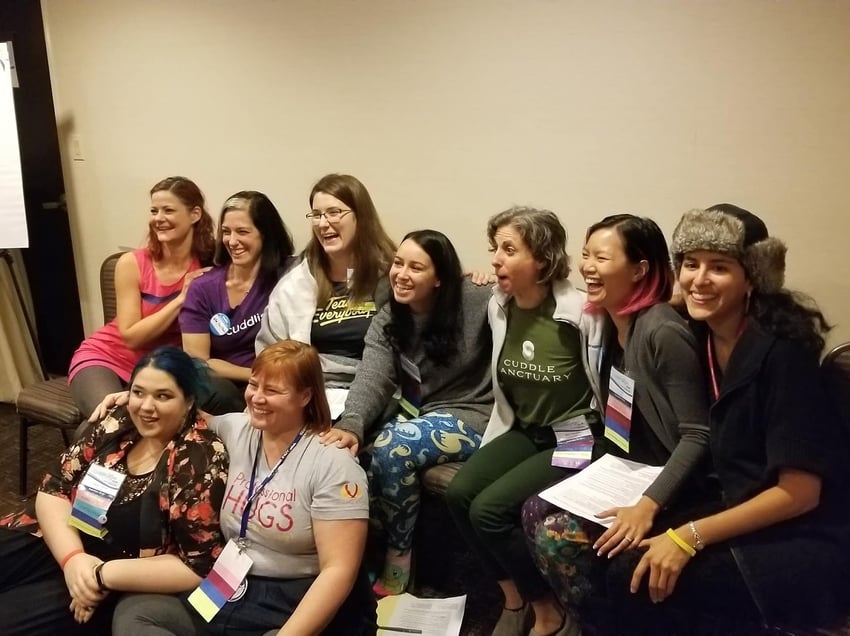 2. American Physical Therapy Association
Together we are building a community that advances the profession of physical therapy to improve the health of society.
Website traffic: 460K/month
Business rank: #82.5K
Check out their full website ➜
3. SPEAR Physical Therapy
The American Physical Therapy Association's top-ranked private physical therapy practice, and the top-rated physical therapists in New York City.
Check out their full website ➜
4. PhysicalTherapy.com
Hundreds of Physical Therapy Continuing Education Courses. State Board Approved. Online Courses in Video, Live Webinar, Text and Audio Formats.
Website traffic: 110K/month
Business rank: #264K
Check out their full website ➜
Want to find more ideas that make money?
Hey! 👋 I'm Pat Walls, the founder of Starter Story.
Get our 5-minute email newsletter packed with business ideas and money-making opportunities, backed by real-life case studies.