4 Dry Cleaners Business Success Stories [2022]
•
Updated: October 20th, 2022
4 Dry Cleaners Business Success Stories [2022]
Start A Dry Cleaners Business
Dry cleaning is a business that takes clothing, linens, and other fabrics and cleans them with no water. The dry cleaning process uses chemicals to clean the fabric and make it look new again. This process can remove stains, soil, and odors from your clothes.
People will always need their clothes washed, so this business model can be successful. Starting a dry cleaning business is a great way to get into the dry cleaning industry.
To maximize profitability, offer multiple services beyond the typical dry cleaning like wash and fold service.
Here are some real life success stories of starting a dry cleaners business:
1. Elite DhobiLite Laundry Pvt. Ltd. ($318K/year)
Nishant Tripathi (from Noida, Uttar Pradesh, India) started Elite DhobiLite Laundry Pvt. Ltd. over 11 years ago.
Team
1 founders / 14 employees
Case Study
Hello! My name is Nishant Tripathi, and I founded Dhobilite, a premium online dry cleaning, and laundry service. I started this company in 2011 with a vision to pioneer laundry service in India.
We started operations in the year 2011. Over the years, we experimented with and developed our business model and software. In 2015, we disrupted the laundry market and became India's first app-based, on-demand laundry service provider. We have expanded into more than 15 cities in the last two years and have around 20+ stores today. In addition, we have 30 plus franchises. We also have factories in Gurgaon, Noida, Lucknow, Hyderabad, and Faridabad.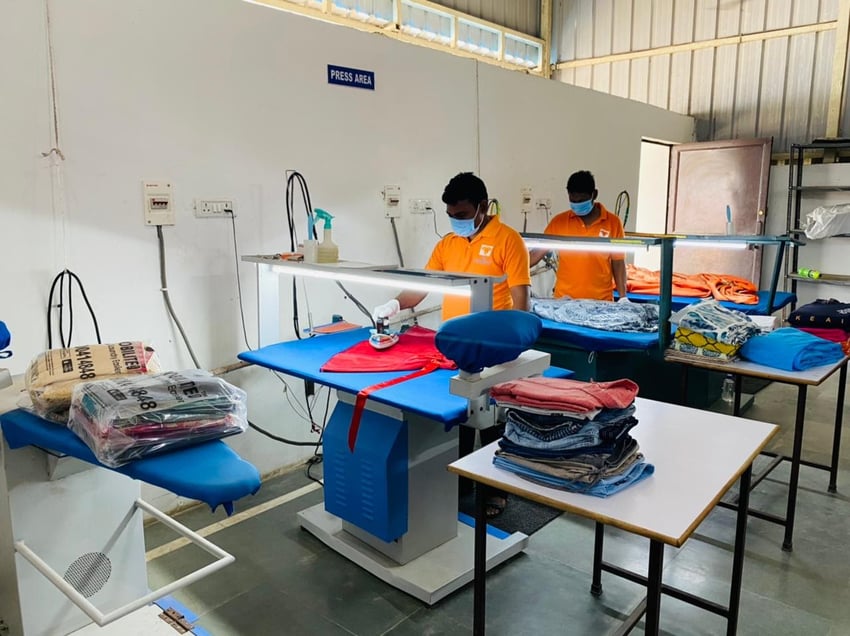 2. Elite DhobiLite Laundry Pvt. Ltd.
Get best Laundry & Dry Cleaner service at Noida, Gurgaon, Delhi, Ghaziabad, Lucknow, Thane, Hyderabad & more. Use APP30 for 30% Cashback
Estimated revenue: $26.5K/month
Business rank: #308K
Check out their full website ➜
3. Cleaner's Supply
The #1 Source for Dry Cleaning Supplies. Same day shipping & FREE delivery on orders over $99. Cleaner's Supply has over 20,000 dry cleaning products in-stock! Special daily deals and monthly specials.
Website traffic: 130K/month
Business rank: #365K
Check out their full website ➜
4. Quick Dry Cleaning Software
Quick Dry Cleaning Software is a complete Business Management Software for Laundry & Dry Cleaning Businesses. QDC is one of the best Laundry Software.
Website traffic: 420K/month
Business rank: #390K
Check out their full website ➜
Want to find more ideas that make money?
Hey! 👋 I'm Pat Walls, the founder of Starter Story.
Get our 5-minute email newsletter packed with business ideas and money-making opportunities, backed by real-life case studies.