4 At Home Laundry Business Success Stories [2022]
•
Updated: October 20th, 2022
4 At Home Laundry Business Success Stories [2022]
Start An At Home Laundry Business
When you think of starting a laundry business, you may think of the laundromat business with dozens of washing machines and dryers arranged in rows.
But do you know you can start an at-home laundry business?
How your business works is simple! The clients will leave their laundry outside their door for a scheduled pick-up and washing. Upon picking up, you can take the clothes to your home and wash then dry them. Then, you fold the clothes and return them to the client.
To start your own at-home laundry business, you will need a washer and dryer, a way to transport laundry from your clients, and a dedicated washing space. You will also need bag tags, a hanging scale, garment covers, and laundry bags or hampers.
For efficiency and convenience, you may invest in a laundry app where customers can request the service.
Here are some real life success stories of starting a at-home laundry business:
1. PickMyLaundry ($1.2M/year)
Bhupender Beniwal (from Gurgaon, Haryana, India) started PickMyLaundry over 1821 years ago.
Team
2 founders / 29 employees
Case Study
I am an engineering graduate and have done my bachelor of Technology from Amity University. Before starting Pick My laundry I was working in Randox Laboratory a diagnostic MNC. Me and my lads were facing laundry issues very much. There were no regular services for laundry and dry cleaning and sometimes we had to wait up to 15 days for our laundry. There were around 200 Hostels and PG which were facing the same problem.
Currently, we have more than 50 franchises in more than 15 cities across India. We are processing 1000 orders daily with the help of franchisees. Now, we are providing IoT enabled machines on rent to franchisees.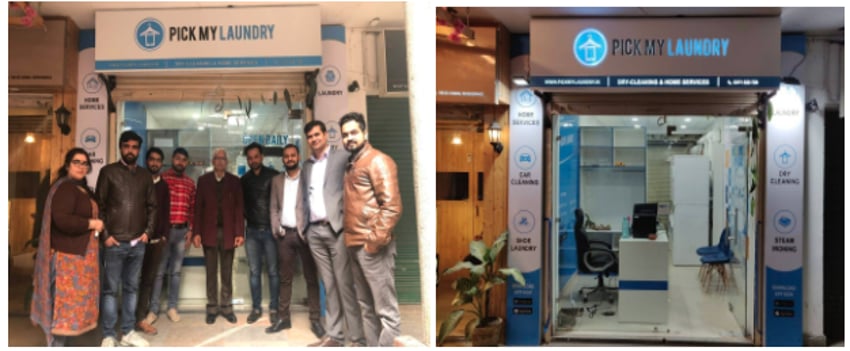 2. PowerHomeBiz
Learn how to start a successful home business with PowerHomeBiz.com
Check out their full website ➜
3. Workers Onboard
A free list of legitimate companies that hire people to work right from their homes as an employee, independent contractor on a part time basis and other ways you can make money online.
Website traffic: 90K/month
Business rank: #445K
Check out their full website ➜
4. Laundry & Dry cleaning
Laundry dry cleaning , pest control ,home sofa cleaning , car wash interior exterior service budget & cheap near me. provides affordable & transparent rates saves your time and energy on Laundry dry cleaning , pest control ,home sofa cleaning , car wash near me.
Check out their full website ➜
Want to find more ideas that make money?
Hey! 👋 I'm Pat Walls, the founder of Starter Story.
Get our 5-minute email newsletter packed with business ideas and money-making opportunities, backed by real-life case studies.