On Creating A Multilingual WordPress Plugin
•
Published: May 29th, 2021
Start A Wordpress Plugin Business
Hey! I'm Adrian Spiac, CEO and co-founder of Cozmoslabs, where we build premium WordPress plugins that help you save time and money with your web projects. Our latest product, called TranslatePress is the most intuitive way to translate your WordPress site and grow multilingual traffic. Our customers range from freelancers, small business owners, solopreneurs, agencies to well-established businesses, even corporations.
TranslatePress is our newest product, which also became our most popular. It went from 0 to powering over 160K active multilingual websites in the past 3.5 years. Its growth rate ranged between 3-5X years to year. We managed to grow it organically, without big investments, all while working 4 days per week (and taking Fridays off).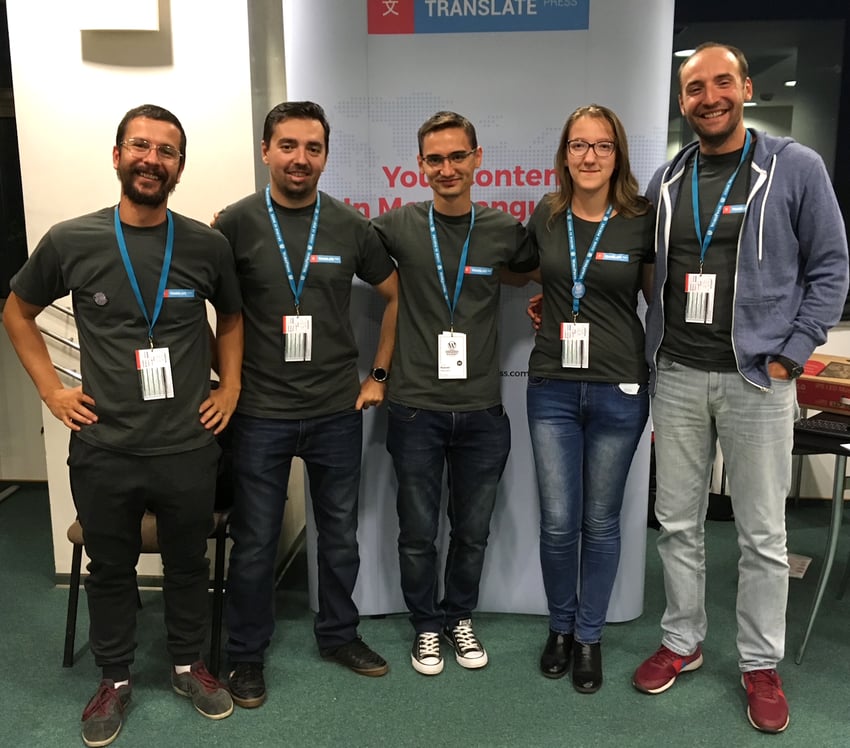 Part of our team at WordCamp Bucharest 2017, where we officially launched TranslatePress
What's your backstory and how did you get into entrepreneurship?
I think my attraction towards entrepreneurship started in college. I read a lot of business books, blogs, and followed several local entrepreneurs closely. All of them built online businesses. The idea of starting my own business emerged out of this.
Learning to calculate risks is probably the most ignored skill by entrepreneurs that are starting.
Obviously, I had zero experience. I knew how to write code, but I was a beginner when it came to web development. But I had some very important things on my side: time, zero debt, and low recurring costs (rent & food). Plus the eager to learn as much as I can.
I didn't need to support any family back then, since it was just me. So I didn't perceive any major risk if this would be a complete failure. I would at least learn a thing or two.
The timing seemed perfect when I met one of my co-founders, Cristian, in the last year of college. We worked on a few projects together and had great synergy. He had already been working for a web development company and was doing a bit of freelancing on the side. We figured that if we would get 1-2 projects every month, we would cover our costs. That shouldn't be so hard, right?
Take us through your entrepreneurial journey. How did you go from day 1 to today?
The first year after starting the company was quite slow in terms of projects. But we did manage to cover our expenses as well as hit some important milestones:
We applied and got accepted into a local software incubator where we had our own office (yay!), access to business advisors, events, plus other entrepreneurs starting. Not to mention low rent.
We discovered WordPress and decided to focus completely on it. This was around 2009, so we focused on offering WordPress development and consulting services exclusively.
Deciding to focus on WordPress was a key decision since it allowed us to deepen our knowledge in this CMS as well as spot opportunities in this space. We blogged regularly about the things we learned. One of these blog posts addressing the limitations of the default WordPress user registration received a lot of comments and traffic. It was a true pain point that other people were sharing as well.
This led us to create our first product, Profile Builder, that lets you build beautiful front-end registration and user profile forms. Due to the popularity of that blog post, we built a waiting list, launched a free version, then a premium version, and had sales from day one. We were thrilled!
In the following year or so, sales began to grow, and soon our revenue from products vs services was split 50-50%. This is when we decided to drop services completely (we all preferred to work on the product side) and focus exclusively on our products. Looking back it was another key decision to get us where we are today. We managed to make up for the lost 50% revenue in less than a year and never looked back.
We went into full product company mode and launched WordPress Creation Kit, our fully-fledged membership plugin Paid Member Subscriptions and our latest TranslatePress in the following years.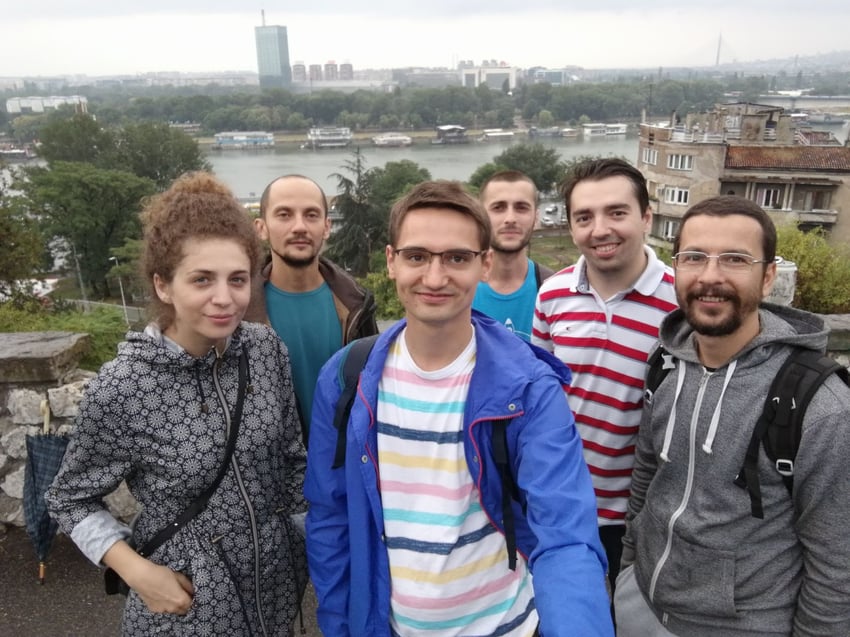 We found attending WordCamps is a great team-building opportunity. This one is from WordCamp Europe in Belgrade, Serbia
How are you doing today and what does the future look like?
Since the beginning, we were a bootstrapped company. Mostly with time, since we had no cash to start with. Even though it took us 2-3 years to build a sustainable business, we were profitable each year. This allowed us to grow our team (we're now 16 people and hiring) and expand our product reach.
Last year, when the pandemic hit, we were among the fortunate businesses to not be affected. We actually saw a significant increase in our revenue, which doubled from the previous year.
Moving forward, as WordPress market share is increasing, I see a lot of growth potential for TranslatePress, as well as our membership plugins. We have set ambitious development roadmaps for this year, so a lot of value will be added to each product. We're also going to be looking at acquiring other products that are complementary to our existing ones.
Really miss our lunch breaks. We found that eating together does magic to solidifying a team
Through starting the business, have you learned anything particularly helpful or advantageous?
Don't procrastinate. If you want to start a business, just do it. The younger you are and the earlier you start, the better. Your older self will thank you for that. If I could do it all over again, I would have started even earlier. You have energy and time on your side.
Find a co-founder. Or even two. It's easier and more fun to share the journey with someone. But before embarking on anything together make sure there's a lot of common ground when it comes to principles and values. You're in it for the long run.
Build an audience since day one. Teach and offer things for free. It will pay back dividends over time. Remember how our first product idea (and validation) came from a blog post? Basically, our whole product journey started with a blog article sharing our learnings, frustrations as well as possible solutions to the problem.
Luck is always a factor. So make sure that when luck strikes, you're prepared. Learn to adapt quickly.
What platform/tools do you use for your business?
We use Clickup as a hub for tracking everything that's happening in the business.
Trello is our go-to tool for anything content-related. We plan our editorial calendar here and assign ideas to writers.
Since we're now all working remotely we communicate using Slack for instant messaging and Zoom or Google Meet for video meetings.
We handle all customer support via HelpScout. We find their stats quite useful.
For development, we use PHP Storm, Visual Studio Code, and Bitbucket.
We rely on Mailchimp and Jilt for email marketing.
What have been the most influential books, podcasts, or other resources?
These are some of the books that certainly left a mark on how I approach life and business:
Some podcasts I find myself listening to frequently include The Tim Ferriss Show, Naval Ravikant, Sam Harris - Making Sense (I also use his meditation app Waking Up).
Advice for other entrepreneurs who want to get started or are just starting?
Don't expect immediate results. Building a sustainable business takes at least 2-3 years. If yours happens to take off sooner, that's great, but be prepared to put in the time.
Always try to understand the risks involved. Most of the time, they're much lower than you think. Learning to calculate risks is probably the most ignored skill by entrepreneurs that are starting.
Pick a niche (or a niche within a niche) that you feel comfortable with and where you can provide the most value. Get involved and try to understand it as best as you can, you'll spot a lot of opportunities doing that.
Where can we go to learn more?
-
Adrian Spiac, Founder of TranslatePress
Want to find more ideas that make money?
Hey! 👋 I'm Pat Walls, the founder of Starter Story.
Get our 5-minute email newsletter packed with business ideas and money-making opportunities, backed by real-life case studies.