Thank you Klaviyo for sponsoring Starter Story ❤️
Turn one-time buyers into repeat customers. Try the platform loved by 265,000 brands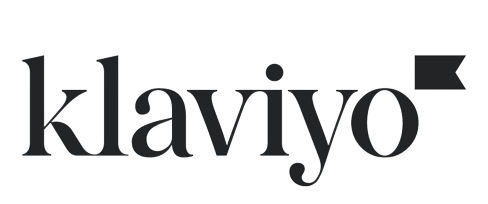 Welcome Emails: Tips, Examples & Best Practices
•
Updated: July 1st, 2022
Welcome Emails: Tips, Examples & Best Practices
This article is a part of our encyclopedia, and is editable by you. Edit ➜
Result
Trust & Credibility
What Is A Welcome Email?
A welcome email is the first impression a company makes with a new subscriber.
If customers enjoy a positive experience, they will be likely to engage with your future email marketing efforts.
According to campaign monitor, welcome emails have an average read rate of 34%.
Therefore, it's important that you convey the right message off the bat! Here are some things to consider when creating a welcome email:
Welcome Email Key Takeaways
Try not to introduce a new product or service right away
Avoid sending welcome emails too late in the game - as soon as your customer provides you with their information, they should receive a welcome email in their inbox
Consider creating a nurturing sequence so you can gradually build a relationship with your customer before convincing them to purchase your product/service
Make sure your welcome email offers an authentic and personal touch when introducing your organization.
Understanding How Welcome Emails Work
As the name suggests, a welcome is sent to new customers to establish a positive initial impression of your company. Moreover, the welcome email creates an opportunity to introduce the new customers and establish a positive connection ahead of the first order.
A customer-focused, value-packed welcome email stands out in the customer's inbox. Therefore, create a personalized email to increase customer engagement and deliver six times higher transactional rates compared to future marketing emails.
Real-World Examples of Enterprises That Send Welcome Emails
1.Real Life Trading
Real Life Trading is an American financial Freedom company started by Jeremy Alexander.
Jeremy understands the importance of creating first-time impression through a personalized welcome email.
In the welcome email, he starts with the user's name, to create a personalized appeal. The email refers to the action taken by the user and adds a Call To Action button to direct the user to the dashboard.
By creating such personalized welcome emails, Jeremy has managed to hook users to the system, which is the key to getting the customers to register for courses on offer.
Today, Real Life Trading has monthly revenue of $160,000 per month, thanks to the smart marketing approaches.
Food52
Food52 is a recipe website founded by Amanda and Merrill. Apart from sharing test kitchen-approved recipes, Amanda and Merrill also market kitchenware needed to make the approved recipes.
Whenever a new user registers on the platform, a welcome email is delivered to the customer's inbox. The welcome email features an attractive pre-header that ensures the customer opens the email.
Therefore, when the customer sees the food52 welcome email, he gets a taste of their brand's personality even before opening the email.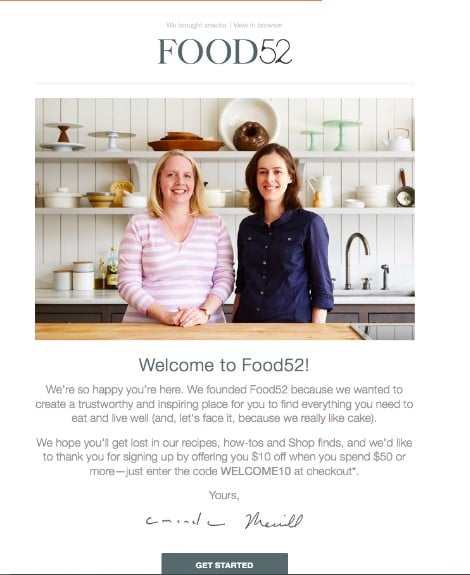 Getting Started with Welcome Emails
Ensure you create a catchy subject line
The tone of welcome emails should mirror your company's culture and brand personality
Create a stylish email template that suits your brand's guidelines
Be engaging and creative
Double-check emails before sending them
Taking the time to send a welcome email to your new customers is a thoughtful gesture that will not go unappreciated by the recipient.
Some easy-to-use email campaign tools can ease the experience of sending welcome emails. Here are great tools for your email marketing campaigns.
MailChimp
A marketing automation platform and an email marketing service.
The free plan, up to 2000 subscribers - what you get
Send up to 12,000 emails per month
Up to 2,000 subscribers
Email support included for 30 days
"Essentials" plan Plans start at $10 per month
Up to 5,000 subscribers $50 per month

Up to 10,000 subscribers $75 per month

Up to 25,000 subscribers $150 per month
Standard plan Plans start at $15 per month
Up to 5,000 subscribers $75 per month

Up to 10,000 subscribers $99 per month

Up to 20,000 subscribers $189 per month

Pricing: Freemium

Twitter: @MailChimp

Website: mailchimp.com
Businesses using MailChimp:
644 successful businesses are using MailChimp ➜
Mailerlite
Affordable Email Marketing Software for Small Business.
Businesses using Mailerlite:
57 successful businesses are using Mailerlite ➜
SendGrid
Customer communication platform for transactional and marketing email.
100 emails/day - Free!
Up to 50k emails/day - $15/month

Up to 100k emails/day - $30/month

Pricing: Freemium

Twitter: @SendGrid

Website: sendgrid.com
Businesses using SendGrid:
64 successful businesses are using SendGrid ➜
Contributors
Contributors to this article:
Pat Walls, Founder @ Starter Story
Samantha Walls, Head Of Content @ Starter Story
David Gitonga, Writer @ Starter Story
Discover the best strategies of successful business owners
Join our newsletter and receive our handcrafted recap with the best insights shared by founders in Starter Story each week.
Useful, convenient, and free:
PROMOTED
Did you know that brands using Klaviyo average a 95x ROI?
Email, SMS, and more — Klaviyo brings your marketing all together, fueling growth without burning through time and resources.
Deliver more relevant email and text messages — powered by your data. Klaviyo helps you turn one-time buyers into repeat customers with all the power of an enterprise solution and none of the complexity.
Join Brumate, Beardbrand, and the 265,000 other businesses using Klaviyo to grow their online sales.
Starter Story
Wanna see 52 business ideas you can start with less than $1,000?
Join our free weekly newsletter and get them right now.