Thank you Klaviyo for sponsoring Starter Story ❤️
Turn one-time buyers into repeat customers. Try the platform loved by 265,000 brands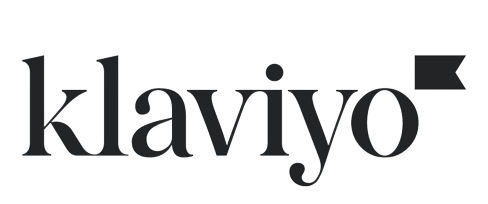 How To Create A Weekly Email Newsletter For Your Brand [2022]
•
Updated: June 30th, 2022
How To Create A Weekly Email Newsletter For Your Brand [2022]
This article is a part of our encyclopedia, and is editable by you. Edit ➜
What Is An Email Newsletter?
An email newsletter is a type of email informing your audience of the latest news, product updates, or important tips to get more value. The core use of email newsletters is to drive brand awareness and foster customer engagement.
Therefore, email newsletters are an important component of effective email marketing and branding. Ignoring email newsletters can restrict brand growth. Email newsletters can be weekly, monthly or quarterly.
Backed by a strong strategy, email newsletters can deliver stable return on investment (ROI) as well as other value-add benefits.
Email Newsletter Key Takeaways
A shorter and more frequent delivery schedule is more desirable [1]
The best email newsletters adopt a conversational tone to draw readers in
Email newsletters focused on content draw more readership.
Every email newsletter needs a clear call to action.
An attractive email newsletter design encourages readership and support.
Understanding How Email Newsletters Work
Email newsletters are part of content marketing efforts.
The newsletters share relevant and valuable information with the customers, prospects, and email subscribers.
Therefore, an email newsletter gives you direct access to the audience's inbox. This allows the customer to share engaging content, promote sales, and increase website traffic .
Sending email newsletters offers you the following benefits:
Generates regular website traffic
Saves you money compared to other online marketing tools
Advanced and easy performance tracking
Links to other marketing tools easily and efficiently
Marketers can track newsletter deliverability and depending on the results, make adjustments to lead to more wins.
Real World Examples Of Brands Using email Newsletter As Part of Their Content Marketing Efforts
Here are cool examples of successful email newsletter campaigns
1. How Away Travel Sends Email Newsletters to Highlight Product Features
Away sends a newsletter to their email list that showcases something new about their product.
The goal of this newsletter is to put the focus on a new offering, deal, or partnership with the hope of generating some sales.
Their newsletters are always design-forward and the content is almost always user-generated - which adds a really nice sense of community.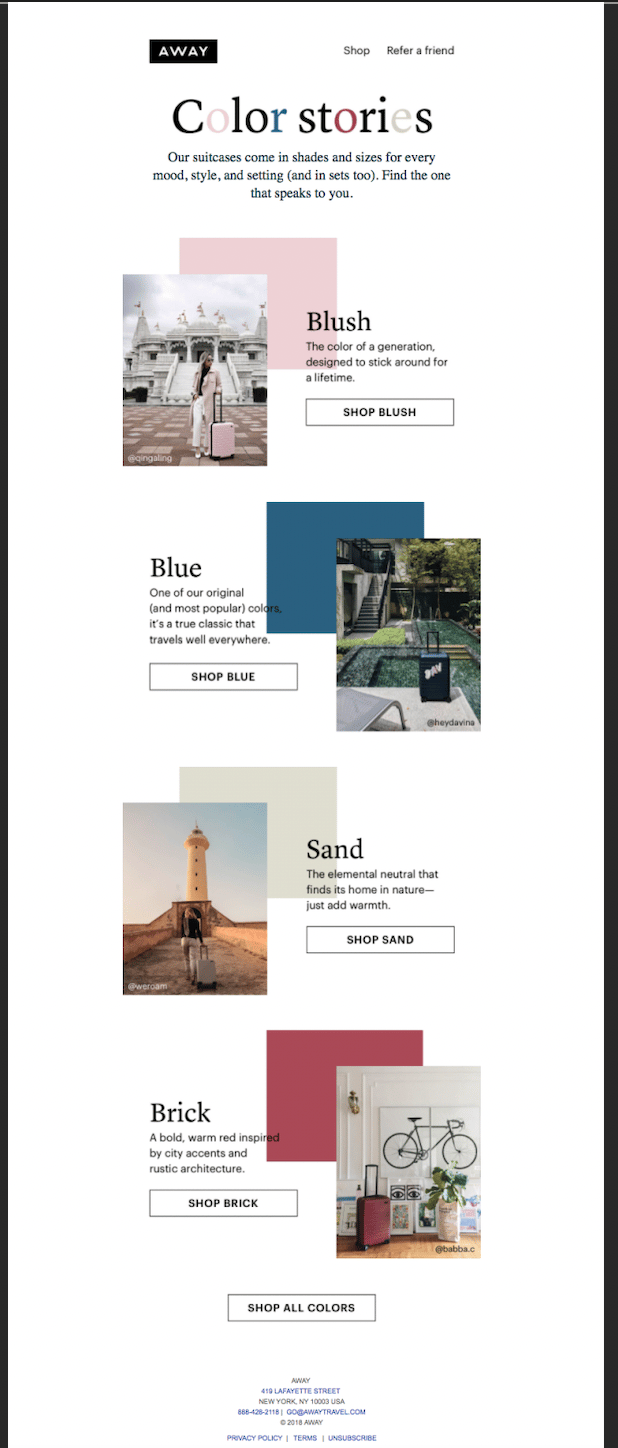 They do an amazing job at making their product look sleek and also providing enough CTA's to visit their site and make a purchase.
2. FandangoNow uses Email Newsletter As Part of their Customer Retention Strategy
FandangoNow, is a movie streaming application built to allow users to keep a collection of purchased and rented movies. The company uses email newsletters as part of its customer retention strategy.

Despite being a graphic intense newsletter, the feature-rich email newsletter is easy to digest and drives the target customer into taking the right action.
How To Design A Successful Email Newsletter
Use the right tool to design an email newsletter (see examples below)
Figure out the newsletter objective and define the target audience
Define the newsletter format depending on

Which email clients to support
Web/mobile browser support
Supported mobile devices
The mobile and desktop you want email to appear

Keep the email campaign focused
Personalize the email newsletters
Add catchy images to keep readers interested
Keep an eye on analytics for clues as to what is working and what is not
The Best Tools For Designing Email Newsletters
Klaviyo
Klaviyo's the ultimate ecommerce marketing platform trusted by 50,000+ brands, like Chubbies, Living Proof, and Hint. Deliver higher-value, personalized marketing experiences across email, mobile, and web.
Up to 250 contacts: Free!
Up to 1,000 subscribers: $30 per month
Up to 2,500 subscribers: $60 per month
Up to 5,000 subscribers: $100 per month
Up to 10,000 subscribers: $150 per month

Up to 20,000 subscribers: $375 per month

Pricing: Freemium

Twitter: @klaviyo

Website: klaviyo.com
Businesses using Klaviyo:
262 successful businesses are using Klaviyo ➜
Constant Contact
Email marketing for small business and nonprofit organizations.
Businesses using Constant Contact:
27 successful businesses are using Constant Contact ➜
Moosend
Up to 1,000 subscribers - Free!

Up to 5,000 subscribers - $30/month

Up to 10,000 subscribers - $55/month

Up to 20,000 subscribers - $125/month

Pricing: Freemium

Website: moosend.com
Businesses using Moosend:
1 successful business is using Moosend ➜
SendinBlue
Email marketing & automation suite allowing organizations to communicate directly with clients by email or SMS.
Businesses using SendinBlue:
22 successful businesses are using SendinBlue ➜
References
Contributors
Contributors to this article:
Pat Walls, Founder @ Starter Story
David Gitonga, Writer @ Starter Story
Want to start your own business?
Hey! 👋I'm Pat Walls, the founder of Starter Story.
We interview successful business owners and share the stories behind their business. By sharing these stories, we want to help you get started.
Interested in starting your own business? Join Starter Story Premium to get the greatest companion to starting and growing your business:
Connect + get advice from successful entrepreneurs
Step by step guides on how to start and grow
Exclusive and early access to the best case studies on the web
And much more!
PROMOTED
Did you know that brands using Klaviyo average a 95x ROI?
Email, SMS, and more — Klaviyo brings your marketing all together, fueling growth without burning through time and resources.
Deliver more relevant email and text messages — powered by your data. Klaviyo helps you turn one-time buyers into repeat customers with all the power of an enterprise solution and none of the complexity.
Join Brumate, Beardbrand, and the 265,000 other businesses using Klaviyo to grow their online sales.
Starter Story
Wanna see 52 business ideas you can start with less than $1,000?
Join our free weekly newsletter and get them right now.