Thank you Klaviyo for sponsoring Starter Story ❤️
Turn one-time buyers into repeat customers. Try the platform loved by 265,000 brands
How I Built A $10K/Month Visitor Guide Map Business
Hello! Who are you and what business did you start?
Hi Guys. My name is Tom Shott and I am the owner of Front Desk USA.
I bought Front Desk USA from a retiring hospitality map guide publisher in 2001. At that time the company was only in Texas. Since then we have expanded the maps to over 100 and created a mobile version with exclusive content to specific map areas.
Front Desk USA is a full color customized map publication distributed at no charge to the hospitality (hotels) industry. With over 1,000 hotels currently using Front Desk USA maps nationwide and tens of thousands being viewed by hotel guests each day, Front Desk USA is the, "go-to" visitor information guide for hotels.
Front Desk USA maps is a unique business opportunity that operates primarily in the hospitality industry. Hotels love our maps because their guests need local information that is important to their visit. Restaurants love our maps because marketing directly to the hundreds of hotel guests each night is good for the bottom line. We rely on local representatives/publishers to promote the map, distribute the map and find sponsors for the mobile guide and printed versions of a larger map in specific areas. Publishers can make up to $10,000 a year on each map they publish. Multiple maps areas are common for our publishers with the average around five maps.
What's your backstory and how did you come up with the idea?
I come from the publishing business starting 20 years ago.
I started publishing homeowner association newsletters in the 1990s. From there I discovered a franchise called "Coffee News". Coffee News is a restaurant distributed newsletter printed on tan colored paper in black print. It is distributed weekly to restaurants.
If you believe in your idea and yourself, go for it. Figure out how to make it work. Start as a side hustle and grow your idea. It has never been a better time to start your own business or build a billion dollar brand.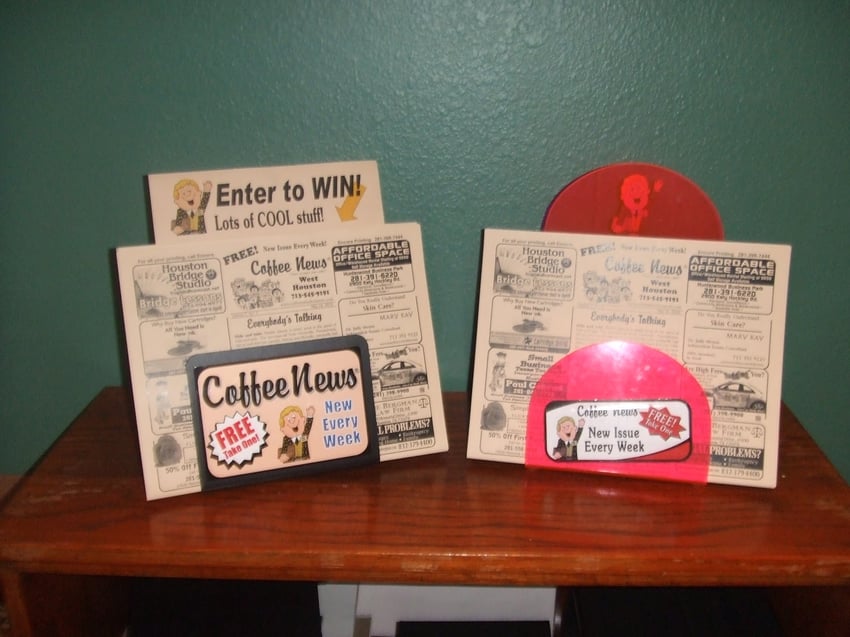 The content is supplied by the franchisor and the ad spaces are available for sale by the publisher of a specific area. I published that newsletter for 12 years in 6 different areas of west Houston, TX. Along the way restaurants kept asking me if they could advertise on the newsletter. The franchisor did not allow restaurant advertising because the newsletter was distributed to restaurants.
That's when we thought it would be a good idea to have a product that restaurants could advertise on. I had seen a simple map that was printed in one color distributed to hotels in the area. I contacted the owner about possibly providing restaurant leads for his sales campaigns.
That's when I learned the owner was in the market to sell his website and rights to use his already drawn maps. We bought customer lists and immediately started putting our own mark on the product.
Take us through the process of designing, prototyping, and manufacturing your first product.
Because we were buying an existing product we already understood why the product was popular with hotels and their guests.
Our problem was the process for printing and distribution. It was terrible. Printing of the product (maps) was done on machines that were old and outdated.
Maps were printed in one of three colors and they looked cheap. We immediately moved the maps to a professional printer and changed styling. Hotels and advertisers noticed the difference right away.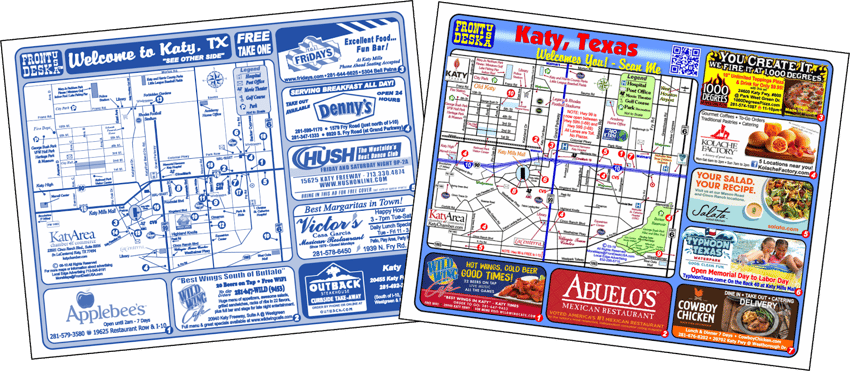 Color printing wasn't an option at that time because of the cost. But new printing methods were on the horizon and we started preparing for that process. We also made it a priority to update the website.
As anyone knows who run a small business know that website updates are very important. Social media was not yet invented and we mostly used email to let people know that new products were launching soon. When social media did emerge as a way to stay close to viewers, hotels and advertisers we expanded our efforts in that direction. That included contests for event tickets and restaurant gift cards.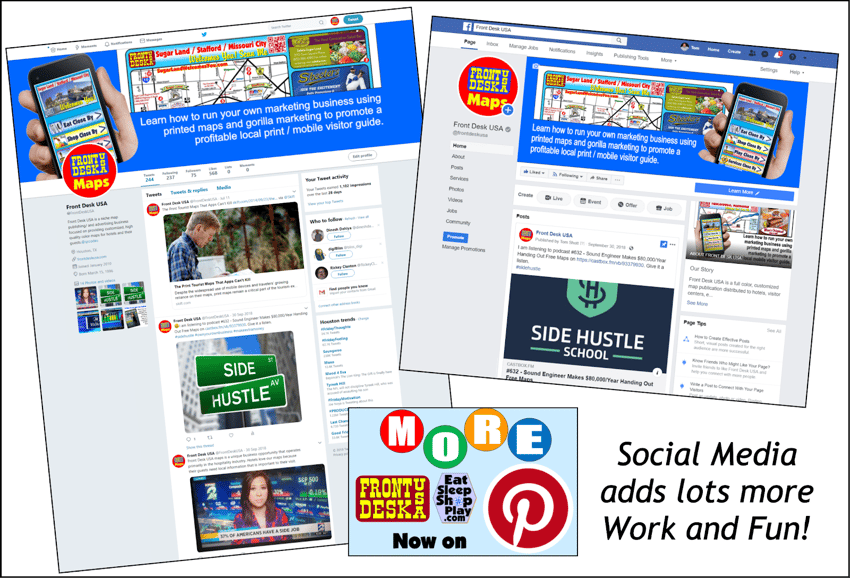 Describe the process of launching the business.
Our launch was very successful. The website was clear about who we are, how our product worked and how other publishers could get involved in expanding the business.
Technology is ever-changing and your business will always be changing. You have to accept and appreciate change. Don't be afraid of change and work though all the opportunities.
Taking the product out of Texas and into Maine, Virginia, Louisiana, Mississippi and South Carolina. Our publisher business model proved profitable income for full and part-time publishers. Within a year we expanded up to about 50 map projects being managed by 20 publishers nationwide. We made some mistakes in the beginning not closely studying the cities we were investing in. Our maps are intended to be directional maps used maybe once or twice during a two night stay in any given area. Some of our first publishers came to us from seasonal areas like Maine and Washington state. Competition with the more cartoon larger maps proved to a bigger struggle than expected. For now we stay away from tourist areas with larger maps.
Another issue showed up in the form of publishers not understanding the outside sales process. We started a weekly sales conference call meeting to help deal with outside sales skills. Once we established a process for building relationships with the hospitality community and Chamber of Commerces sales fell into place for the publishers.
The business model at the time was simple. We charged $4,000 to produce the map the first time. The publisher would then find advertisers totally more than $10,000. Our ongoing annual service fee per map project to the publisher is $1,000 and printing fees average around $1,000. Many publishers continue to earn additional income from over 20+ maps.
Since launch, what has worked to attract and retain customers?
Attracting and retaining publishers has been a challenge. The hospitality industry continues to embrace printed visitor information guides. Hotel guests still love having a piece a paper with lots of local information. Advertisers appreciate the opportunity to advertise to a population that may not ever know about their business. That's why restaurants are the most likely advertisers but many other types of businesses are interested in attracting visitors.
Our publishers have the opportunity to work in their communities with the hospitality industry. Our struggle has been to attract publishers to our business model as a side hustle or full-time work from home opportunity. We can't say we know why this is happening other than the competition for these kinds of opportunities are everywhere.
We believe ours is unique. Outside sales experience is a big plus and any knowledge about the hospitality industry is useful. Networking and sales skills are required in order to be successful. We provide as much training and support as possible.
Building a well rounded marketing program provides constant lead generation and sales. Each business would have a different strategy, but our plan was developed around printed maps, printed promotional pieces, promotional items, website and social media all up-to-date with helpful content and professional looking name badges while attending networking events. Build a list of prospects and continue to follow up with prospects and advertisers to ensure renewals with each cycle.
Our social media ties directly into our sales efforts with constant reminders to the community about who we are and what we do. Clear marketing materials that help explain how our program works are always being updated. We really encourage each publisher to have completed LinkedIn profile with posts about how visitor information guides are good for local business. They should use LinkedIn as the foundation of their personal brand and marketing strategy.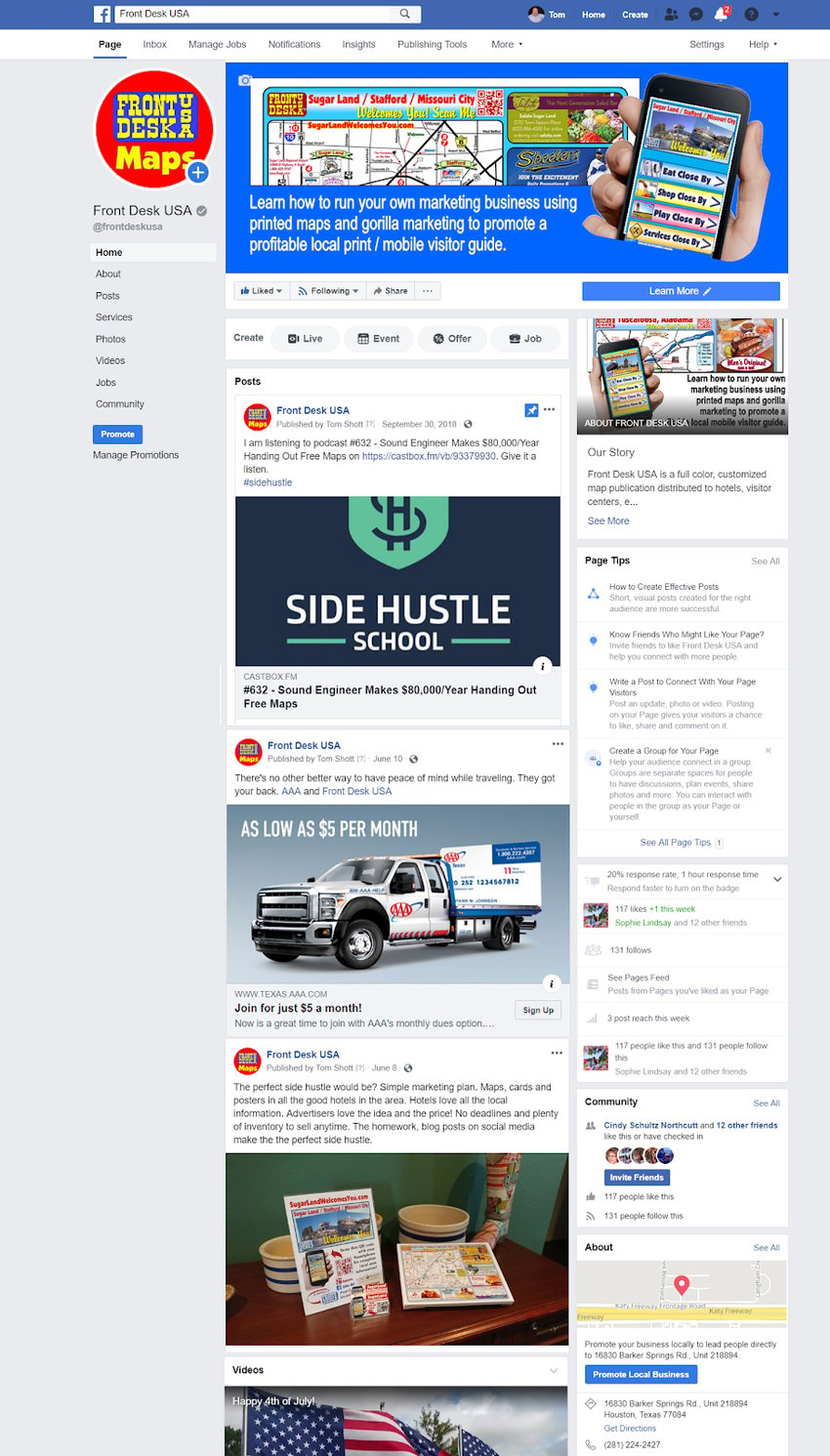 How are you doing today and what does the future look like?
In 2018 we rolled out a digital model of our program that includes a printed map that drives viewers to connect with us on-line. There is no display advertising on the map itself.
This eliminates the need for reprints with advertiser display insertion deadlines. Our first test market is in Baytown, TX (BaytownWelcomesYou.com) and has proved to be very successful.
Our next market is Lake Charles, LA and we are anticipating the same success. As these markets grow we will expand to our other 35 markets with-in the next two years.
During this expansion, our technical team is going to work on website design and speed along with SEO functions. We have never stopped doing that in the past, but now we are really going to focus more on digital and less on print.
Our other focus, of course, is blogging both script and video. This is where we hope to build our publisher network back-up because the sales process will be more about building local content and less about display advertising.
Through starting the business, have you learned anything particularly helpful or advantageous?
It's the old saying - "expect the best, prepare for the worst." This is the fourth business I have owned in the last 25 years.
Technology is ever-changing and your business will always be changing. You have to accept and appreciate change. Don't be afraid of change and work though all the opportunities.
Use your gut to help you make big decisions. Listen to your stakeholders and don't be afraid to ask for help. It's not a sign of weakness.
What platform/tools do you use for your business?
We use almost everything. Secure (certificate) website, SEO tools (Google Analytics), social media (Facebook, LinkedIn, Twitter, Pinterest) and Microsoft 360. We are always testing new programs for managing content.
What have been the most influential books, podcasts, or other resources?
Right now my favorite podcast is Problem Solvers and second favorite is Side Hustle School. Regular subscriber of Inc. and Entrepreneur Magazine.
We also as company subscribe to Jeffrey Gitomer and regularly recommend his books as part of an on-going sales training program.
Advice for other entrepreneurs who want to get started or are just starting out?
If you believe in your idea and yourself, go for it. Figure out how to make it work. Start as a side hustle and grow your idea. It has never been a better time to start your own business or build a billion dollar brand.
Are you looking to hire for certain positions right now?
Yes, we offer commission sales positions in several markets around the country.
Where can we go to learn more?
If you have any questions or comments, drop a comment below!
-
Tom Shott, Founder of Front Desk USA
Want to start your own business?
Hey! 👋I'm Pat Walls, the founder of Starter Story.
We interview successful business owners and share the stories behind their business. By sharing these stories, we want to help you get started.
Interested in starting your own business? Join Starter Story Premium to get the greatest companion to starting and growing your business:
Connect + get advice from successful entrepreneurs
Step by step guides on how to start and grow
Exclusive and early access to the best case studies on the web
And much more!
PROMOTED
Did you know that brands using Klaviyo average a 95x ROI?
Email, SMS, and more — Klaviyo brings your marketing all together, fueling growth without burning through time and resources.
Deliver more relevant email and text messages — powered by your data. Klaviyo helps you turn one-time buyers into repeat customers with all the power of an enterprise solution and none of the complexity.
Join Brumate, Beardbrand, and the 265,000 other businesses using Klaviyo to grow their online sales.
Starter Story
Wanna see 52 business ideas you can start with less than $1,000?
Join our free weekly newsletter and get them right now.