How I Turned My Side Hustle Into a 6-Figure Business in 2.5 Years
•
Published: May 21st, 2021
Start An Ecommerce Retailing Business
Hello! Who are you and what business did you start?
My name is Rami Nasr and I'm the founder and owner of From The Ground Up (FTGU). We're a Seattle-based brand creating high-performance, stylish and sustainable gear that gives back to protect our trails and public lands. We sell hiking socks that feature the beauty of the Pacific Northwest on them like Mount Rainier and the Cascade Mountains. Our target customer is what we call the "Urban Athlete" – people aged 24-35 who love the outdoors, stewardship and sustainability, and high-performance gear for their sports.
Since starting this business 2.5 years ago, I've gotten the brand into over 25 retail locations, done over $170k in sales, and donated around $5,000 to the trails association in our state all while working my full-time job.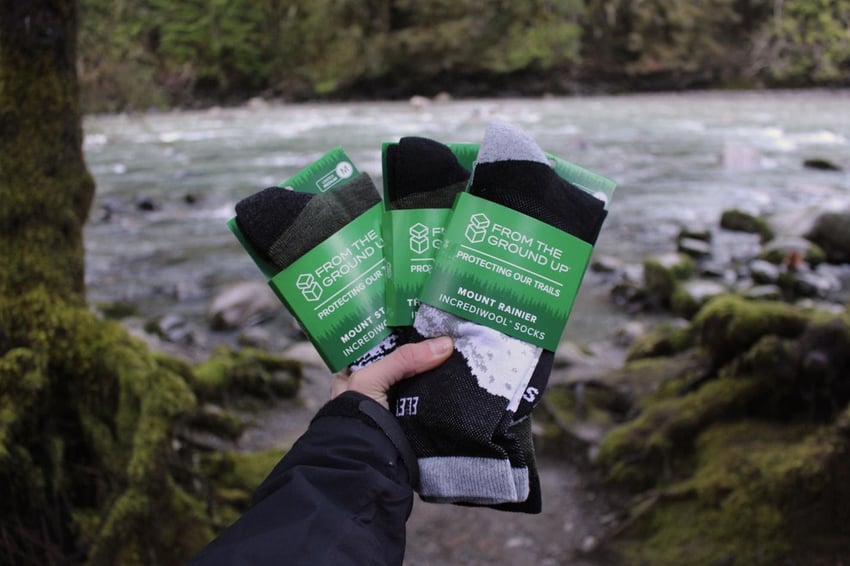 What's your backstory and how did you come up with the idea?
I came up with the idea for FTGU as I was graduating from the entrepreneurship program at the University of Washington. At the time, I started a little business selling funky socks with presidential figures wearing party shades on them. For a couple of years, I sold this style but realized I was lacking a general direction with what this business was.
It wasn't until the start of 2018 when I was on a backpacking trip with friends and I stupidly picked the wrong socks and absolutely wrecked my feet. Growing up a Washingtonian, I'd always been into the outdoors whether it was skiing, camping, or hiking, and knew that merino wool was the best material for hiking due to its antimicrobial qualities.
After coming back from my hike, I was shopping for better hiking socks, but everything in the merino wool sock market was either itchy, hot, or just plain ugly. It was at that moment, I saw an opportunity to capitalize on the beauty our home state had to offer and create my own brand of hiking socks.
There isn't one explosive moment that is your "big break", but rather it's all a series of little successes and adds up over time that brings you the success you see.
I spent months researching, sourcing, and designing socks that my friends and I would actually wear. Socks that don't compromise quality for style, socks that would perform under the toughest conditions. Socks that not only look good and feel good but do well too. From The Ground Up was born out of a need for better, more stylish, and more sustainable hiking socks.
At the time, I didn't have much money, so I invested in my first pair of socks – they were navy blue Cascades. I knew I only had one chance to get it right. I reached out to Washington Trails Association, a nonprofit focused on protecting our trails and public lands, and offered them 5% of my sales if they would let me use their name on my packaging. It was from there I got in with a great organization that introduced me to my exact target customer – a match made in heaven.
Immediately I got feedback from the customers about what they liked and didn't like about the socks – I made my adjustments accordingly. Within two weeks I had sold out of my initial order and I used the profits to invest in more designs.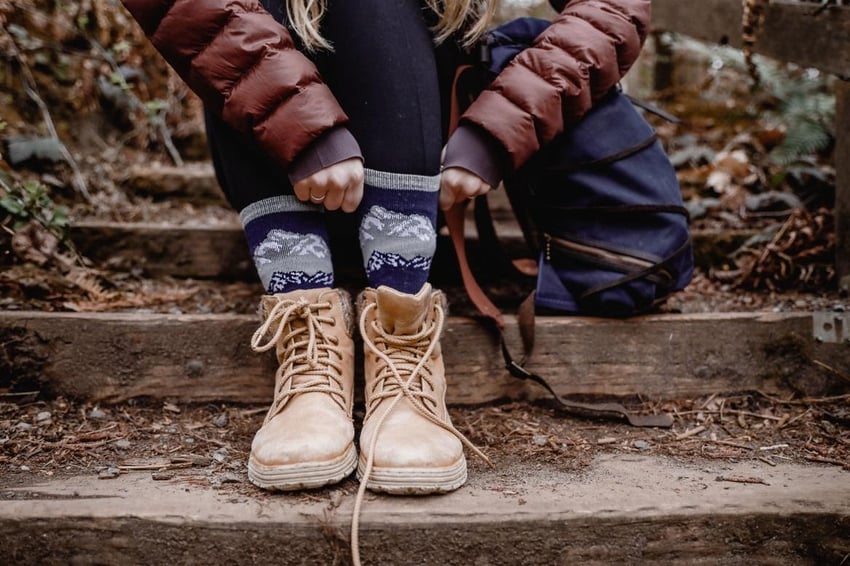 Take us through the process of designing, prototyping, and manufacturing your first product.
Manufacturing was a fun and challenging task. When going into a meeting with a manufacturer, you should be thinking about it as a marriage. You two are going to grow together, so start the relationship off on a good note and know what you'll need from them 5 years down the line as you grow.
Envision you land the biggest deal with a retailer and need to fulfill 10,000 units in a few months, can they keep up? Stick to these questions as a general framework: How long have you been in business? How many units can you manufacture in a month? What is your Minimum Order Quantity (MOQ)? What is your lead time? What's your starting price/unit and are there price breakpoints? What are your color and sizing options? Do you do packaging in-house? Can I get a few samples to try out?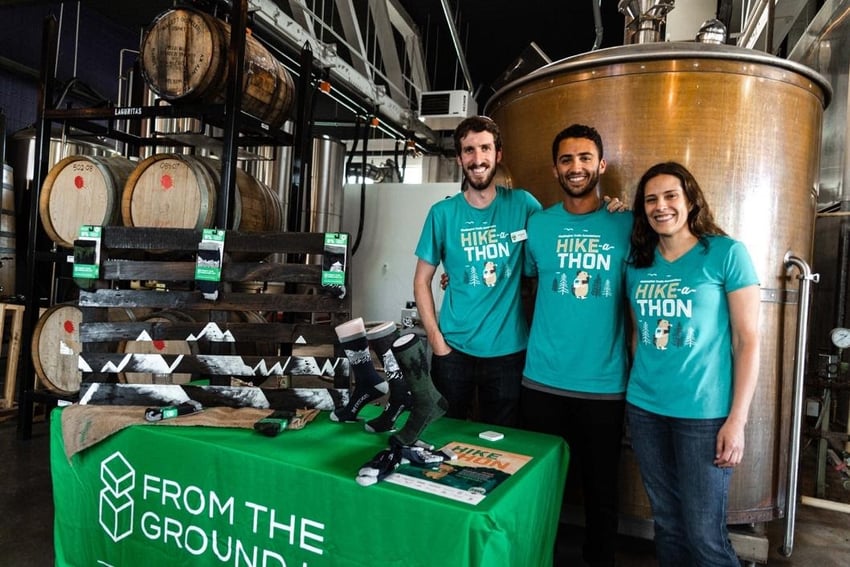 By sticking to these general questions, you'll be able to interview several manufacturers to compare rates and quality and feel confident in who you go forward with. As a general rule of thumb, it's good to have 2-3 manufacturers you can reach out to in case one manufacturer can't fulfill your orders. You can travel to visit different manufacturers or research them online.
As for the design process, some manufacturers have in-house designers, but it may be better for you to find a freelance designer to work with and pay them on a per need basis. Find your designer much as you do searching for your manufacturer – it's marriage so be in it for the long haul. You two will grow together and achieve great things.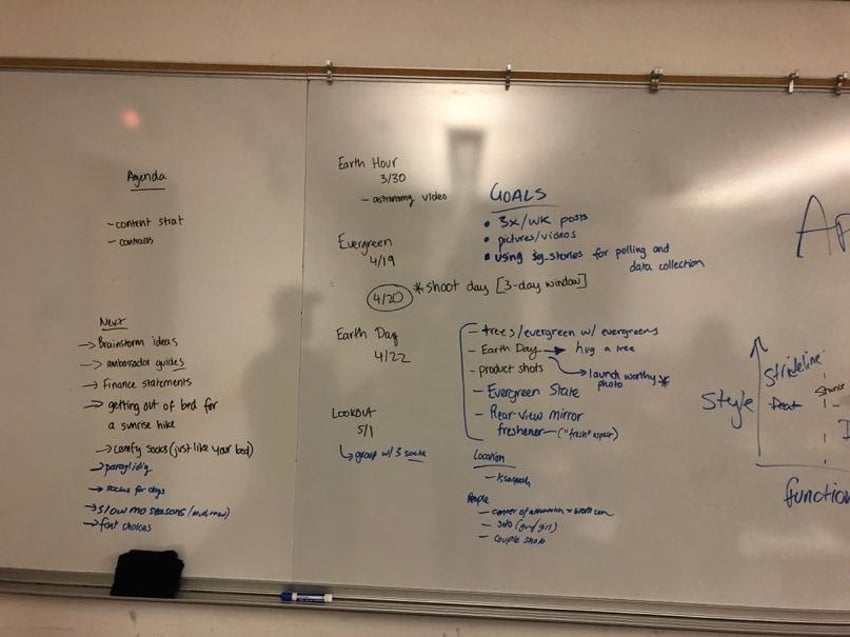 Get your designer to do some mockups for you and submit them to the manufacturer to see if they can do it. They'll create a digital file for you to review and you can see what the finished product will look like before placing your order.
Describe the process of launching the business.
Launching the business was probably the most fun and stressful part of my entrepreneurial journey. Doing everything myself and on a shoestring budget (I wish back then I knew about 0% interest credit cards), I spent months putting everything together. This included the initial batch order of the cascade socks costing around $2,500, packaging (~$750), signing up with a Squarespace account ($30/month), learning how to design the site myself, going out with my roommate's camera and some friends to get model shots in nature and reaching out to my entire network of friends to help me share and post the launch on social media.
After I had the website up and running, inventory loaded, photos uploaded and ready to post, and socks packaged (yes I packaged by hand for a while), I was ready to launch.
I timed out the launch to match up with the most heavily trafficked times on social media, texted all of my friends when I was ready to launch so they could share their stories, drafted up the post, and let it rip.
Immediately online I sold almost ¼ of my inventory the first day. It was awesome to see how fast people were to support. From there was where I had to figure out what to do next.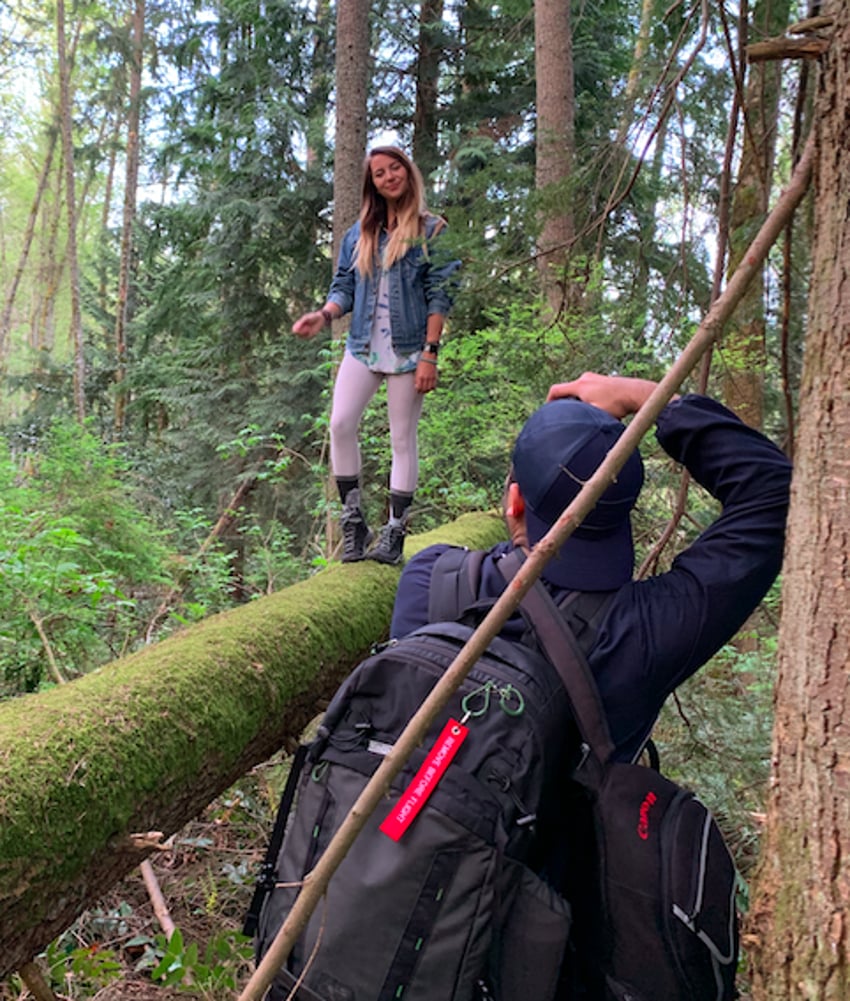 Since launch, what has worked to attract and retain customers?
After launch, we saw an explosive start to our sales. But after a few days, it tapered off a bit. This left me thinking, ok what next?
Thankfully because I was in a partnership with Washington Trails Association, we were invited to an event they hosted for hikers to set up a table and sell, so that introduced to me the power of in-person sales. That one day, we sold over $1,000 in socks. I wanted to replicate that, so I applied to farmers' markets all around Washington to set up a table and sell.
As I sold, I started introducing more designs. Next was our Evergreen State and Mount Rainier design. The more designs I brought in, the more sales I was churning at the markets and online.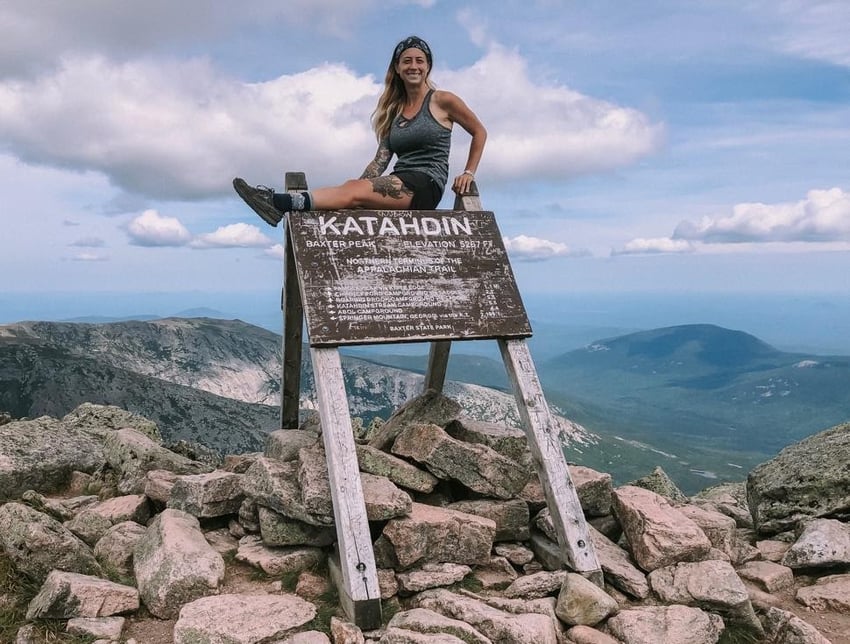 But the biggest (and cheapest) part of our success in gaining more customers online was through our outreach effort to influencers. When I say influencers, I don't mean the "get the lighting right" ones, I mean real, gritty, dirtbaggy hikers putting our socks through some serious abuse. That was when I was lucky to meet Julia Sheehan, a first-time thru-hiker of the Appalachian Trail and the official first member of the FTGU Fam.
She wanted us to sponsor her with hiking socks in exchange for photos. I sent her a few pairs of our socks and she wore them the entire 2,200-mile trail, sharing photos online and amassing a large audience online. She raved about our socks and how they held up, she even gave us a glowing product review video on her channel.
From there, our brand gained the legitimacy that Darn Tough and Smartwool had earned in their early days. That one video link has driven us hundreds of page views. That woke me up to other forms of digital marketing like email, ad, and affiliate. Below you'll see our one-month traffic from these different websites.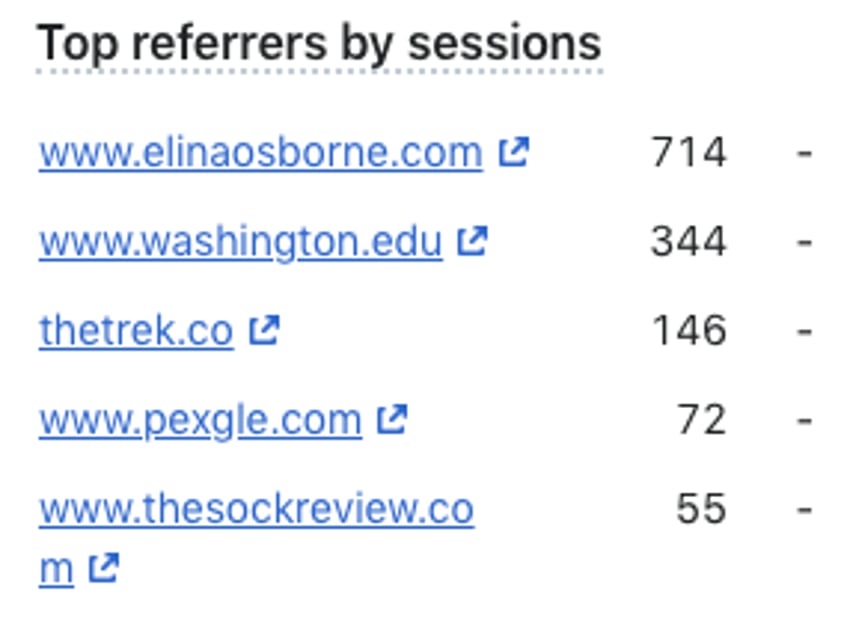 I hired on a digital marketer to drive our email marketing efforts, hired a virtual assistant to reach out to blog writers and link our site in their articles via affiliate marketing (they get a kickback for every sale made through that link), and hired an ad buyer to run Facebook/Instagram ads.
How are you doing today and what does the future look like?
Today the business is looking good. In one year, we grew from one pair of socks to an entire apparel/gear brand. We now carry 8 designs, compression socks, hats, beanies, t-shirts, and soon-to-be hoodies.
We continue to increase our YoY donation to the trails association and locked down wholesale deals with some of the largest local retail chains in Washington being carried in over 25 retail locations. We also do custom and corporate deals for companies all around the US.
I now have a bookkeeper, attorney, CPA, email marketer, ad buyer, social media coordinator, and brand reps all working for me to grow the brand as I focus on higher-level execution.
The biggest (and cheapest) part of our success in gaining more customers online was through our outreach effort to influencers. When I say influencers, I don't mean the "get the lighting right" ones, I mean real, gritty, dirtbaggy hikers putting our socks through some serious abuse.
I've been on multiple podcasts to talk about how I built my business (links below) and have been featured on my university's business school blog.
Last year was a major benchmark as I did over $100k in gross revenue while working my full-time job. As I continue to scale and automate parts of my business, I have goals to double my revenue YoY and introduce more gear/apparel. All this from a $4,000 investment from my savings when I graduated college.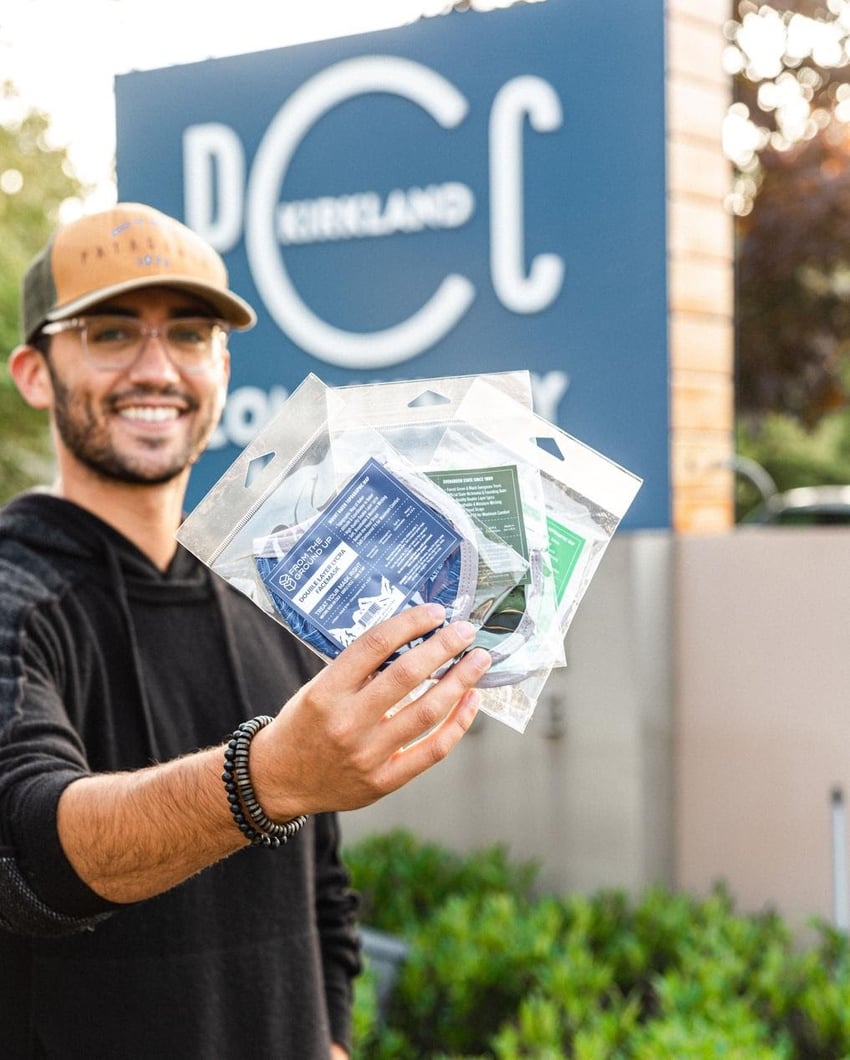 Through starting the business, have you learned anything particularly helpful or advantageous?
Everyday is a valuable learning lesson when starting your own business. I've jumped the gun and ordered too much inventory that I couldn't move. I've thrown tons of money at ad campaigns and buyers that I thought would make me more money rather than focusing that small amount of money on hardnose sales.
From everything I messed up, I picked myself up and learned. I've been fortunate to meet some incredible people along my journey who have given me opportunities to grow my business.
But the major thing I have learned is, there isn't one explosive moment that is your "big break", but rather it's all a series of little successes and adds up over time that brings you the success you see. Nothing happens overnight, you have to be diligent, persistent, and patient with the process. No secret to success, just being opportunistic, working hard every day, and having fun with the process.
What platform/tools do you use for your business?
In my business, I use Quickbooks Online, Shopify, Klaviyo for email marketing, HootSuite for social media and Square for in-person markets/pop-ups.
If you're just starting, I would recommend networking with your friends or people who have already started a business/entrepreneurial journey and try and learn from them.
I love using QuickBooks Online and Shopify the most. QBO is the best way to send out invoices from any device. Shopify is the be-all-end-all for eCommerce stores. Super simple to use and design your site on.
What have been the most influential books, podcasts, or other resources?
Some of the best books/podcasts I've read and listened to were Shoe Dog by Phil Knight, Art of the Start 2.0 by Guy Kawasaki, Let My People Go Surfing by Yvon Chouinard, Founder of Patagonia.
Podcasts: "Side Hustlers with Carla Marie", "Secrets to Scaling your E-Commerce Business" and "How I Built This".
Advice for other entrepreneurs who want to get started or are just starting?
If you're just starting, I would recommend networking with your friends or people who have already started a business/entrepreneurial journey and try and learn from them. I would also start by asking your friends and family if they would buy or need something and build the idea off of that.
From there, start with a small batch quantity of whatever you order so you're not left with a ton of inventory you can't move. Finally, at the end of the day, sales make everything work. If you're not selling, your journey will be much more difficult.
Once you've established a business model that works, scale up, build out, and be patient. Most small businesses don't become profitable until their 4th or 5th year, so keep that in mind when starting your business. Do it because you love it, you're passionate about it and you believe it can help people, not because you want to get rich quickly. The rest will take care of itself.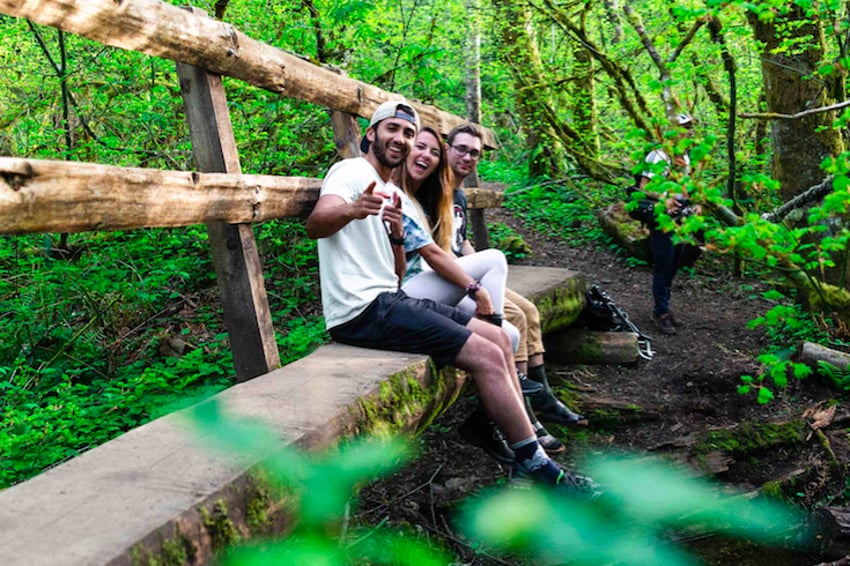 Where can we go to learn more?
If you have any questions or comments, drop a comment below!
-
Rami Nasr, Founder of From The Ground Up Socks
Want to find more ideas that make money?
Hey! 👋 I'm Pat Walls, the founder of Starter Story.
Get our 5-minute email newsletter packed with business ideas and money-making opportunities, backed by real-life case studies.