Thank you Klaviyo for sponsoring Starter Story ❤️
Turn one-time buyers into repeat customers. Try the platform loved by 265,000 brands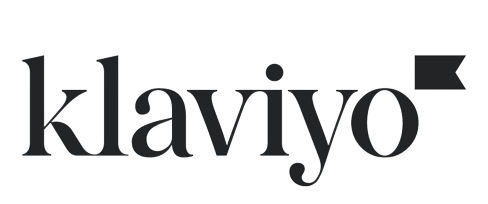 We Bootstrapped A $1M/Year SEO Platform [From Canada]
Hello! Who are you and what business did you start?
I'm Chris Porteous and I run a business called SearchEye. The way SearchEye works is we're a platform where you can order anything you need for SEO (technical improvements, content, links, etc), and it's magically fulfilled for you.
We're used mainly by agencies, large companies, eCommerce websites, affiliate sites, you name it. The beauty is in the fact that while it's complex to automate SEO deliverables, it's entirely possible if you're willing to do the long hard grind to make it happen, which we've done. We're in closed alpha right now.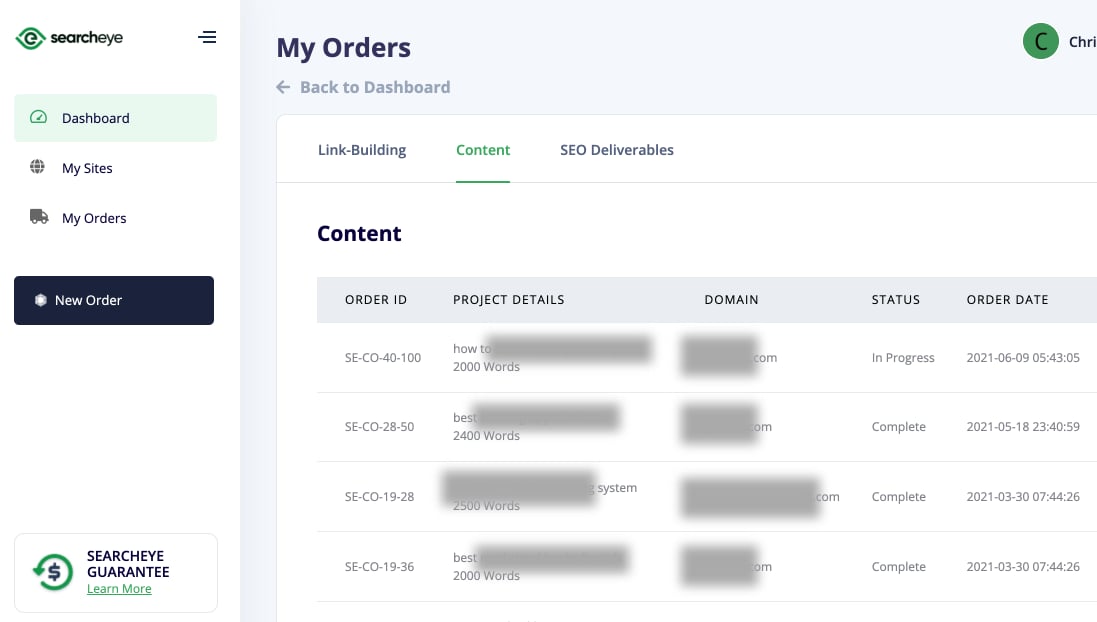 What's your backstory and how did you come up with the idea?
I'm an easy-going Torontonian who is pretty much your textbook Canadian with the exception that I'm more into NBA than hockey. Although I do have a curling rink in my backyard that got me through COVID lockdowns.
My background is in finance, having worked at Goldman Sachs, UBS Securities, and DBRS before discovering the world of SEO. I find it fascinating. The majority of website traffic is search, it's one of the only ways to market that isn't interruptive, and it's an absolute traffic beast if you know what you're doing.
I've been working as a consultant for a few years but a few things really caught my attention in the world of SEO. When I'd start working with new clients they'd share the work previous SEO folks had done with them. To say the bar was low would be a compliment to the industry – the standard of deliverables, services, professionalism, all of it, was so disgustingly low it genuinely shocked me (and I've worked in finance).
It just defied belief that an $80B a year industry that handles the biggest marketing opportunity known to man, could be so woefully underserved. Clients are frustrated, turnover is high, NPS is low. In short, it's a product creator's dream.
Ultimately, it really comes down to delivering on product expectations to the end-user. If we can drive faster turnaround times (TAT) while keeping prices low and the overall product quality consistent, there is very little reason to switch to another provider.
When you have the opportunity, you usually have a crowded competition, but when I looked I saw a relative vacuum of solutions. Lots of agencies, very fragmented, but I just felt there wasn't a lot of ambition to build great products in the space. Also, in Silicon Valley, Marketing Tech is really behind compared to other places.
I figured someone must have built this before, but I just hadn't found them. After looking long enough, I just realized, well, if this is going to happen then why not give it a shot myself?
I never thought it would be easy, but it's been a tough road. I never worried too much about validating the idea. Building lean is good, and there are lessons for all businesses in lean methodology, but it's important to know when you do and don't need it. A restaurant probably doesn't need to validate that folk like good food, and I felt we didn't need to validate if folks want a better way to order, and receive, SEO deliverables.
I've funded it all out of pocket, and through consulting services. I've been grateful for the full support of my wife, Monika, who also works in the business as well.
Describe the process of launching the business.
The main way we've launched is by dogfooding our own product and using it to fulfill our own client's needs. The key there has been to be ruthless about using our own platform as often as possible to fulfill. That way we find bugs, fix things and get better.
That can be a real challenge for the team. It's very tempting to just solve the problem directly and bypass the platform, but if we did that it would never improve.
As an agency with 5+ years of experience, we were in the fortunate situation of delivering SEO products to 100s of clients and agencies around the globe. Rather than building a splashy campaign, we took our existing clients and onboarded them onto the platform. The multiple advantages of working inside the platform made it an easy sell for our various partners and clients.
One of the biggest challenges has been with transitioning from agency to platform. The agency is currently funding the platform development, which covers 3 local Canadian developers and the majority of our production team. Aside from financing/funding, it's also an issue of time allocation. Typically, I work around 100-110 hours per week, balancing time between the agency and the technical platform.
I go back and forth between raising funds and bootstrapping (via agency clients). Ultimately, having full control over the platform and direction of the business is all too important at this phase of the company.
Since launch, what has worked to attract and retain customers?
There's an old saying in business that goes something like, "Fast, good, or cheap – pick two." The general concept is that you have three choices when making a product: Make it quickly, make it cheaply, or make it well. However, with technology and processes, we believe that we'll be able to achieve all 3 via the SearchEye platform.
Ultimately, it really comes down to delivering on product expectations to the end-user. If we can drive faster turnaround times (TAT) while keeping prices low and the overall product quality consistent, there is very little reason to switch to another provider. We're obsessed with product and customer satisfaction.
Our platform is heavily integrated with Intercom. This allows us to push, dynamically generated, content to platform users. Through custom algorithms, we're able to use Intercom as a tool to drive new product recommendations to users (to help grow their businesses), something you'd traditionally expect from an agency.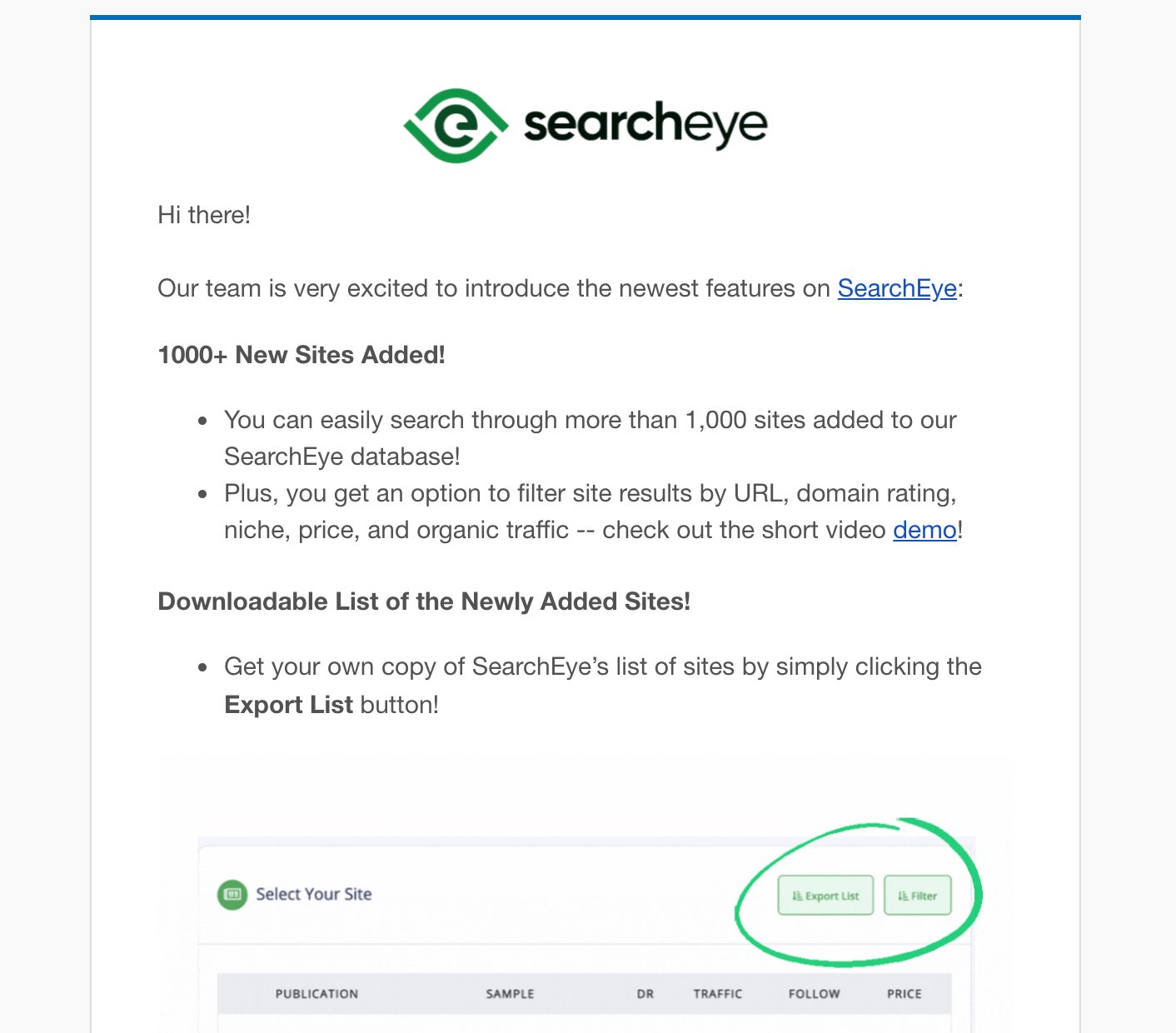 One area that we keep on going back and forth on, is the onboarding process. Right now, we are limiting overall growth by requiring a hands-on demo with each potential new client. We aren't sure if the future will revolve around a more "automated" on-boarding process or if we'll continue to remain "high touch".
As you'd expect, we do A LOT of SEO. We have dozens of sites built to rank for specific purposes. That said, these sites have been focused more on attracting agency clients, we've been repurposing them to target clients for SearchEye. One such example is myseosucks.com.
As we offer Digital PR to our clients, we also do it for ourselves. Personally, I've been featured across the industry in Podcast, print, and digital media. Some of these publications include: Search Engine Watch, Entrepreneur, Forbes, Inc., AdWeek, and Lifehack. I've also run various Product Hunt campaigns, including the Link-Building Pricing Calculator, which was a top 3 product for the day.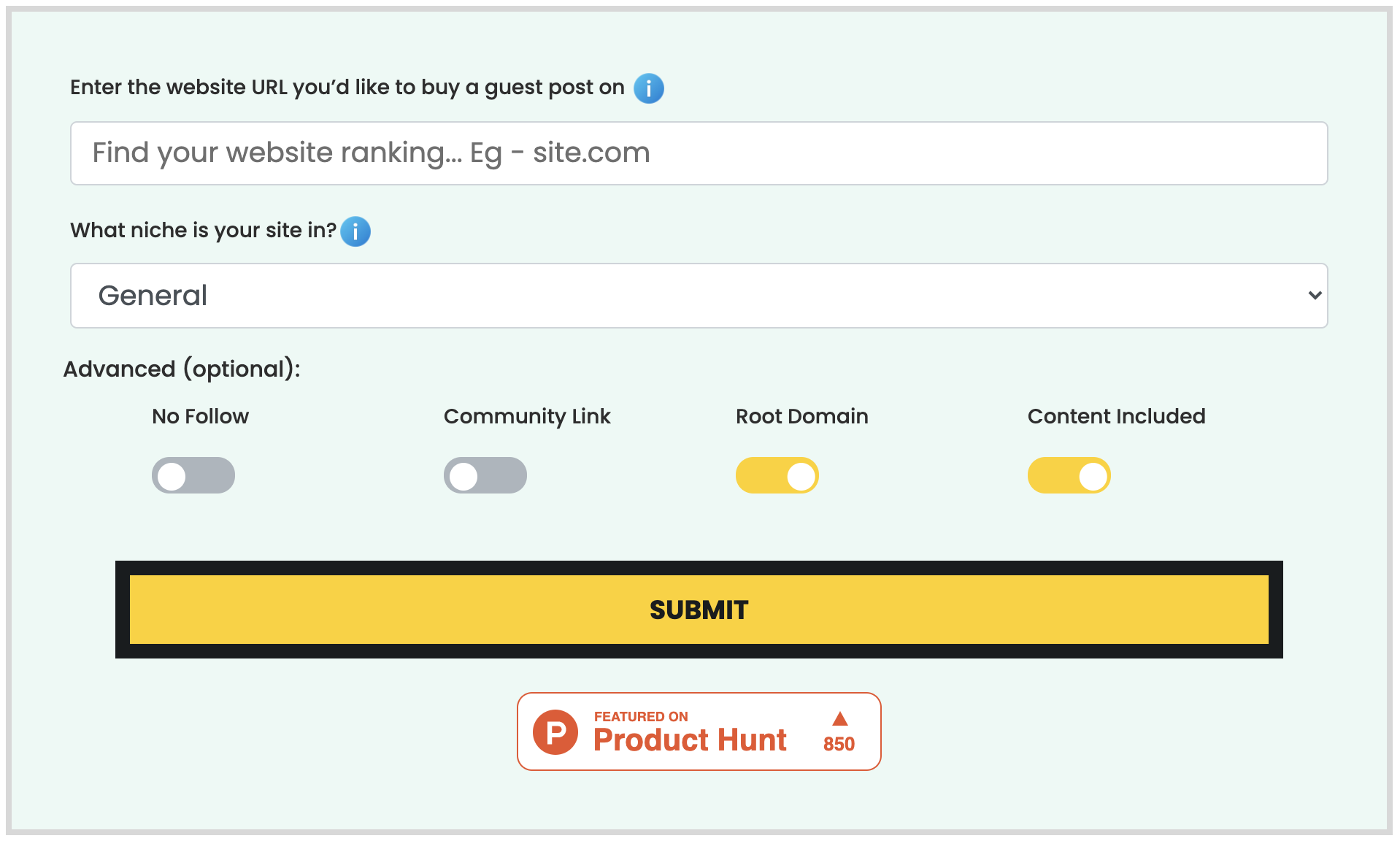 On the social media site, I recently acquired a Facebook group called Digital Marketing Questions. The group has approximately 16,000 users (with 30-50 new users joining daily). We require our employees to spend a couple of hours/month in the group, helping entrepreneurs with any questions they may have. It has also worked as a great lead funnel for our SearchEye platform.
How are you doing today and what does the future look like?
Currently, about 30% of our revenues come from the platform, with the remaining coming from the agency (we use our platform for fulfillment for agency clients). Our expectation is to be at about 80% SearchEye, with the remainder coming from our platform by Q2 of 2022. Overall, the SearchEye platform is growing comfortably at around 20% / month, we expect this to scale quickly as we streamline and automate the overall onboarding process.
Right now, we have about 20 agencies actively using the platform (monthly), with approximately 60 agencies ordering via the platform since launch. We're aiming to add 5-10 new agencies to the platform monthly while scaling up our production and fulfillment team on the other end.
For us, a successful 2021 would be to hit $100k / month on the platform (by Dec 2021), and $500k / month by Dec 2022.
One of the big investments we made over the past 3 months is scaling up our internal content team. We've gone from 6 people in January of 2021 and are at 14 currently. This will help us further speed up turnaround times and have more control of the overall end product.
What platform/tools do you use for your business?
We use quite a few tools internally:
Slack -> We are a remote organization and this helps streamline daily communications
Gsuite -> All of our fulfillment is inside of docs, sheets, or presentations. We also use various APIs to auto-generate these documents via SearchEye
Asana-> All of our project management
A workflow example, generated via SearchEye, into Asana for our production team: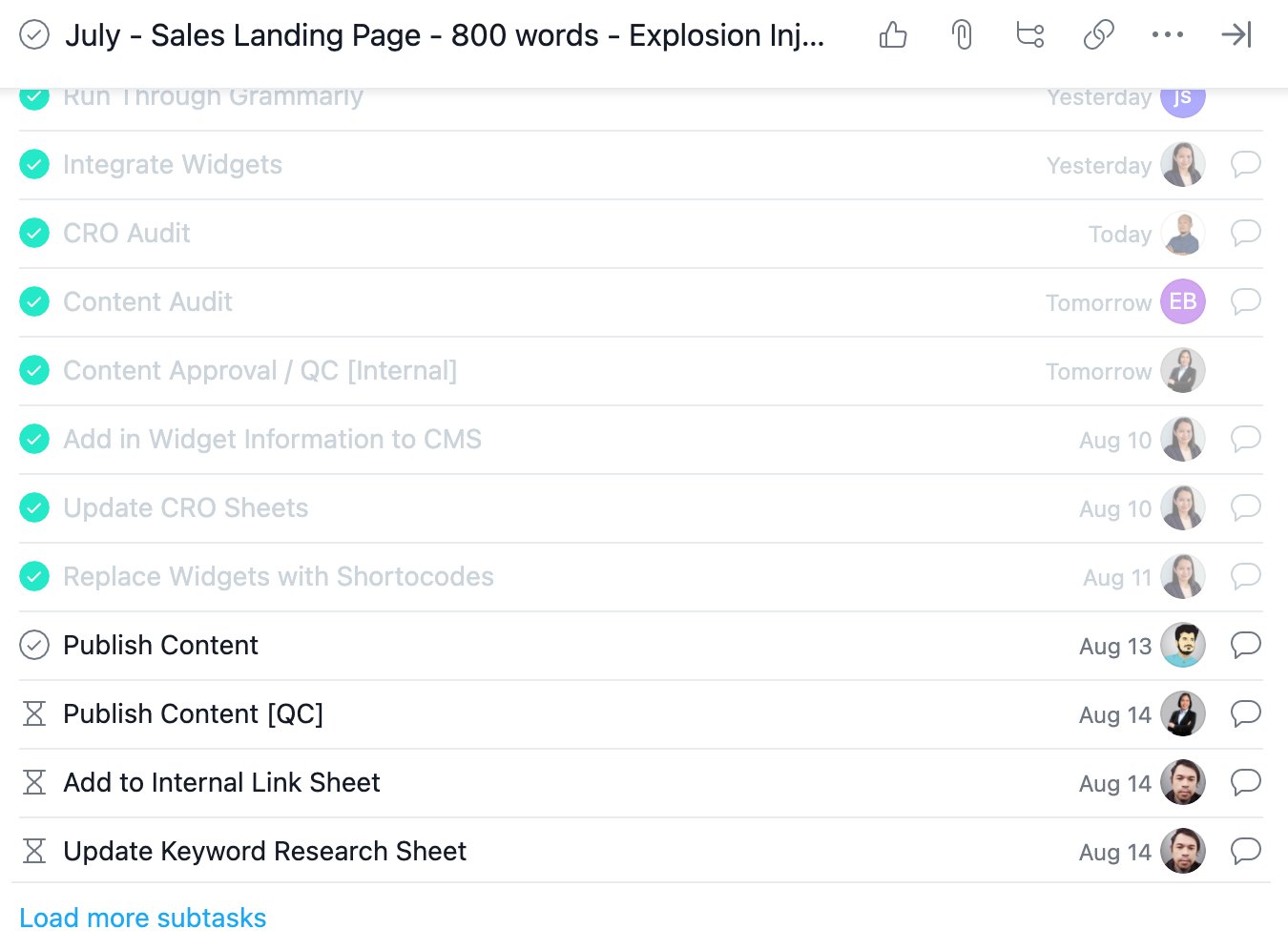 What have been the most influential books, podcasts, or other resources?
As the company continues to grow, company culture will determine its success. One book that my business partner introduced to me early this year was What You Do Is Who You Are, by Ben Horowitz. As we grow the team, understanding fit and what we stand for is just as important as sales and product.
Advice for other entrepreneurs who want to get started or are just starting?
Our team lives by Facebook founder Mark Zuckerberg's now-famous motto: "Move fast and break things." While this may no longer apply to Facebook, we've built this across our industry. Many entrepreneurs have "analysis paralysis", which can often lead to "inaction". The best time to build something was yesterday, the second-best time is now. Move quickly, and treat every opportunity as a learning experience.
Are you looking to hire for certain positions right now?
We are always looking for great managers and developers, feel free to reach out to [email protected] for more information.
Where can we go to learn more?
If you have any questions or comments, drop a comment below!
-
Chris Porteous, Founder of SearchEye
Discover the best strategies of successful business owners
Join our newsletter and receive our handcrafted recap with the best insights shared by founders in Starter Story each week.
Useful, convenient, and free:
PROMOTED
Did you know that brands using Klaviyo average a 95x ROI?
Email, SMS, and more — Klaviyo brings your marketing all together, fueling growth without burning through time and resources.
Deliver more relevant email and text messages — powered by your data. Klaviyo helps you turn one-time buyers into repeat customers with all the power of an enterprise solution and none of the complexity.
Join Brumate, Beardbrand, and the 265,000 other businesses using Klaviyo to grow their online sales.
Starter Story
Wanna see 52 business ideas you can start with less than $1,000?
Join our free weekly newsletter and get them right now.