4 Tips For Starting A Successful Surf School (2022)
•
Updated: September 15th, 2022
4 Tips For Starting A Successful Surf School (2022)
Want to start your own surf school? Here are some tips you should know:
We've interviewed thousands of successful founders at Starter Story and asked what advice they would give to entrepreneurs who are just getting started.
Here's the best advice we discovered for starting a surf school:
#1: Shenglong You, founder of Thurso Surf:
We chatted with with Shenglong, founder of Thurso Surf ($100K/month). In our interview, Shenglong says:
We decided to test several products on Amazon to make sure they were viable.
Additionally:
We're hyper-focused on building an authentic community that resonates with our values so we're taking our time to find and vet the right kind of storytellers and create long-term relationships. It's slow going at first but we're learning a lot and dialing in our process.
Further:
It's amazing what consistent progress and working on the fundamentals can do. If you have that kind of process and routine set up in your business, then no matter what crisis or opportunity arises, like our hazardous materials incident or the challenges of a global pandemic, you'll always be starting from a familiar place.
Also:
Learn from others. When you are in a startup, oftentimes there is no knowledge resource for you to refer to, and you will always need to figure things out yourself. Don't be shy. Ask others. It can be a mentor, another startup owner, or some seasoned manager.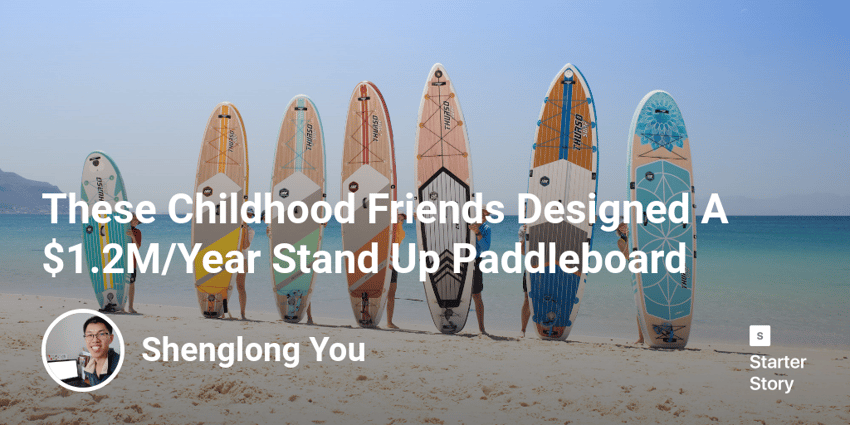 Read the full interview ➜
Want to start your own business?
Hey! 👋I'm Pat Walls, the founder of Starter Story.
We interview successful business owners and share the stories behind their business. By sharing these stories, we want to help you get started.
Interested in starting your own business? Join Starter Story Premium to get the greatest companion to starting and growing your business:
Connect + get advice from successful entrepreneurs
Step by step guides on how to start and grow
Exclusive and early access to the best case studies on the web
And much more!