This is an archive of the Starter Story newsletter, which is read by 87.2K people every week.
In each issue, we share the biggest business ideas that are working today, along with case studies of founders who are making millions every month. Sign up today ➜
---
Sponsored by Trends

Get access to emerging business opportunities months before anyone else.

Join a private community of 16K entrepreneurs and investors that genuinely want to help each other out.

Access live trainings with industry experts to help you take your business to the next level.
Pics or it didn't happen
Experiences create memorable moments (harder to achieve with things) and with social media deeply rooted in our lives, experiences make for super great content to share on social media.
Young people already made up their minds: 72% of millennials prefer to spend their money to engage in live events instead of on material possessions (or even virtual ones).
At the current rate, the experiences economy will grow to $12 billion by 2023.
The way I see it: it's the perfect combination of a growing trend and a very low initial investment required.
Since most of these experiences don't require a physical product, most of these businesses can be started with almost zero dollars.
#1. Unique museum tours ($3M/year)
This renegade tours side hustle became a 7-figure business.
With tours like Badass Bitches of The Getty and a Game of Thrones-inspired tour of The Met, this company had to be a success.
How have they been able to grow so much? (1) Their Instagram game is off the charts and (2) a great content strategy to grow organic traffic.
#2. Surprise vacations ($480K/year)
After planning an awesome surprise trip for his boyfriend, friends quickly started requesting her to do the same for them. That's when she knew it could build a business around that.
This couple now makes almost half a million dollars per year planning surprise vacations.
Their package includes an envelope with a full-page color sign with their destination. Travelers often share their destination "reveal" on social media using the sign, which has been a great marketing strategy to spread the word.
#3. Mobile yoga studio ($72K/year)
Tired of logging 70-hour work weeks, this founder started to offer yoga on demand.
A unique approach has been one of their keys to success: Taking the yoga to the customer. This has helped to land corporate clients that want to offer yoga lessons on site, serving a market that was already asking for this service. Yes, there were people searching for "mobile yoga" on Google, but very few were offering it.
The business was struggling while being one more regular yoga studio. Niching down helped them find success.
#4. Augmented reality experiences ($360K/year)
This company created a way to turn people's voices or any sound into an augmented reality experience.
What started with $1,000 from each founder is now a 6-figure business.
And how do you sell your product when literally no one knows what is it? You try everything. The best part of this success story is how they break down all the marketing strategies they've tried and what results each achieved.
#5. 3D art & optical illusions ($600K/year)
This designer creates 3D art and optical illusions.
He multiplied his initial investment by 40x in less than a year.
This incredible ROI was possible thanks to taking advantage of popular marketplaces to sell their products. These are third-party channels and they also reduce your profit margin, but you'll get tons of exposure for your brand.
#6. At-home fitness classes ($300K/year)
These founders decided to start their fitness business just 17 minutes after being laid off.
Like many others, they lost their jobs due to the pandemic. But it's impressive how quickly they reacted.
Armed with just a Zoom account and the experience of having built a $1.2M/year business in the past, they quickly gained traction thanks to the fitness frenzy resulting from lockdowns.
The biggest takeaway from this story would be: pay attention to market changes and move fast.
#7. Luggage-free travel ($780K/year)
This business is the perfect combination of building a solution to "scratch your own itch" + noticing other people have the same problem. So, when their Airbnb guests repeatedly asked where to leave their bags after checkout, it was obvious they were onto something.
Today, they have stored over 150K bags for travelers and operate in 50+ cities.
#8.  Photo booth rental ($600K/year)
If you've been to a wedding in the past 10 years, you've probably seen a photo booth.
These wedding photographers also noticed that, so they decided to buy an old photo booth to add one more service to their offering. Not long after they realized these old booths could clearly be improved. So they decided to design their own and it turned out as good as if it were designed by Apple.
Every time they went to a trade show they'll sell double than the last time.
The couple now makes $600K/year renting their photo booths.
Join Starter Story
There is no secret to building a profitable business. All of the information can be learned, so why not learn it from others who have already done it?
Join Starter Story to access our database of 3,000+ successful business case studies. See the exact timelines of how founders built their businesses to thousands of customers.
Get real answers to questions like:
How do people find great business opportunities?
What did they do to get their 10 first clients?
What challenges do they face at every stage and how to overcome them?
Join Starter Story Premium for $2.58/week. A no-brainer investment for your business.
Quick hitters
(1) This retailer grosses $24M/year. What started selling cheap mattresses online is now a huge business. And today, just like many other DTC online brands, they're shifting to brick and mortar and have opened 25 stores in the last couple of years.
Want to start a brick-and-mortar business? Read these success stories: a soda shop ($84K/year), a party supplies store ($4.8M/year).
(2) This side hustle grew to $1.2M/year. Biggest lesson to learn? Go to the market before building anything and talk to your actual customers. This founder spent many hours on forums engaging with people who fit his ideal customer profile.
The car industry is so huge, that it provides incredible business opportunities. See some examples of founders who took advantage of this: $27.6M/year exporting vehicles abroad, $24M/year windshield wiper business.
Want to start your own business?
Hey! 👋I'm Pat Walls, the founder of Starter Story.
We interview successful business owners and share the stories behind their business. By sharing these stories, we want to help you get started.
Interested in starting your own business? Join Starter Story Premium to get the greatest companion to starting and growing your business:
Connect + get advice from successful entrepreneurs
Step by step guides on how to start and grow
Exclusive and early access to the best case studies on the web
And much more!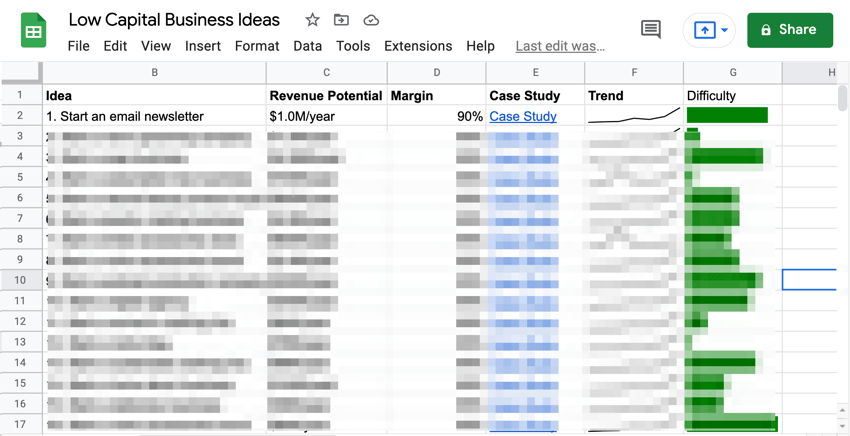 Wanna see 52 business ideas you can start with less than $1,000?
Join our free weekly newsletter and get them right now.
meet the author
David Bustos
Hey there! 👋 I'm David, and if you ever got an email from Starter Story, I probably wrote it. With a background in working with startups and writing, being part of this team is kind of a perfect fit for me.