From Designing Websites For $200 To Starting A $600K/Year Web Design Agency
Start A Website Building Agency
Hello! Who are you and what business did you start?
Hello - I'm Andy Golpys, 34 years old - Co-Founder, of MadeByShape, A Creative and Digital Agency in Manchester, UK. We've naturally grown from Day One - with a strategy that we'd be a boutique agency that can cater to Big Brands and Small Brands at the same time.
We're averaging £50k per month at the moment with a couple of side projects that turn over £££ too.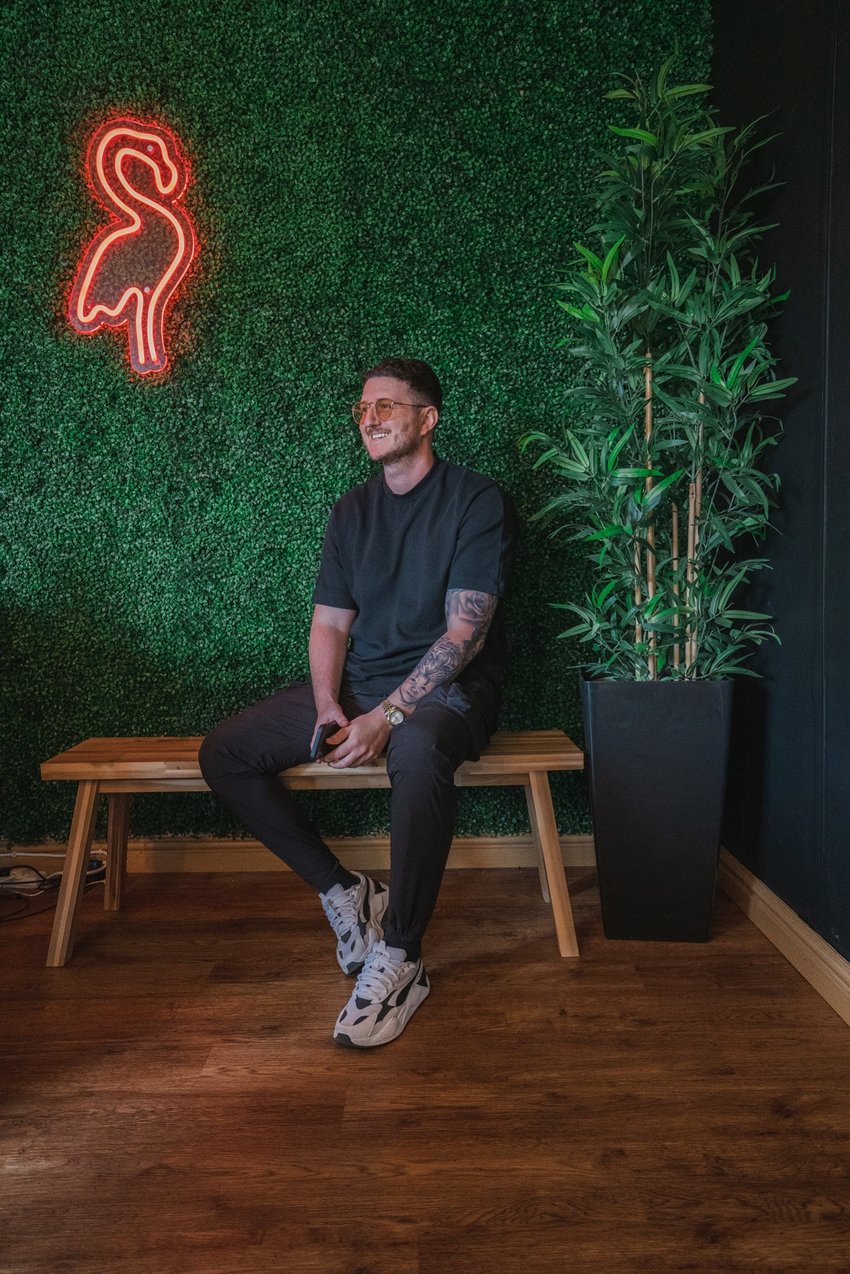 What's your backstory and how did you come up with the idea?
When I was younger - I wanted to be a footballer and thought I'd make it. That didn't happen. I chose Graphic Design over PE at school, and then went on to do Graphic Design at College and then at University. It was at University where I was introduced to Web Design, this is where my career started. I picked the design and code side of the industry very quickly and was making small amounts of money for local brands and helping friends out. Websites for Hairdressers, agency websites, Architects, Photographers, etc - all generally small and quite simple.
I noticed that the timing was perfect in the industry. Not every brand NEEDED a website, but people started to WANT them.
I put myself out there. As a young, ambitious individual - I attended every networking event in Manchester, went on nights out with the right people in the industry, made connections, and worked crazy hours to improve my portfolio.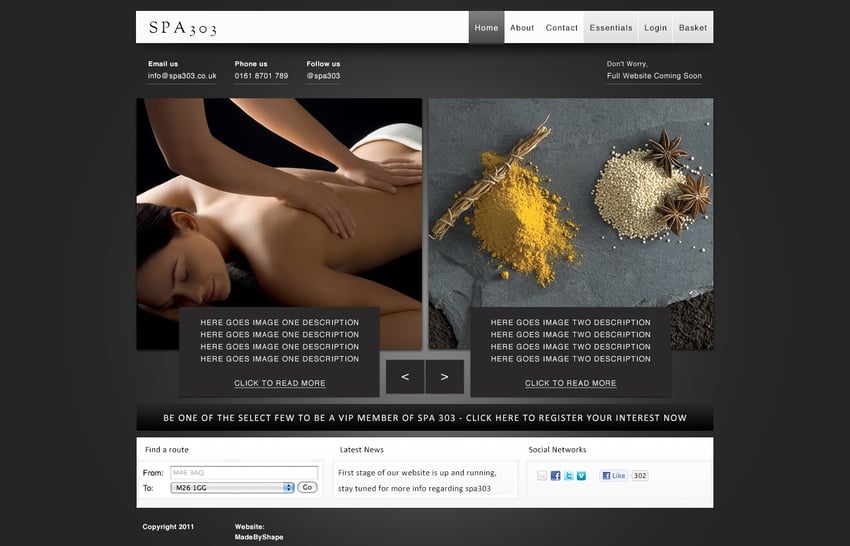 Spa 303 Salon website design from 2011
The more work I won, the more I understood the importance of time management. Splitting my time between doing the finances, meeting clients, networking, designing and building websites, and hitting deadlines. As a freelancer, I was doing every part of the business on my own (like every other freelancer does at the start of their career) - I was working silly hours, early morning until early hours of the night.
Fast forward through working Freelance for a few agencies and having my clients - I knew that creating my agency was the next step to make more money, and streamline the workflow to offer a very high-quality service to a larger client base. I met Jason Mayo (predominantly a Developer) and we worked together on projects. The deal was simple, split everything 50/50 and I would go get the work, project-manage, design, and then pass it over to him to build. This grew naturally and MadeByShape was born.
We started with nothing, we had no help with finance (we've never had any loans either). We already worked very hard on our portfolio and already had clients at this stage, so creating an agency and a brand was the step we needed to take.
Customers won't leave you if they are happy. And the more they are happy, the more they will recommend you - giving you more clients.
At this stage in my life, I was living at my parents', I was still young. There was no gamble. If this idea didn't work, I could just go and get a full-time web designer job at another agency. We had no overheads, I think we probably spent about £1,000 to set up the business.
Take us through the process of designing, prototyping, and manufacturing your first product.
I'd been working as a freelance designer for a few years so at this stage - I already knew there was a demand for what I offered. And my research was obvious, websites were becoming more and more popular. Now look at them, it's crazy to look back at websites back in 2010 when we started MadeByShape. I used to charge £200 for a website, now we are working on projects over £100,000, and our average client spend is £40,000.
We kept it simple, we designed and built websites. Nothing else. People knew what we offered, and we were clear that's all we do. Many agencies start with trying to offer anything and everything the client wants, but we concentrated on refining our skills and offering very high-quality services in the areas we wanted to concentrate on.
We hired 2 people in our first year and this is our very first ever team photoshoot.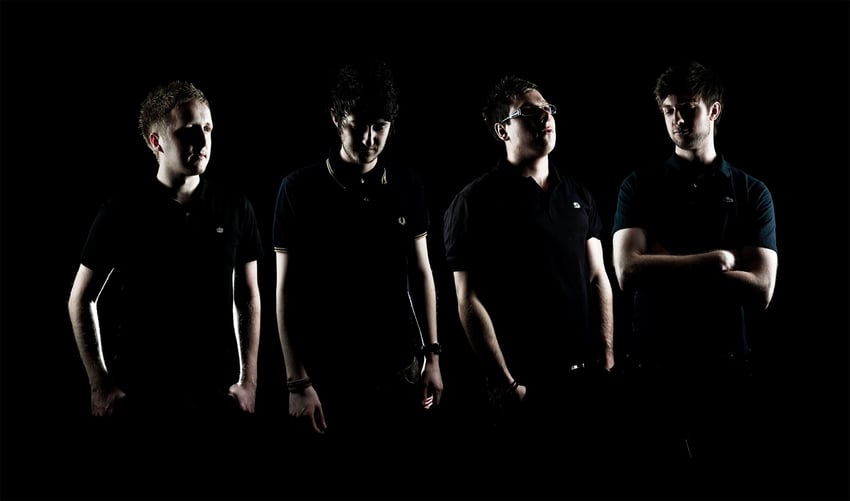 Describe the process of launching the business.
Back in 2010, it was a lot of networking - face to face, meeting people at events, and clients noticing our work online. Social media wasn't the same as it is now. Everything was much more 'offline' in terms of connecting with clients.
We already had a handful of clients and were making money. Our approach was to create amazing work, and those clients would spend more money with us - or they'd recommend us to somebody else. And because our work was good, anybody that needed a website and saw our work - would enquire. Seems basic right?! Our agency model now is very very different, and much more complex.
In terms of costs, we purchased domains, hosting, and some licenses for plugins. We registered the brand name and because we could build our website - there was no cost involved there. We paid out for some bits of advertising but nothing much.
I think our approach was simple, and there's nothing wrong with that. We concentrated on the quality of what we offered and made it very clear to users - so we just impressed them when they saw our work. At the end of the day, if they like your work - they will enquire. We didn't try and convince anybody to work with us, we just showed them what we could do and waited for them to come to us.
Since launch, what has worked to attract and retain customers?
OK, so the difference between growth for us and staying small was pretty obvious looking back now. At the start, we only offered web design and development, no support, no hosting, no SEO, no branding, etc.
At the start - clients would pay us for the website and that was it. We may never see them again, or they may come back in 6 months for changes. This made money, but not regular income from the same customer.
Over the years we started to offer ongoing services such as Shape Support, Web Hosting, and Organic SEO. Our monthly intake started to increase and give us more financial stability.
We then built up our Branding team in-house so that if a startup brand comes to us with nothing - we can offer them the full digital creation from Logo Design to Website and Build, then support afterward. This is where we are today, we have a team of experts in Branding, Web Design and Build, and SEO.
For me, the most important thing about any business is looking after the customers you have. If you offer them what they need, sometimes go above and beyond, be a nice person and enjoy working together - this is the easiest way of making money. Because they won't leave you if they are happy. And the more they are happy, the more they will recommend you - giving you more clients. But along with that, we have always improved our portfolio!!! I can't say how important this is. I see so many agencies with bad portfolios, and that is stopping them from winning clients. Make time to improve yourself!
The other factor for us was approaching Organic SEO for ourselves. We now rank for over 8,000 keywords in Google and receive multiple inquiries per day. This made us a global agency well known in the industry for Craft CMS services.
Our core strategy is to build relevance on our main website, including brand positioning, content strategy, link building and occasionally we do Digital PR campaigns like It's a Shape Christmas and Hex Test. Now that we rank for thousands of keywords, we get better quality inquiries for the terms we want to be visible for like 'Craft CMS', a 'Web Design Agency' etc. All of our inquiries go through a manual process by myself to filter out which projects we are suited to, which we need to have a zoom meeting to discuss further, or which projects we are happy to provide a top-line proposal for. I am now that person who deals with new business.
How are you doing today and what does the future look like?
We are really busy, and currently toying with the idea of closing our books for 2021 and start to accept new clients in 2022. We never want to be a huge agency, we want to stay small and look after the people we work with - I don't want 40+ staff.
Hire people that are better than you! And keep them happy, make sure you create a great culture. If they get asked to work somewhere else, make your place so good to work at that they say no and stay with you forever.
Our profit is high and always has been. That's what we concentrate on. Our accountant loves that. It's not about turnover, it's about profit.
At the moment we're very happy, so not looking to grow hugely in terms of staff. We may hire 1-2 more people in the next 12 months.
Our long-term goal is to buy our studio, currently, we are renting.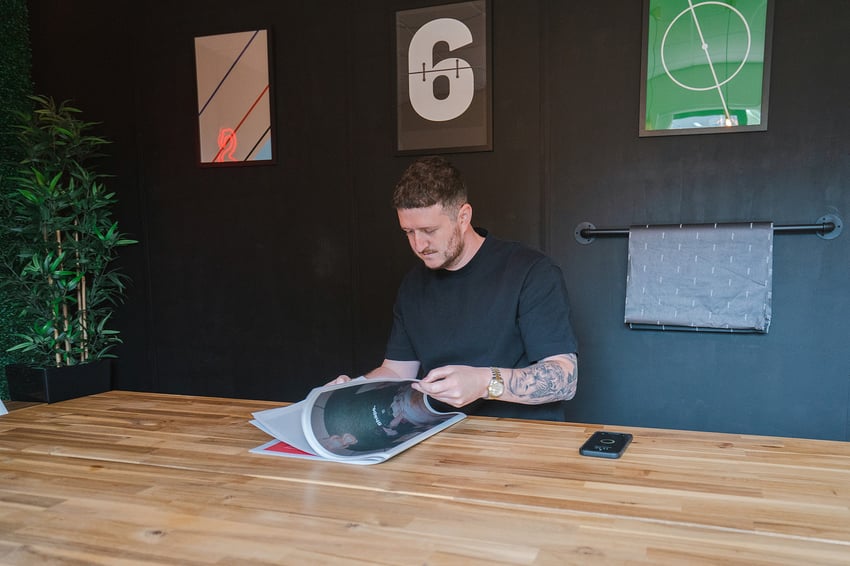 Through starting the business, have you learned anything particularly helpful or advantageous?
Don't let the con artists, negative people take up your time. Stuff will go wrong, just accept it and move on - don't dwell over it. Some people will not pay you, it happens in the world - try to get your money, but don't let it bring you down. If you focus on the positives and the clients that love working with you - you'll be fine. Over the years, you'll be able to spot the people who are not worth your time - and you can decline to work with them before starting.
We also didn't ask for a deposit payment in the early years, which is crazy. Now we ask for 50% upfront before we even put the project in our diary.
The retainer services massively helped our finances.
What platform/tools do you use for your business?
InDesign
Photoshop
Illustrator
Advice for other entrepreneurs who want to get started or are just starting out?
Hire people that are better than you! And keep them happy, make sure you create a great culture. If they get asked to work somewhere else, make your place so good to work at that they say no and stay with you forever. The people that work for you, are your biggest asset.
Are you looking to hire for certain positions right now?
I'd be open to hiring another Web Developer and/or Account Manager if they impressed me.
Feel free to get in touch via our website.
Where can we go to learn more?
-
Andy Golpys, Founder of MadeByShape
Want to start your own business?
Hey! 👋I'm Pat Walls, the founder of Starter Story.
We interview successful business owners and share the stories behind their business. By sharing these stories, we want to help you get started.
Interested in starting your own business? Join Starter Story Premium to get the greatest companion to starting and growing your business:
Connect + get advice from successful entrepreneurs
Step by step guides on how to start and grow
Exclusive and early access to the best case studies on the web
And much more!
Starter Story
Wanna see 52 business ideas you can start with less than $1,000?
Join our free weekly newsletter and get them right now.