Thank you Klaviyo for sponsoring Starter Story ❤️
Turn one-time buyers into repeat customers. Try the platform loved by 265,000 brands
How Expanding Our Portfolio Helped Us Grow Revenue 200%
Start An Ecommerce Marketing Agency
This is a follow up story for Black Goat Media. If you're interested in reading how they got started, published over 2 years ago, check it out here.
---
Hello again! Remind us who you are and what business you started.
Hi, Starter Story community! Time flies and we have made quite some progress from our first interview.
My name is Tudor Cioltea and I am the founder of the e-commerce agency Black Goat Media and e-commerce brands Viata Verde Viu, Golden Flavours and Terralura natural deodorants.
We have developed a unique system for e-commerce brands to scale using Facebook Ads, Google Ads, and email marketing, while we also offer them an eCommerce platform that is optimized for conversions.
We average around $50,000/month and plan to get to $100,000/month in the next 12 months.
We do agency work for different partners and we also run our own e-commerce brands like Viata Verde Viu & Golden Flavours.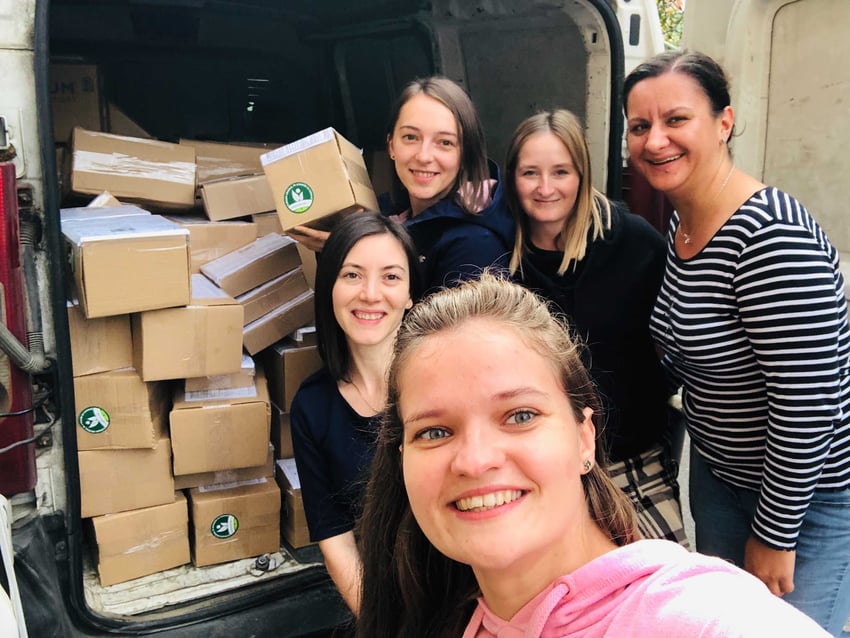 Part of the team after a full day of packing orders
Tell us about what you've been up to! Has the business been growing?
Since our last interview, we went from $15,000/month to around $50,000/month in net revenue.
There were 3 main areas of focus for us:
Grow our customer base for agency services
Grow the portfolio of products listed on our e-commerce brand
Develop new products under the Golden Flavours brand
We used the same channels, we optimized our advertising campaigns and funnels and kept in close contact with our customer base. We identified a type of campaign that works every month in the form of a free shipping weekend timed with the period of the month when the majority of our audience gets paid.
There are a lot of ways to optimize costs and serve the customers better by having a well-optimized warehouse.
One metric that we use to measure customers' happiness is the return rate of existing customers. We are now at an average of 35% for the Viata Verde Viu brand.
What have been your biggest lessons learned in the last year?
In the agency business, our biggest lesson learned was to audit very well all the new clients. A few of them in the past 12 months were not a good fit for the way we work and our mindset.
In our e-commerce brand, our biggest win was keeping in close contact with our suppliers. Now we have a dedicated person for maintaining our relationships with suppliers and building new relationships.
What's in the plans for the upcoming year, and the next 5 years?
For the next 12 months, we plan to optimize everything related to our warehouse. There are a lot of ways to optimize costs and serve the customers better by having a well-optimized warehouse.
For our own brands, there are a few directions we would like to pursue:
Expansion in new markets, either directly or through partnerships
Expansion in traditional retail channels in Romania and abroad
Develop new products based on our customer's needs
Have you read any good books in the last year?
I have discovered the DTC trend and I have been listening to the DTC podcast from Pilot House. I have also been using Twitter a lot for learning from other e-commerce owners. Unfortunately, I did not find the peace of mind to take a book from start to finish.
Advice for other entrepreneurs who might be struggling to grow their business?
Sometimes stepping to the side and letting things progress naturally could give you more clarity instead of the daily grind.
Are you looking to hire for certain positions right now?
We would love to work with content creators that can create UGC types of content around our products in focus. They don't necessarily have to be influencers and have an audience.
Where can we go to learn more?
-
Tudor Cioltea, Founder of Black Goat Media
Want to start your own business?
Hey! 👋I'm Pat Walls, the founder of Starter Story.
We interview successful business owners and share the stories behind their business. By sharing these stories, we want to help you get started.
Interested in starting your own business? Join Starter Story Premium to get the greatest companion to starting and growing your business:
Connect + get advice from successful entrepreneurs
Step by step guides on how to start and grow
Exclusive and early access to the best case studies on the web
And much more!
PROMOTED
Did you know that brands using Klaviyo average a 95x ROI?
Email, SMS, and more — Klaviyo brings your marketing all together, fueling growth without burning through time and resources.
Deliver more relevant email and text messages — powered by your data. Klaviyo helps you turn one-time buyers into repeat customers with all the power of an enterprise solution and none of the complexity.
Join Brumate, Beardbrand, and the 265,000 other businesses using Klaviyo to grow their online sales.
Starter Story
Wanna see 52 business ideas you can start with less than $1,000?
Join our free weekly newsletter and get them right now.