How We Grew Our Distribution Channels And Expanded To New Countries
This is a follow up story for LeGlue LLC. If you're interested in reading how they got started, published over 3 years ago, check it out here.
---
Hello again! Remind us who you are and what business you started.
Hey, I'm Tripp Phillips and I am the founder of Le-Glue LLC. I am now 14 and in the 8th grade. At 12, I was featured on the 200th episode of Shark Tank (season 10 episode 1) making a deal with Mr. Wonderful, Kevin O'Leary. My invention, Le-Glue is a water releasable adhesive designed for use with Legos or other building bricks.
Le-Glue is used to make brick creation much stronger so that a kid like me could play with what they build. We like to say Le-Glue is like a seat belt for building bricks. It helps to protect when an accident occurs. Since Shark Tank, our sales have increased by 500 percent. On February 26th, 2020, I received the honor of being considered one of the Greatest Pitches of All Time on ABC 20/20.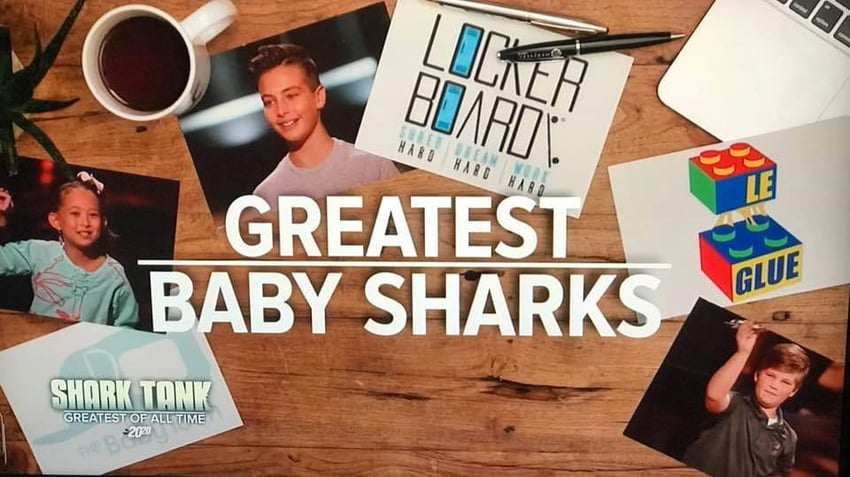 Tell us about what you've been up to! Has the business been growing?
When we first started, we thought the best move was to make a quick 30-second tv commercial and start showing it in regional markets. We did see some action from the ads but not enough to cover the costs of them. We bootstrapped some of the costs and the folks helping us did a very good job making me look cute.
If you try, you do not fail. You fail if you do not try. Everything else is a learning experience. I am not sure that I made that up or heard it, but I do believe it.
We soon realized this was not the best use of advertising funds and moved over to using Amazon ads and social media. We had the great opportunity of spending time with some Facebook executives at our O'Leary team summit and they really opened our eyes to the effective targeting they can provide in their platform. So we started a relationship with Facebook and they helped us get our campaigns going. We find it very successful for our product and way more cost-efficient than traditional media.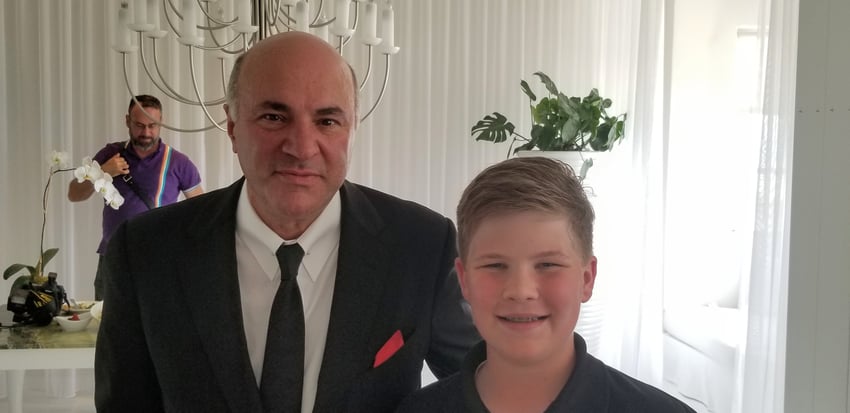 Le-glue has partnered to get distribution outside of the US. We have distribution to the EU countries through the UK and we are strongly in China. We are currently setting up distribution to Australia and New Zealand, those folks down under love Lego. We will continue our current marketing strategies as we are pleased with their costs and their effectiveness. We have a somewhat secret project where we have been working with a major social media company on a streaming video which will help get the word out about Le-glue and its use. We believe this will boost our business over the coming months.
Our business has really been a family run business from the beginning, working after school and on weekends. Since we have been quite busy filling orders and in the manufacturing process, we decided to hire a new employee. We manufacture, fill and ship Le-Glue from our location in Dalton GA and we just couldn't handle it all by ourselves. Through the local high school football coach, who had taken a young man in to live with him and his family, we met Yvenson. "Vince" was a refugee from the hurricane in Haiti. He was here without any family support attending High School. We decided to hire him to help and were so surprised by what we got. "Vince" (we nicknamed him Little Sunshine, so he calls me Baby Sunshine) turned out to affect us way more positively than we helped him. His love of life, his respect of people, his attitude and work ethic have made our family better. He is the person that you love to see walk in the door. We know he will have to leave us when he goes off to college but it has been one of the best decisions ever for us. He is like a brother to me.
Since Yvenson has been helping, we have had some more time to develop products and have begun working with other new entrepreneurs assisting in their opportunities. We get a couple of phone calls a week and do things like help with pitches, find prototype manufacturers, and since my dad runs a laboratory, he helps them with research, development, and testing. I and my dad I both love talking to entrepreneurs and helping out any way we can. We will have a couple of ideas vetted and tested in the next few months to see if we can commercialize on our "New products".
What have been your biggest lessons learned in the last year?
We are pretty conservative in our decisions about the company and I listen intently to what my dad and Mr. O'leary suggest. I would say our biggest "mess up" is probably our lack of aggression in the retail market. It has been a topic of consideration but there are difficult barriers to overcome. Costs to doing retail business are tremendous, especially with the "Big Box" type stores. Most require EDI set up, really high-value insurance and are very demanding, especially in chargebacks.
We have had the opportunity but we have not strongly pursued that channel effectively. However, our margins have remained very strong in the direct to consumer channels. So it is an argument of more sales less margin or more margin fewer sales. I am learning.
I have been exposed to so much during this journey that is more valuable to me and my future than the money I make. I have gleaned information and techniques from some very successful business owners and entrepreneurs. Our O'Leary family has 25 businesses of unique individuals that are so helpful when I have any questions or problems.
The main thing I have learned from all of them is that it takes a special type of person to be an entrepreneur. You have to be a very hard worker but the main point is you have to be a finisher. Many people have ideas but a great entrepreneur has to know how (or hire people that know how) to get the idea into the consumer's hand and to get them to pay you for it. It seems simple to say but it is not. There are many steps and any of those steps can go wrong and set you back.
Wine and Design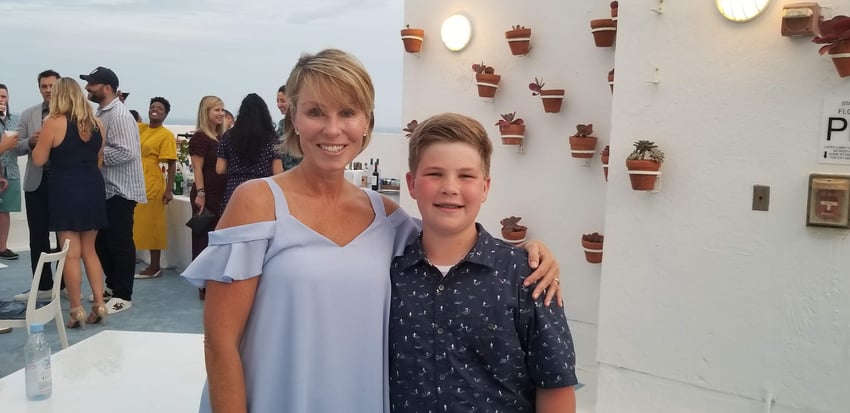 Wicked good cupcakes
What's in the plans for the upcoming year, and the next 5 years?
My 5-year plan is to hopefully graduate high school. I am excited because I am only a couple of years away from getting my driver's license. While I do own a successful business, I am still a fairly ordinary teenager looking forward to doing ordinary teenage things like Xbox, Youtube, and Snapchat. I will continue working to grow our company and expand to new ideas and products.
Our long term company goal is the same and will remain the same as my original dream, which is to partner with one of the brick manufacturers to be included in each of the kits they sell. Mr. O'leary has accepted that challenge and will diligently continue to complete that goal. On our end, we will keep working to improve our product and I know new products will come.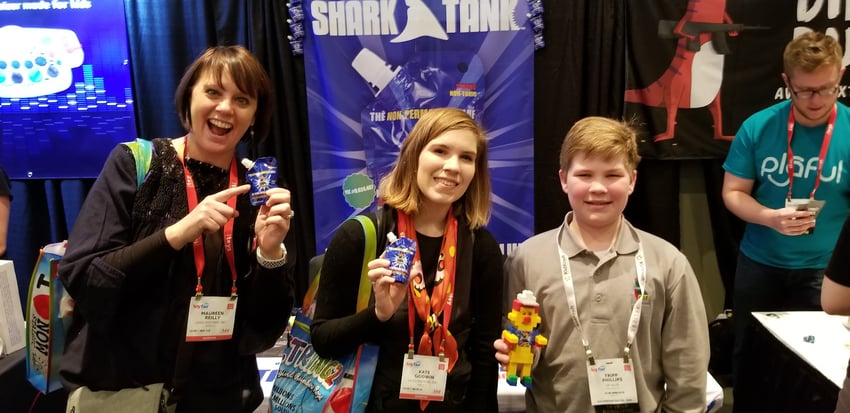 Meeting with some Lego Friends at Toy Fair
One of my personal goals is to continue to support our local community as I go around and speak at schools and community events. We do and will keep giving back to the city that has supported us so passionately during this process. We are very proud to support the Anna Shaw Children's Hospital with 1000 lbs of building bricks to help in the therapy of their wonderful patients.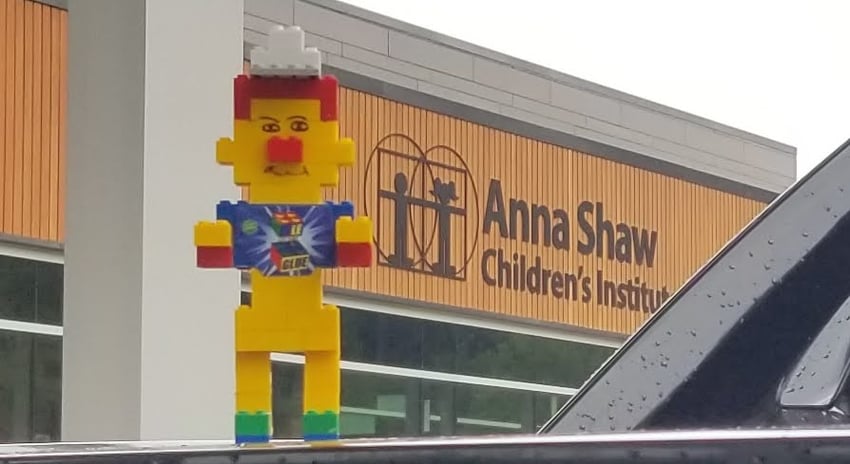 Have you read any good books in the last year?
Most of my reading is required for middle school teachers. I do enjoy reading about the World Wars and historical figures in the military. My dad is trying to get me to read a book by Grant Cardone and one by Gary V. Those guys are old though. We will see.
Advice for other entrepreneurs who might be struggling to grow their business?
My dad preaches low overhead wins. Mom just thinks he is cheap (don't print that :) haha) But I do know we have been profitable every month from the beginning of the business. I would say most people we see that fail tend to spend more money than they can make back. And they don't prepare for not paying themselves for a period of time. I can say that because I didn't have a job in the 1st place, but it is still very true. So that is what my tip would be, do your best to keep the expenses low but do not be afraid to let it go when you see the opportunity truly building. Keep your powder dry because you will get a shot at some point (I told you I read books about early wars).
I love to talk about how to Dream, Create, and Invent and hope to inspire young people to not be afraid to try. If you try, you do not fail. You fail if you do not try. Everything else is a learning experience. I am not sure that I made that up or heard it, but I do believe it.
Are you looking to hire for certain positions right now?
We are not looking to hire at this time.
Where can we go to learn more?
If you have any questions or comments, drop a comment below!
LeGlue LLC has provided an update on their business!
6 months ago, we followed up with LeGlue LLC to see how they've been doing since we published this article.
Over 1 year ago, we followed up with LeGlue LLC to see how they've been doing since we published this article.
Want to start your own business?
Hey! 👋I'm Pat Walls, the founder of Starter Story.
We interview successful business owners and share the stories behind their business. By sharing these stories, we want to help you get started.
Interested in starting your own business? Join Starter Story Premium to get the greatest companion to starting and growing your business:
Connect + get advice from successful entrepreneurs
Step by step guides on how to start and grow
Exclusive and early access to the best case studies on the web
And much more!
Together With Semrush
If You Don't Rank In Google, You Don't Exist.
In order to be successful, you need to be visible online. If you're not, then your competitors might be stealing customers from you.
Semrush lets you quickly create content that ranks, and compete with the biggest brands in your niche.
Try Semrush Free Today ➜