How We Are Building The Next Generation AI Meeting Assistant
Start A Software Sales Business
Hello! Who are you and what business did you start?
Hello, my name is Eric Xiao, founder, and CEO at Laxis. Laxis is the next generation of AI meeting assistant to help everyone with effective meetings. You can use Laxis to set pre-meeting topics and agendas, take quick notes and get real-time transcription during meetings, and get valuable conversation insights across all your meetings.
So far, we have launched three main products. First, our web application provides real-time transcription, NLP-enabled smart memo, and insight management. Users can set memo templates for each different type of meeting. Laxis will automatically extract the key information based on the template, keyword, and phrases.
Second, our chrome extension for Google Meet provides unlimited real-time transcription for Google meet. With a single click, users can take note of the important information during meetings. Users can download and share with their teams as well. All of those features are completely free!
Last product is our integration with Zoom. Laxis can import from your Zoom cloud storage, analyze the meeting audio, generate meeting transcripts and memos automatically based on your customized meeting templates.
Our customers include almost anyone, for example, UX researchers, investment analysts, sales executives, product managers, recruiters, etc. Anyone who has a lot of meetings can benefit from our software. We have launched our product in June 2021. In 10 days, we grew our user base 10 times and now we are growing at double digits every day.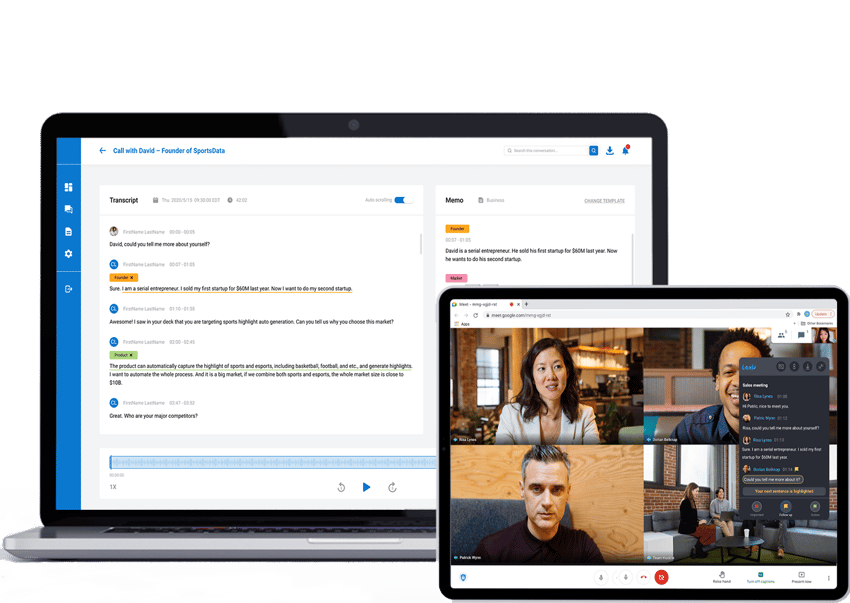 What's your backstory and how did you come up with the idea?
I have 15 years of experience in the software industry as a venture investor, strategy consultant, and software engineer. In 2008, I came to the US with only one suitcase just like any other immigrant. I was going to attend my 2 years Master's program in Computer Science. But I finished most of my course work in less than one year and started a full-time job as a software engineer. It was 2008, the peak of the financial crisis, during which many people cannot find jobs. I just got off the airplane, barely speaking any fluent English, but had multiple job offers. At that time, I was like a superstar in my school.
In the next 8 years, I led multiple cross-functional teams and built many software products. Then I went back to school to get my MBA. After the MBA, I spent 2 years doing strategy consulting for large corporations like Dupont, T-Mobile, etc.
Then I joined a VC fund in Silicon Valley, where I led multiple deals, for example, a $5M investment in Splitty, an AI-driven online travel agency. I have also made a few angel investments, like Ryff, a digital product placement company based in LA. I was also on the board of a few companies, like Tapingo, which we sold to GrubHub for $160M in 2019
In 2020, I decided to take a front seat and founded my own company, Laxis, trying to solve the big problem with meetings. When I was a VC, the biggest challenge for me was too many meetings. I really want to focus on conversation and build meaningful relationships, rather than taking notes. And it is not just VC. Every business professional has tons of meetings in their lives. According to ZDNet, "pointless meetings are costing companies and business professionals time and money--$399 billion in 2019 in the U.S" So I decided to solve this problem.
Take us through the process of designing, prototyping, and manufacturing your first product.
When I started working on this product, first I spent a couple of months talking to potential users to understand their workflow and pain points. Then I designed multiple versions of the prototype to test with users. Because I was a software engineer and built many products before, building the first version was not hard for me. I did the design and development myself for the first version.
After I got some initial feedback, I hired a team of designers and engineers to start building the real product. It took us 8 months to iterate multiple versions. Along the way, we have also built integrations for Zoom and Chrome Extension for Google Meet.
During the process, we have kept a close relationship with our early users. Their feedback is critical to our success.
Describe the process of launching the business.
For almost a year, I didn't take any money from anyone. I was a VC investor myself and had quite a few connections. However, to me, every single dollar is a responsibility. I don't want to take any money until I have a solid product. After a year of product development and collecting 50 loyal users, I thought it was time to reach out to angel investors. In a few weeks, I raised a small amount of investment from the managing partner from my previous venture fund and other angel investors. Google has also selected us into their startup program, and given us $100k credit to spend on Google Cloud.
If I could go back one year and change one thing, I would release my product 6 months earlier. Even though I am proud of the product we built, we could have released a version with fewer features 6 months earlier and have acquired a lot more users by now.
Finally, we launched our product in June 2021. We didn't do any PR or marketing, except a few posts on LinkedIn and Facebook. However, we have set up our referral program, and our beta users started to refer their friends to our product. The referral program and word of mouth really help us. In 10 days, we tripled our user base and started to get paid customers. Now we are growing double digits every day.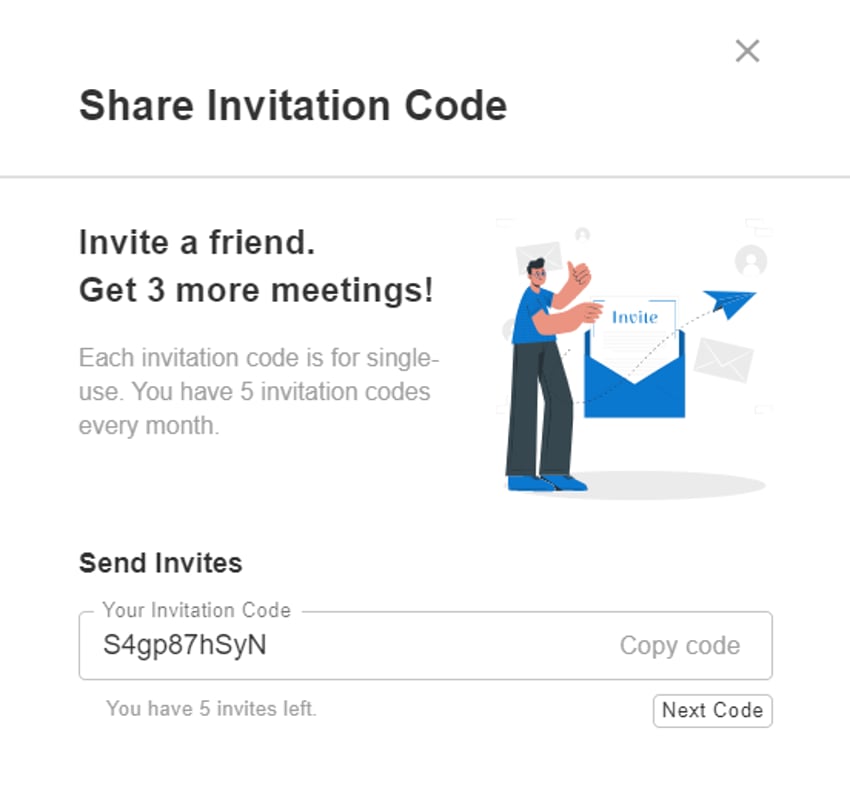 Since launch, what has worked to attract and retain customers?
The word of mouth and referral program helped a lot. Our happy customers help introduce more users. We have also been posting our progress on Facebook and LinkedIn. Meanwhile, we are also writing good content, including blogsand videosto boost SEO. To further accelerate the growth, we will consider a paid advertisement as well.
The most important thing for our growth is tied to the growth of Google Meet and Zoom. As those two platforms grow, a lot of people are actively looking for integration with those two platforms. I would say building software integrated with existing platforms is very important, especially when those platforms are growing super-fast.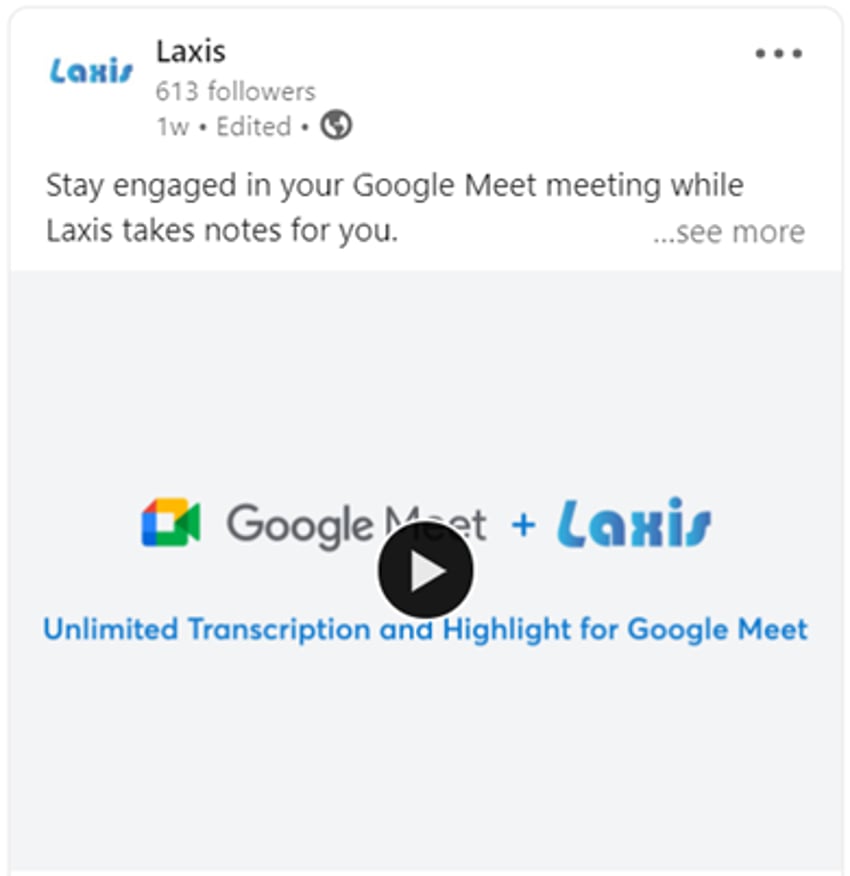 How are you doing today and what does the future look like?
We had a great start and our user base is growing more than 10% every single day, at the same time our conversion rate has been around 5%. With such growth and conversation, we will be profitable in a year.
Dream big but start small. Instead of targeting a huge market and building a huge product, it is much doable to start with something small and target a niche market.
Besides the current product offering, there is a lot more we can do. In the short term, we are aggressively acquiring more users, while we keep adding more features to our products. For example, we are working on integration with Microsoft Team, and we are also working on a new language, Spanish!
In the long run, we are planning to invest in more advanced AI technologies. We plan to add chatbot capability to facilitate the conversation and act as a true meeting assistant.
Through starting the business, have you learned anything particularly helpful or advantageous?
We are doing great. But if I could go back one year and change one thing, I would release my product 6 months earlier. Even though I am proud of the product we built, we could have released a version with fewer features 6 months earlier and have acquired a lot more users by now. A lot of entrepreneurs with engineering backgrounds like myself tend to make their product perfect before they release it to the public, and they tend to build more advanced technologies before they have a larger audience.
I would suggest to my fellow entrepreneurs to talk early and more with your customers, understand their point points and narrow down to a minimum lovable product. This product may not be perfect, may not have all the advanced features, but it solves one pain point for your user. Once you have that, release it! Then collect feedback and improve it.
What platform/tools do you use for your business?
Google cloud helped us a lot. If your product is also built on the cloud, I highly recommend applying for the Google Startup program. The program chose high-potential tech startups and offered $100k credit to use on Google Cloud. It can help get you up and running for the initial phase.
Webflow is also a good platform to host websites. In the beginning, I wrote our website from scratch. However, without a content management system, it is very time-consuming to maintain. After doing some research, I migrated our static website to Webflow. Webflow is a no-code-based platform but offers many advanced features like CMS. Now our engineers can focus on building the product features, and the marketing team can focus on writing and updating good content for our website.
What have been the most influential books, podcasts, or other resources?
One of my favorite books is The five dysfunction of a team. As the company grows, my role also started to evolve. When I first founded this company, I was mostly a product designer and engineer.
Later, I switched to a more product management role. Now I am still involved in almost everything. But building a great team and culture becomes my priority. This book is not just for startups. When I was a manager at previous jobs, this book is also very helpful for me to assemble and lead a great team.
Advice for other entrepreneurs who want to get started or are just starting?
Dream big but start small: Yes, we all dream to build a unicorn. We all dream to build the next Google or Amazon. We all dream to have a large impact on society. But a journey of a thousand miles begins with a single step. Instead of targeting a huge market and building a huge product, it is much doable to start with something small and target a niche market. If a startup can make a great product in a niche market, it can have a solid base to expand into a related larger market.
Focus on differentiation, not competition: Competition is good because it means there is a market. If this is no competition, most likely the market doesn't exist. However, we don't want to put too much energy into looking at what competitors are doing. We want to differentiate from competitors, not following them.
Regarding fundraising and working with VCs, I have written a blog regarding the different mindsets between entrepreneurs and VCs, you can find it here.
Are you looking to hire for certain positions right now?
We are always looking for great talent. No matter if you are a rock star engineer, a talented designer, an amazing growth marketer, or a great community manager, as long as you want to be part of a great adventure and have fun, reach out to us, and let's have a chat!
You can submit your information here.
Where can we go to learn more?
If you have any questions or comments, drop a comment below!
Want to start your own business?
Hey! 👋I'm Pat Walls, the founder of Starter Story.
We interview successful business owners and share the stories behind their business. By sharing these stories, we want to help you get started.
Interested in starting your own business? Join Starter Story Premium to get the greatest companion to starting and growing your business:
Connect + get advice from successful entrepreneurs
Step by step guides on how to start and grow
Exclusive and early access to the best case studies on the web
And much more!
Starter Story
Wanna see 52 business ideas you can start with less than $1,000?
Join our free weekly newsletter and get them right now.