Thank you Klaviyo for sponsoring Starter Story ❤️
Turn one-time buyers into repeat customers. Try the platform loved by 265,000 brands
Better Sheets Update: How We Landed Big Press And Reached A New Audience
Start A Skills Training Business
This is a follow up story for Better Sheets. If you're interested in reading how they got started, published about 2 years ago, check it out here.
---
Hello again! Remind us who you are and what business you started.
I'm Andrew I run Better Sheets. What started as 8 videos on gumroad a year ago has now become a variety of google sheets, Google Sheets tutorials, and consulting.
I started Better Sheets as a lifetime deal to buy access to videos. That's still available and accounts for 92% of my revenue. The other 8% is made up of selling individual google sheets. Templates I make and show how to make for members are also listed on Gumroad to buy individually. In the past 14 months, I've generated $56,000 of revenue.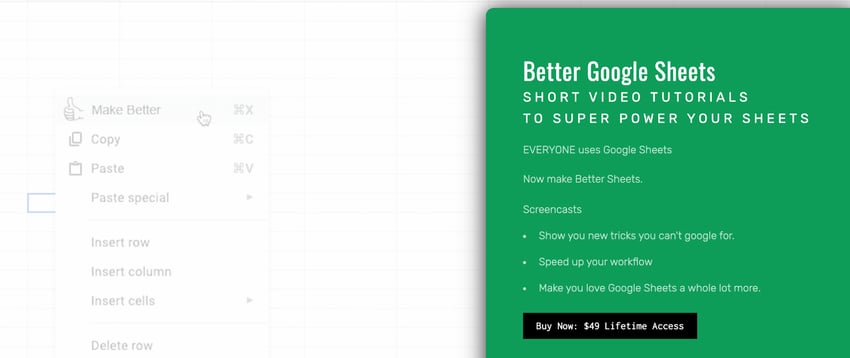 Tell us about what you've been up to! Has the business been growing?
In February 2021 I launched my first software for sale. A google script called OnlySheets. It solves a problem I myself had using gumroad and google sheets. Gave it away free to lifetime members and charged $20 for non-members.
I learned the true meaning of Launch and Launch again. Keep going. Never quit.
On Product Hunt it was the #3 product of the day.
Also in February, I raised the price of Better Sheets. It had well over 100 videos available as well as a growing number of scripts and templates. That price increase single-handedly created the 2 best days of sales for Better Sheets in a year. AppSumo-lings jumped at the price.
And now the price is still way way way too cheap. It's an insane value to this day. I hope to keep it crazy for a while to come.
Over the course of Q1 2021, I had 3 podcast ads run. I had paid for these in 2020 and the agency running them just took a while to get them ran. These I do think produced at least as much revenue as they cost. But I can't guarantee that since attribution is tough. But seeing even small spikes of sales on the days the ads ran, I'm confident they returned their money. And I chose to keep running podcast ads to test some more.
Had a crazy good day on April 7th, 2021. Yes, this marked the 1 year anniversary of launching Better Sheets, but it also was Gumroad Day. I had a fun sale where I created 1 coupon code for each 5 off, from 99% off to 1% off of Better Letters. Ended up with over $1k in sales that day. Also had 50% off most other sheets/templates.
And then in May 2021, I got some great press. I and Better Sheets were profiled in Business Insider as well as Mashable. These two press clippings produced the 2nd best month of sales (May 2021) in the short history of Better Sheets.
These press mentions ended up attributing more than $2k of sales to Better Sheets. It was incredible. Totally new audience was introduced to the idea of Better Sheets and they came in droves. Great customers keep discovering Better Sheets every day.
What have been your biggest lessons learned in the last year?
I learned the true meaning of Launch and Launch again.
Keep going.
Never quit.
I watched this YC video and thought it was a great idea.
But now I really have lived it.
Better Sheets was supposed to be a one and done, let's-see-if-it-will-work kind of project. I had only 7 sales in the first month. It was quite a lot of luck involved with getting to be the first Sumo-ling featured on AppSumo's marketplace. Now there are over 700 products available. I'm still getting sales every week from it.
Every time I launch a new sheet or launch into a new market (podcast/newsletters/product hunt) there's a little spike. It works. Better Sheets works. People want to be better at this humdrum spreadsheet program. The excitement is needed. People want to have fun and improve their work, and their own experience when using Google Sheets. Google Sheets is going to be around for another 15 years.
Other products I launched:
OnlySheets ( a google script to sell access to a sheet)
Better Letters (a suite of sheets to curate a newsletter)
100 Twitter Templates (100 pre-written tweet formats)
Digital Stocking Stuffers (A list of $1 digital products around the Holidays)
100 Twitter Starters (100 two-word phrases to start tweets)
How to Sell Google Sheets for Fun and Profit (a guide, written in a google sheet)
What's in the plans for the upcoming year, and the next 5 years?
While the last year has been magical, I think there's more magic ahead. The most magical part: Empowering others.
The most time I've spent on helping customers with their google sheets has been improving their workflow or improving a sheet they use at work. A small subset of my time has been on helping create new products from others. I'd like to maximize that.
Recently have had a few Better Sheets members release their own google sheets on gumroad, and even appsumo. Following my footsteps. I wrote a guide on how to sell google sheets. It's super cheap now $10 because it's a living document. I update it as new information comes to light. As case studies roll in, I update it.
Have you read any good books in the last year?
Robert Bolton's People Skills was recommended to me on Twitter when I wanted to learn how to do more Active Listening. The crux of the book is how to become an empathetic listener and assert yourself. It's been a life-changer in how I conduct myself in person. Still working through it at the moment.
Advice for other entrepreneurs who might be struggling to grow their business?
Two years ago I struggled to monetize projects. I was stuck selling ads only. The process was slow, agonizing, and ultimately wasn't maximizing my time correctly. It was a struggle.
The way I broke through that was putting up paywalls. BuyMeACoffee's coffee links helped start me off. Now I'm on Gumroad and loving it. Also Appsumo a business for business really showed me that you have to get in front of the right market. Marketing isn't about buying ads, it's about making sure your solution solves the right problem for the right people and they know about it.
If you're working online, you should be paid for your work. Yes, you can be a nice guy. Yes, you can be an empathetic person and still get paid. Your life and business will be more sustainable when you get paid vs not getting paid.
Are you looking to hire for certain positions right now?
Not hiring now. If you're looking to work, work for yourself. Make a google sheet and put it on gumroad. I'll help you get in front of thousands of people who want to buy google sheets to solve their problems.
Where can we go to learn more?
If you have any questions or comments, drop a comment below!
-
Andrew Kamphey , Founder of Better Sheets
Better Sheets has provided an update on their business!
About 2 months ago, we followed up with Better Sheets to see how they've been doing since we published this article.
Want to start your own business?
Hey! 👋I'm Pat Walls, the founder of Starter Story.
We interview successful business owners and share the stories behind their business. By sharing these stories, we want to help you get started.
Interested in starting your own business? Join Starter Story Premium to get the greatest companion to starting and growing your business:
Connect + get advice from successful entrepreneurs
Step by step guides on how to start and grow
Exclusive and early access to the best case studies on the web
And much more!
PROMOTED
Did you know that brands using Klaviyo average a 95x ROI?
Email, SMS, and more — Klaviyo brings your marketing all together, fueling growth without burning through time and resources.
Deliver more relevant email and text messages — powered by your data. Klaviyo helps you turn one-time buyers into repeat customers with all the power of an enterprise solution and none of the complexity.
Join Brumate, Beardbrand, and the 265,000 other businesses using Klaviyo to grow their online sales.
Together With Klaviyo
Companies using Klaviyo see a 95x ROI (yes, 95x)
Use Klaviyo to turn hard-earned customer data into hard-working emails and texts.
Try the platform that 265,000 brands use to grow their business.
Try it now (it's free) ➜