Thank you Klaviyo for sponsoring Starter Story ❤️
Turn one-time buyers into repeat customers. Try the platform loved by 265,000 brands
How I Built Two Successful Small Businesses As An Artist
Hello! Who are you and what business did you start?
My name is Ursula Barton and I am an artist who has built two small businesses. My first business started with paper goods featuring my artwork of the Portland bridges: postcards, greeting cards, and archival prints.
It has grown over the past seven years and now I have locally screen printed apparel, enamel pins, and my most popular product, hand-mounted wooden prints that are ready to hang. This eliminates the expensive and time-consuming step of framing, a step I myself dread every time I buy art. This is how I choose new products to add to my line, I think hard about what I would use and what I would want to live with, and then start researching how to create it. It is important that even in product form my art is an authentic extension of me and my point of view.
My newest business is a retail shop called Jailbreak, it is an extension of my art studio in southeast Portland. I opened this with my new business partner Bethany Von Steuben, having a partner with the same ethics, but a different skill set has made owning a business more productive and fun. Jailbreak showcases not only my full product line, but also art and handmade goods created by people of color, the queer community, and female makers.
We also have a gallery in the same space where we showcase a new emerging artist every month. Jailbreak is my way of using the success Portland's community has given me, and turning it into a platform for other artists who are getting started or growing their own small businesses. It is important to me to give back to the community that supports me, growing with gratitude is my main goal as an artist and as a businesswoman.
It has been the greatest privilege to be able to set my own schedule, be my own boss, and have opportunities to collaborate with some incredibly talented artists here in Portland, and cities around the world. To be able to use my seven years of experience to create a platform for other artists, and share my space with the community has been my way of saying Thank you!
This gratitude has been met with great support not only with the wonderful turnouts we get at our events but in the sales we have had in just our first few months of being open, word of mouth has been our biggest asset.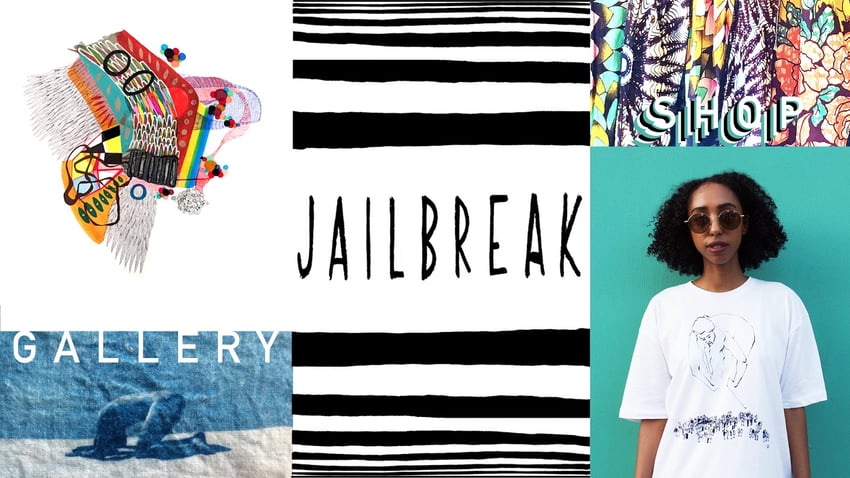 What's your backstory and how did you come up with the idea?
Seven years ago I spilled an entire bottle of really expensive ink onto some really expensive watercolor paper. This was the first step to taking away my perfectionist and controlling tendencies with my work.
This spill opened up a whole new world of unpredictable process. I was a part-time waitress and had spent all my tips on these high-quality materials for an upcoming show at the restaurant I worked at, The Daily Cafe in the Pearl. I had to react and make something out of the mess I had created. So I started making a bigger mess.
I learned more about myself and about business in those six months than I learned in four years of college.
I dumped some water onto the ink and pushed it around with a big brush to explore what different textures and values I could get out of the ink. Once I got some ink blobs I was happy with I left all the papers to dry most of the way, and then picked them up quickly to let what was still wet naturally drip down.
Once the blobs were completely dry I went back into them with colored ink and a pen and started drawing from my bike commutes from the northeast where I lived, to the northwest where I worked. This process forced a duologue with my medium instead of trying to bend it to my will. I have learned to love this process, and still use it today.
This work ended up in my show at the cafe, and once it was hung I realized that I was in a rare position. Most customers didn't know it was my work, so I used that opportunity to do some market research. I never lied and said it wasn't mine, but I didn't volunteer that information, I just asked a lot of questions. I asked questions about how it made the customers feel, what painting was their favorite and why? I did a lot of eavesdropping when I heard a discussion about art, my art, or any art. I got the rare opportunity to get an honest face to face reaction to my new work, and it was a good reaction, and the show sold out.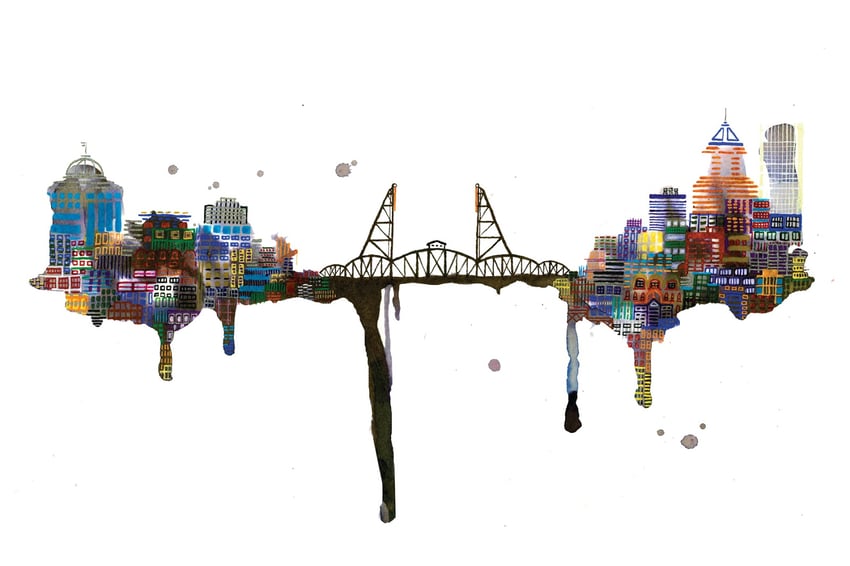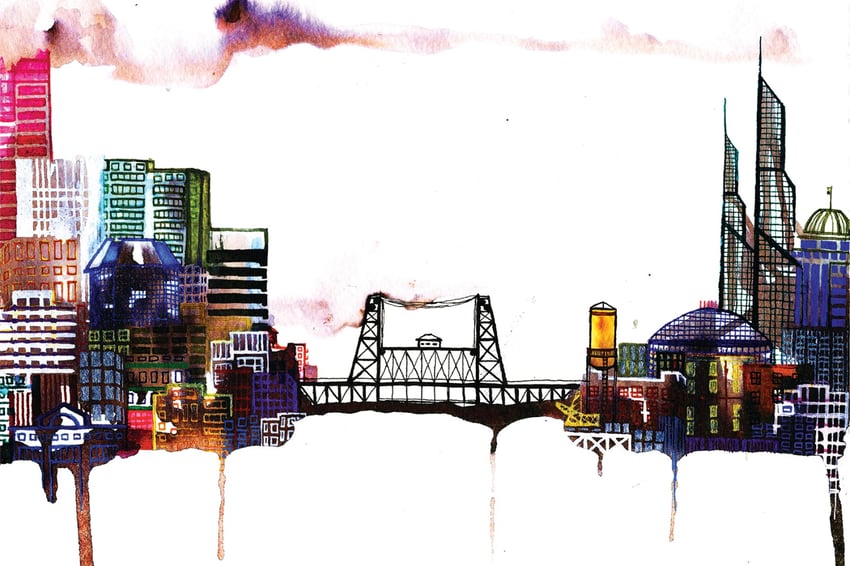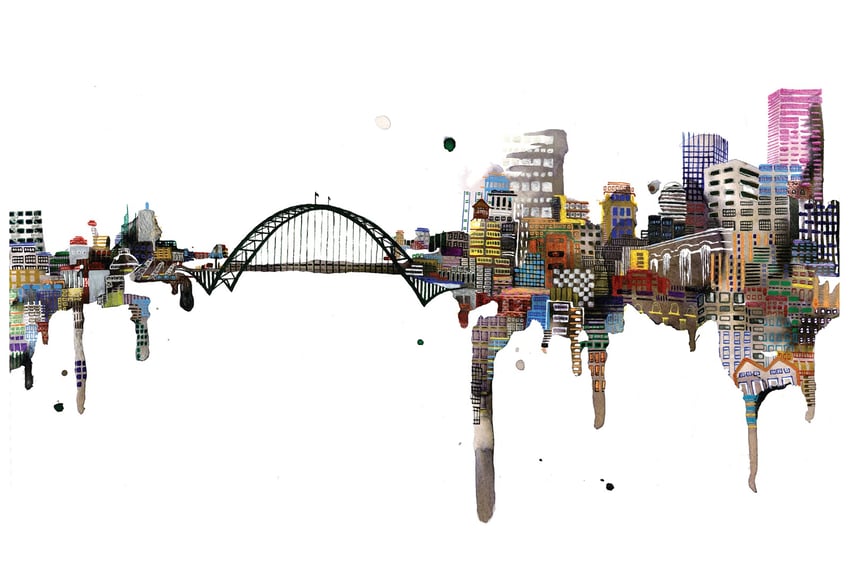 I realized I had created something that was resonating with a lot of different Portlanders, and I should document and reproduce these paintings and test this reaction on a larger audience. This was the start of my greeting cards, postcards, and prints that I sold in about 3-5 consignment shops around town to start. To get into these shops I usually visited the store first to leave a postcard with all my contact information, and then followed up with an email with three work samples and a link to my website.
I quickly became one of the top sellers at some of these shops, and my consignment checks started becoming bigger than my paychecks. This was a pivotal moment where I had just lost my seasonal catering job and qualified for 6 months of unemployment, so I decided to live off of the $800/month in unemployment and reinvest all of my consignment checks back into my new business so I could fully dedicate myself and see how far I could take it.
I learned more about myself and about business in those six months than I learned in four years of college. I put everything I had into developing my product line, creating new work to add to it, and getting new accounts.
Take us through the process of designing, prototyping, and manufacturing your first product.
Creating a product line on a part-time waitress salary had limitations, so I kept it simple.
I focused on getting high-quality paper so that my product was elevated, not just a print on printer paper, I needed it to read as quality art even though I was printing everything myself out of my very small art studio that I shared with another artist.
Website
My brother had built a website for my artwork, and knew that if I could sell a $2.00 postcard to the right person, that postcard could turn into a bigger opportunity if I made it easy for them to find me online. That's when I ordered business cards and a rubber stamp with my name and contact information. I made sure my information was on everything that left my studio.
If someone resonated with my unique process, my love for Portland, or my color sense, I wanted them to be able to reach me. This worked, first on a small scale, people reached out wanting large custom prints for their homes, and now on a larger scale for mural projects, collaborations, and interviews.
I realized the easier I made it for my customer to reach out or learn more, they were more likely to, and this helped me get to know my customer better. I still enjoy when people reach out on Instagram or on my website to give me feedback about my work, or a product they would like to see in the future, that kind of feedback is valuable, as well as a great opportunity to build community.
Production
I was doing all of the production, packaging, marketing, and designing by myself for the first 4 months until my friend shared a link to a printer in San Francisco who had very competitive prices for what I was creating in house.
It was important to me to have everything made in the U.S. so I started outsourcing production to this printer in San Francisco and my products became higher quality and much more consistent. Until the ownership changed and I never received the right order at the right time, and I had to find a more reliable option.
I also wanted to keep it local and use a printer in Portland, so I did a bunch of research until I found a printer in northeast Portland who could not match the previous pricing of the San Francisco company, but they got close enough to where their location and customer service was worth the additional cost.
Packaging
Packaging was its own research black hole. Not creating waste is important to me, I wanted biodegradable wrappers and bags, and recycled backing board whenever possible, but I also wanted to keep my prices approachable.
I never want my work to become classist, this is a problem I spent a lot of time researching in order to find the right balance and the right profit margins. The answer for me was bulk buying. This takes storage space, and luckily I had moved into the space I am in now that is able to accommodate the bulk packaging found a paper company in Portland who has recycled chipboard in huge amounts that can be laser cut to my desired size, and an online company Clearbags.com that sells bulk amounts of biodegradable wrappers.
It wasn't until years later when I notice my art was being ripped off by a film festival poster, a cell phone accessory store, and even a large hospitality chain. This is when I realized that I needed to be serious about copyrighting my work, all of it. This has made it easier to sleep at night, and always worth the high copyright fees. Luckily I have been able to resolve most of these cases with an email, but I did have to get a lawyer for one case that was quickly resolved in my favor because of my copyright. I highly recommend copyrighting your work early in your process of building your business.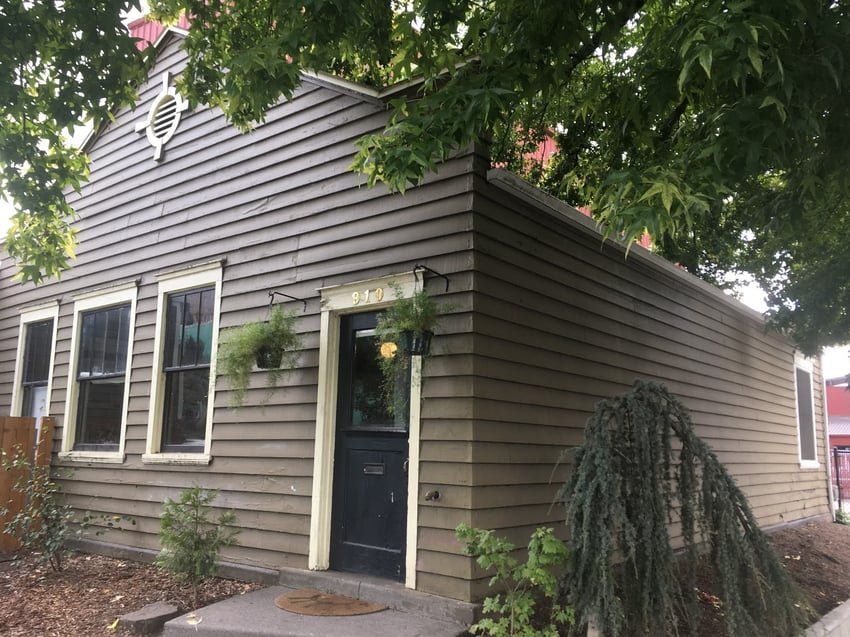 Describe the process of launching the business.
I never had a 'launch' as much as I decided on my approach once I had a website my brother built and an Etsy shop that I built (https://www.etsy.com/shop/ursulabarton?ref=shop_sugg) I would try to get my website and Etsy shop onto every single thing that was related to my artwork and offer three different price points: $2.00-$5.00, $20.00-$40.00, and limited edition prints for $100-$200. If someone really liked my work, regardless of their income, they had no reason not to buy it, once my artwork gets into someone else's hands it gets in front of a new audience.
If that person shows their friend and that friend can go onto my etsy shop, and they buy something, that single customer became two customers with me exerting the same amount of energy and resources. I paid close attention to the patterns of what sold well and what didn't, and I evolved my products with this information in mind, making sure my website and Etsy shop was on every single one.
Becoming active in the market scene took my product line to the next level. Once I had a decent amount of products and many different price points I started setting up at the Portland Saturday Market, the Portland Night Market, and some of the street markets around town. This helped me meet my customer and start growing my community beyond what my wholesale and consignment accounts could do.
My consistent success at these markets gave me the capitol I needed to grow and hirer help. Hiring help was something I should have done earlier in my career. I was so excited to be learning all aspects of my business, learning applicable skills every day, and meeting my customers, that it had never occurred to me to not do it alone. Now I have a business partner and an employee, and our reach has never been better. We are able to do up to three events in one day making as much as $2000-$3,200 in that day.
The women I work with always have new perspectives, a new efficient system, and a new creative way to get my artwork out into the world. I enjoy working in a team, for me this was essential for reaching new customers and growing my business while maintaining and improving the quality of my products. Because some months were slower than others I did get a business credit card early on with a $5000 limit for ordering bulk packaging and large displays. This made everything less stressful, and allowed me to use the kind of quality materials and displays I wanted my brand to reflect.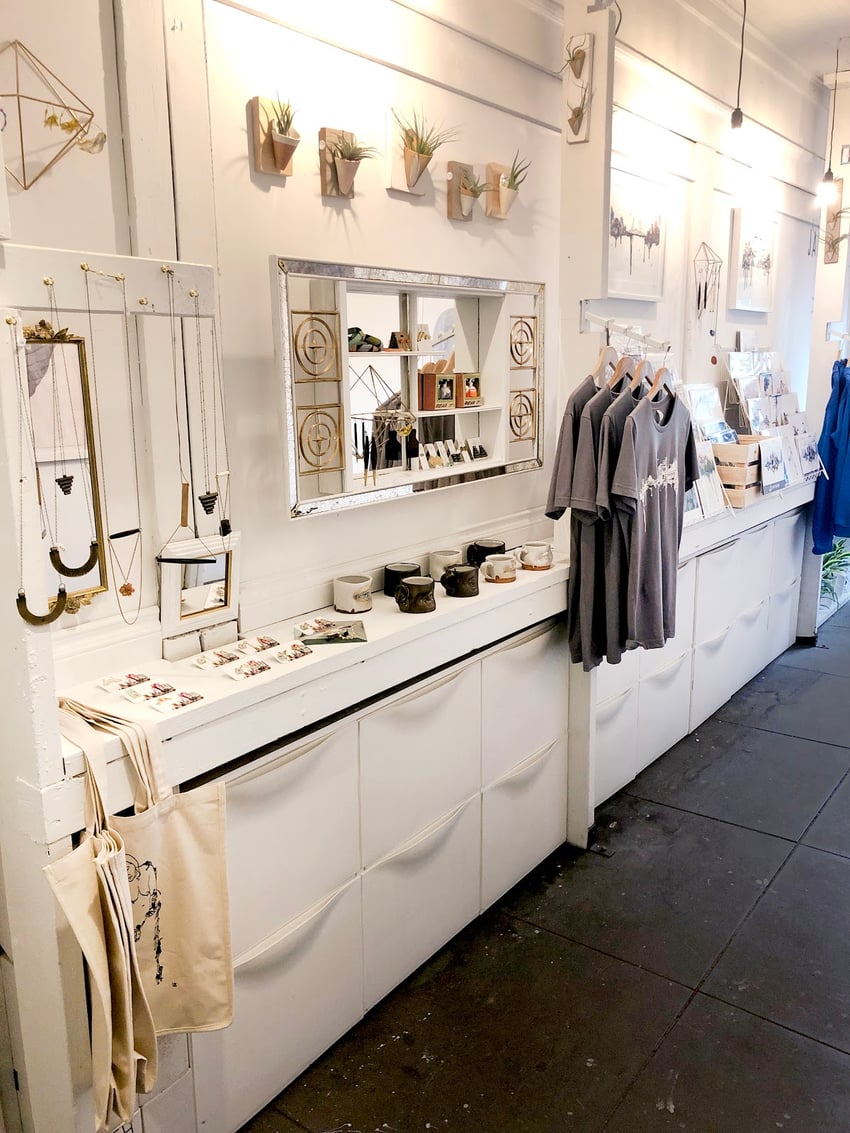 Since launch, what has worked to attract and retain customers?
I do not have a business background. I have a Bachelors in Art. I didn't know what analytics were when I started, I have never taken a business class. I used what knowledge I did have: customer service.
I had almost ten years of customer service experience, my first job was working part-time in a bead store when I was 13 (mostly in trade), and I started working in restaurants when I was 18. I learned a lot about how people feel when they pay for something, and how they justify the purchase. Most people are not excited to spend money they worked hard for (me included) especially when the product they are buying does not serve a utilitarian function like a blender you need, or food because you are hungry.
Art's function is to bring you joy/curiosity by connecting you to your humanity. This is not an easy sell. Most people who like my art are not sure why they like my art. This is why I stress different price points. I don't have the time to change anyone's mind on the value of art if they only see it as a surfurfulouse decoration that they don't need. But I can continue to make work that is authentically mine and put it out into the world with attention to quality and consistency with excellent customer service, and have a price option for any point of view on the value of art.
If you think art is worth $2.00, get a postcard.
Many people who have bought and framed my postcards end up coming back for a larger print or even commission an original painting years later because it makes them happy, it makes their home feel better. This is experiential value, something I have not been able to quantify or manipulate, my job is to create the opportunity for the customer to find this experience on their own. My sales technique is to offer as much information about my products and about me so that the customer can make an educated decision for themselves. This is how I like to be sold to, so this has been my only model for the past 7 years.
When I did start to grow past my abilities to understand business and organization, about four years in I put an add out on Creg's List looking for an intern. I had a great year learning how to work with someone, it was very valuable to have to explain my process and system, or in my case lack of one, to someone else, and she was a pleasure to work with.
Unfortunately, both of our needs were not being met by what skills we had to offer each other after the first year. That's when I found Bethany. I originally hired Bethany to help out with markets almost two years ago, but it was clear early on that her talent for marketing, and e-commerce was well beyond mine so I hired her to completely redo my website and Etsy store. I gave her the freedom to invent her own systems and strategies. This quickly proved to be the right move.
Going back to my original philosophy of making it easy for my customer to learn more about my work and add to their collection, I had not updated this concept to any of my online platforms for over two years and it showed. Getting a fresh look from someone with the skill set to execute it on a high level using updated technologies made a big difference on my online sales and my website interaction (about a 30%-50% increase over two years). She has over ten years in retail management experience and can fluently speak the language of marketing and business on a high level in a way I can't.
I also started to become more consistent and thoughtful about my Instagram account. I welcome feedback and critique, it's something I miss from college, and Instagram is an easy way to reach out directly to share new and in process work. I noticed that the more in process work I shared, the more interaction I got with my customers and collectors. I really enjoy this, building community is my main sales technique.
Not that I am only talking to people to get money out of them, I am sincerely curious about them, I want to get to know the people who resonate with my work, I want us to be invested in each other. I don't just want to sell my work to anyone who will buy it, I want good homes with curious people who feel something when they look at my ink drawings, and I want to talk to them about it. I am lucky that my natural curiosity for people and my propensity to build community also leads to more sales on my online shop and more custom commissions.
If this were not the case, I would not own a business. I am the kind of person who wants everything to be as fun as possible, if I was not interested or invested in the people who buy my work and support my business, none of this would be fun for me, and ultimately I would not have stuck with it for 7 years.
How are you doing today and what does the future look like?
Honestly, on a quantifiable level this question should be directed to Bethany. We have grown to the place where I get to focus on what I am best at, creating new artwork and building relationships with my customers and collectors.
I spend half of my 60 hour work week invoicing, ordering inventory, returning email inquiries, applying for future mural or gallery opportunities, and on a good week, the other half is spent creating new artwork. I don't have the time to look at the specific details of our progress anymore. I just know it is working because Bethany is so good at her job, the business bank account is maintaining itself, and I now have more freedom and time to be an artist.
When you have a goal that is bigger than just you and your needs, it becomes easier to do the hard work you don't want to do, and there is a lot of that when you own your own business.
This is the first year that Bethany and I have gone into business together with Jailbreak and it is hard for me to determine what our gross margins are because we are using the profit from my product line to invest into Jailbreak. Our goal is to have Jailbreak take the place of the street markets in the next two years. We want to spend our time offering a unique and inclusive space where people can find high-quality work at approachable price points, and feel welcomed into the creative process. We are starting to host more events and classes to the community, and it is my dream for Jailbreak to grow into whatever is missing in Portland's art scene. I want people who love art to come in and see the scope of talent our community has to offer, and I also want those who feel "not cool enough" or excluded from Portland's art scene to feel welcomed, to give them a safe place to be introduced to the rewarding benefits of bringing art into your life.
Until this happens markets are still my main source of income for my retail business along with 3 of my largest and most consistent consignment accounts, and thanks to Bethany, our online sales. The past three years I have had a steady influx of commissions and mural opportunities that mostly come from people seeing my postcards and prints around town, at markets, or in their friend's houses, or from following my Instagram account. This has added about $20,000-$38,000 (before taxes) to my annual income as a freelance artist.
Through starting the business, have you learned anything particularly helpful or advantageous?
The most helpful thing wasn't what I learned, but having my core belief system reinforced over the past 7 years.
I am not just selling a utilitarian product, or a product originally created with the sole intention of making a profit. I am selling my name and my unique viewpoint. I understood this, if my product was going to be good, I had to be good. I have to do the right thing, I have to know the meaning behind every decision, and then fully own that decision, I have to put my literal name on everything I make for my business. There was a lot of luck, but even more hard work.
I worked on myself in tandem with my business. I will continue to do this for my entire life. If my viewpoint is going to continue to be a sellable product it needs to evolve and grow. I need to evolve and grow. I need to have integrity if my art is going the have integrity. I need to be easy to work with, and easy to buy from.
I need to be developing my empathy as well as my leadership skills. This was something I knew from the beginning, but now I know you can build two businesses when you apply this knowledge to a strong work ethic, especially when you have help.
What platform/tools do you use for your business?
Instagram and MailChimp have helped me update my customers and collectors easily, quickly, and for free. I would recommend both platforms for marketing, but also for giving exclusive insight into your process and new work that people can't find on your website. I work to differentiate my Instagram from my website, it is more focused on process, and I have found that people feel more comfortable messaging me about possible commissions or projects on this platform.
Bethany introduced me to Trello and Quickbooks. Once we got Quickbooks I did a trade with one of my friends who is a CPA, and she gave us an hour long in person tutorial. This was especially helpful for me because I am a visual learner. Just get it, it makes everything easier. When working in a team we use Trello to update each other on projects and custom orders that involve everyone, this is also free and fairly intuitive.
What have been the most influential books, podcasts, or other resources?
Talking honestly with other small business owners has been by far the most helpful resources. Sharing stories about successes as well as failures with people I trust and admire who really understand the amount of risk, responsibility, and work that goes into starting something from scratch and growing it with your own skill set and resources are valuable and inspiring.
Starting a business is not for every personality type, it is hard and incredibly time-consuming, but you are rewarded with these moments of pure freedom when things are going your way, and all your systems are working, and you are providing jobs to people you care about. It brings a level of meaning to my life and a sense of self-esteem that I haven't found elsewhere.
To be able to be vulnerable and honest with another business owner not only makes me feel less alone in this bizarre choice I have made for my life, but we can also learn helpful information and tools from one another that we can apply directly to our businesses. Business owners are creative problem solvers, these are the people I reach out to when I have a problem I can't solve.
Again, building community is important, no one can run a successful business all by themselves.
Advice for other entrepreneurs who want to get started or are just starting out?
Know the why first. Why are you doing this? Is it money? Is it to be seen? Is it to never have a boss? Is it because you believe you have something valuable to offer the world? All of the above?
If your ego and greed is your motivation you will never be happy, you can be successful, but you will never be happy. You will be busy comparing your success to others for the rest of your life, and you will be working all day every day to feel this way. If you do not believe in, and enjoy the core process of what you do, don't do it.
This way of life is hard and scary, especially if you do not have a safety net provided by your family or investors. When you have a hard month, or a hard year, or a hard few years, you need something meaningful to hold on to and motivate you in order to pull yourself out of it.
For me, my main motivation is opening up the Art world. I don't agree with the elitism of the Art World, I want everyone to have the chance to see how art can enhance their lives. I have created a collection of paintings rooted in my love for my community, and I want to offer it to my community in a package that is not intimidating or hard to access. I am aiming to be the easy art you buy, so that you get curious about Art.
When you have a goal that is bigger than just you and your needs, it becomes easier to do the hard work you don't want to do, and there is a lot of that when you own your own business.
Where can we go to learn more?
www.ursulabarton.com
Instagram: @anotherursula
If you have any questions or comments, drop a comment below!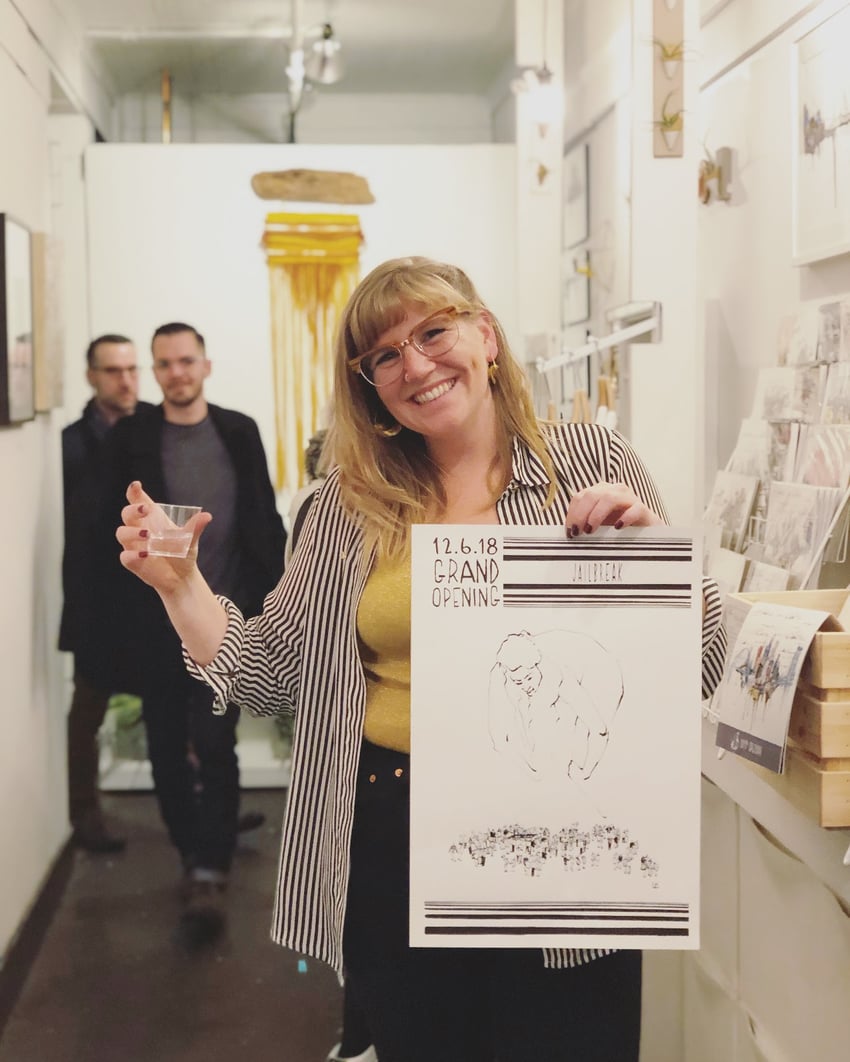 -
Ursula Barton, Founder of URSULA BARTON
URSULA BARTON has provided an update on their business!
About 2 years ago, we followed up with URSULA BARTON to see how they've been doing since we published this article.
Want to start your own business?
Hey! 👋I'm Pat Walls, the founder of Starter Story.
We interview successful business owners and share the stories behind their business. By sharing these stories, we want to help you get started.
Interested in starting your own business? Join Starter Story Premium to get the greatest companion to starting and growing your business:
Connect + get advice from successful entrepreneurs
Step by step guides on how to start and grow
Exclusive and early access to the best case studies on the web
And much more!
PROMOTED
Did you know that brands using Klaviyo average a 95x ROI?
Email, SMS, and more — Klaviyo brings your marketing all together, fueling growth without burning through time and resources.
Deliver more relevant email and text messages — powered by your data. Klaviyo helps you turn one-time buyers into repeat customers with all the power of an enterprise solution and none of the complexity.
Join Brumate, Beardbrand, and the 265,000 other businesses using Klaviyo to grow their online sales.
Together With Klaviyo
Companies using Klaviyo see a 95x ROI (yes, 95x)
Use Klaviyo to turn hard-earned customer data into hard-working emails and texts.
Try the platform that 265,000 brands use to grow their business.
Try it now (it's free) ➜